When you choose to travel on two wheels, you accept the fact you'll get a little wet on occasion. Waterproof riding wear is better than ever, but if you never wanted to feel a drop, you'd go by car. Your belongings, however, can and should remain dry as bleached bone. That's where the new Aqua waterproof backpack and roll bag from Oxford come in. Each bag is made from waterproof PVC tarpaulin, with welded seams to ensure the bag is waterproof from every angle.
"THE EASIEST WAY TO GET YOUR GEAR FROM A TO B ON A MOTORCYCLE, SAFE AND DRY" – Oxford
The Oxford Aqua T-30 Roll Bag comes in a versatile khaki on black and has a 30L capacity, ideal for everyday commuting and even short trips. There's a quick grab and go handle on top, and padded shoulder straps for better carrying comfort. Cinch-down straps keep the bag compact and stable while the unique tail attachment system with its under-seat security strap keeps the bag safe on the bike where it belongs.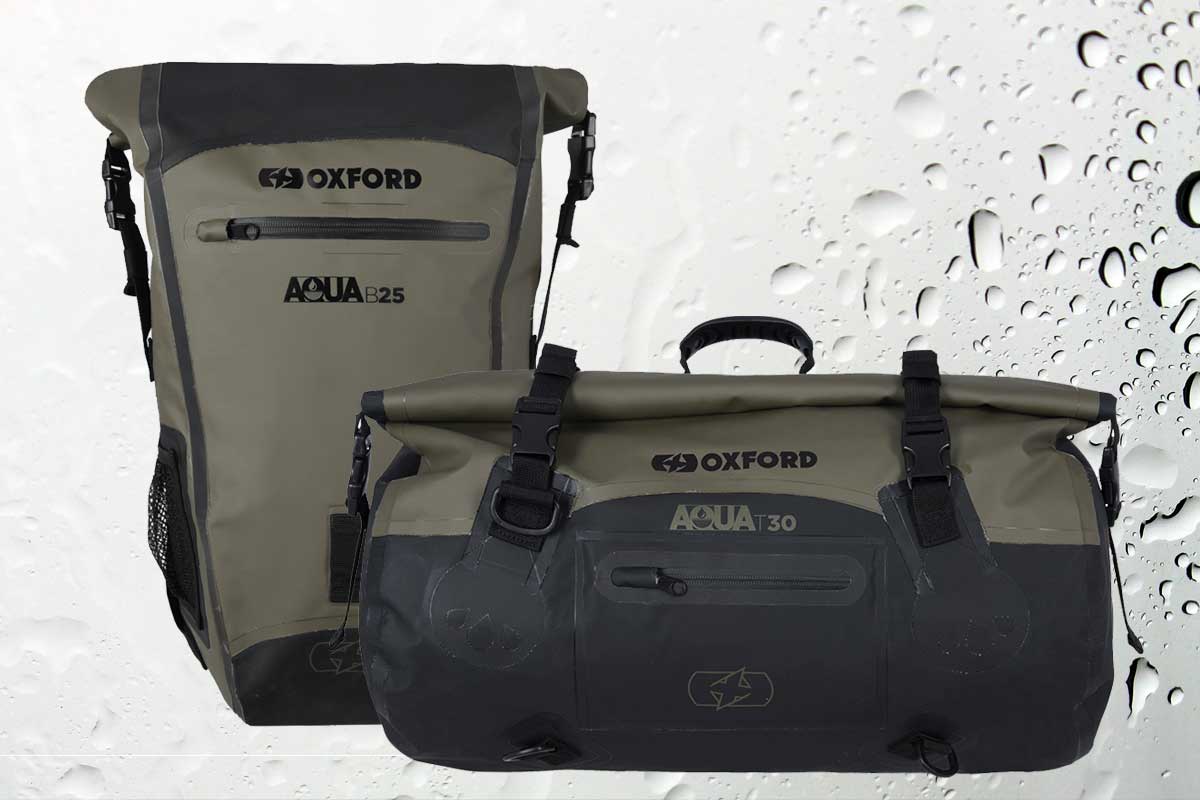 If you prefer carrying your stuff on your back, the Aqua B-25 Hydro waterproof backpack is a nice option in Oxford's range. It's also got a roll-top closure for maximum waterproofing and compression straps keep the top securely closed at speed. There's a padded removable waist strap, room for a hydration bladder, and both the waist and chest straps cinch down tight. With a 25 litre volume, the Aqua B-25 has all the room you need for storing your everyday carry or to increase your travel carry capacity.
This waterproof motorcycle luggage from Oxford's Aqua collection is a great pick if you're riding in weather with rain potential. They'll get you through a cloudburst, or an all-out downpour, with everything you put in the bags coming out safely dry at the other end.