Revival Motorcycles 'Handbuilt Show' has quickly established itself as one of North America's top custom motorcycle gatherings. With each new year, the Revival team manage to amass an incredible collection of custom builds and host a great schedule of events to entertain the thousands who visit the show. This year the lineup was a melting pot of custom motorcycle styles, makes and models and amongst them were some standout cafe racer builds. One such build that got me rather excited was this stunning Moto Guzzi G5 by Cliff Fisher the owner/operator of Stasis Motorcycles. We recently had the chance to talk with Cliff about his build and he even arranged this exclusive photoshoot of the bike for Return of the Cafe Racers.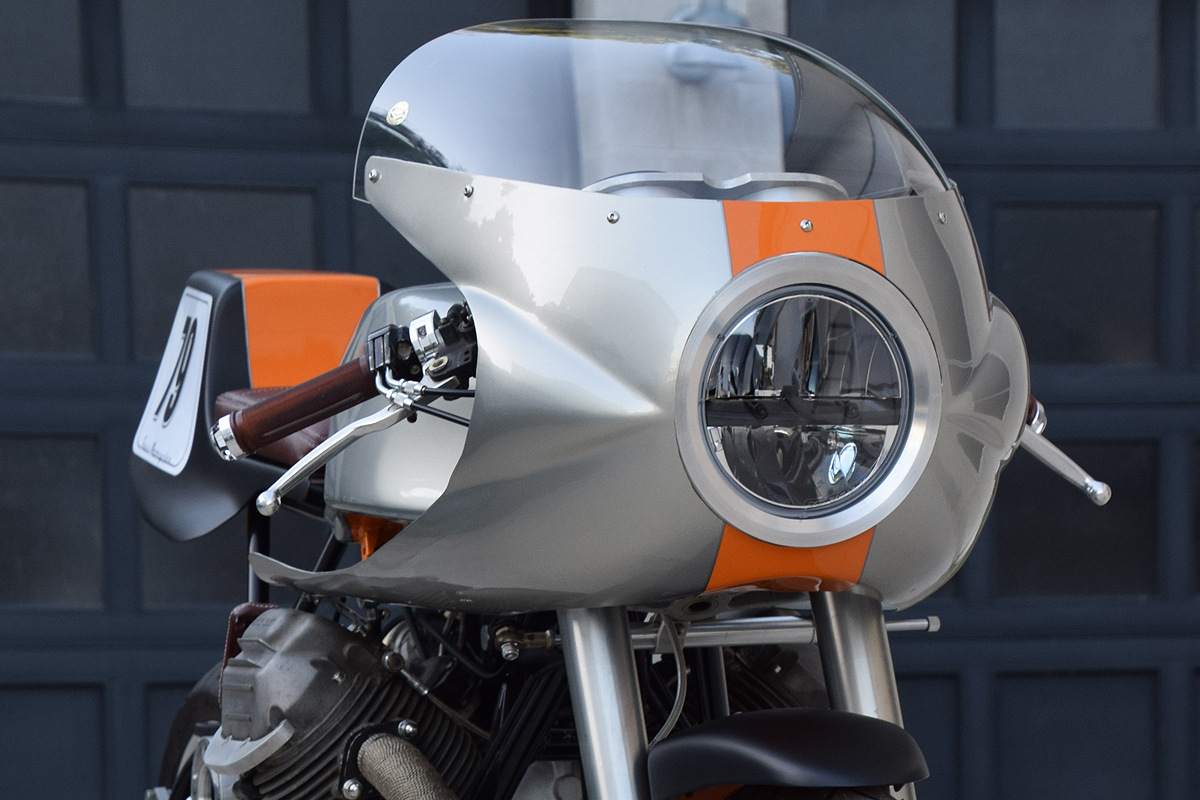 "My Instagram bio mentions that 'I'm just a dude in a garage building bikes', which is jokingly accurate since I'm in no position to quit my day job. For the majority of my career I've worked in IT at the kind of corporations that expect 10-12hr days and slowly take your soul. So, while riding motorcycles became my stress relief, customizing motorcycles became my creative outlet.
I'm truly a garage brand, with a handful of motorcycles special to me in some way, crammed into the garage behind our house.  My appreciation of vintage machinery extends beyond motorcycles, as I've recently invested in a 1953 Bridgeport vertical mill and a 1965 LeBlond lathe that will allow me to produce more parts in house!"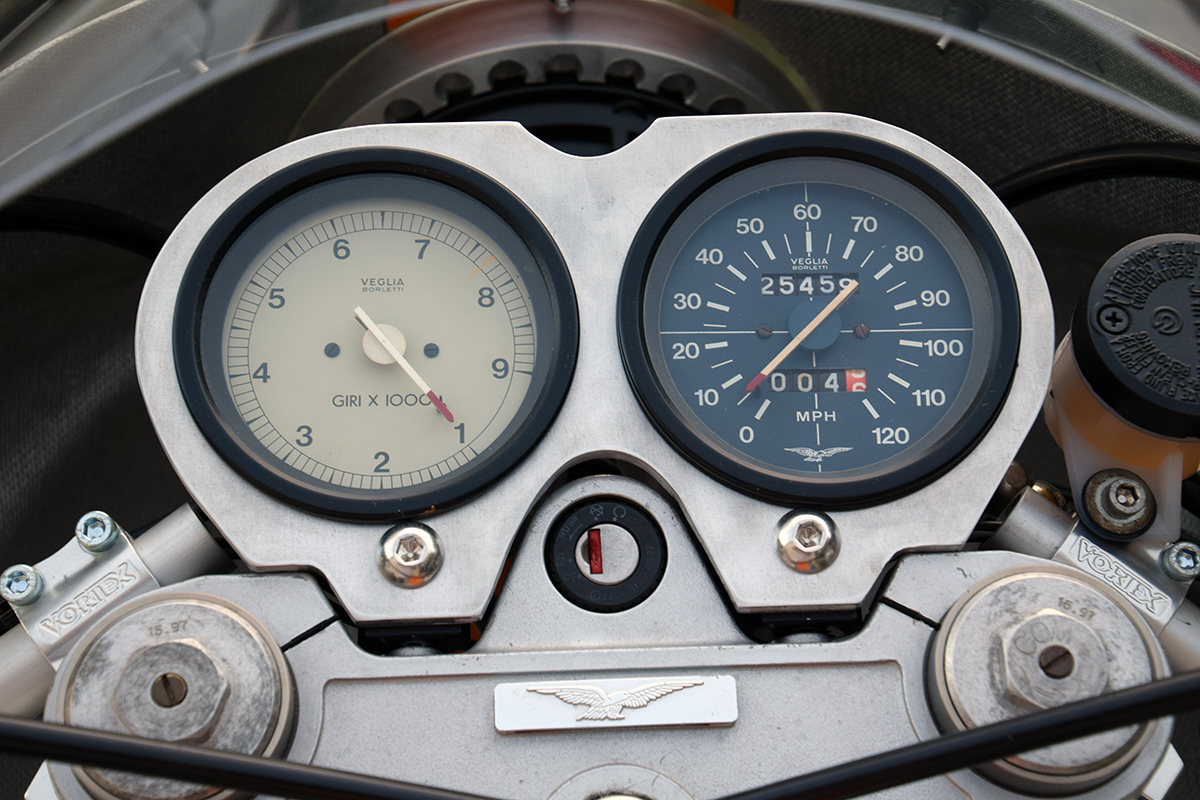 "I've sold a handful of previous builds, most notably the Stasis Scrambler which was awarded with a position in the 2015 Hand Built Motorcycle Show here in Austin. Although, I haven't reached the point where I'd make the leap to this full-time, the Scrambler received such praise that I decided to focus on the most neglected motorcycle I own…my first bike.
This Moto Guzzi began its life as a 1979 G5 V1000, police-style motorcycle. It's tough to quantify the hours I've spent on this build, since I've worked on it off and on for 18yrs. This is probably my most personal build to date, and is a motorcycle I will never sell. I pulled her from a dusty barn south of Austin in 1998, and quickly learned that she didn't start, stop or turn all that well. So, I set out to make some improvements for my own safety."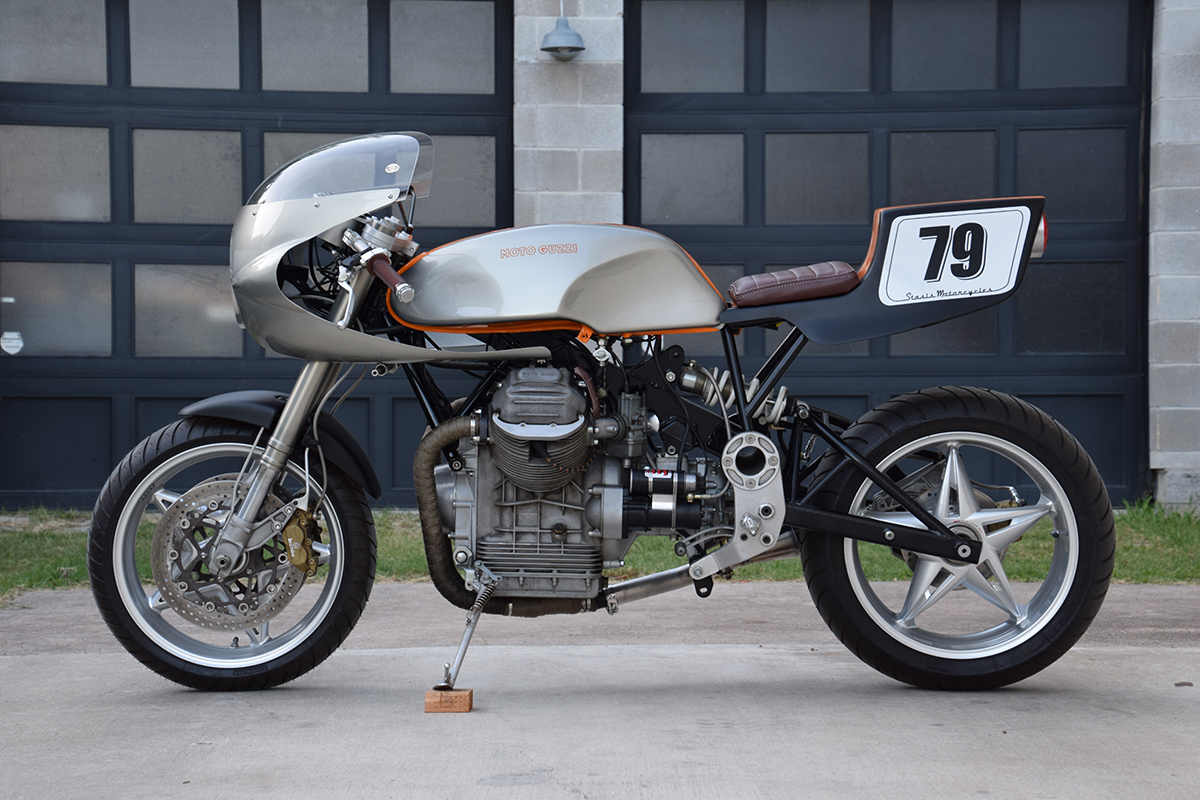 "As with most of my builds, I aim to create a design where vintage and modern meet. I wanted to respect the age of the Guzzi while bringing it into this century from the perspective of suspension, braking and electronics to create a 70's style endurance racer.
There's a long list of changes, but I basically took the heart of my Guzzi, it's engine, and transplanted it into a modern Guzzi spine-frame. The new frame uses the engine as a stressed member, which really exposes it visually and I've further emphasized this with the vintage racing headers that I've tucked up beneath the sump. The new frame also gave me the opportunity to use wider modern wheels, for which I designed a rear hub to adapt an MV Agusta wheel that's reminiscent of the 70's Campagnolo magnesium wheels used on MV's and Ducati's. It was originally intended for a single-sided swing arm. I moved the brake disc inboard and used custom brackets to mount the caliper on the rear-drive.  I've used this setup on 2 other Guzzis I've built over the years."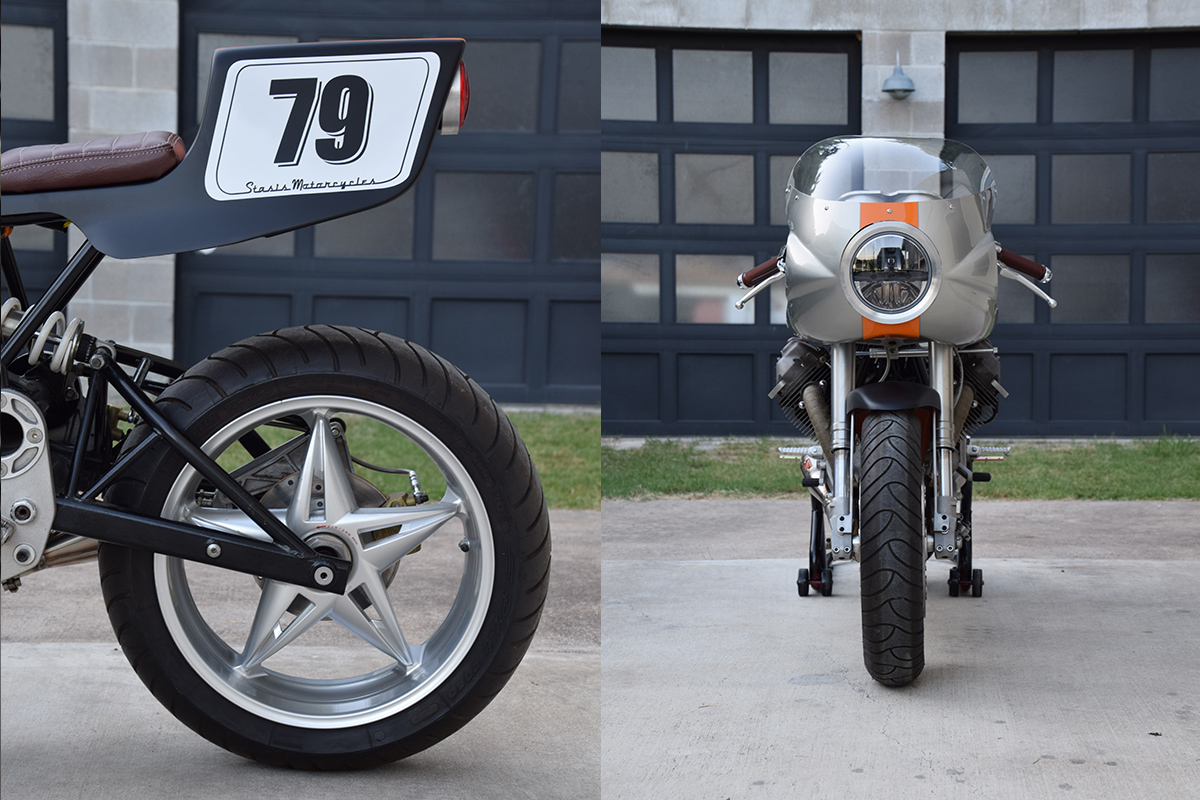 "The rear subframe was created by a talented fabricator here in Austin (Full Custom Fabrication), which allowed me to mount the vintage Ducati Pantah racing seat that I salvaged in the UK with an AntiGravity lithium ion battery, the electronic ignition and a MotoGadget M-unit mounted inside it. We also cut and re-mounted the front fairing bracket lower and canted it forward to keep the lines low. The electronics were sourced from Revival Cycles in Austin, who also very cleanly rewired the entire bike from scratch…since electrics are not my strong suit.
A number of other parts came from overseas over the years including the Magni Guzzi fairing components from Italy, the frame and a Sport 1100 tank from France, which I had painted 12yrs ago and became the aesthetic foundation that guided my other choices."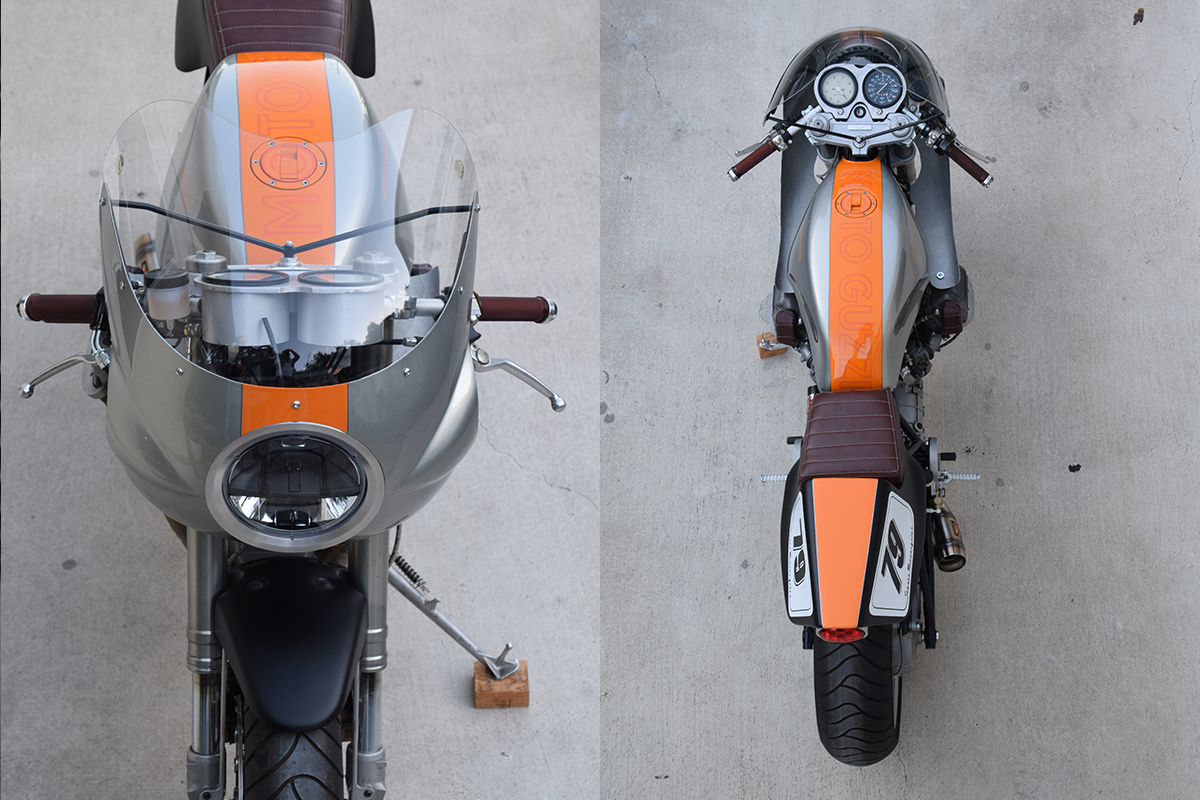 "The billet aluminum headlight bezel was a solution to the gap between the 8" Magni fairing headlight opening and the 7" Trucklite led headlight. A matching rear taillight bezel was created to house the round led taillight intended for a Land Rover Defender. The final pieces to tie the Guzzi marque to the correct era are the original G5 blue face 100mm speedo, and LeMans III white-face 100mm tachometer."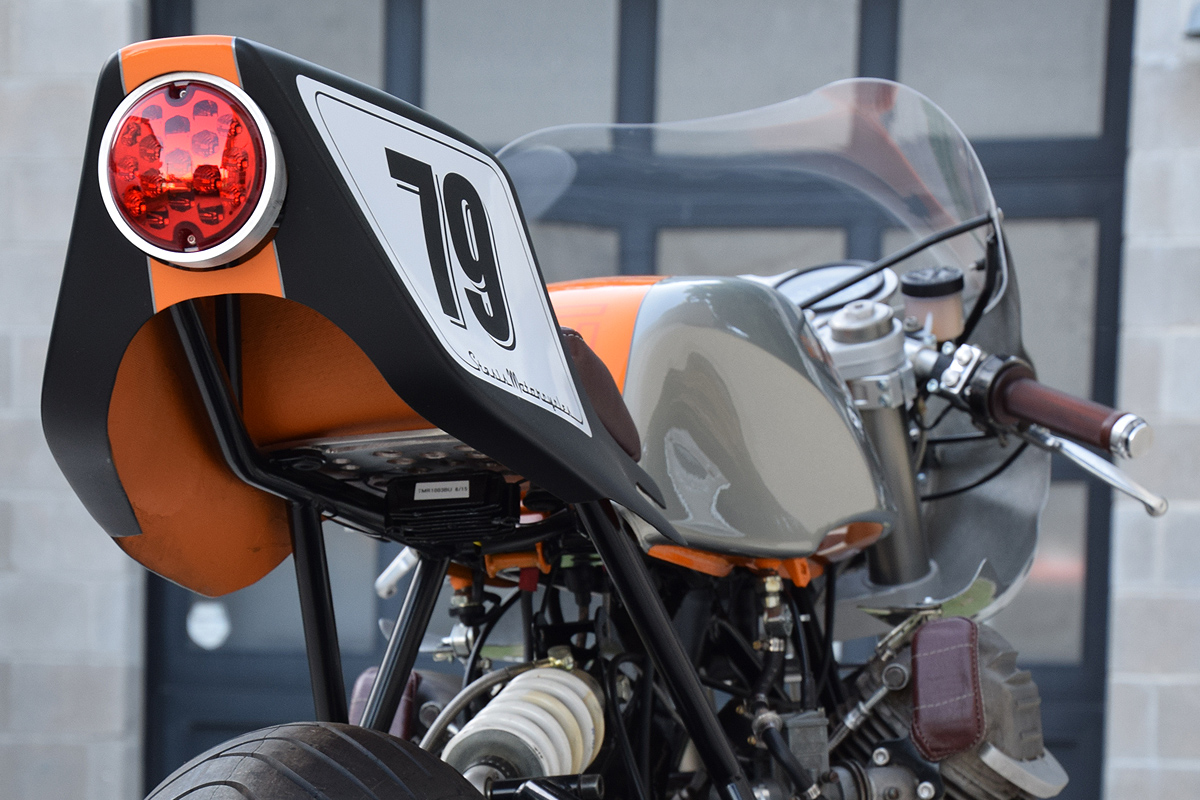 "I'd be remiss not to mention my support crew. My wife and two sons, who share the same moto-passion and enthusiasm for our local motorcycling community as I…and tolerated half-a-dozen motorcycles in our dining room until the garage was built.Despite the drastic cosmetic and functional changes, I'm pleased to say that it's still my old Guzzi. She's grumpy, rude, loud and has retained all the character that I've grown to love."