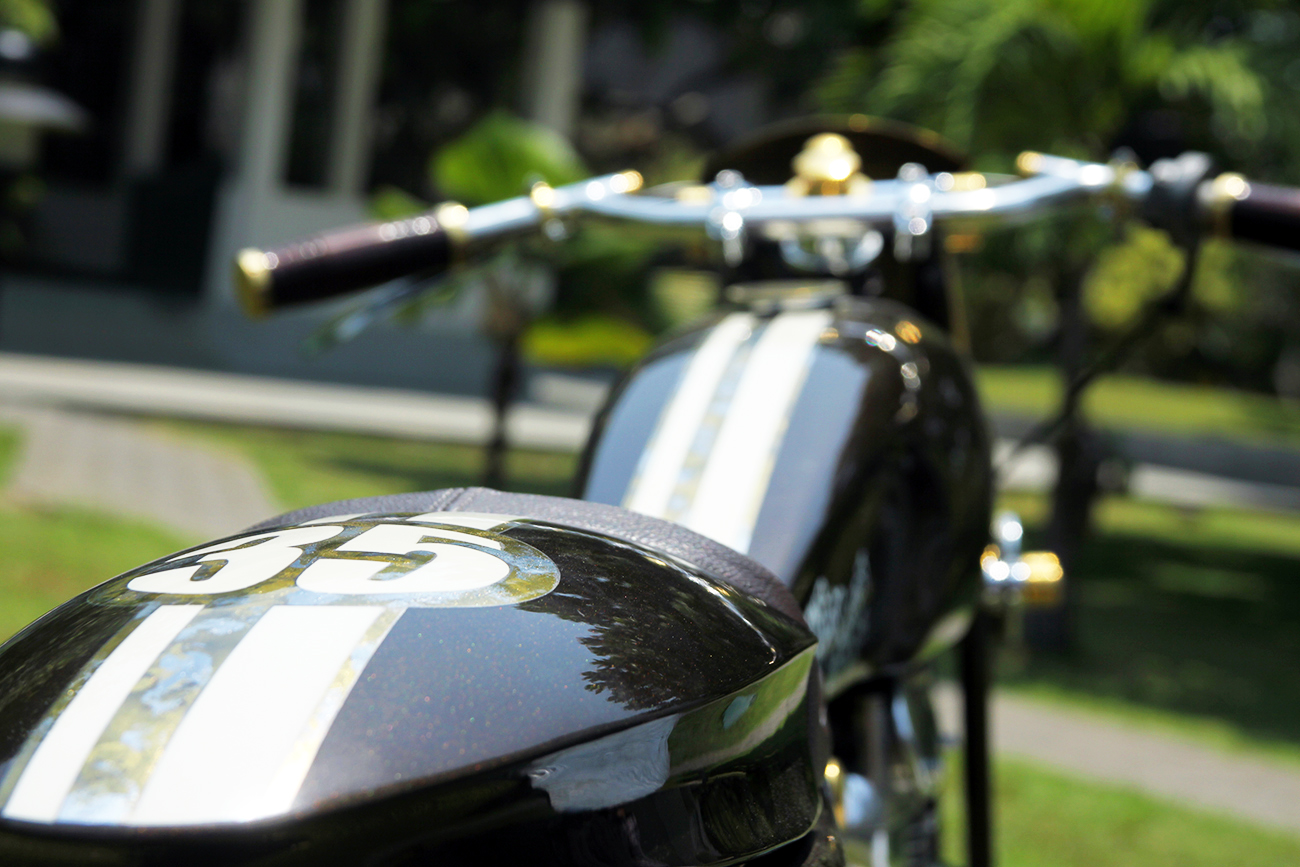 This year I approached the award with roadworthiness in mind. Building a great looking custom motorcycle is one thing, but getting it registered and legal for road use is a whole other kettle of fish. My third and second place nominations could have been registered and ridden on most roads around the world and both featured some incredible craftsmanship. This bike, however, didn't tick all the boxes to be a daily rider, but I simply couldn't overlook the multitude of handcrafted parts on the bike. The Krom Works Cafe Racer named 'The 35' was based around a 1953, 350cc Matchless which in Australia wouldn't need indicators to be registered as a club vehicle, so I was willing to make an exception.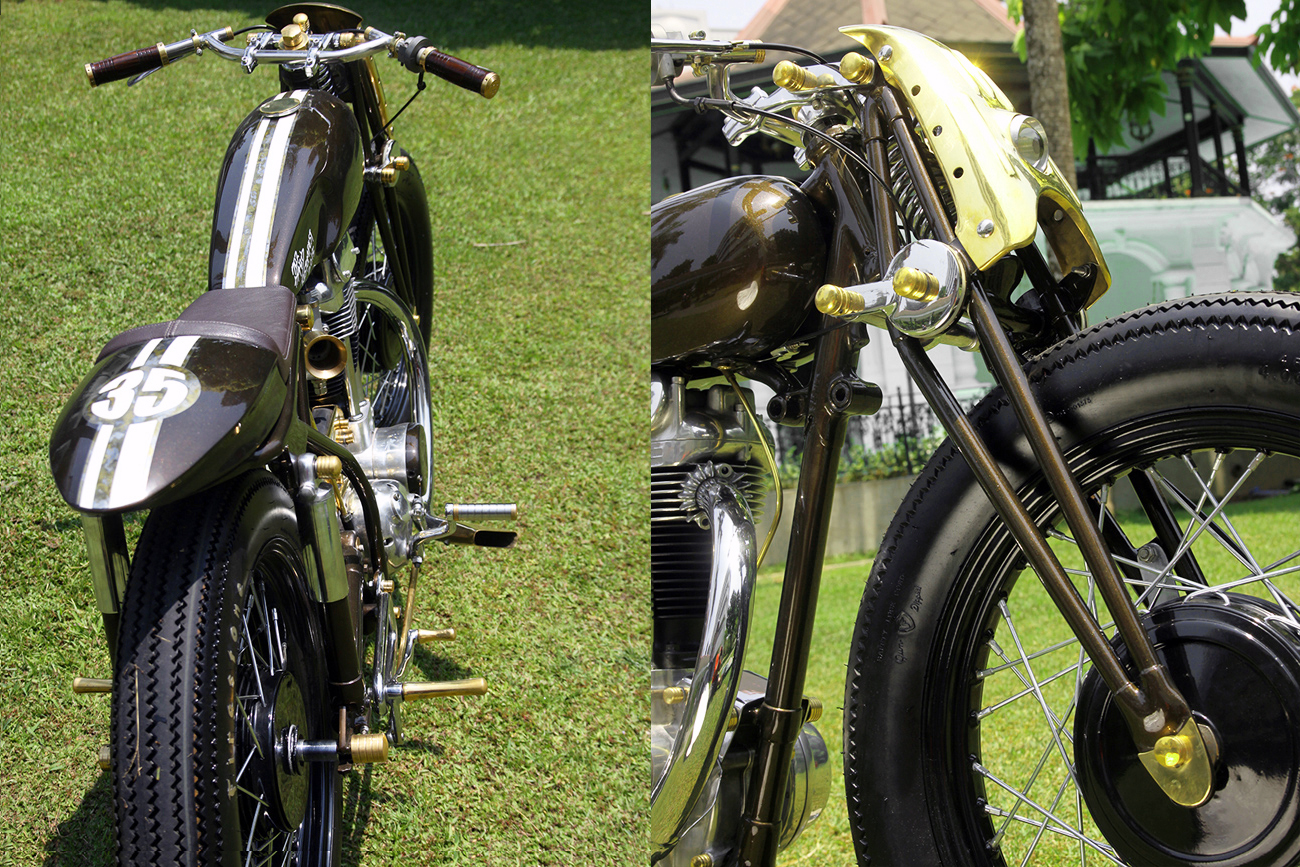 Krom Works shop owner Andika Pratama has followed in his father's footsteps becoming a custom builder. With an incredible array of fabrication skills up his sleeve and his father's guidance, he's well on his way to becoming one of Jakarta's top builders. Amazingly his Kustomfest build took a mere 1 month to complete. Starting with the frame he redesigned the rear end to expose the wheel and create a balanced line for his Cafe Racer style seat and tail design. To give the bike a real look of nostalgia he also adapted girder style suspension to the front end rather than retaining the bikes original telescopic forks. With the frame ready the engine was sent off to a local Brit bike specialist for a rebuild while Andika continued work on the rest of it's components.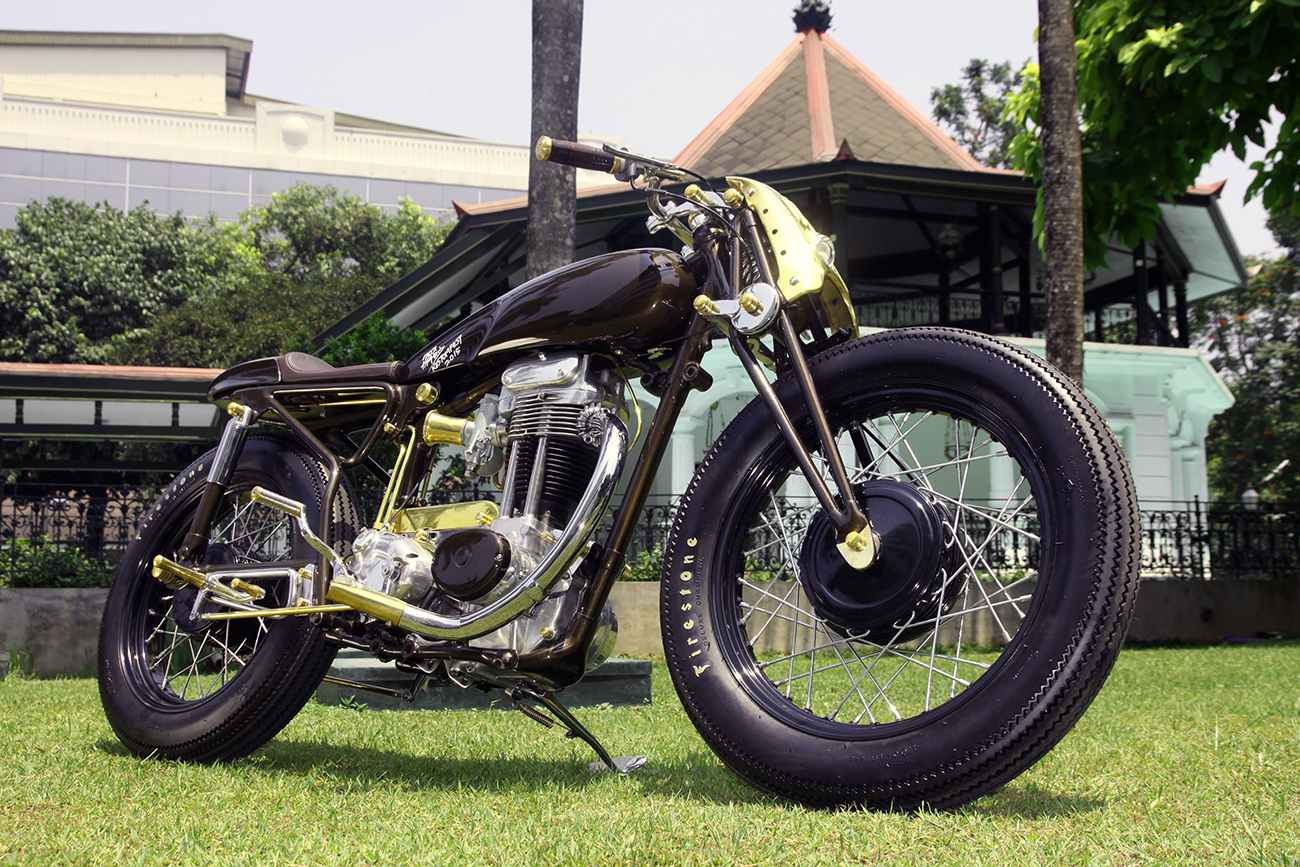 The original hubs were painted black and laced to matching 18 inch rims prior to the addition of a set of 4.0 Firestone Champion Deluxe tyres. The original rear shocks were rebuilt, painted and polished and a set of one off bars were constructed using stainless steel. The low profile, elongated tank is also a custom-made item hand shaped from steel and finished in the same chocolate brown as the frame, front end and tail. Inside the tail you'll find the oil that feeds to the motor via hard lines bent from brass tubing. Brass was also used for the foot pedals and the brake and gear actuating rods running from the bikes custom made rear sets.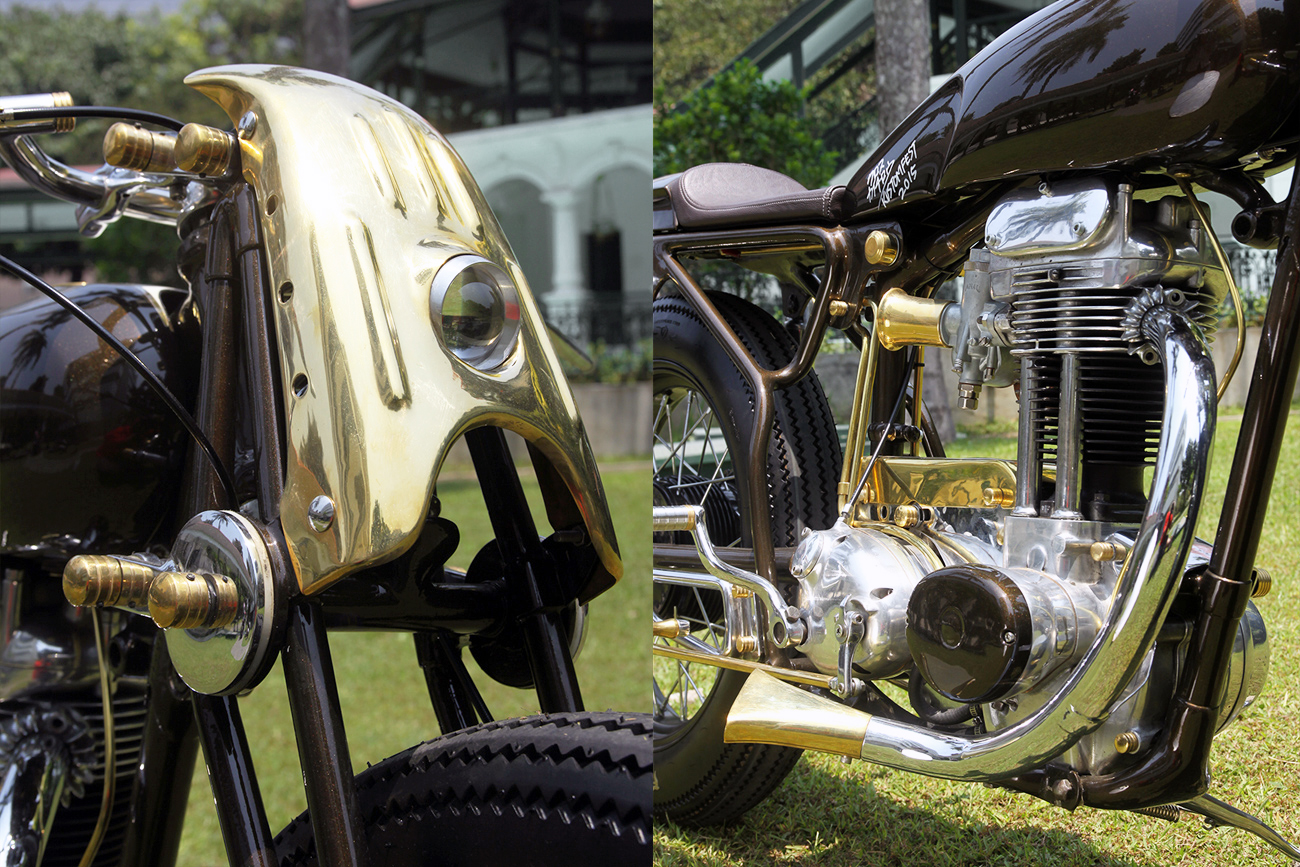 When the engine returned from its rebuild Andika dressed it by polishing the cases and adding brass highlights like the velocity stack on the Amal carb, fluid lines and various bolt heads and inspection covers. Using his lathe Andika also turned brass nuts for most of the bikes visible fixtures and created his own hand levers using handmade brass and aluminium pieces. The finishing touches were then done by covering the seat in matching brown leather, turning a set of wooden handgrips and constructing the stunning front fairing from a single sheet of polished brass. Along with receiving my first place award, this bike was also awarded by Kaichiroh Kurosu of Cherry's Company (Japan) as his personal pick of the show.
Images by KUSTOMSIX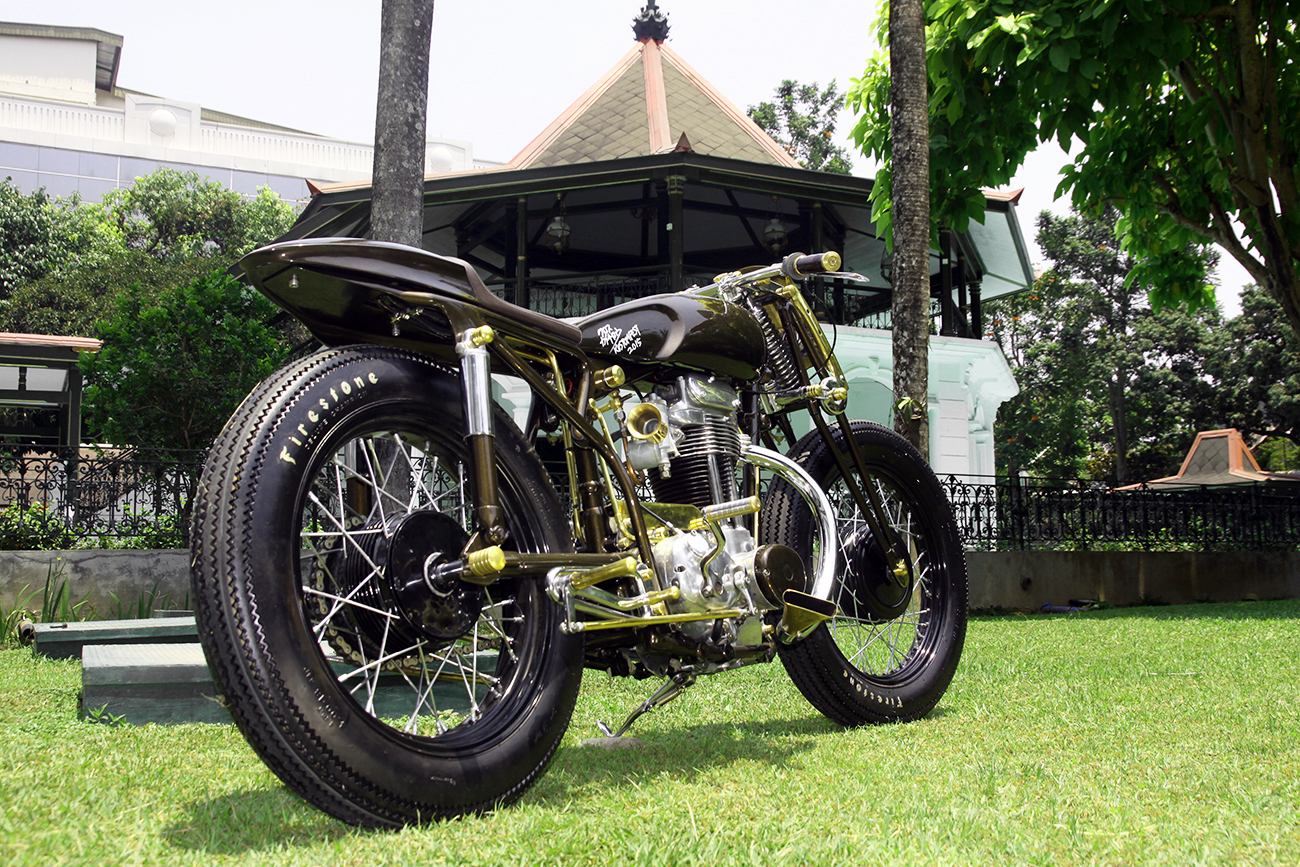 I've just landed back on Australian soil after another mind blowing journey into the Indonesian custom motorcycle scene. This time round my visit included 4 days in Yogyakarta at the custom lifestyle event 'Kustomfest' before heading to Bandung in West Java to visit some of their best local builders with <a href="http://www.tankmoto.com/" target="_blank" rel="noopener">Tank Moto magazine</a>. As a special guest at Kustomfest I was given the honour of judging the Cafe Racer category at the show. With over 20 incredible Cafe Racers to choose from it was no easy task, but the job of choosing first place was made much simpler thanks to the incredible work of Jakarta based workshop 'Krom Works'.