2013 is right around the corner so it's time to start thinking about updating the most essential item in your workshop…your calendar. If you're looking for a motorcycle themed calendar that will inspire you while you wrench away then one of these two great calendars could be just the ticket. From Bike Exif comes the top custom bikes of 2012 wrap up calendar and from Meat Ball at Hell on Wheels is his tantalising 2013 Pin Up motorcycle calendar. Read on for a sneak peek inside each one…

Chris Hunter of Bike Exif has been producing his calendars for a few years now and with each year they get better and better. For the bargain price of $15.99 you'll get 13 months of full colour, jaw droppingly gorgeous custom motorcycles. Each of the custom bikes were chosen based on their popularity when they appeared on the Bike Exif site during 2012 and are accompanied by a back story, bike particulars and builder details.
"This year's stars include Rough Crafts' iconic Bomb Runner, Walt Siegl's intricate Ducati 900SS, and Jeff Decker's controversial Vincent Black Lightning…Ritmo Sereno's racing Moto Guzzi Ambassador and Atom Bomb's 1974 Triumph dirt bike, RVA Overland…"
If you're after something a little more steamy with just as many stunning motorcycles, check out Hell on Wheels 2013 Pin Up calendar. Featuring 12 months of vintage motorcycles each accompanied by a classically styled Pin Up girl. Racy enough to raise the temperature but tasteful enoughto avoid disapproving frowns, it's the perfect calendar to add some spice to a drab workshop. The bikes featured include a Matchless, BSA, Husqvarna, Honda Vintage MX bikes, Velocette, Vincent Black Shadow, Norton cafe racer, a Ducati and a handful of custom Triumph's. A bargain at only $19.99.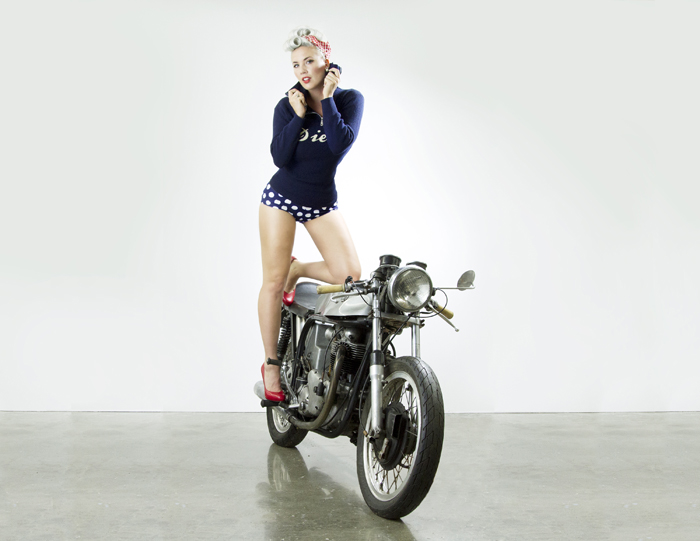 Click either of the links below to buy the calendars online now.