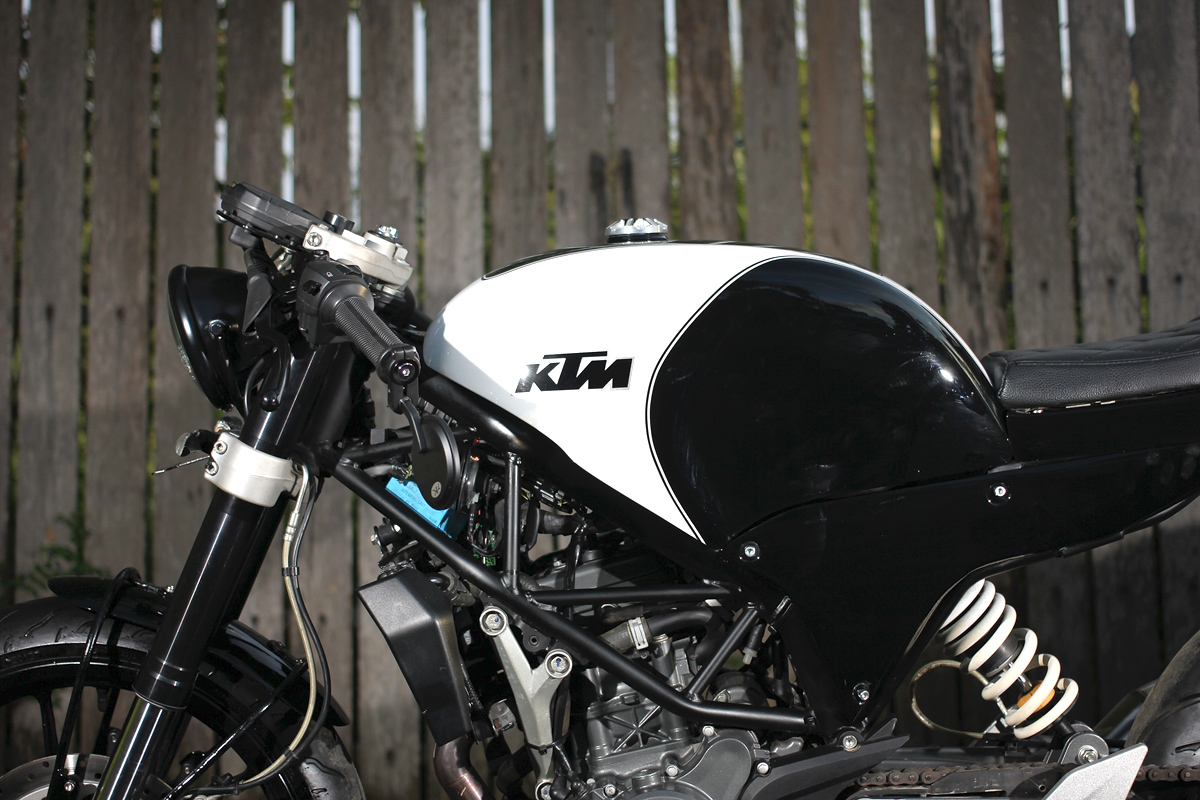 This year Donny has already seen an increased interest in custom motorcycles in Indonesia. Motorcycles have played a huge role in the countries transport system for years and now thanks to events like Kustomfest and the opening of Deus Ex Machina's store in Canggu, motorcycles are becoming more than just a method of getting from A-to-B.
Studio Motor is no new kid on the block though. Donny's been working hard since 2008 to build up a reputation which has lead to him appearing on local television, collaborating with prominent lifestyle brands and has his business bursting at the seams with customer projects.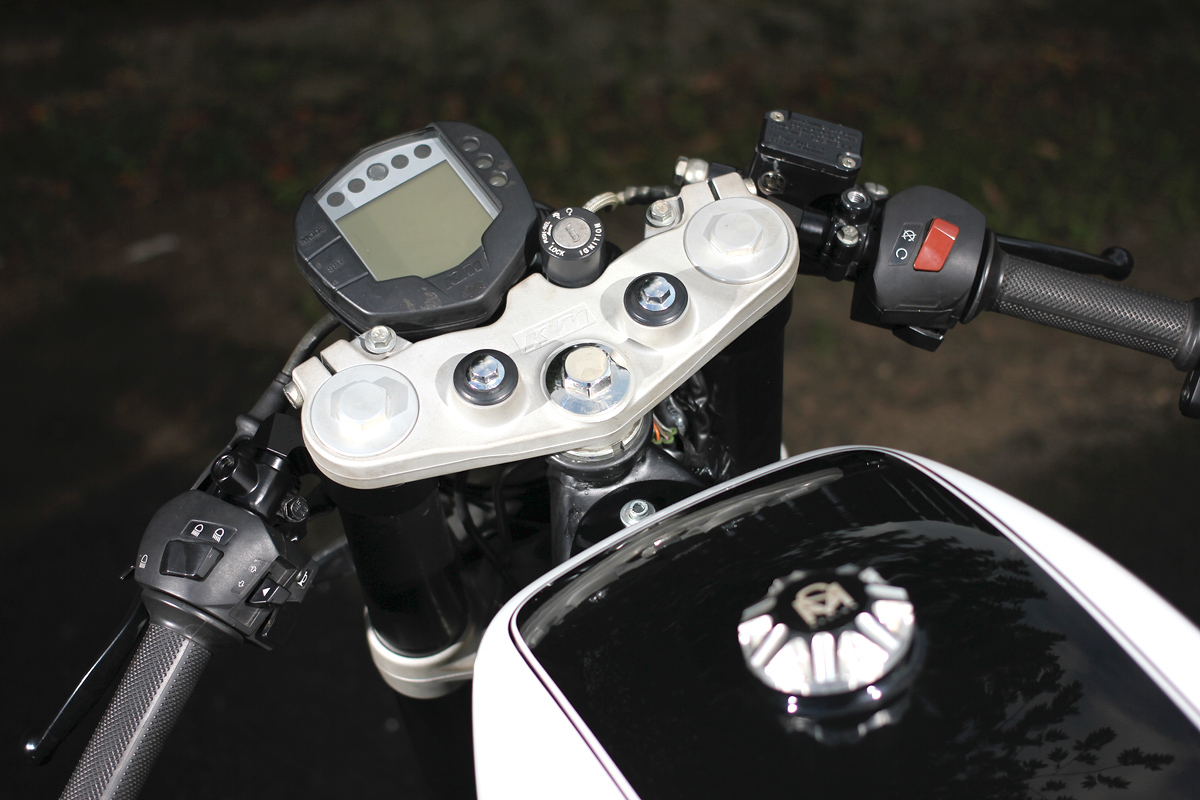 Studio Motor's most recent project saw them working on a 2012 KTM Duke 200, a marque we seldom see used for custom builds. "The bike's owner is a senior high school student named Bagas" Donny tells us. "Before we started this build we developed a sketch based on what the customer wanted. The brief was to turn it into a Cafe Racer with a strong, classic character."
For most people the idea of taking a plastic covered KTM and transforming it into a classically styled Cafe Racer is one fraught with challenges, yet the Studio Motor team overhauled the Duke in a mere 2 months. To achieve this all the plastic and the bikes sharp edged bodywork had to go. Hidden beneath it they found a beautifully simple trellis frame on which to mount their new bodywork and a great performance package which required very little improvement.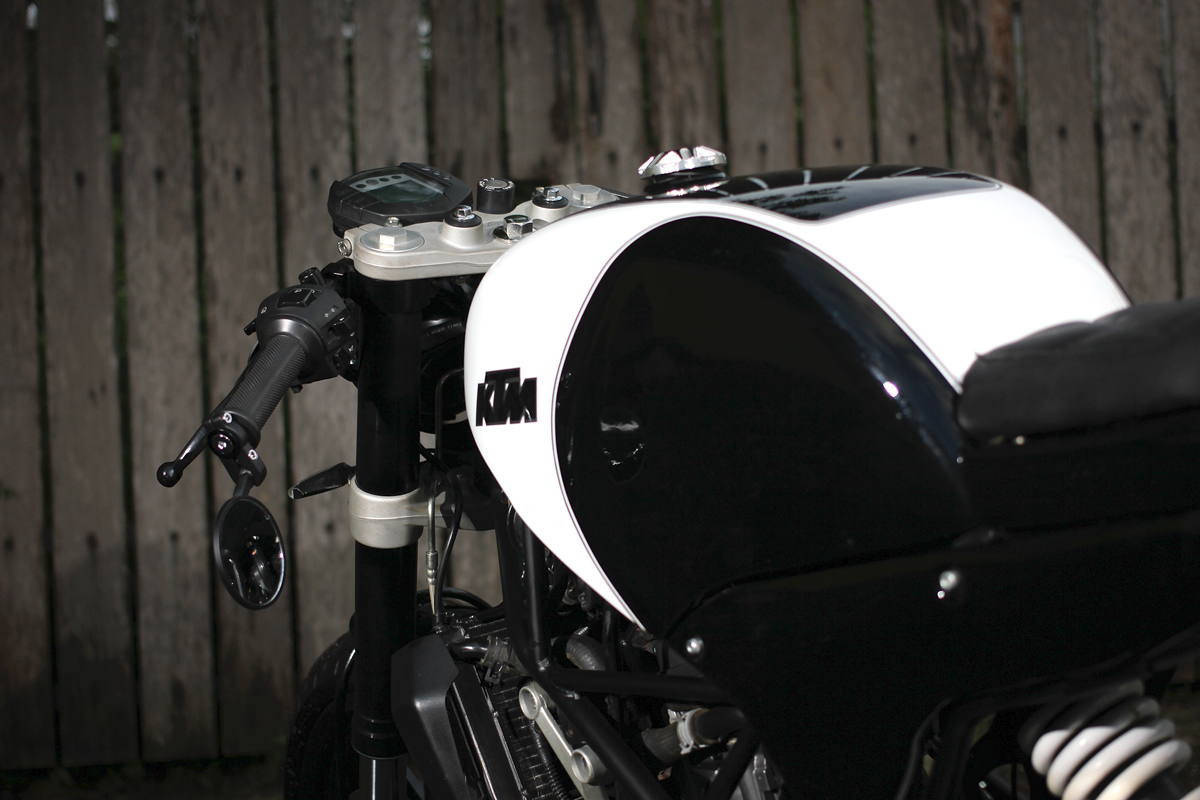 To support the all new bodywork the trellis frame was modified in the front and rear using seamless 3.3mm tube before being given a fresh coat of satin black. Using his talented in house team of fabricators, Donny then oversaw the creation the Duke's Continental style fuel tank, wasp's tail rear cowl and front fender from hand shaped, 1.2mm steel. He then added clip-on handlebars wearing bar end mirrors to lower the bikes stance and mounted a classic, round, 5 inch headlight for an old school appearance.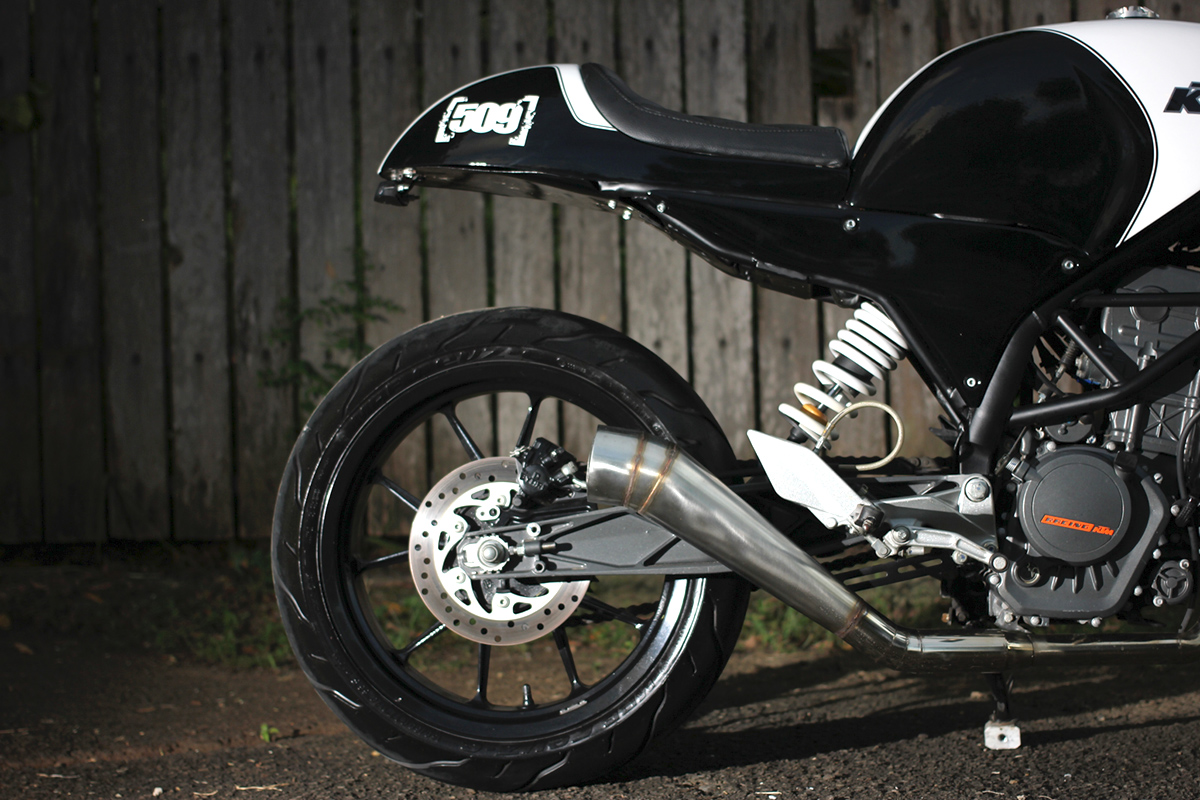 To produce a sound more fitting of their Duke Cafe Racer a new exhaust system was built from scratch using brazed welds for a touch of old-school engineering elegance. There are LED lights for the brakes and indicators and the leatherwork on the seat was completed by another member of Donny's skilled staff. With everything fabricated and fitting to his satisfaction, Donny outsourced the paintwork to his trusted paintwork supplier. Komet Studio finished the bike in the timeless black and white scheme using Sikken clear coat to seal in the custom decals. The result is a modern KTM Cafe Racer with the fit and finish of a factory bike, which I'm sure many of us enthusiasts would happily buy off a showroom floor.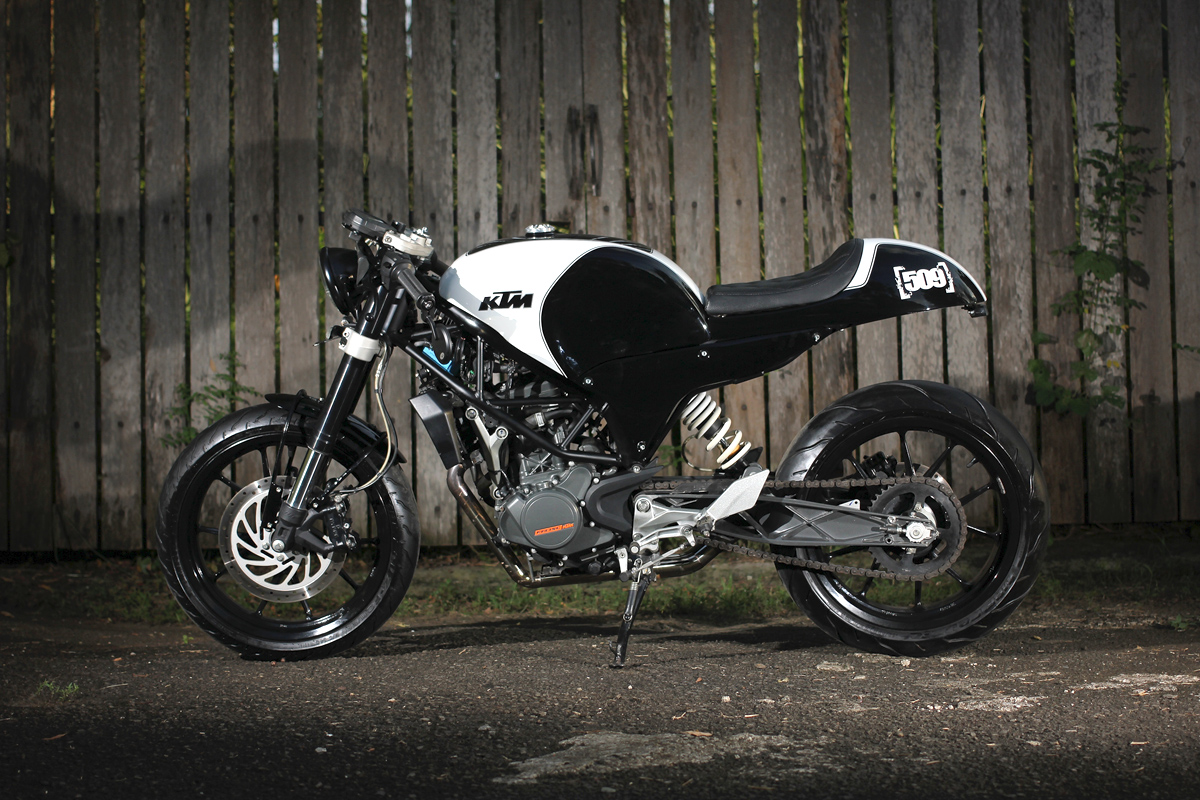 If you happen to follow Return of the Cafe Racers movements on
Facebook
or 
Instagram
you'd have seen we spent a fair bit of time over in the Emerald Isle, otherwise known as Indonesia, last year. We discovered an incredible amount of talented custom builders spread throughout the country, but it was in their capital of Jakarta, where we first met Donny Ariyanto, owner of one of the countries best-known custom workshops, Studio Motor.