"I've discovered I love building bikes almost as much as I like riding them!" – Joe Loss.
Joe's disorder is one that many of us can relate to. You start out riding motorcycles as a form of transport for a bit of fun, and end up spending all your spare time tinkering on them. Joe popped his custom building cherry with a Moto Guzzi 1000SP cafe racer followed closely by a Scrambler styled BMW R100 airhead. With 2 impressive bike builds under his belt it was only a matter of time until he went for the trifecta.
"I'd seen a number of café racers based on the mid-nineties Ducati 900SS and was drawn to them, " says Joe. "To give them the retro look, a '75 900SS styled half-fairing is often fitted. They look very pretty and can usually outperform café racers based on bikes from previous decades." This wasn't purely an observation. Joe had previously owned a '94 900 Superlight, a bike that was "Essentially a 900SS with a single seat and some carbon fiber parts". Knowing those Ducati's used a relatively simple design, had a low curb weight and gave solid performance he began his search for a suitable donor. What he soon realized though was that the bike best suited to his concept was already in his possession.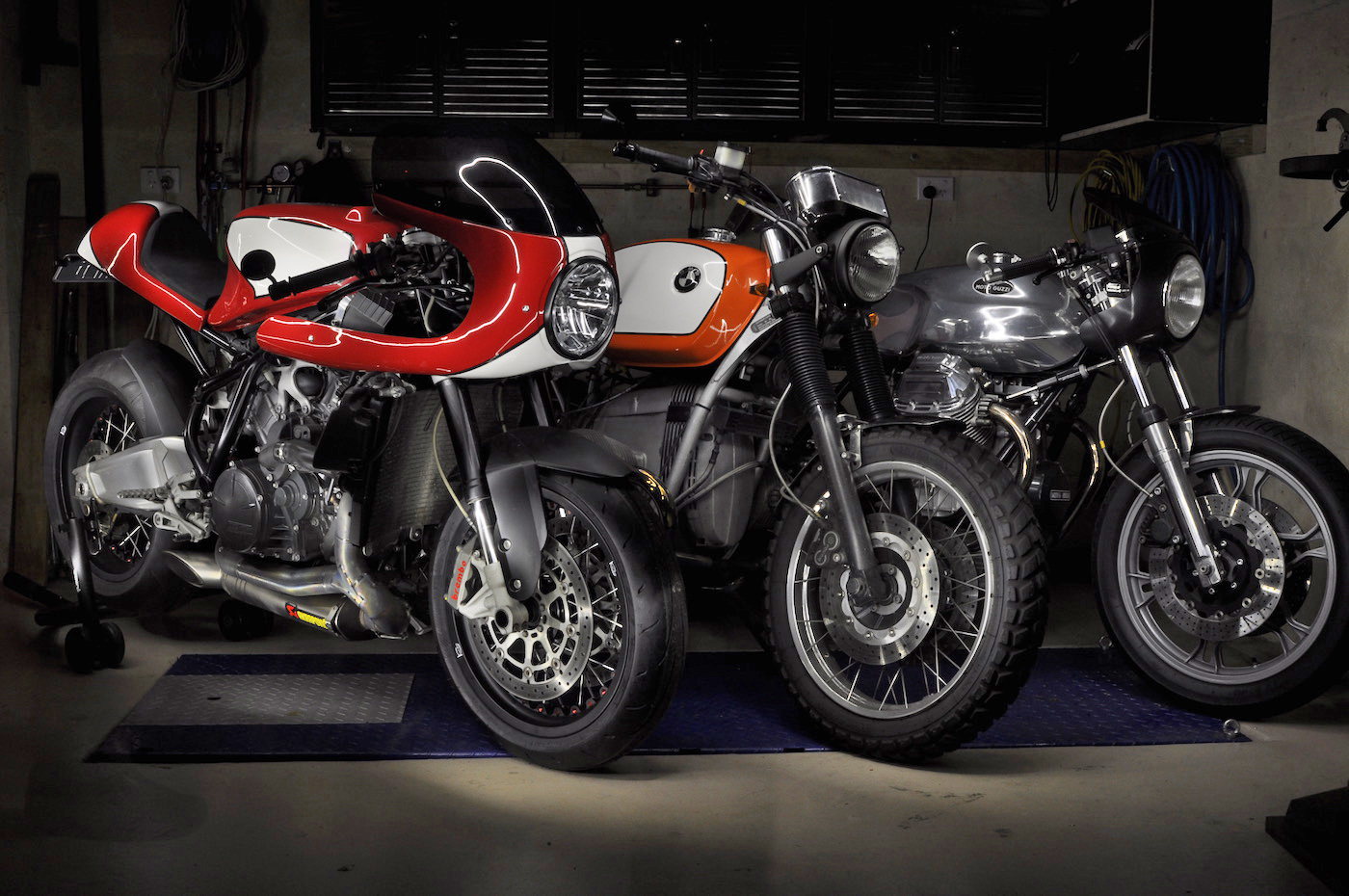 "One day I had this whacky thought. What about the same basic idea but using my KTM RC8 as the base?" Joe was on to something. The KTM RC8 was a wild machine that would make one hell of a unique custom build. The RC8 was KTM's first ever Superbike with a controversial angular design and a 151bhp engine. "I bought the first one sold in Western Australia in 2008." Joe recalls". I chose it over the Ducati 1098 because it had more low-end power, sounded better and was more comfortable. The chassis, engine, and brakes are sublime. It's a shame the RC8 never took off, which was largely due to a combination of unfair press and KTM's penchant for radical styling. Nobody could believe a dirt bike manufacturer could build their first road bike and expect it to compete with a Ducati. The press didn't dare upset the Italians by giving the RC8 too much praise and some minor teething problems were blown well out of proportion."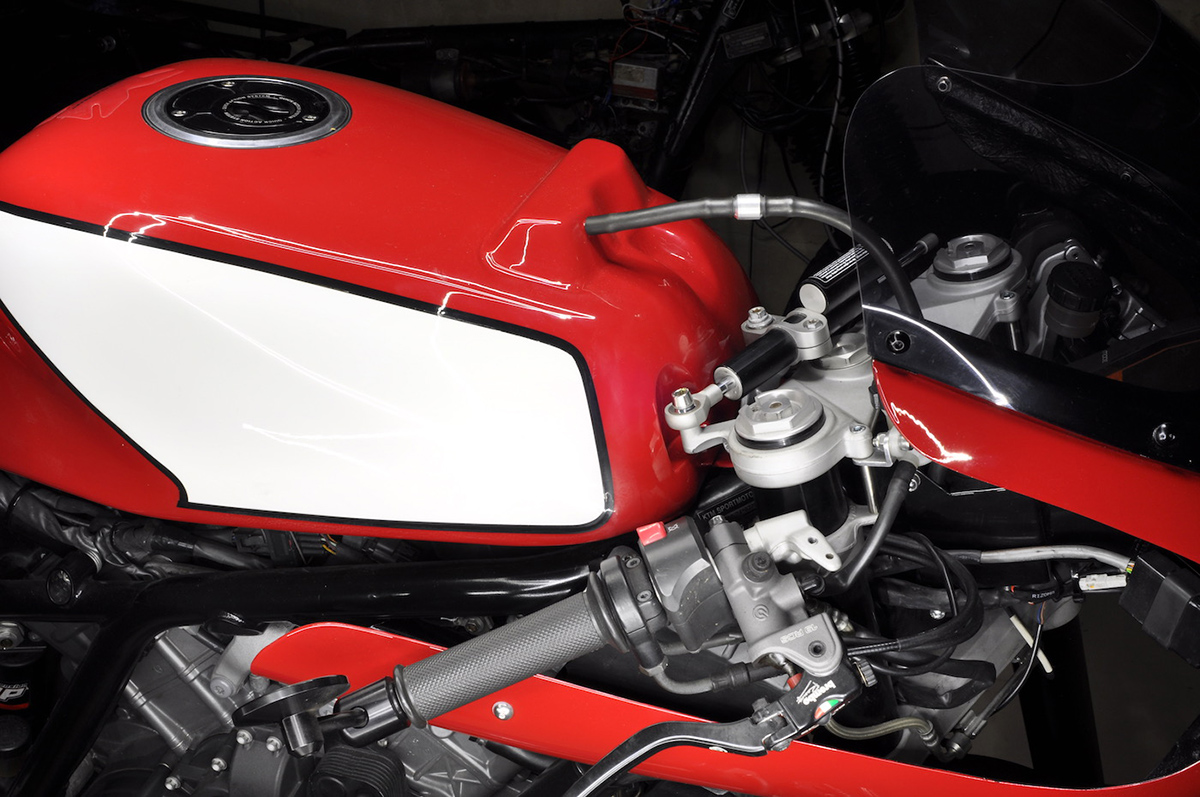 Just like the Ducati 900S, he had been picturing the RC8 was powered by a big v-twin hung in a tubular steel frame. The RC8 however utilized liquid cooling to keep temperatures in check. After seeing other people's attempts at building RC8 based cafe racers online Joe could see the bikes large radiator was going to present the biggest challenge. So, before he started tearing into his beloved KTM, he needed to be sure his build wouldn't suffer from the same problem. Using Photoshop he put together some mock-up designs that used a Ducati tank and half fairing and a café racer styled rear end. Inspired by how well his pixelated postulation turned out Joe decided it was time to bite the proverbial bullet.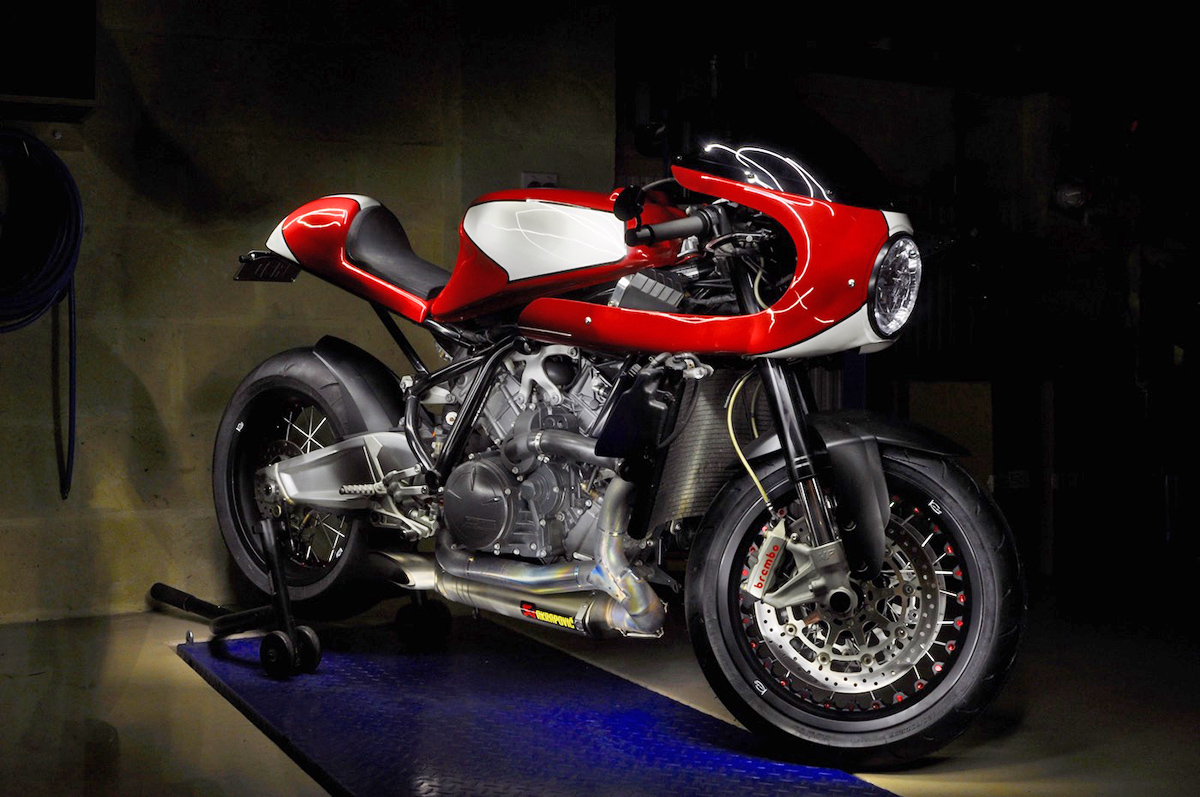 Thanks to a generous friend a Ducati 750SS fuel tank was acquired that had sustained some accident damage and was missing its filler cap. In order to fit over the KTM's airbox and fuel pump, Joe cut away the entire underbelly of the tank and beat out any evidence of damage on the outer shell. He then fabricated a new tank base from steel and with the help of his brother machined a flange to mount the KTM's external fuel pump. The tank also received some modification in the front end to accomodate the RC8's steering damper and a quick release filler cap was installed. With everything sitting just right he moved his attention to the rear end.
The new subframe is made from steel tubing and is mounted using the factory bolt on connections. Plates welded between the subframe walls formed a new location for the battery and electrical components. For the cafe racer styled tail Joe decided to have a go at creating his own from scratch. "I was quite chuffed with the result." (and so he should be!) "Two layers of closed cell foam were used for the cushioning on the seat to give it a simple, racer-like look and I was happy to discover it's more comfortable than it looks."
For the KTM's front end a Dunstall style unit was sourced from the UK. To have it fit the RC8 correctly both the shell and the windscreen were trimmed down and a custom headlight support was fabricated that allowed the ignition to remain in its original position. A special bracket on the headlight support also holds the trick factory RC8 instrument gauge in place and a round headlight more befitting of the bikes new retro look was installed. The front fairing also provided a place to store the RC8's ECU and voltage regulator out of sight. Once the fairing was in place the bike's radiator was looking a lot less obtrusive than Joe had anticipated so he simply blacked out its side to add some stealth.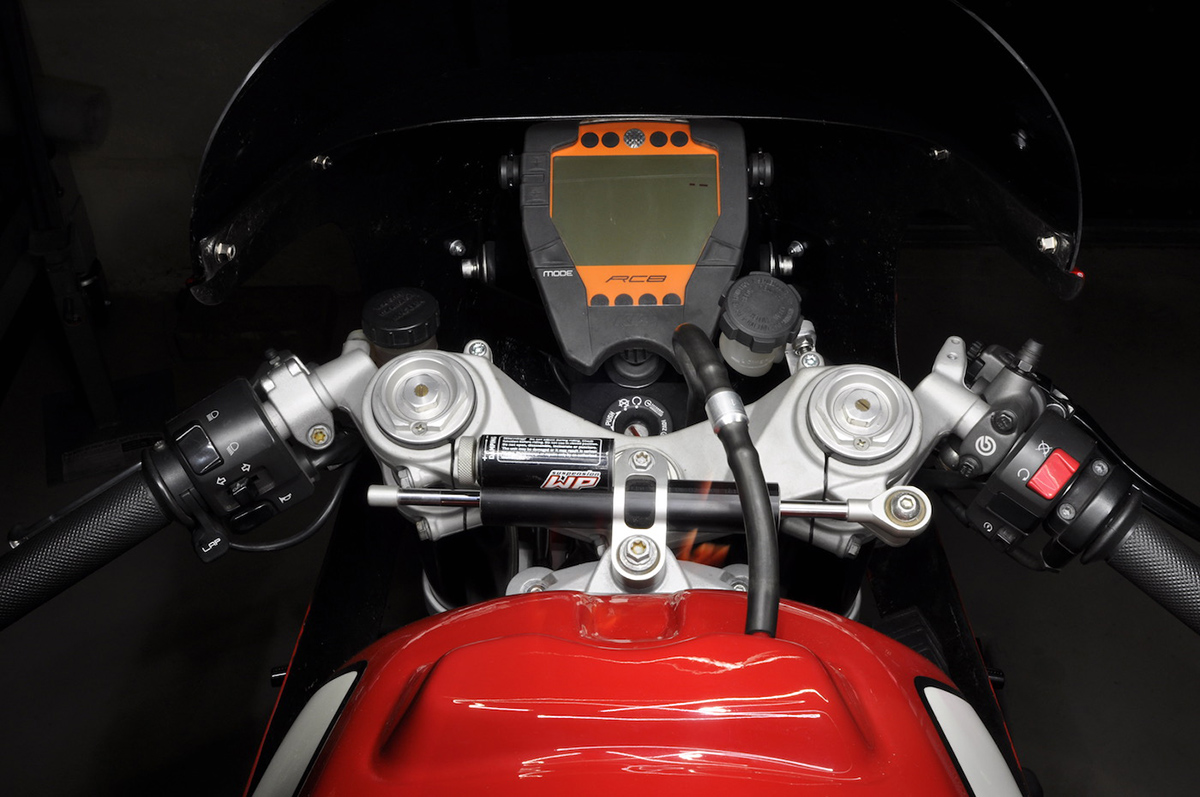 To further clean up the bike's appearance the front fender was heavily modified, rear supports were cut away and RC8's distinct angular lines were smoothed out.  Discreet indicators, a cat's eye LED tail light and bar end mirrors were also added to maintain clean lines. "The rest of the bike's stock components work really well in this modern café racer guise in my opinion," says Joe. "Fortunately the RC8 is one of the few modern bikes that look really good naked. With the full fairing stripped off, my superb, sewer pipe-sized Akrapovic titanium exhaust is fully exposed."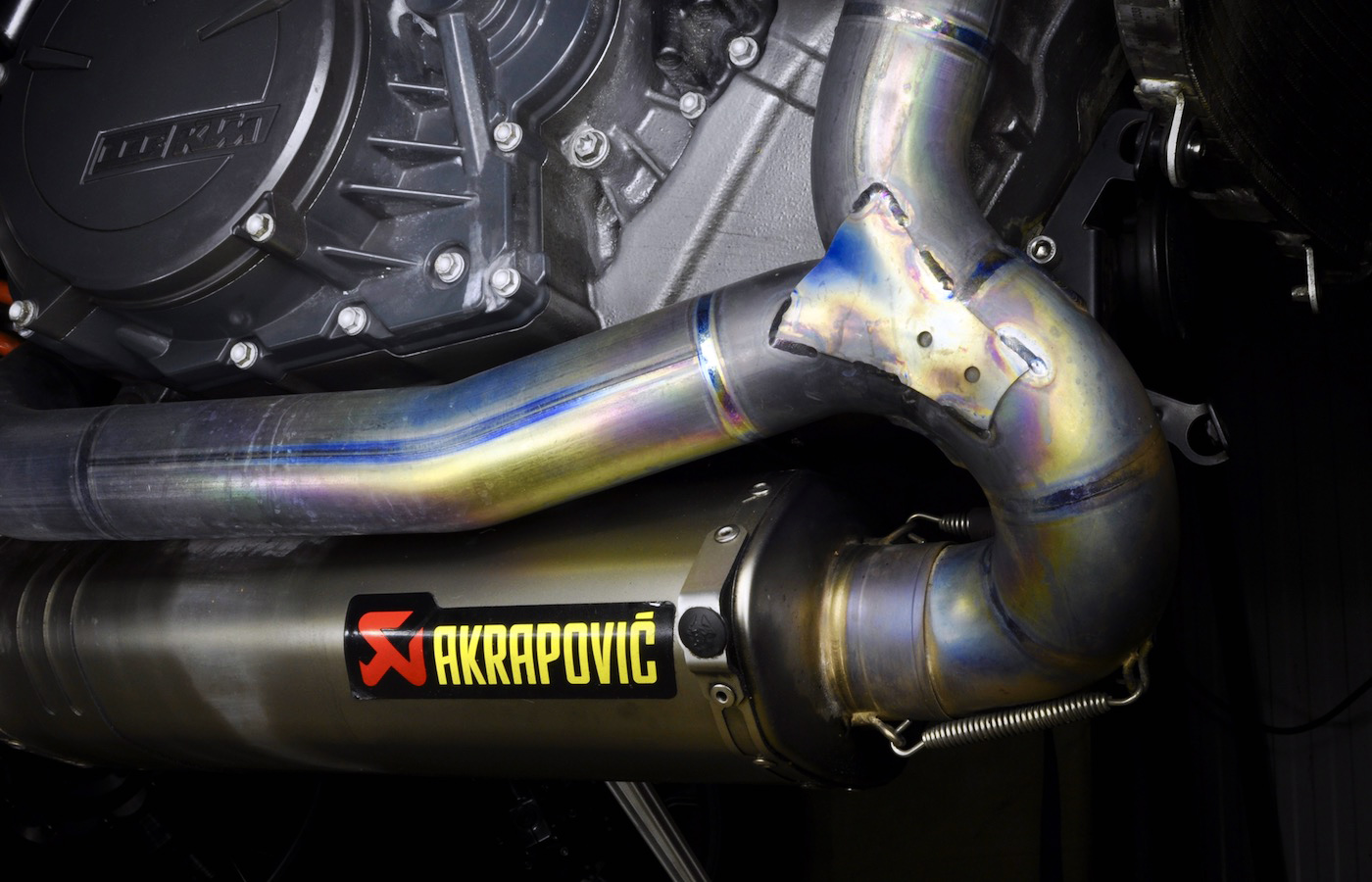 To complete his vision of a retro-styled RC8 Joe then tasked Kineo in Italy to custom build a set of wired wheels for the bike. Unlike older styled laced rims the Kineo items allow the use of tubeless tires so Joe didn't have to make any sacrifices when choosing his rubber. Power enhancements at this stage are limited to the aftermarket Akrapovic exhaust and an ECU remap. "It goes without saying that the bike performs exceptionally well. The bars are a bit lower than stock giving it a more racer-like riding position, but otherwise, it feels much like my old RC8. And that is a very good thing." With around 140 horses where the rubber meets the road and plenty of torque Joe also says that the bike doesn't hesitate to wheelie when prompted.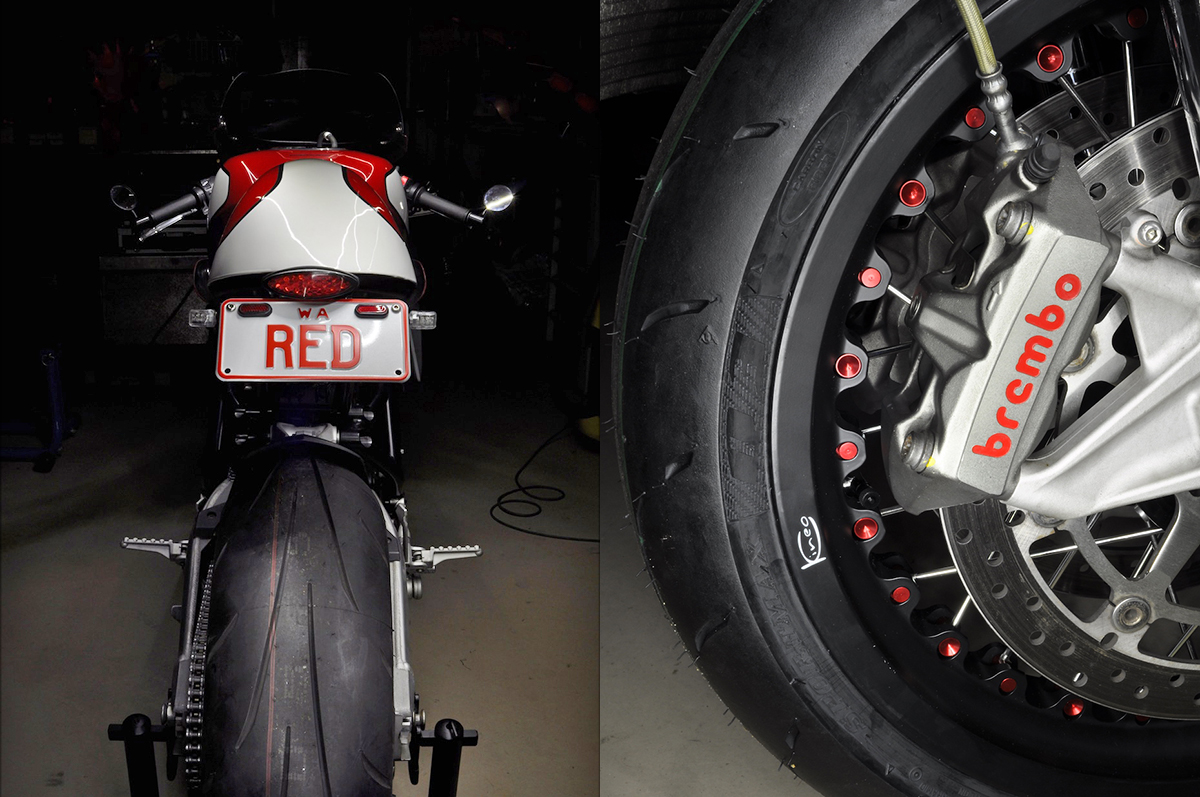 The final paint scheme was another stage that required plenty of pre-planning. Joe fired up Photoshop once again to mock up some designs which he admits were inspired by some of the 900SS café racers he's seen online. The final red and cream scheme give the bike a belligerent demeanor fitting of its performance and earned the bike its 'Big Red' name.
How have people reacted to such a dramatic departure from the original angular RC8? According to Joe "A couple of RC8 owners have said to me they want one and have asked where they can buy the kit!" If affirmation of his work was ever a goal then we'd say that Joe should definitely take that as a huge compliment.