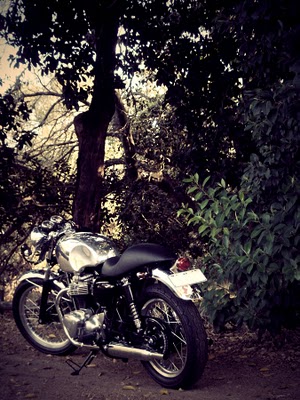 Today we have added a new feature to the site allowing you to submit your own Cafe Racer project.
Return of the Cafe Racers started out as a Blog for sharing our own projects and showcasing Cafe Racers we discovered around the web. Over the years Cafe Racer popularity has continued to grown much larger than we ever anticipated and with this more and more people are starting their own projects. Cafe Racer enthusiasts are piecing together amazing motorcycles in their garages, sheds and occasionally lounge rooms and we'd love to see them and showcase them here on the site.
We believe the home builders and backyard mechanics have just as much influence on where Cafe Racer style and culture is heading as the big name custom builders. Of course we will still continue to publish stories on workshop bikes but we want to see the Cafe Racers built on a budget, pieced together from whatever could be found or created by those whose careers don't typically involve custom motorcycle building.
So click the "SUBMIT YOUR CAFE RACER" link in the header, fill out the form and we will be in touch if your bike is selected to go up on the site. We're looking forward to seeing what you all have lurking in your garages!