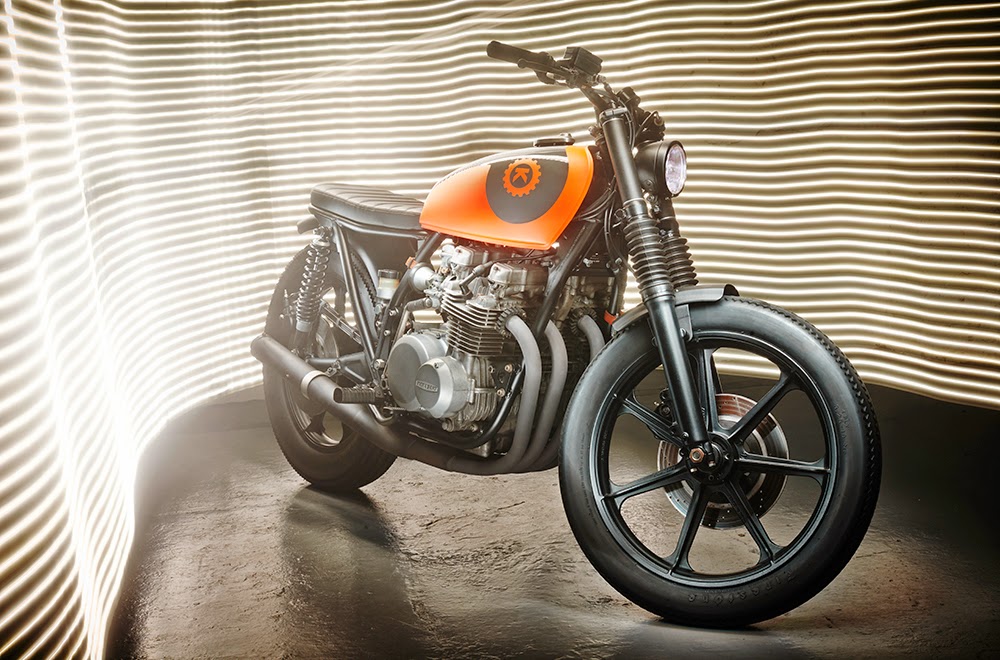 Although the Kawasaki Z650 might be considered by many to be the low powered cousin of the Z1, it actually has quite an impressive reputation of it's own. Because of it's reduced weight, smooth power delivery and impressive top speed it was actually one of the most drivable models to ever come out under the Z guise. So almost 40 years after their first release it's no wonder we're seeing Z650's being given a fresh lease of life thanks to some clever custom builders. Kerozin Motorcycles in France are the latest custom builders to do exactly that and this is their Kawasaki Z650 'Bratstyle' build.

"This is the 36 year old Kerozin Kawasaki Z650. The aim was toslim it down, revamp the rear and refurbish all of the tired and worn components. For starters the rear loop went under the grinder and the original was replaced by a flat loop, which despite its small size, still allows for a passenger. Thanks to some clever relocating of the battery we have managed to preserve the electric start without affecting the aesthetic goals of this build and the wiring harness was completely redesigned to suit the new components."
Kerozin also designed and upholstered the new seat to sit perfectly on the revised rear loop. New bars were bolted in place and a tiny Motogadget speedo and POSH switches replaced the bulky Kawasaki units. The brake lines were upgraded, fenders trimmed, frame and rims blasted and powder coated and Firestone Champion Deluxe rubber added. The engine cases were also blasted clean, the forks rebuilt and the engine given a complete overhaul.
The final touch came in the form of a tidy paint job by the talented El Guapo. The two tone orange and grey scheme is easily one of my personal favourite colour combinations (which you will see if I ever finish my XS650 build!) and finishes of this build perfectly.