Up until now most of the manufacturer build offs we've seen have been between professional workshops or dealerships. With 'The Wrench – Scout Bobber Build Off' Indian motorcycles have taken more of a grassroots approach. Recognising the importance of the 'backyard builder' Indian invited custom enthusiasts to submit concepts of how they'd like to customise a Scout Bobber. From the 100+ submissions received a panel of judges including Roland Sands and Jason Paul Michaels selected 12 semi-finalists. Then through a public vote, 3 winners were given a 2018 Indian Scout Bobber and a $10,000 USD budget. Ohio based safety inspector PJ Grakauskas was one of the 3 chosen builders and this is his fully faired 'Scout Cafe Racer'.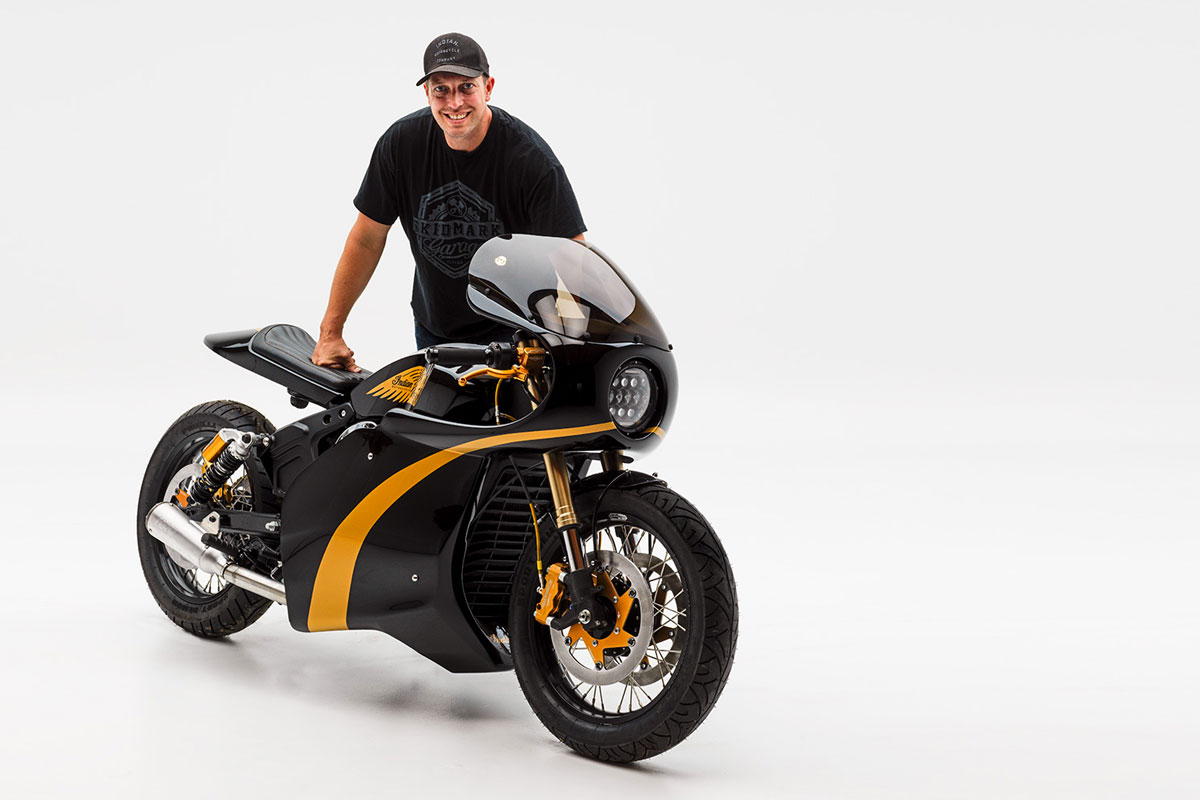 12 weeks after they were handed the bikes all 3 'Wrench' contestant builds were unveiled at the 2018 Sturgis Motorcycle Rally. Seeing a cafe racer styled bike at an event that's traditionally cruiser and chopper focused instantly piqued my interest so I reached out to PJ to learn a bit more about his project.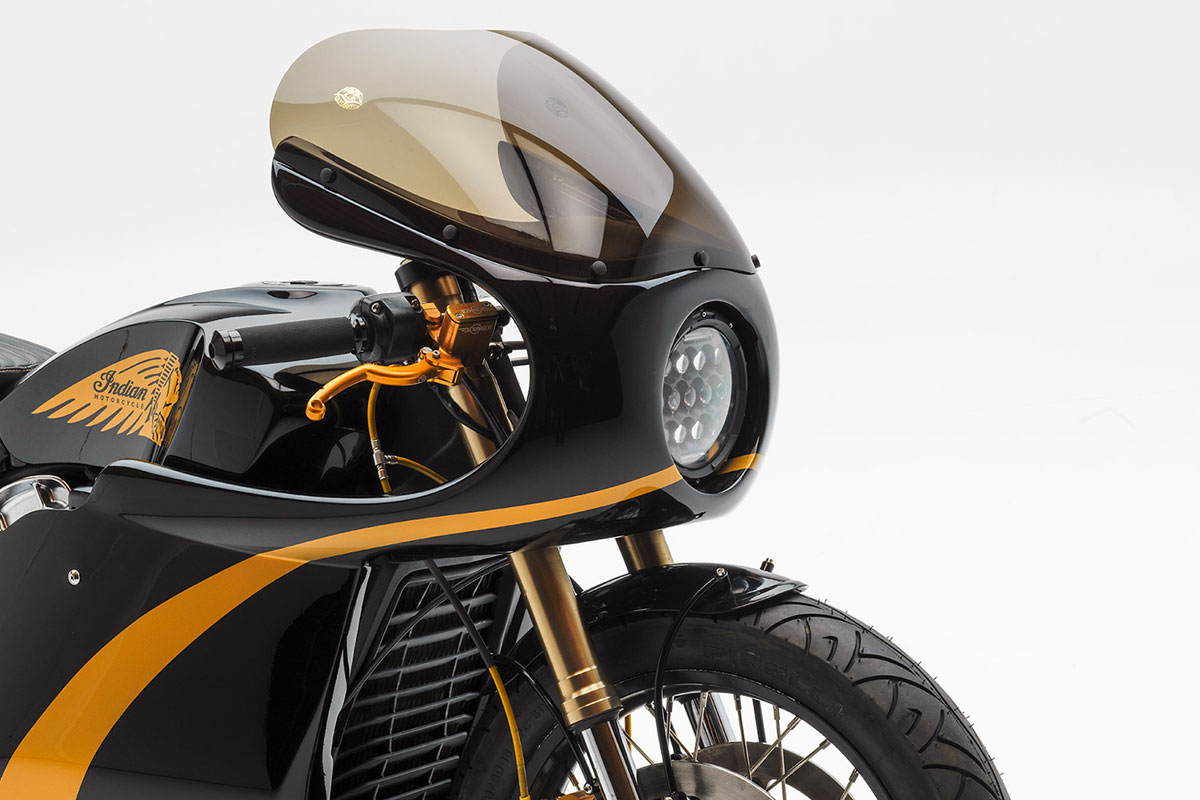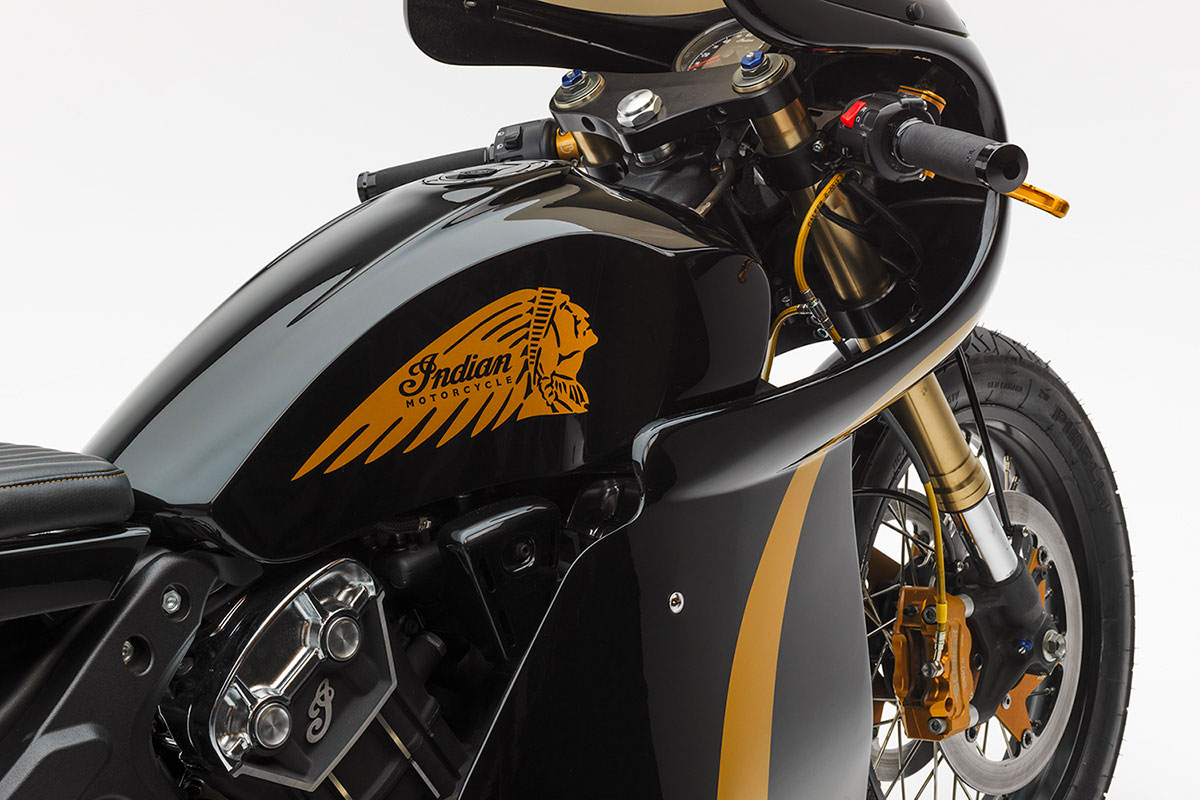 Hi PJ, Why don't we start with a bit about your history with building custom bikes.
I don't build bikes full time, it's just an expensive hobby for me. I grew up surrounded by motorcycles my whole life, but mainly racing off-road. When I started building custom bikes it was to spend more time with my dad. I took parts and bikes from our barn and used them to make unique motorcycles I wanted to ride.
What was the process leading up to being selected as one of the top 3 builders?
It started with entering the contest. We had to submit design concepts, essays, and previous build experience. I drew up my ideas and had my friend Cory of Moto Mesa Designs tweak it and turn it into a gorgeous digital rendering. From there it went to public vote. After I was awarded as one of the top three I went to Bair's Powersports (our local Indian dealership) and picked the bike up.
Do you have any prior history or experience with modifying Indian motorcycles?
I don't have much history with them prior to this build. But I do know THEIR history. I'm honoured to be able to build a bike with such a rich heritage.
Did you expect the bike to get a good response at Sturgis?
I really didn't. Sturgis isn't known for cafe racers or sports bikes. The crowd is very v-twin oriented. So I was happy to get a great response and all the pats on the back. Having my peers at Michael Lichter's Passion Built Show give me praise was also a nice surprise.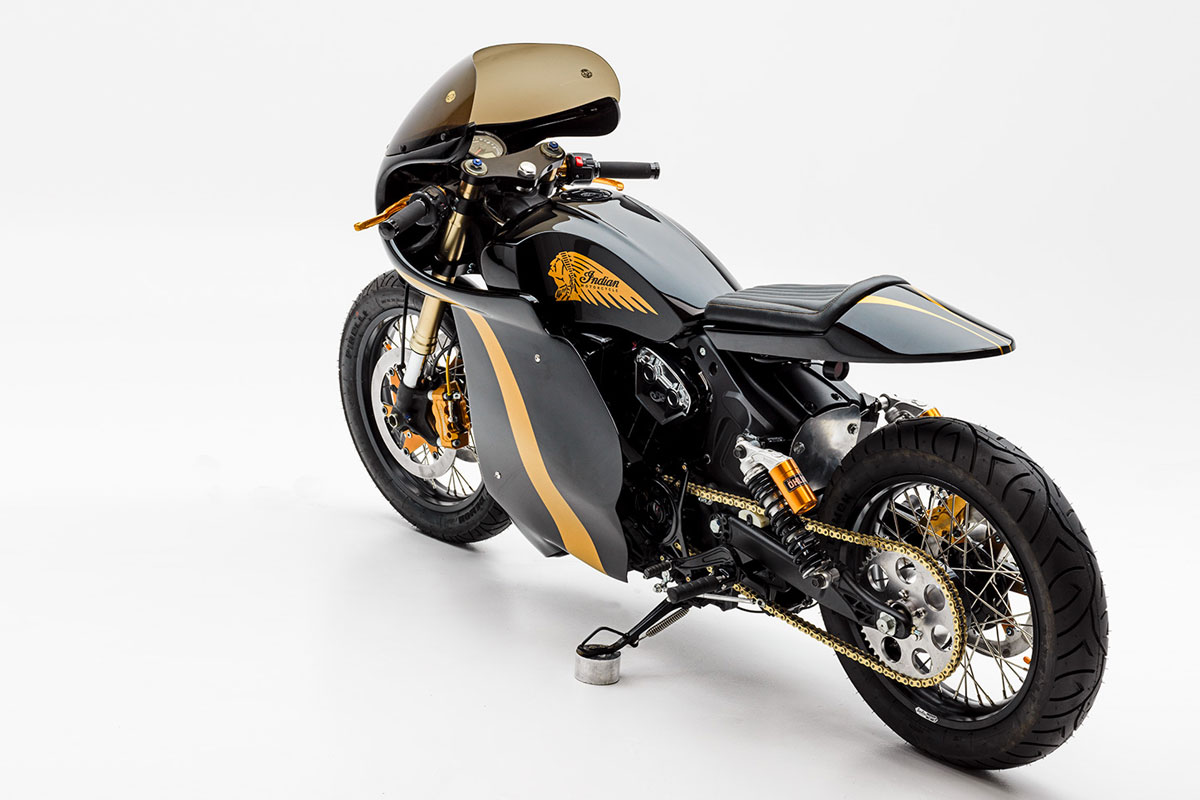 Anyone who has ridden an Indian Scout will appreciate just how much work was required to create PJ's Scout Cafe Racer. What's most impressive though is that the bulk of this build took place in a small workspace out the back of his home. The most obvious modifications are, of course, those to the bodywork. The full fairing is a custom-made fibreglass unit that PJ designed and was finished by Kacey Elkins of Krossover Customs. PJ tasked Raw Iron Choppers with cutting and welding knee dents into the stock fuel tank while he built his own tail section and had the seat covered by Ginger at New Church Moto.
Getting the Scout sitting right was an integral part of PJs cafe racer transformation. To do this he installed a set of '07 GSXR forks using Cognito Moto 50mm offset triple trees. To level out the frame, he also fit a pair of 12-inch Ohlins shocks. Spoked wheels were high on the list of must-have items so he fit a pair of 18 inch Sun rims. The front is laced to the GSXR hub while the rear is fixed to an aftermarket hub by Indian. Woodcraft clip-ons wearing Avon grips set up an aggressive riding position and the stock footpegs have been relocated for comfort. Pj completed his handling modifications with Pirelli Sport Demon rubber and a full brake upgrade using gold anodised parts from Beringer.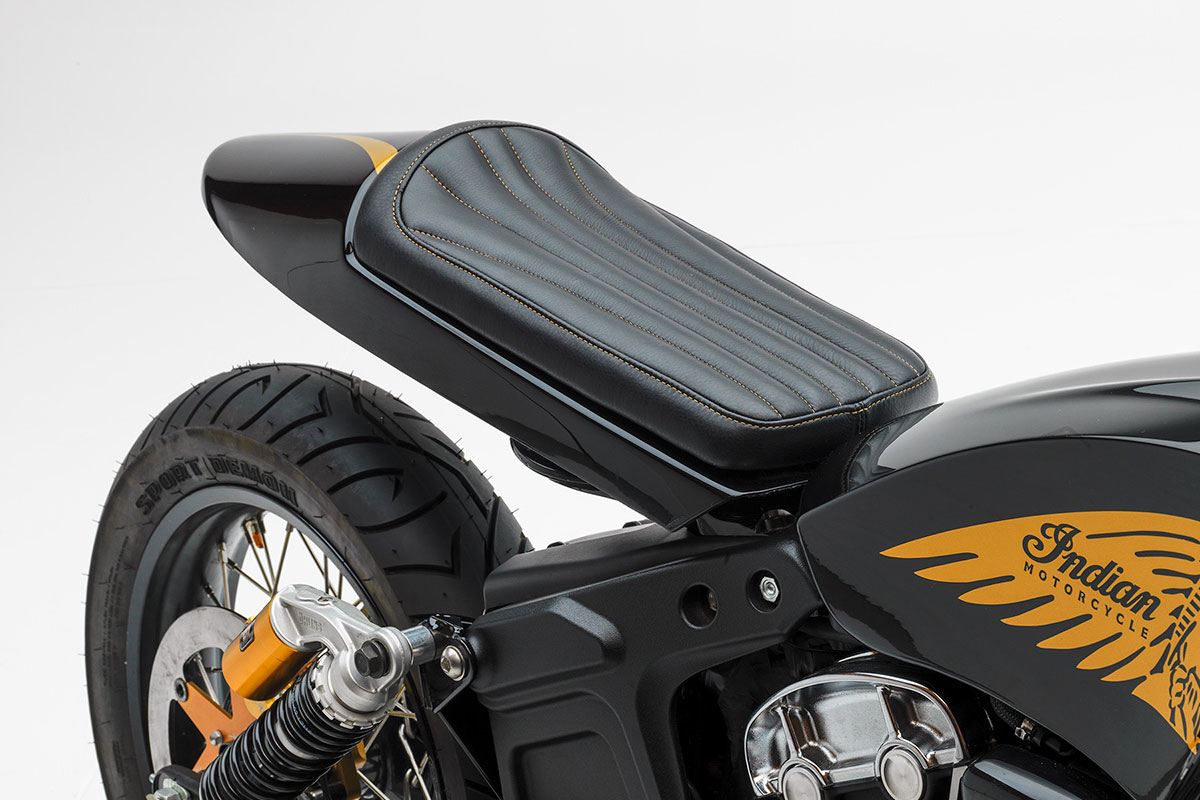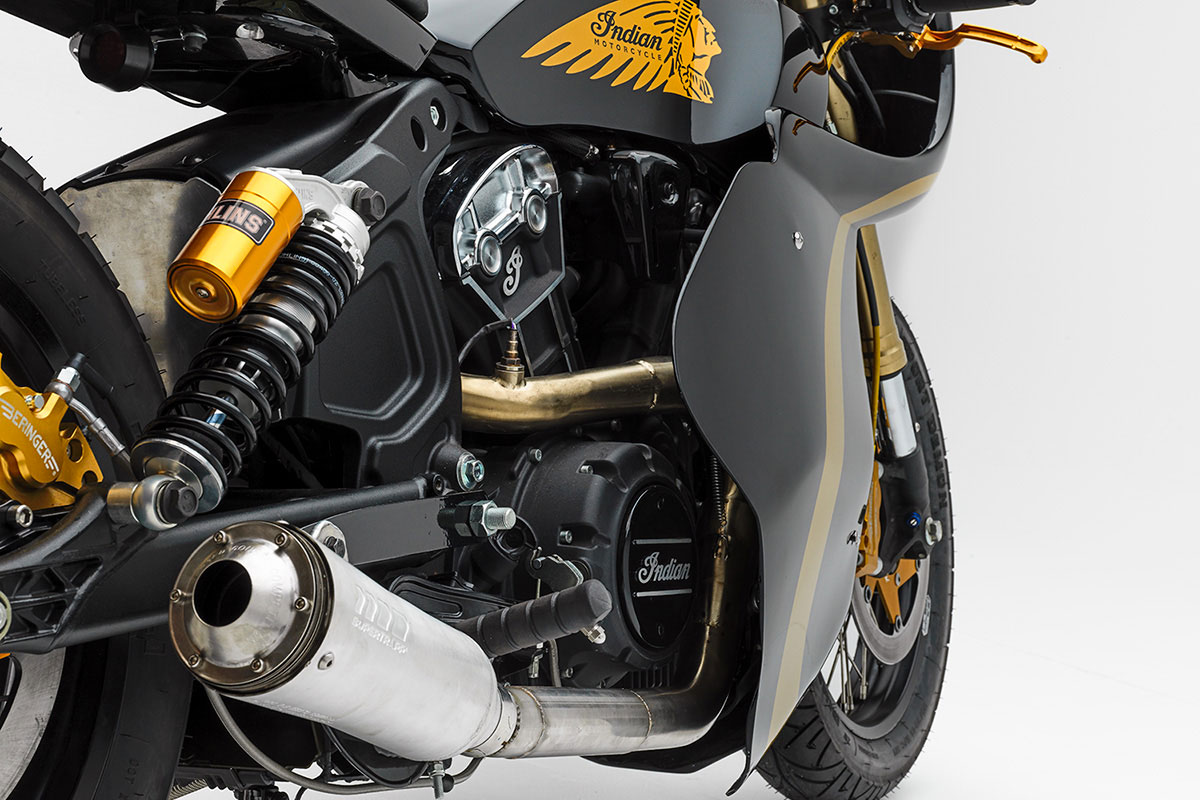 No cafe racer build is complete without at least a little additional horsepower, and PJ's Scout Cafe Racer is no exception. The bike now runs a DynoJet Power Commander tuned to get the most out of a Zipper's intake, custom 2-into-1 exhaust and Supertrapp alloy muffler. Those with a keen eye will also notice a change from belt to chain, another modification done to achieve a classic bike aesthetic. The choice of chain colour was to tie in with the stunning black and gold paint scheme laid by Krossover Customs.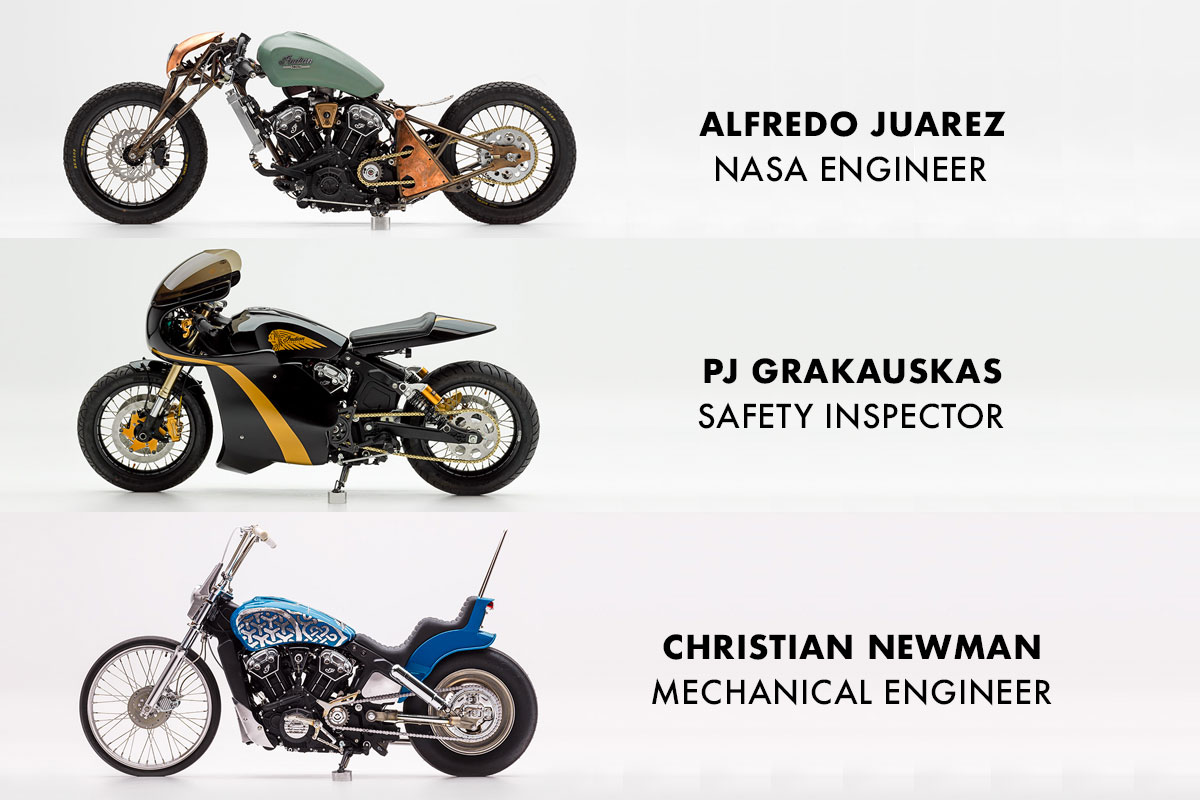 PJ and his Indian Scout Cafe Racer have now entered the final round of judging which will be determined by an online public vote. You can see all 3 entries in the image above. If you think PJ's bike deserves to win the first prize you can vote for him here.