Remember the first time you swung a leg over a bike? Mathias Wiese does. At the tender age of eight, his dad dinked him around town on the family CB550. There was something about that afternoon's ride that stuck with him. That feeling, that smell, and that inline-four snarl gave the young Bavarian an itch that would take years to scratch. That love of four-pot screamers never left him, as evidenced by this, his glorious shed-built 1976 Honda CB550 cafe racer.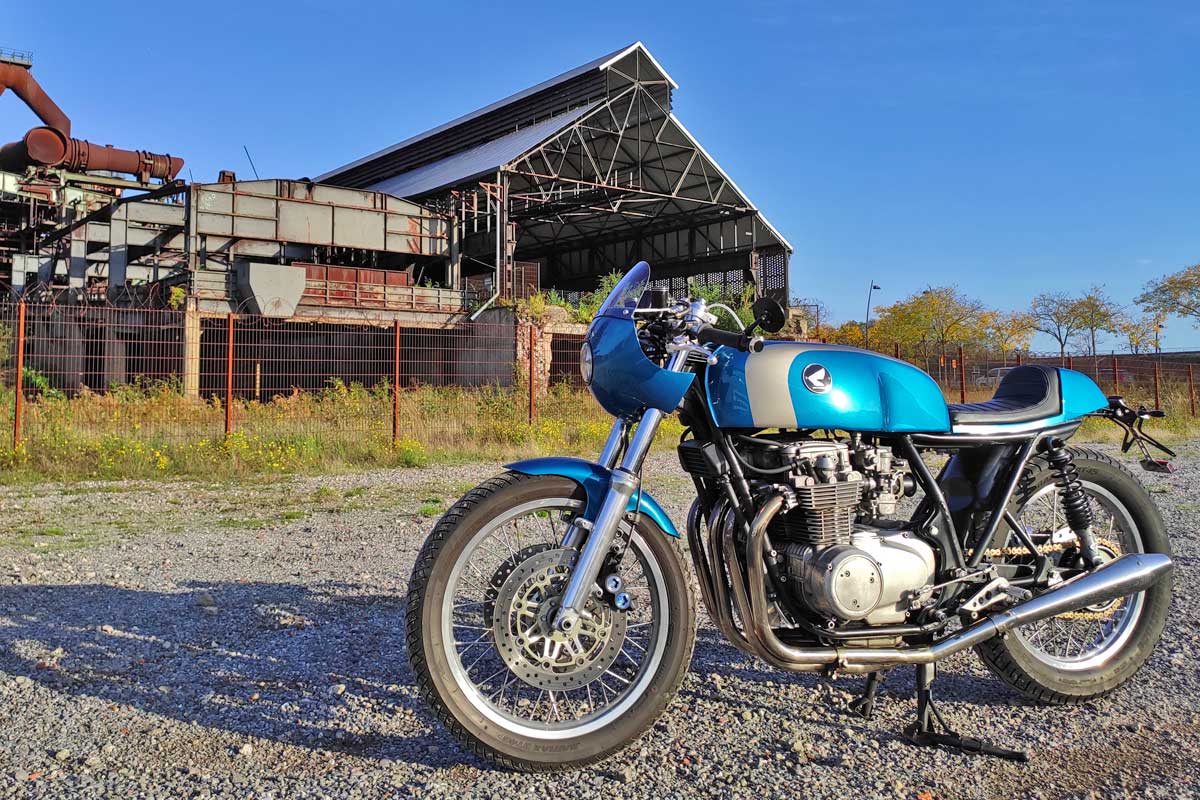 Of course, this Honda didn't land fully formed in his Mathias' lap, with the old inline-four coming to him all clapped-out and dog-eared from generations of neglect. But as a student, the old Honda proved to be a kickass ride and the perfect project for the budding mechanic. He made up an exhaust for the bike, did some minor cosmetic work and some major engine modifications. He was studying industrial mechanics, and the CB proved to be the ideal testbed to hone some cylinders as well as his craft.
For all you CB fanatics frothing along at home here's what the young Mathias did. The 550 crankcase was retained but the clutch basket and primary drive was swapped out with 650 components, as well as the chain tensioner and sump. Electronics were switched between the two and the crank, cylinder, and head of the 650 was installed with +1mm oversize pistons and a Yoshi cam with a longer duration and increased lift. Not bad for a student, eh?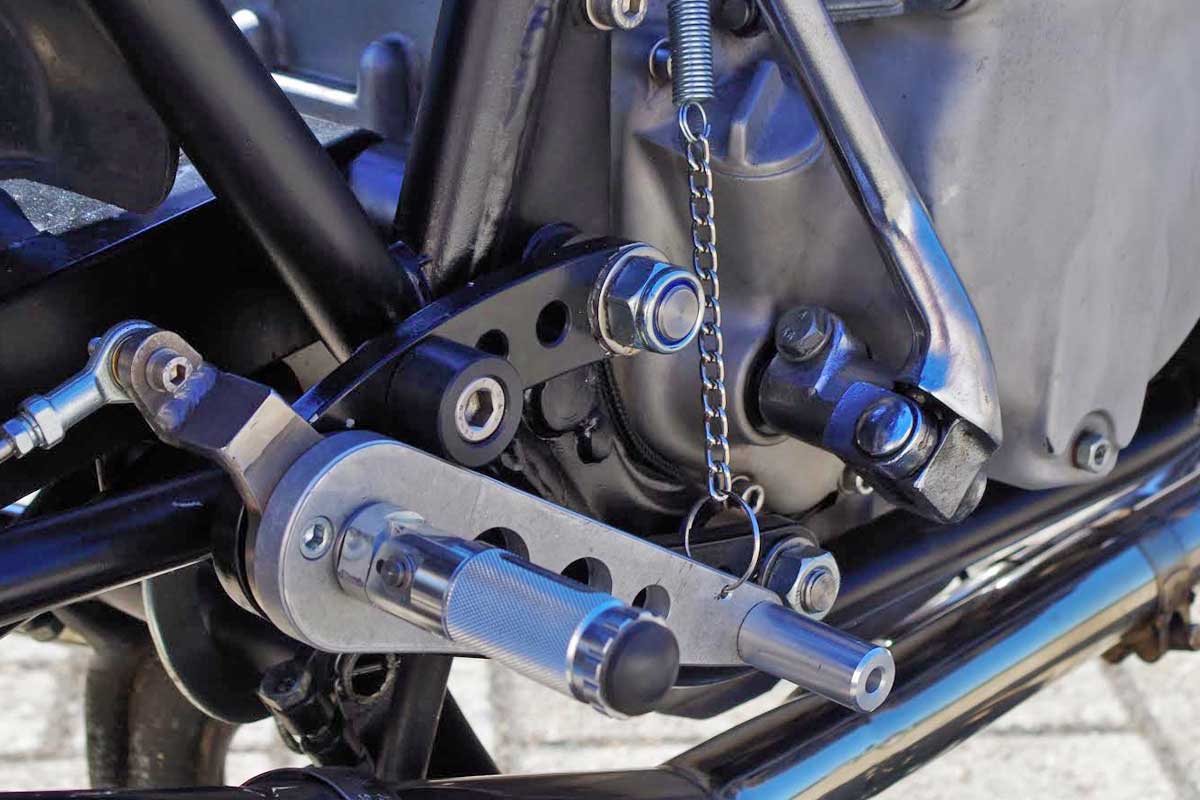 Mathias continued his studies abroad well away from the Honda but always with one eye peeled for some parts. He had a vague idea that he wanted to do something to it, but didn't have a specific goal in mind. "I never really sketched my plans on paper," Mathias says. "But it started when I was sitting on my bed in California one night, scrolling through German eBay and looking for cafe-styled tanks. Suddenly, there it was. An old, long, 24-liter aftermarket tank for a CB550. I was lucky to get it in such a suburb condition for a reasonable price".
He jumped on it and had it shipped to his father's workshop back in Germany for his return. Months later when he was settled back in the Vaterland Mathias wheeled the bike out for some serious work. He was now fully qualified, free from study and armed with the support of his father and uncle — themselves dab hands in the bike building game. Mathias mounted up the new tank and started on the second iteration of the Honda.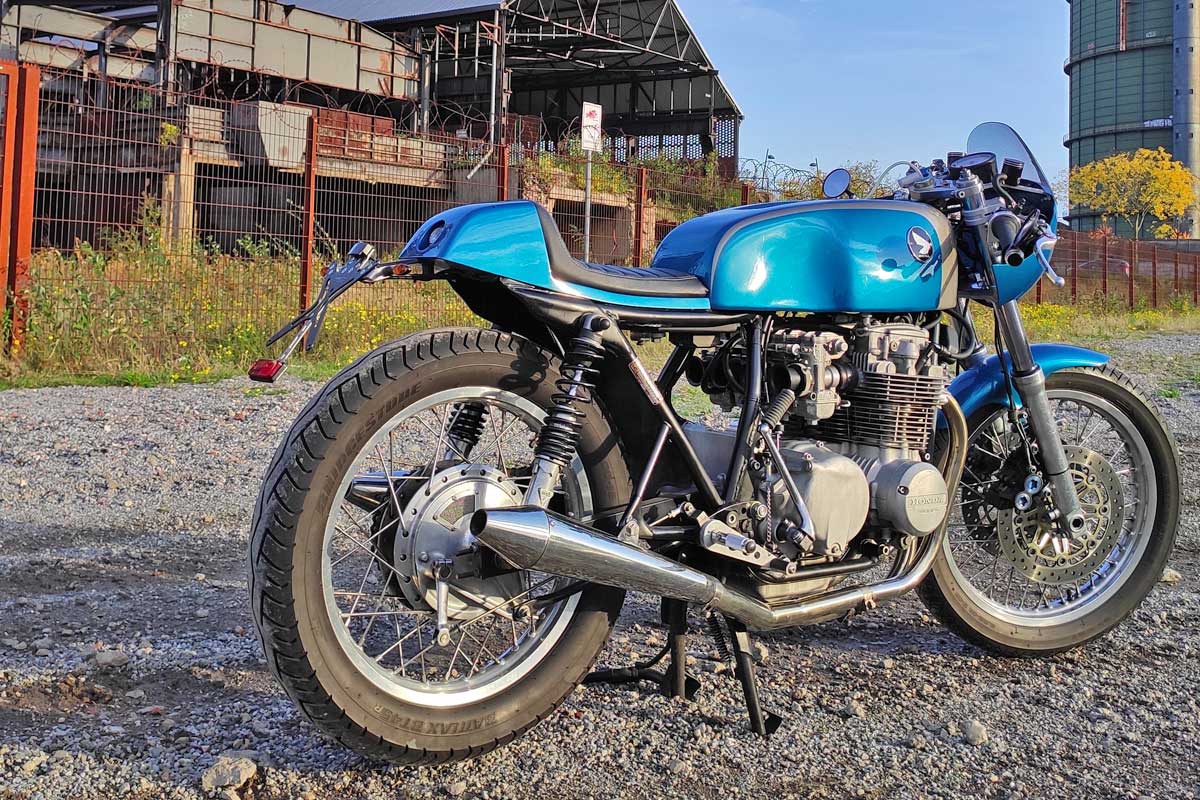 He took some steel sheets and formed a new seat and hump with integrated rear lights, with the frame shortened and kicked up a little under the hump. Inspired by famed Guzzi builders Kaffeemaschine he installed a tidy bikini fairing and headlight. New, shorter fenders were fitted, while the wiring loom was simplified and frame trimmed of all superfluous tabs.
Then the suspension work started. Beefy right-side-up R6 forks and 4-piston calipers were mounted and set to grab CBR900 discs. The brake master cylinder was taken from a K6 Suzuki GSXR1000 while ZXR750 controls keep the hydraulic clutch actuation in check. A Krüger and Junginger rear swingarm and rebuilt 70's Koni shocks help keep the rear end under control.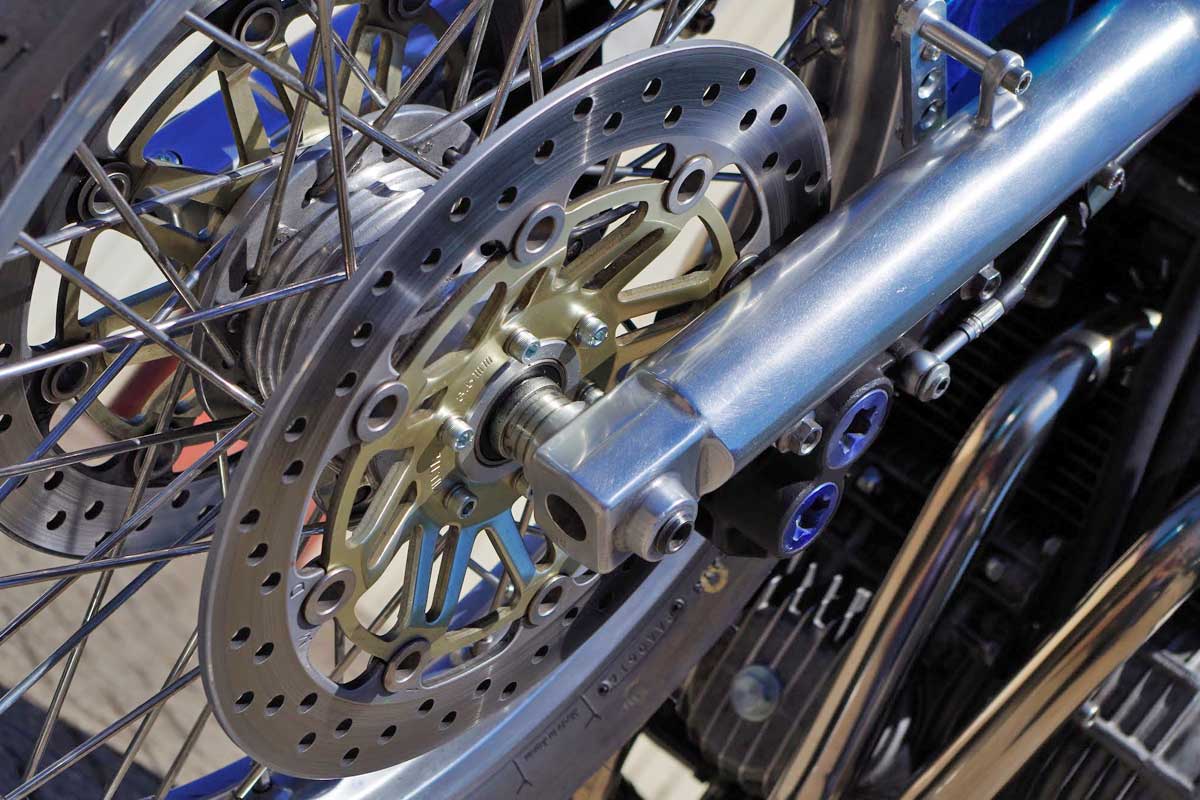 Helping his CB550 cafe racer rocket along are a set of Keihin CR29 carbs with velocity stacks, taken from a ZXR400 race bike. It also runs ignition coils from a CBF600 Hornet as they're shorter, lighter and produces a more intense spark. The ignition is fed by an Electrosport Integrated regulator/rectifier. The result? A bike that pulls all the way up to 10,500RPM and tops out at a GPS-confirmed 201km/h.
So it hauls ass while looking damn good. And that paint scheme? "It was actually made well before I started thinking of building the bike," Mathias recalls. "I walked past a new BMW M2 in a color called 'Long Beach Metallic' and thought it was just mesmerizing". It would be perfect for the old Honda. "I thought it would complement an old cafe racer well, with 70's bikes often being shiny, metallic and bright".
It rounds out a cafe racer project that's near-perfect in our eyes. Weighing in at 162 kilograms (all fluids sans fuel) this Honda CB550 easily falls into the true 'cafe' category. It's light, it's quick, it's worked. And it's undeniably gorgeous and beautifully understated. Here's hoping this isn't the last Honda that Mathias turns his hands to.
Story by Marlon Slack