Drag racing is the ultimate test of acceleration. The sport commonly takes place on a straight 1/4 stretch of asphalt where 2 heavily modified vehicles race each other from a standstill to the finish line. Vehicles built specifically for drag racing use a precise balance of power and weight to achieve the best possible 1/4 mile time possible. As you'd expect, most purpose-built drag vehicles don't function well as daily drivers since cornering isn't a consideration.
So what does it take to build a drag worthy motorcycle that's also ideal for the street? To answer that question we're speaking with Tyson Oak Carver from Texas. He pieced together this 1974 Honda CB750 cafe racer/drag bike that's as capable in the corners as it is at laying down impressive straight-line times.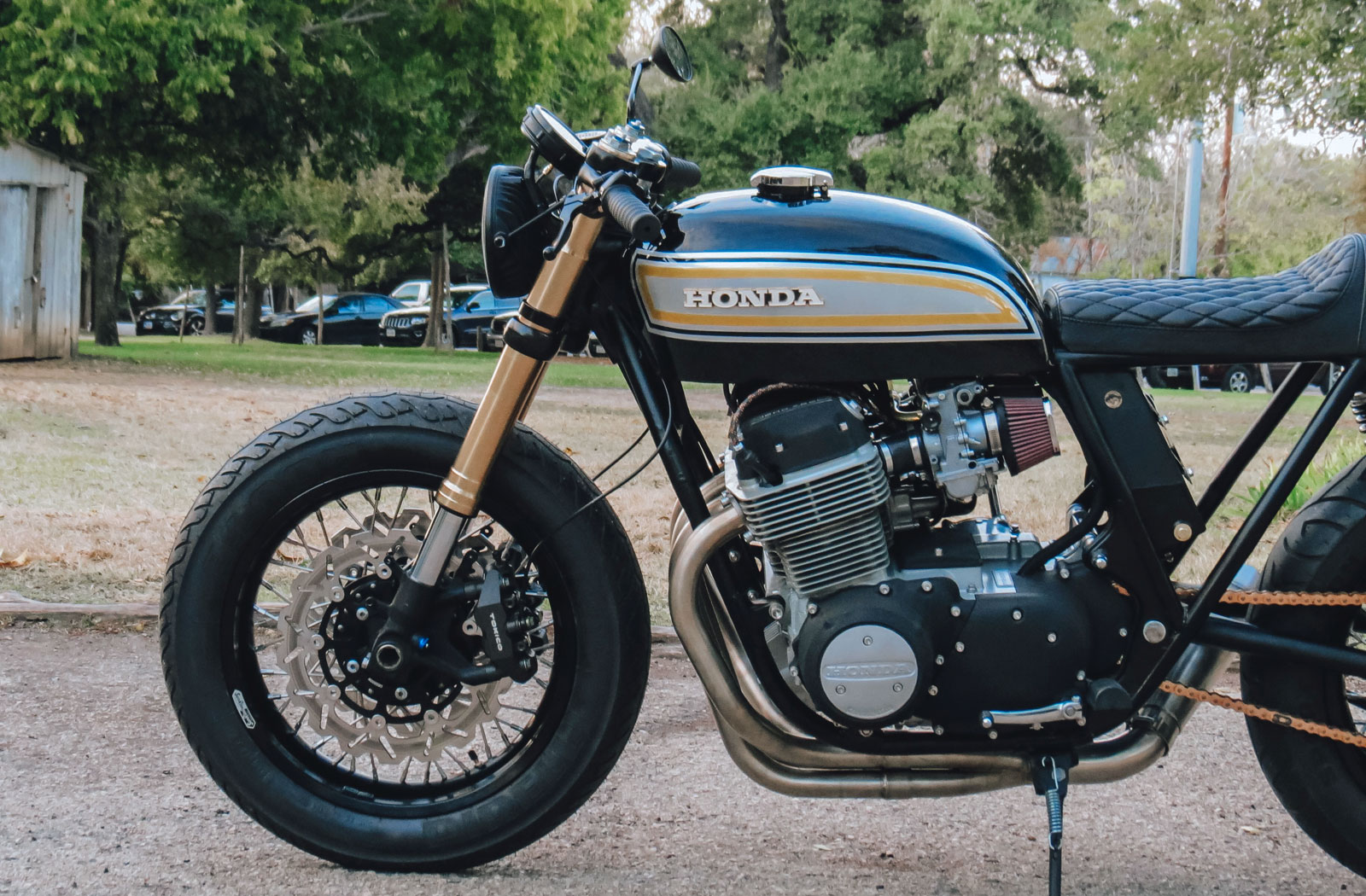 "This build took a little more than 2 years," says Tyson. "I spent a lot of time from the age of 3-28 playing music. There was a time I was playing about 180 nights a year and slowly, playing music was not as fun as it used to be. I don't want building motorcycles to get like that so I like to take my time."
Tyson lives in New Braunfels, Texas, where he's been tinkering on bikes for the past 11 years. His obsession with motorcycles began after the loss of both his parents at the age of 28. His first project build took place back in 2013 and was also based on a CB750 donor. Needless to say, he knows his way around Honda's legendary inline-four quite well.
This CB750 is the first build Tyson has completed for a customer in the purpose-built workshop he constructed in his backyard. The Honda was actually completed 2 years ago, however, due to the pandemic lockdowns, it didn't break cover until this year's Revival Cycles Handbuilt Show.
"The owner approached me because of the first cb750 I had built," Tyson explains. "He said he wanted something very similar but done with no holds barred. So the design was something we discussed throughout the process but nothing was sketched out or modelled. Just a classic approach with high-end parts."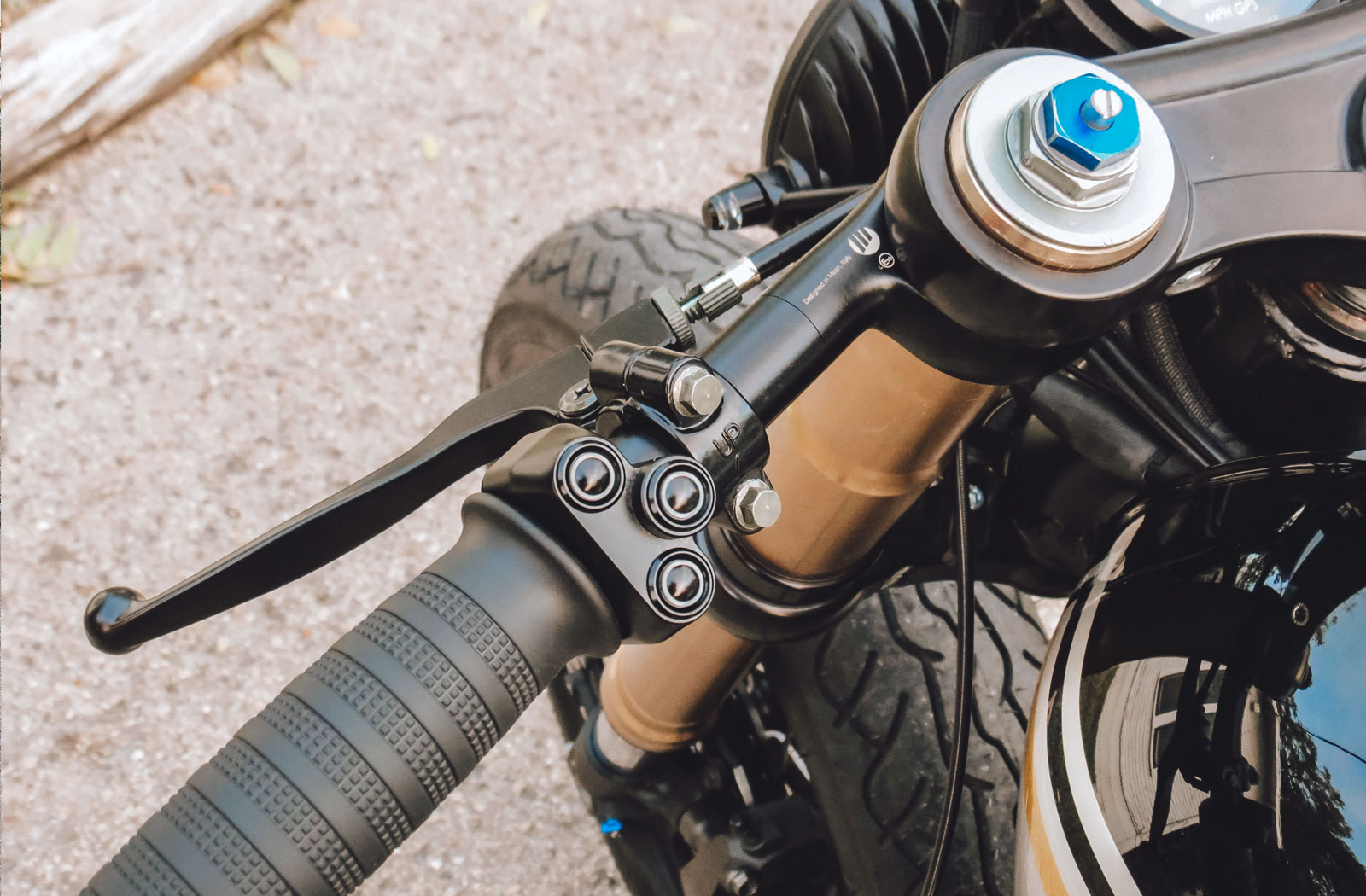 It's not uncommon for a single component to define the direction of a build and such was the case with this CB750. It all started with a frame, but not just any frame. It was a purpose-built chassis by Bill Benton in Georgia.
"He (Bill) is really big into racing CB750s and apparently this one came from a disassembled drag racing bike from back in the day," says Tyson. "Because it started as a race frame and I had sourced an ARD magneto ignition, we wanted to make it a sort of a sleeper cafe racer and a tribute to old Russ Collins type race bikes."
With a direction for the project established Tyson and his client agreed on a build plan that consisted of "high-quality parts, a stupid hot engine and great suspension".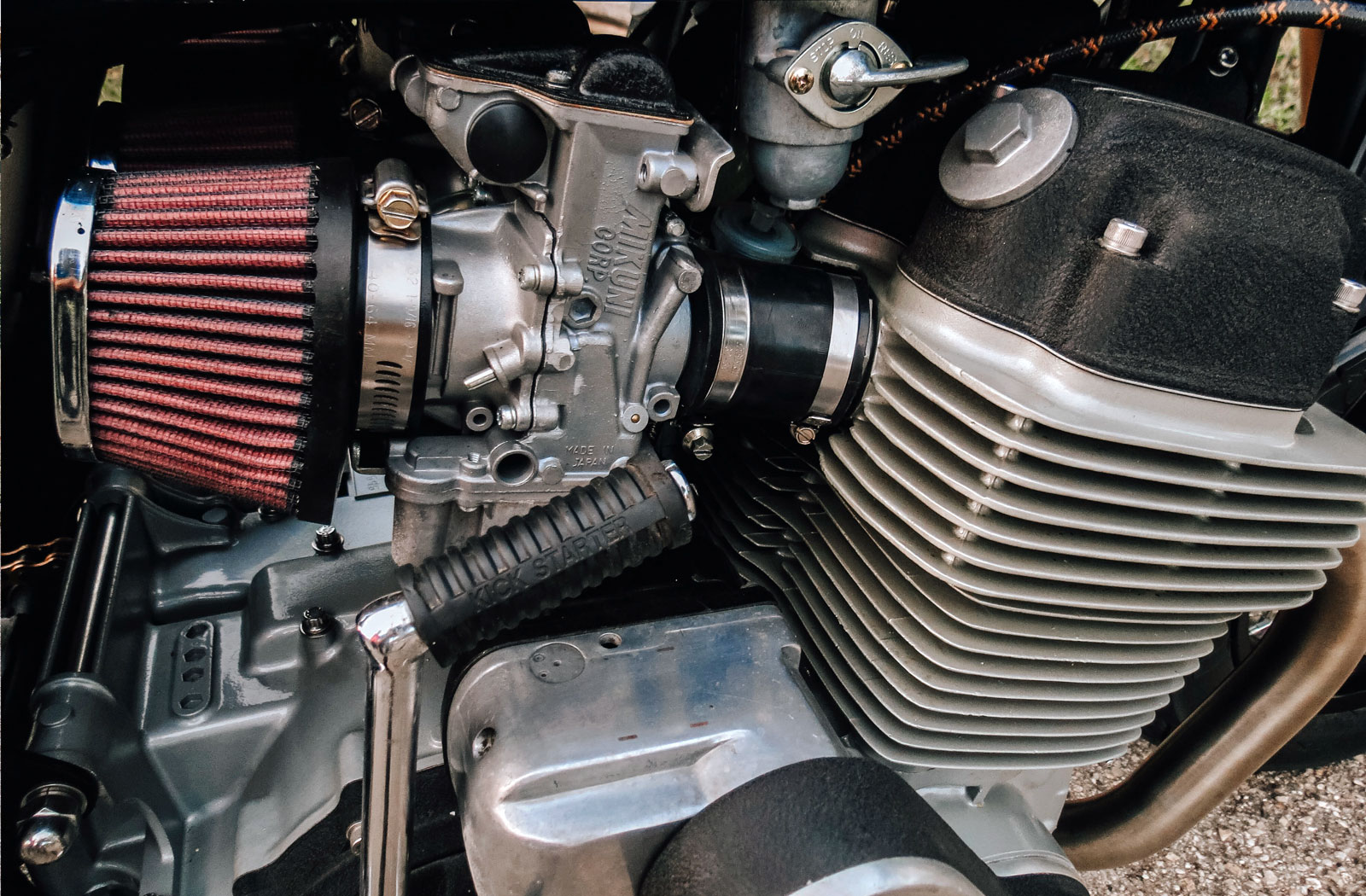 In keeping with the modus operandi of the project, beefing up a CB750 inline-four power plant was obviously key. To achieve this Tyson teamed up with 750 SOHC engine experts, Cycle X. "We tried to get the best stuff we could find for performance upgrades," he recalls. "The engine now includes a 915 big bore kit and more internal upgrades than I can mention!" Among the changes are an all-new intake and exhaust system that consists of a Mikuni RS 34mm carb kit and a custom made 4-into-1 exhaust system.
With the engine work being managed by some very capable hands Tyson turned his attention to the bike's handling.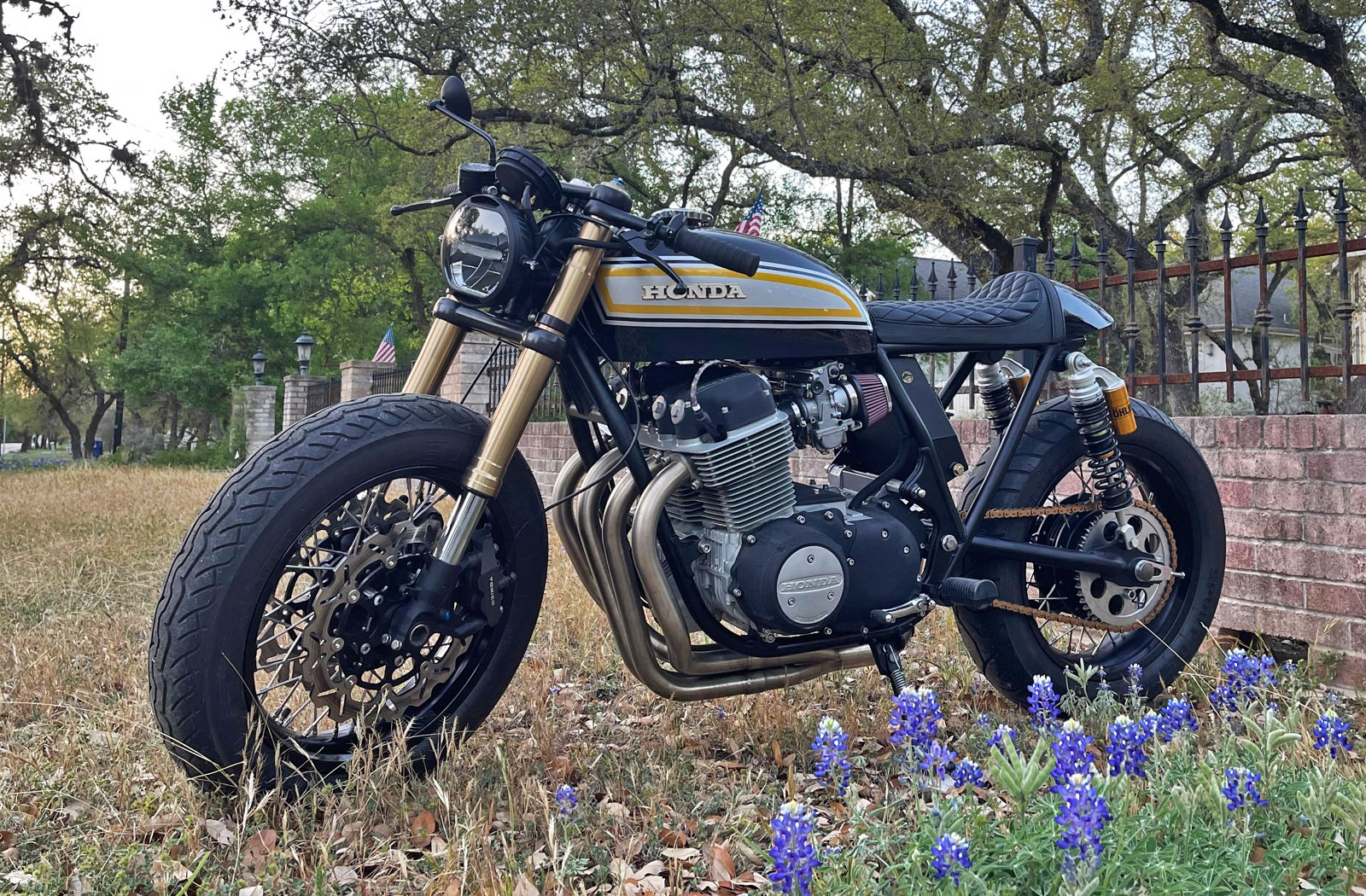 Before installing a redesigned suspension and brake package a few frame modifications had to be made to prepare it for regular street use. Tyson began by cutting away the frame rails and welding removable alternatives in their place. The thinking behind this was to make valve adjustment easier. The process now involves removing the tank and unbolting the rails to get maintenance access as opposed to removing the entire engine from the chassis. Tyson then modified the rear end by trimming it down, adding in new shock mounts and welding in a tail hoop.
With the chassis sorted a 2010 Suzuki GSXR USD front end was shoehorned into the frame. In the rear, Tyson has opted for premium shocks from Ohlins which are secured to a slightly longer, tubular steel CB550 swingarm. The brake setup retains the drum rear which has of course been rebuilt, while the front end benefits from the GSXR radial-mounted Tokico stoppers and Galfer wave rotors.
Last came the bike's new look. With this project, Tyson has managed to keep the CB750 looking classic despite the use of many modern components. This is largely due to the retention of the original CB tank which has been resprayed to suit the new colour scheme. The classic cafe racer seat and tail unit follow suit and are from aftermarket saddle experts Tuffside.
Although undeniably modern the LED headlight looks right at home nestled between the forks. The rest of the lighting is LED too, but Tyson has found inconspicuous places to mount them so they are easily overlooked when not illuminated. Another hidden electrical upgrade is a Motogadget MUnit Blue which now controls the bike's electrical accessories via a custom made harness. Making up part of that system is a Speedhut speedometer and Rebel Moto switch blocks which sit on a pair of MessnerMoto Clip on handlebars.
The black box sitting in the rear of the frame is an oil tank from the crew at Cognito Moto. They also supplied the spoked wheels which have been wrapped in wide Pirelli rubber and the triple clamps that made the modern front end install possible.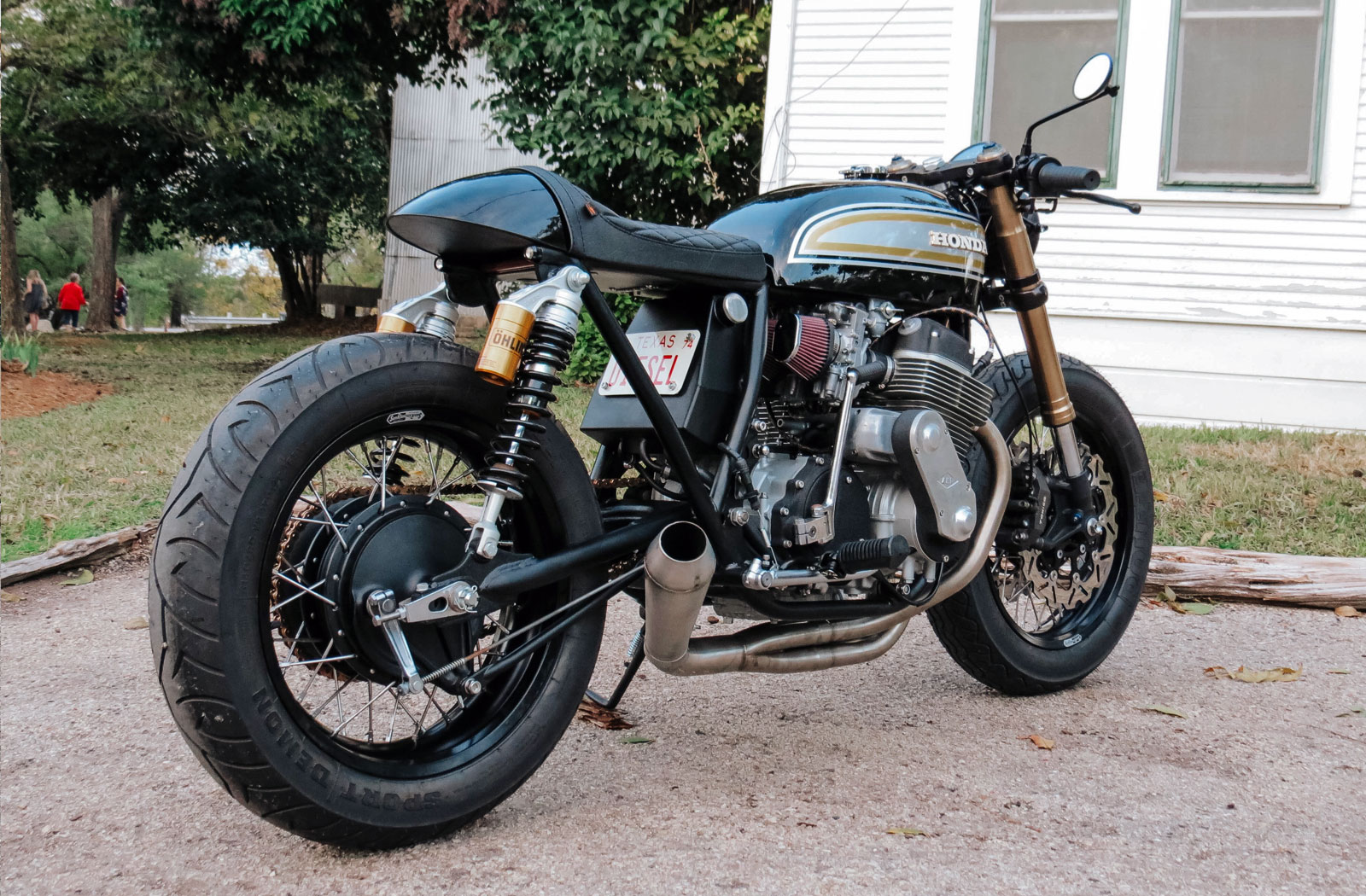 One glaring difference in the engine of this bike when compared to a standard one is the ARD Magneto housing. Interestingly it's not what it appears to be.
"The guts of the ARD Magneto were not working," says Tyson. "Seeing as how the magneto ignition did not provide an option for timing advance (it's a drag racing part so tuning is only done for high rpms) I managed to hide a Dyna electronic ignition and a set of small coils inside the unit. It looks like a vintage part but has the correct timing advance to make it more cooperative on the street."
As for the resulting performance of this exhaustive build, Tyson summed it up by saying, "I have ridden stock CB750s and this thing is a beast in comparison. The engine will straight up scare you. It revs like an F1 car. The suspension is firm and planted and the brakes work wonderfully."
As Tyson's first customer build this project introduced new challenges such as the constraints of someone else's budget and not just doing exactly what he wanted. Despite all that this CB750 cafe racer has turned out a treat and was sure to have put a big smile on the owner's face. Unfortunately, due to back issues, he now keeps the CB750 in his man cave. Sitting indoors full time isn't what we'd hope for a bike like this, but Tyson tells us there may be a plan to sell the bike on soon. Let's hope the new buyer knows to respect what this sleeper CB is capable of.
Main article photo via Revival Cycles