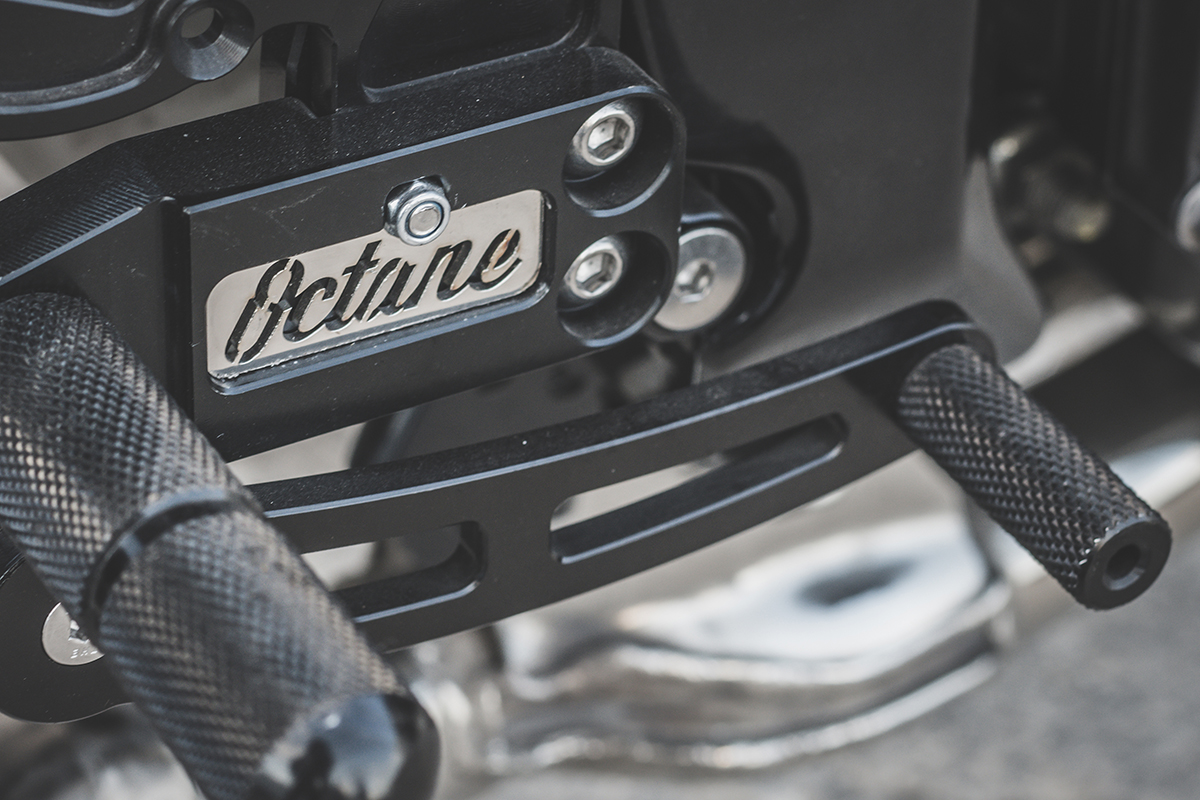 "We wanted a fully customized bike with modern cafe racer styling and bulletproof reliability," says Iñaki. "Because of that, we choose a Honda inline four engine". As full-time engineers, the duo is dedicated to improving upon what is already in place. So, along with an aesthetic overhaul, the Honda received plenty of performance upgrades.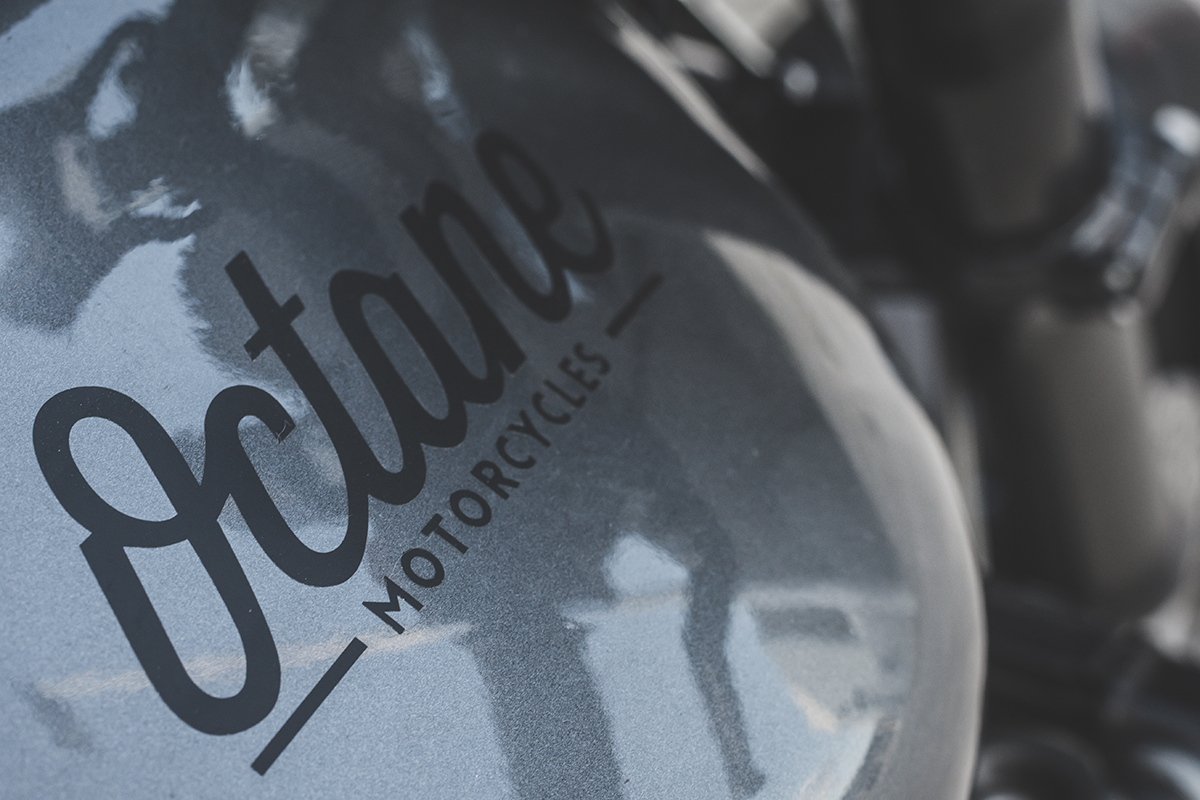 During their search for better performing parts Octane discovered that Kawasaki's Z750 had similar geometry to the CFB600N. So the bike now wears Z750 inverted 41mm forks, Z750 front and rear Nissin callipers and floating disc brakes and Z750 front and rear rims which they wrapped in Midas SportForce rubber. Additional power was then unlocked from within the inline four by fitting a 4-into-1 stainless steel exhaust system wearing a Spark muffler and 4 conical pod filters on the recalibrated carbs.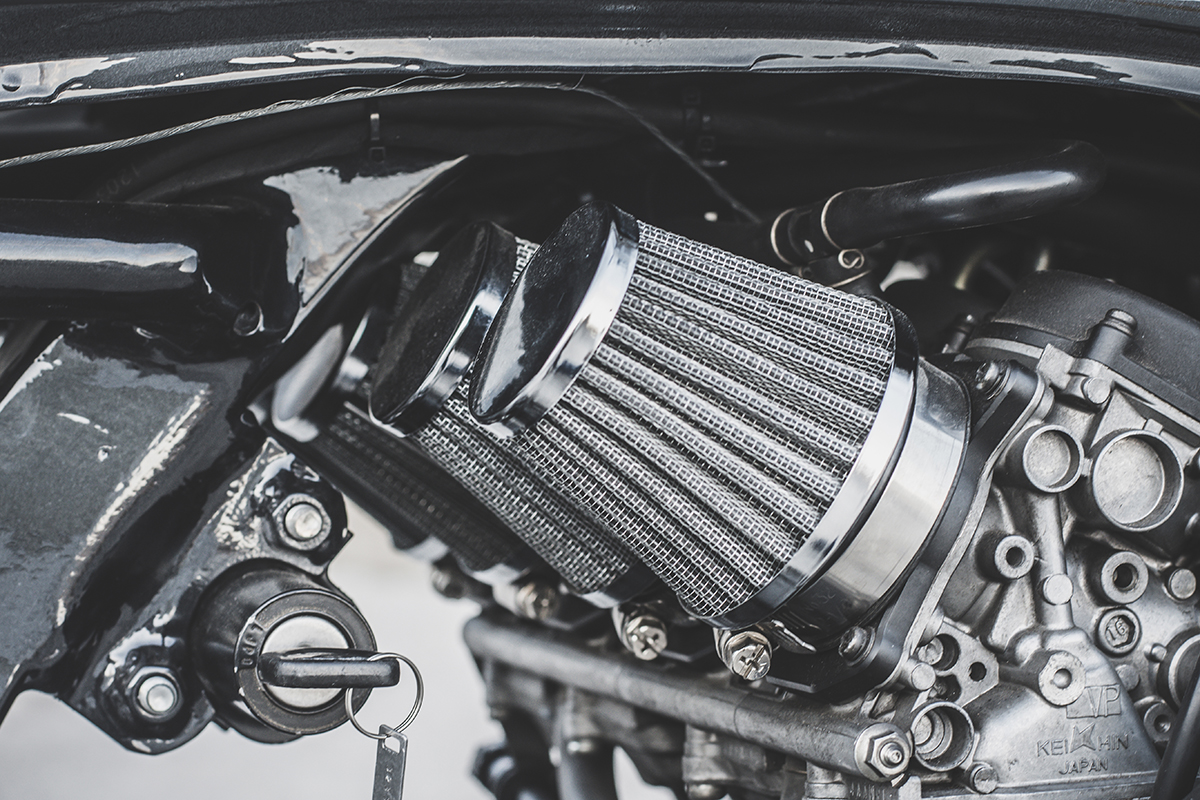 The more challenging aspect of the build involved the relocation of the Honda's electrical components and the modifications to its frame. After trimming away the factory subframe a new, minimal unit was shaped by hand that levelled out the bikes bone line. Hidden on the subframes inner rails are mounting points for a removable set of passenger foot pegs and the custom-made seat is just long enough to fit 2 snuggly seated riders. Hidden inside the seats rear hump are all of the bikes electrical components which are hooked up to a custom made wiring harness that is completely out of sight.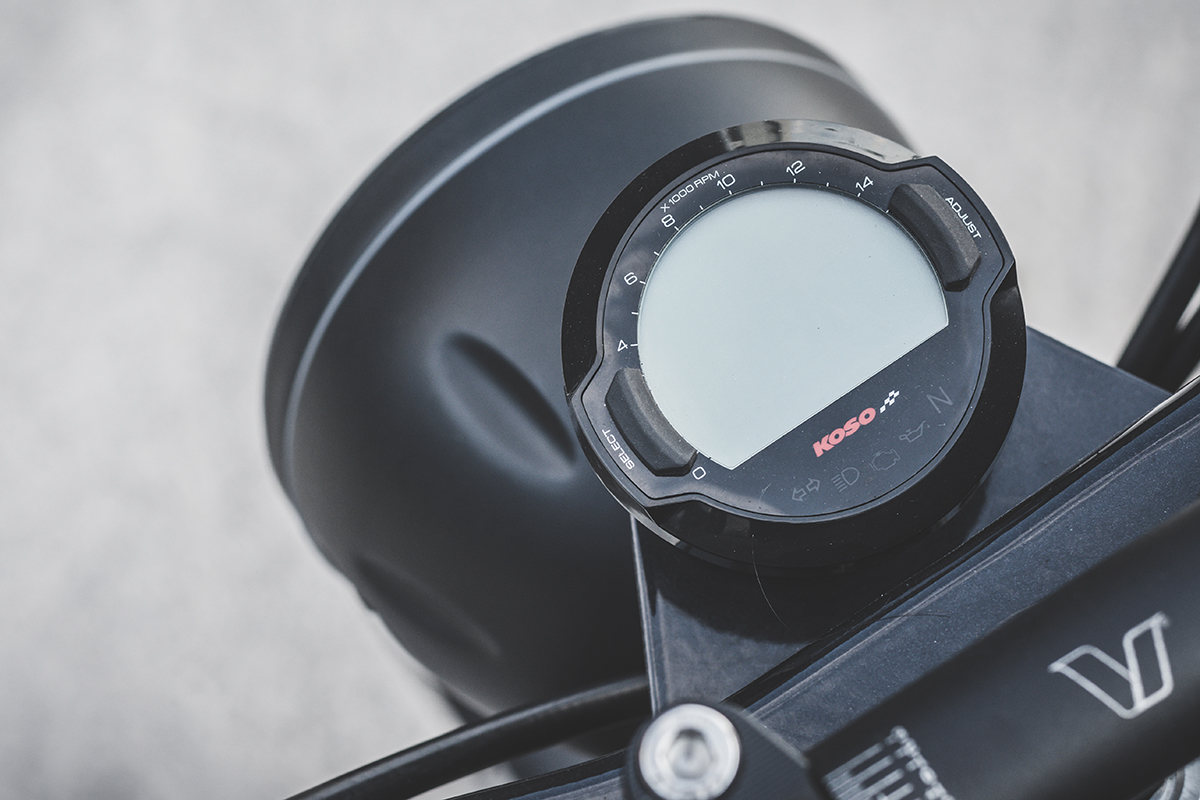 The Honda features custom lighting that consists of a Zenon headlight with integrated LED halo indicator lights, Koso bar end indicators and an LED tail light that's moulded into the rear hoop of the frame. To clean up the cockpit Octane have also replaced the stock instrument cluster with a Koso digital speedo and relocated the ignition to a custom bracket beneath the fuel tank. With the bike performing to a satisfactory standard, the final piece of the puzzle was ensuring comfort. After eliminating clip-on handlebars as an option Octane opted to fit a set of flat wide handlebars which they mounted to the triple tree using custom-made clamps.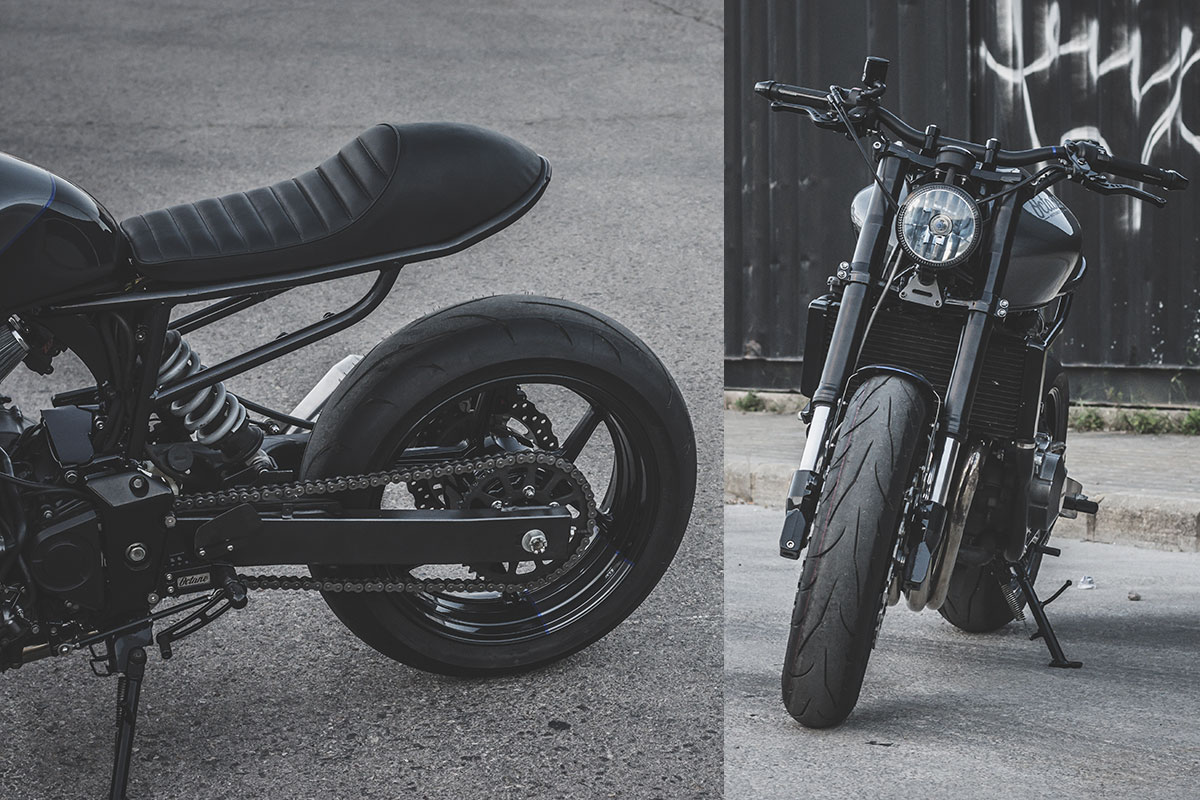 "Regarding the bikes visual style, we wanted it to be sober and elegant, but with a strong presence," says Iñaki. This meant applying a muted paint scheme of timeless gun metal grey and classic gloss black. Subtle branding was also applied by laying black vinyl decals on the tank and fitting laser cut Octane badges to the foot peg brackets. The custom-made aluminium rear sets were also anodised black to match the forks and the rubber brake lines replaced with braided steel ones. A svelte stainless steel front fender was fabricated from scratch and finished using a matching paint scheme.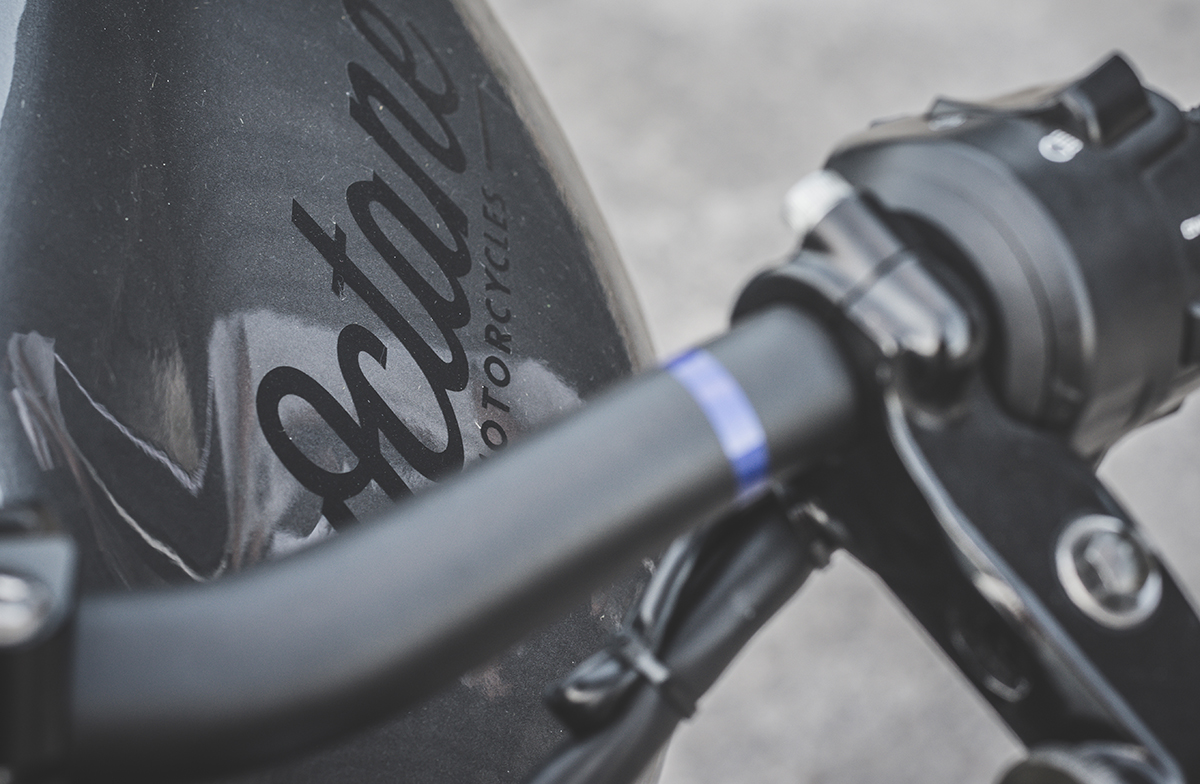 Although stylistically some may argue the Octane CBF600N is not a true cafe racer, it excels in all other aspects. Nimble and spirited it's a high-performance, practical build from this purpose-driven workshop and one that we'd be more than happy to test ride.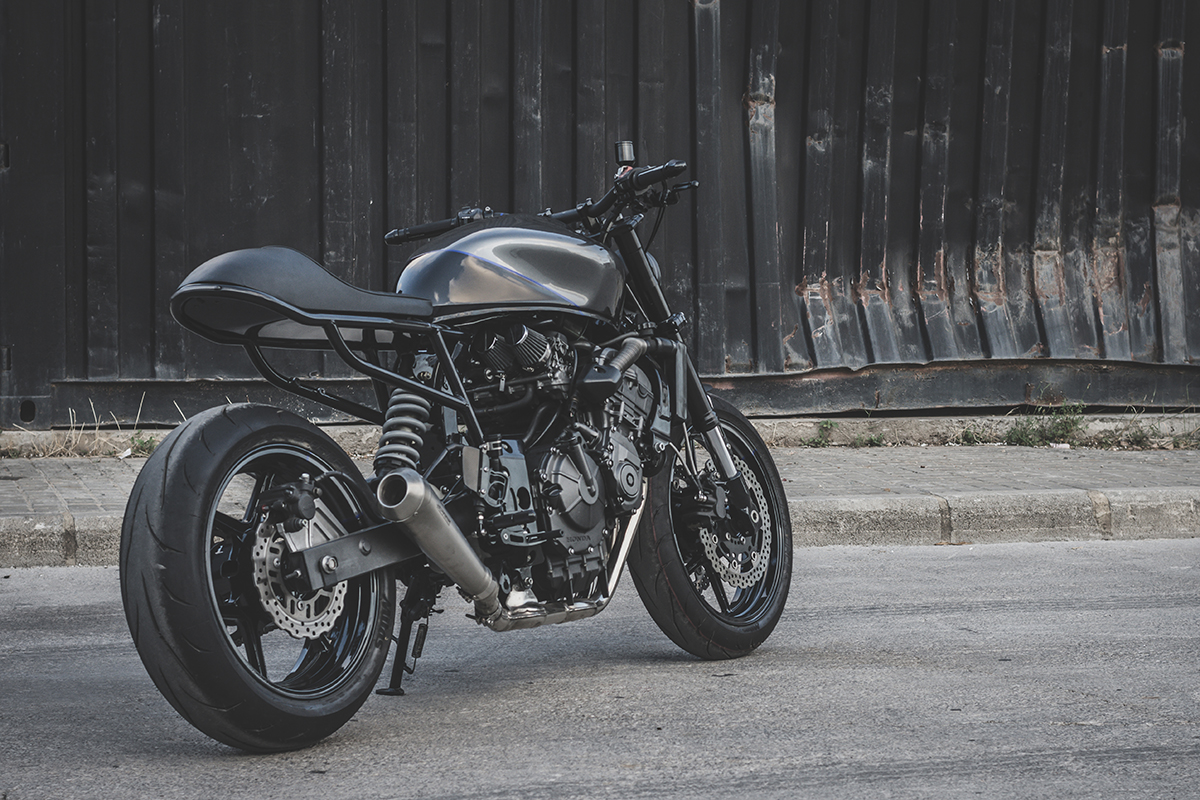 Sacrificing comfort for the sake of style is a common oversight of custom motorcycle building. It's no secret though that certain aspects of cafe racer styling aren't all that practical when applied to motorcycles that are destined for everyday use. If you're a daily commuter, or perhaps a little older, comfort should be king, so sometimes it's important to make compromises to achieve that goal.
At the Spanish workshop of Octane Motorcycles Iñaki Bellver and his business partner, Carlos Lopez build practical motorcycles engineered for everyday use. Working full-time as engineers the duo work on their bikes after hours and this Honda CBF600N is their latest achievement.