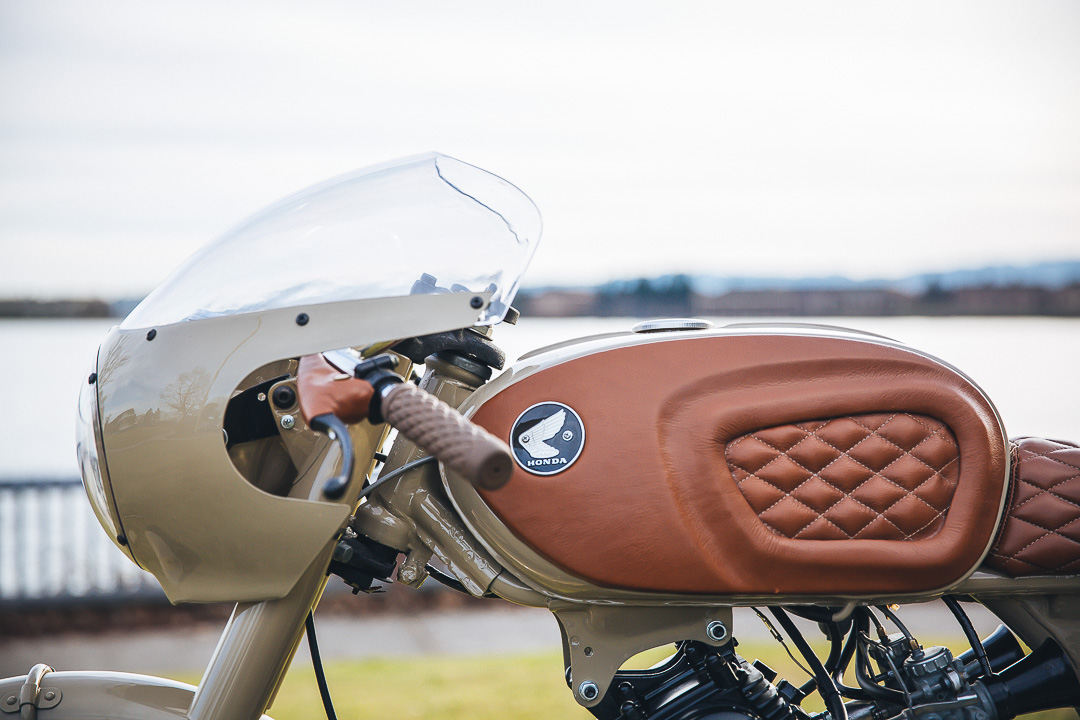 After picking the best of the two 1966 Honda CB160s we decided that this would be a build completed entirely inhouse. From rebuilding the engine to making a custom rear set foot controls, to paint and upholstery with as few off-the-shelf parts as possible. There were several design directions we were considering. A classic restoration? Perhaps a vintage road racer? In the end, we settled on a Classic Café Racer inspired bike that had hints of '60s sports cars design.  To do this we would repurpose vintage Honda parts and fabricate anything else the bike required ourselves, with the only exception being engine components.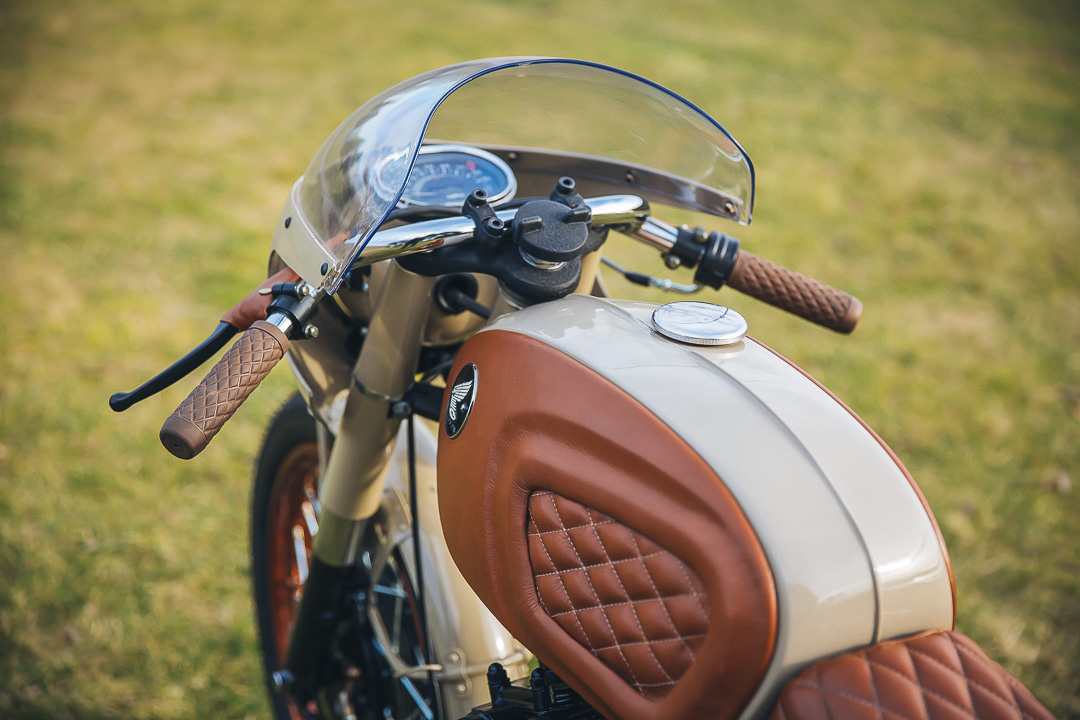 After rebuilding the engine and wheels with new components we made the side panels for the fuel tank. These set the tone for the rest of the build. We wrapped each panel in caramel leather and inserted quilted leather panels like you'd find on classic car upholstery. We then sourced a rear fender that had the right shape to create the rear cowl from. We cut and welded it to some sheet metal we'd shaped and formed a seat pan, this was then also covered in leather with enough padding to provide a comfortable ride. We didn't want to just use any old aftermarket taillight, so we got in touch with our friends at Prism Supply Co. They sent us one of their awesome, brushed alloy 'Speedster' taillights which was the perfect addition the the build (Thanks guys!).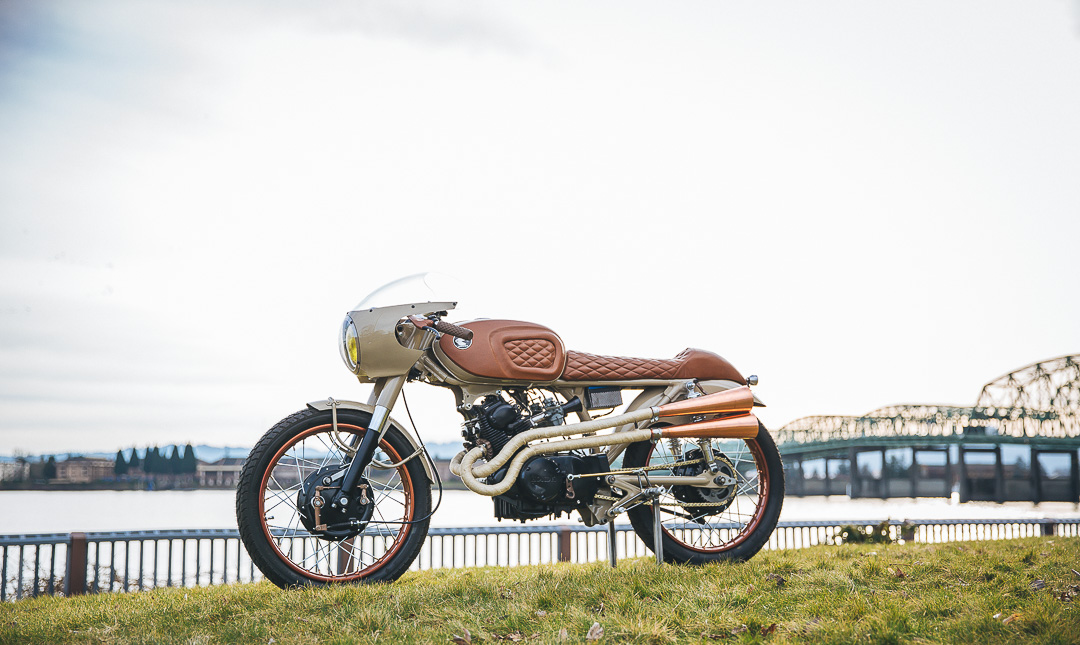 When it came to choosing a colour palette for the bike we wanted something different, but current. To compliment the leather we decided on a light beige paint for the frame fairing and bodywork and came up with the idea of integrating copper into the design, hence the name Penny Racer. The copper details started with the construction of the bikes twin copper mufflers.
We then added more copper touches in the form of a headlight surround and copper paint on the rims. We wrapped the pipes to match the frame colour and added leather covers to the levers to tie it all together. The rear sets were fabricated from aluminum and rolled steel. Most of the exposed metal work on the bike is torch braze welded to give it more of that vintage race feel and you'll find a couple of subtle gold touches to compliment these.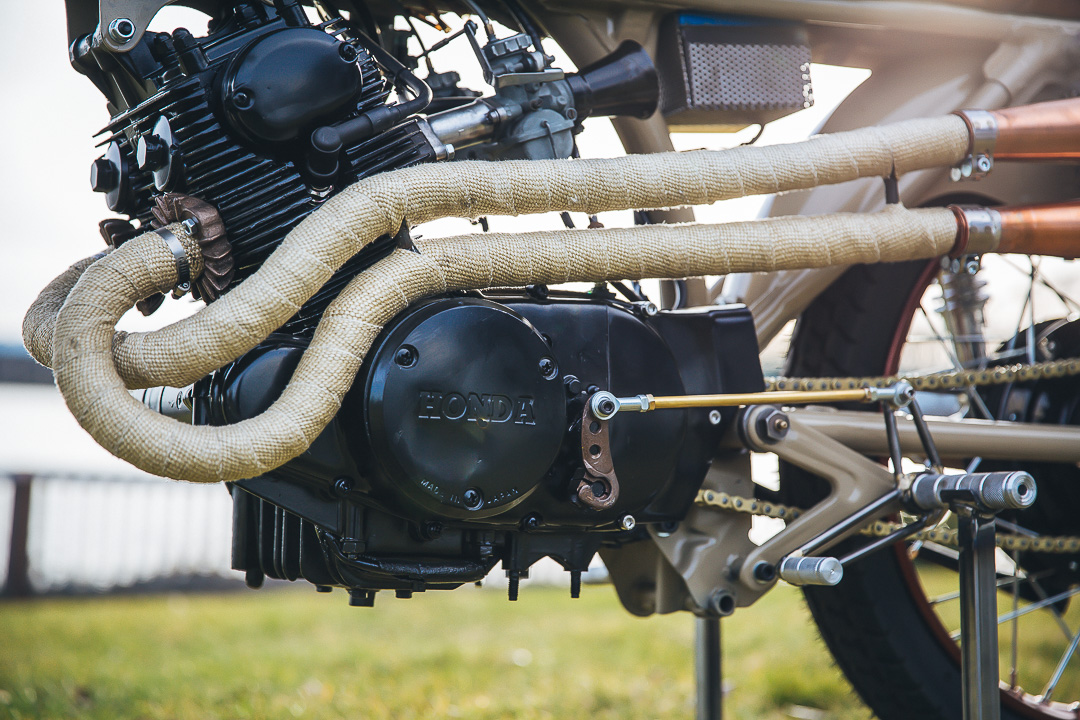 Our Penny Racer was an excercise in retaining the classic Honda's charm while adding a sophisticated, almost luxurious finish to the bike. We think it turned out well and if you'd like to come see it in the flesh you will find us at the Outlier's Guild motorcycle show at The Container Yard in Los Angeles, California on May 6, 2017. We'd love to see you!
Special thanks to Danny Baugh, Biltwell and Prism Supply Co.
Kick Start Garage is located in Northern California near the Redding area, and specializes in custom vintage motorcycles.  They also specialise in the restoration and repair of Japanese, European and British motorcycles and sell their own range of parts, custom seats, and KSG gear.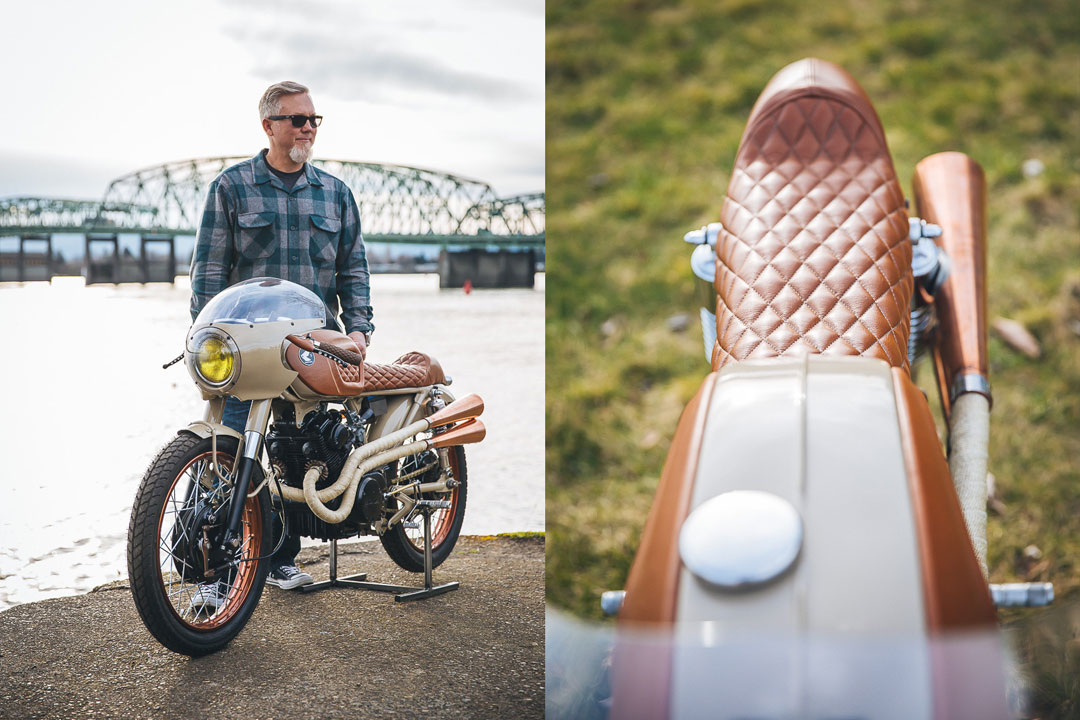 Photography by Enginethusiast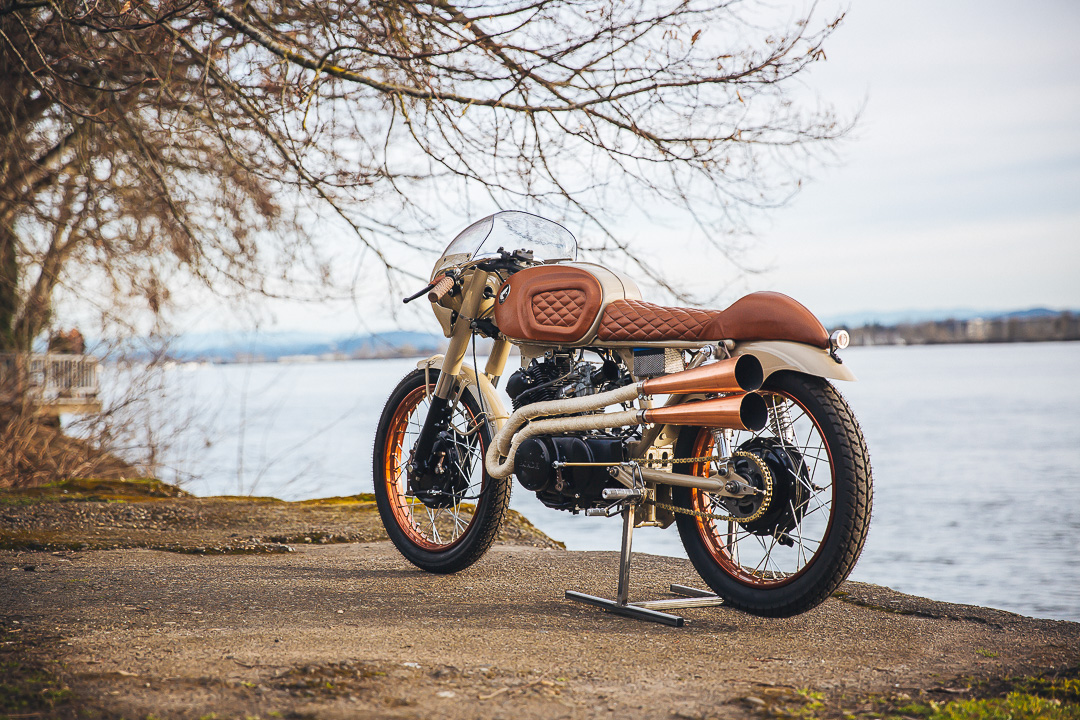 This story begins with a phone call from an old friend. He was looking to clear out some project bikes that had been collecting dust in his garage for some time. I (Kick Start Garage owner Craig Marleau) wasted no time heading to his place and a few hours later, found myself returning to the workshop with a pair of sorry looking of Honda CB160s. The big question now was what should I do with them?