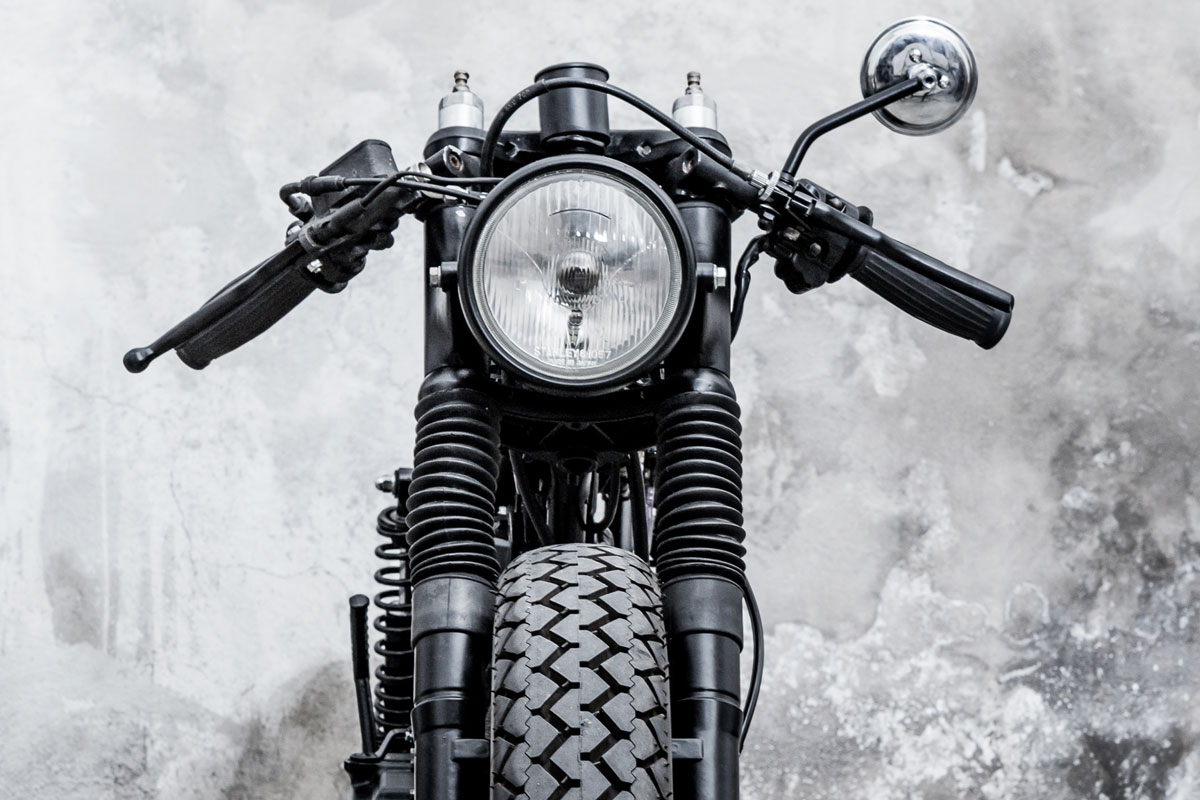 Starting life as a 1989 Honda CG125, the "De Palma 05" is the latest machine to roll out of their Spanish workshop. Specialising in "no-nonsense, underground punk-inspired custom bikes" the CG125 sticks to their mantra-like Sid to Nancy and De Palma's designer, Gregorio Fernández, provided us with the details.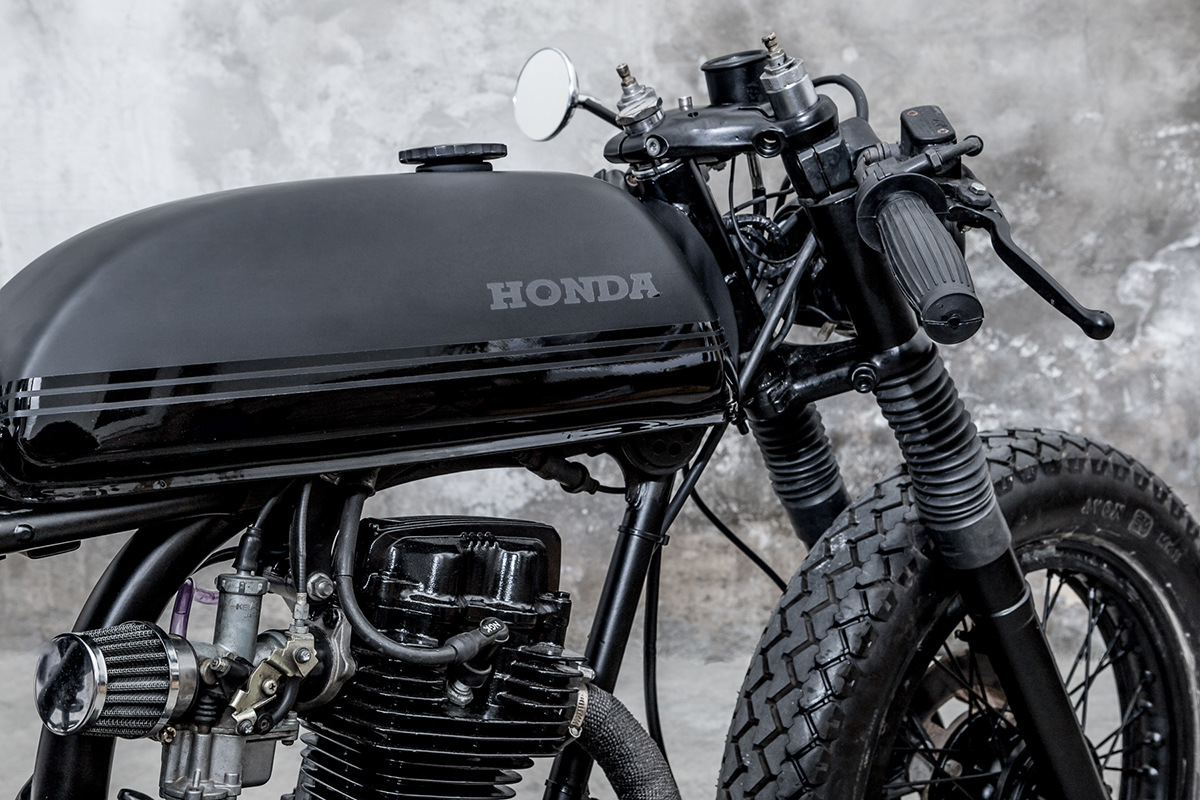 With such a small bike, improving power from the stock motor was the first priority, so a 62mm piston kit was installed to taking the capacity out to 150cc. An extra 25cc might not seem like a lot until you consider that's a whopping 20% larger than stock. 22mm Keihin Carbs were sourced to match the rebuilt motor, and a custom muffler was mated to the original header.
Handling was also a priority so a set of Betor Classic 32mm shocks were added to the rear; and up front, the forks were upgraded to a beefier set from a Moto Guzzi V50, lowered by 5cm on Ohlins Springs. The revised front end supports a wheel sourced from a Ducati Strada 250 and upgraded Brembo brakes. Both it and the stock rear wheel are wrapped in Avon Mk2 3.5×18 rubber.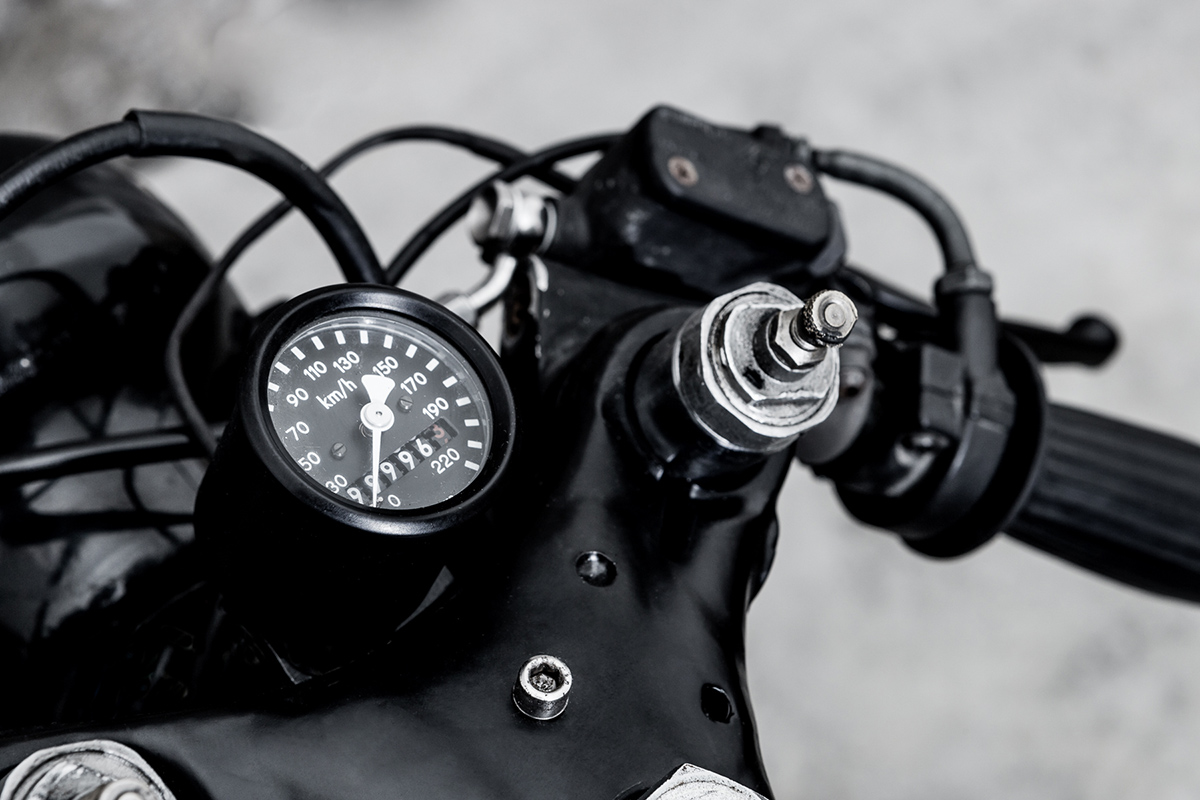 Returning to the bodywork; A Derbi Antorcha tank finished in tones of matte and gloss black has been matched to a custom leather seat that houses the battery box. The rear subframe was modified to suit and finished with a neat tail loop that integrates a LED tail light. At the front Aluminium clip-on bars lower the controls, while basic instrumentation comes from the mini speedo tucked behind the headlight.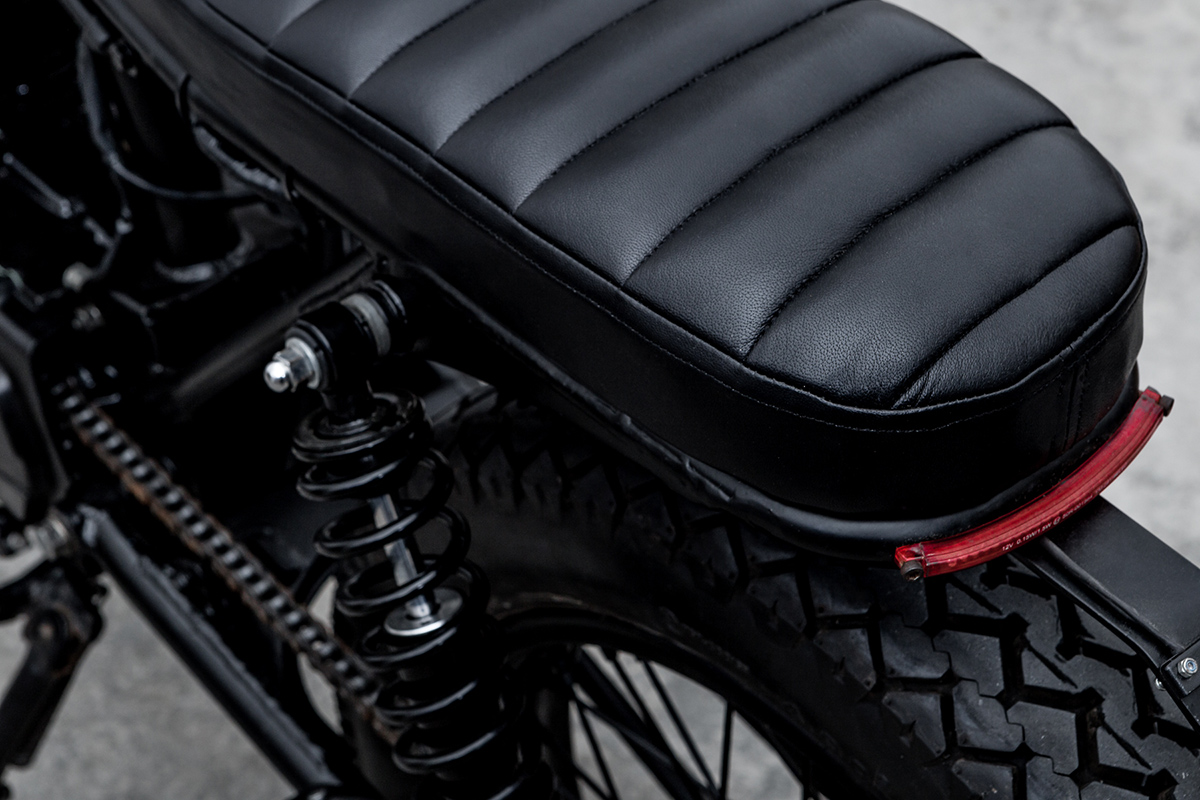 The final product is a well-sorted bike, and while it's still never gonna be a speed machine, that's not the point. It's a mean little bruiser spitting blood and broken teeth at the cops – as at home rumbling in the gutters and alleyways of the city as a pair of Doc Martens.
In Gregorio's own words "Rock'n'Roll!"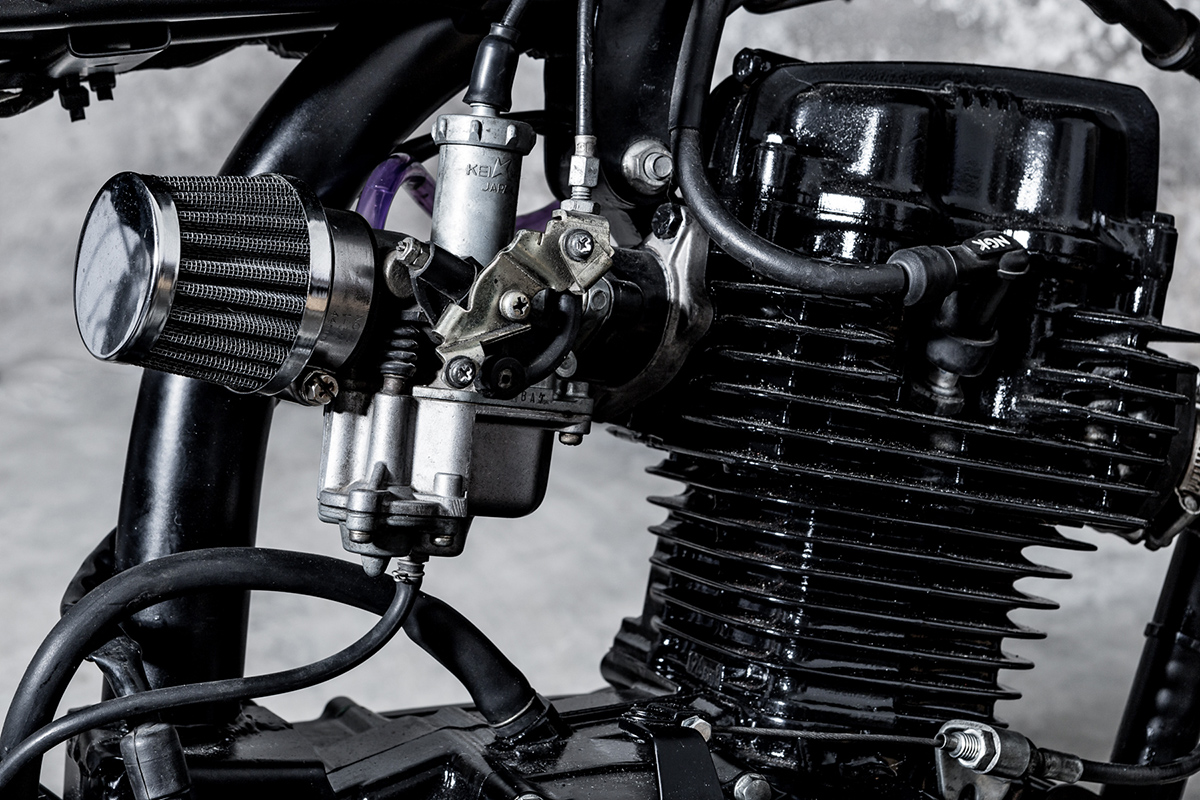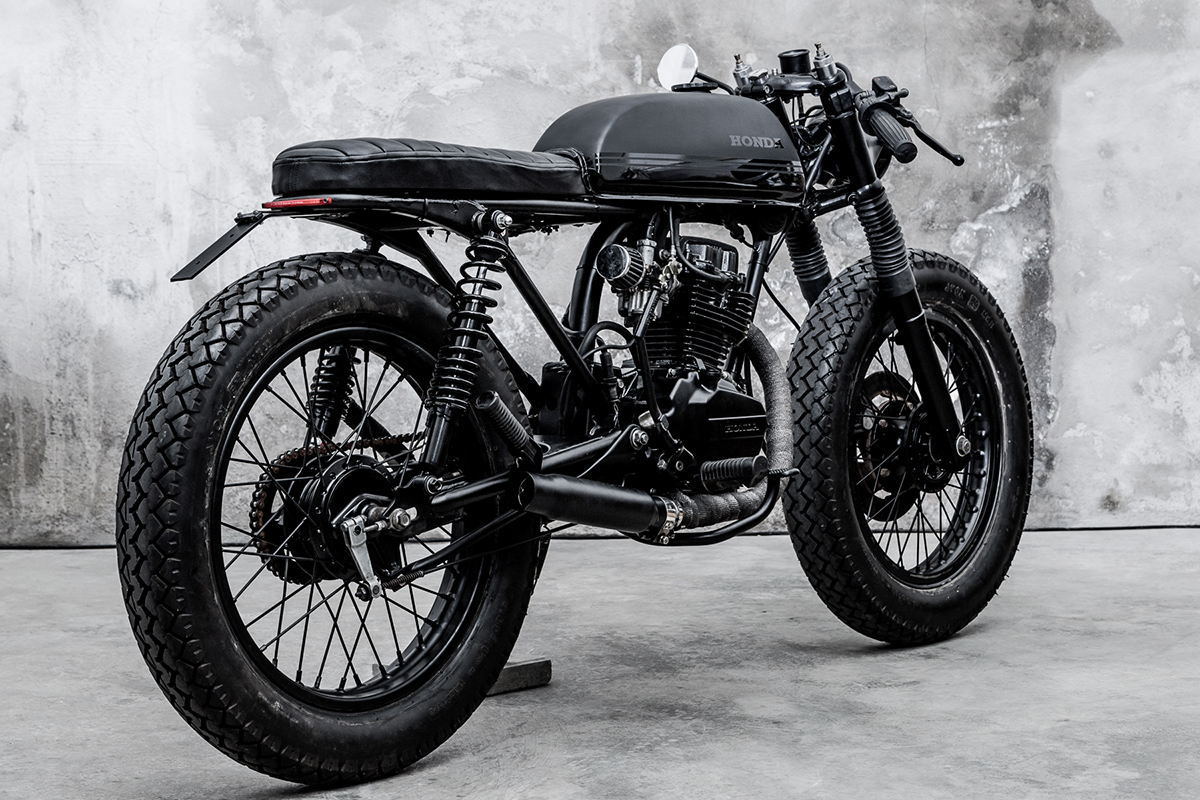 Small bikes are punk rock. They're a middle finger to the idea that bigger is always better; a kick in the shins to those who would argue that custom bikes should be all about performance. They're also a hell of a lot of fun.
As a university student, little bikes like the Honda CG 125 were my introduction to on-road motorcycles. Cutting nimbly through inner city traffic like a vandal, those pint-sized bikes were a wide-eyed, full-throttled rebel yell of freedom and mobility. That's probably why this cocky little bike from Barcelona's De Palma Cycles has me looking through the record collection for my old Buzzcocks and Ramones LPs.