If there was one thing I learnt at art school that has always stood true it's that colour is king. Colours affect the way we perceive the world; they can influence our decisions, our taste and even our moods. The ability to create a desirable colour palette using unusual tones is a rare talent and it's one that Dozer Garage seem to have perfected. Take for instance the mix of light grey and tan (baby poo) brown on the Dozer CB750 Cafe, it's unexpected, unusual and undeniably cool. Tied together by a custom diamond stitched, tan leather seat and Posh gum grips, this is one colour combination that won't go unnoticed.
The late model CB750 has been stripped of it's dated bodywork and dressed in custom bodywork designed and built by the Dozer team. Custom clip on bars and rear sets also made in house set up the customary Cafe Racer riding position and a set of Firestone Champion Deluxe tyres compliment it's classic aesthetic. The rebuilt motor was treated to a clean and polish and now breathes freely through pod filters and a custom fit Vance & Hines exhaust system.
I'm really looking forward to seeing what comes out of the Dozer workshop next. As Oliver Twist would say, "Please sir I want some more".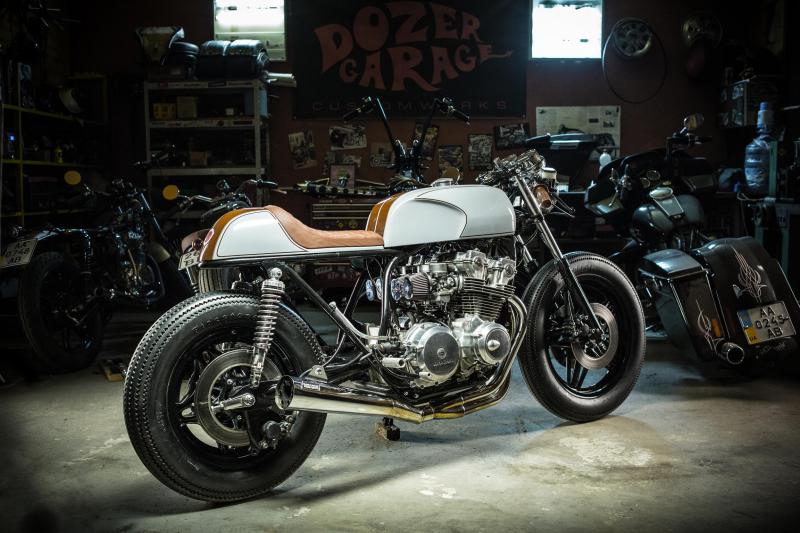 Dozer Garage is the only custom motorcycle workshop I've ever featured from Ukraine and I am happy to admit they are fast becoming one of my favorite custom workshops in the world. Their Goldfish XS650 Bobber was a wild, metal flaked acid trip of custom goodness and their Ural Fashion was the first custom Ural motorcycle I've ever featured. Today though we're venturing into very familiar territory with a Honda CB750 donor and again I'm happy to say they delivered yet another stunning custom build.