As the build was to be a ground up performance and visual improvement on the ageing CB350 much of the original bike has been replaced with custom additions. The fuel tank, which was salvaged from a 1970 Yamaha XS650 was modified to fit the CB by welding the tunnel from the original tank into it. To clean up the bikes rear end the back of the frame was replaced with a Cognito Moto tail loop with intergrated LED brake/turn signals and an aluminium tail section was handmade by Cliff Meyer of Meyerbuilt Metalworks.
To compliment the bikes Fox rear suspension a set of 2007 GSX600 forks were mounted to the bike using a Cognito Moto adjustable offset triple clamp. In the clamp you'll also notice an integrated MotoGadget Motoscope mini instrument gauge and LED indicator lights, another cool product from the Cognito custom parts catalogue. With a 55mm offset an 18 inch sun rim was laced to a Cognito GSX-R conversion hub and in the rear they laced another 18 inch rim to the bikes original hub.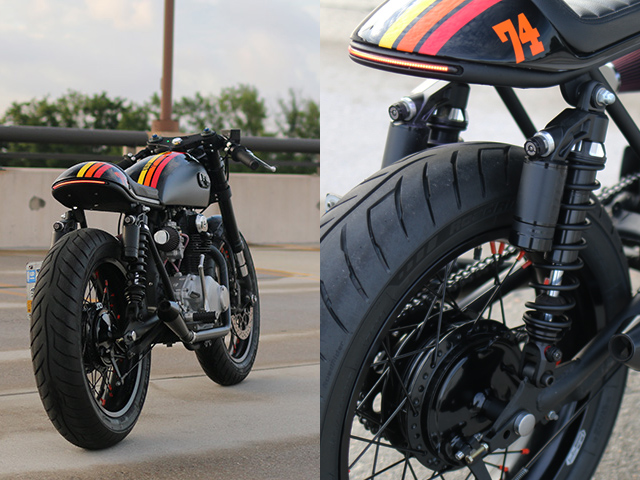 To fit the larger rear wheel the swing arm was extended a huge 2.5 inches leaving plenty of room for the Avon RoadRider rubber. The Engine received a full top end rebuild with Probe Engineering ignition and a pair of brand new 30mm Mikuni carbs jetted to suit the free flowing pod filters and custom exhaust. MotoGadget also provided wiring improvements via an M-unit controller paired with MotoGadget hand controls. "To account for the added electronics, we also upgraded the charging system using Ricks Hotshot Charging system and concealed a small Shorai battery under the seat cowl all wired in by our buddies Cal and Steve Jeffery.
The beautiful satin/gloss paint scheme was the work of Harmon ColorWorks which uses a traditional colour palette that throws back to FOX's original colours of the 70's. The 74 on the rear cowl is a tribute to the year that Fox founder Bob Fox designed FOX's first shock: the FOX AirShox. Finally to celebrate the collaboration a subtle Cognito Moto logo was laid on the top of the tank and a set of custom made Fox tank badges were placed on its sides.
If you'd like to see more images from the build of the bike you can find them here.