Darrell Schneider of DS Restorations isn't the kind of guy to shy away from a challenge. With 30+ years of experience building award winning Hot Rods and a life long affinity with two wheeled racing, the chance to build a custom motorcycle from scratch was just the sort of new project he'd been looking for. So when Darrell was given the opportunity to display a custom build at the upcoming 2012 Moto GP at Mazda Laguna Seca he didn't waste any time getting started.
"Motorcycles were always a fun part of my life, my dad had my brother and I racing as soon as we could ride. The biggest inspirations from the bike world for me were Ron Woods ( he has dirt trackers that could beat show bikes), Roland Sands (he is the real deal, great style), Richard Pollack (he has old school down to a science) and Marcus Moto designs ( he has great ideas)."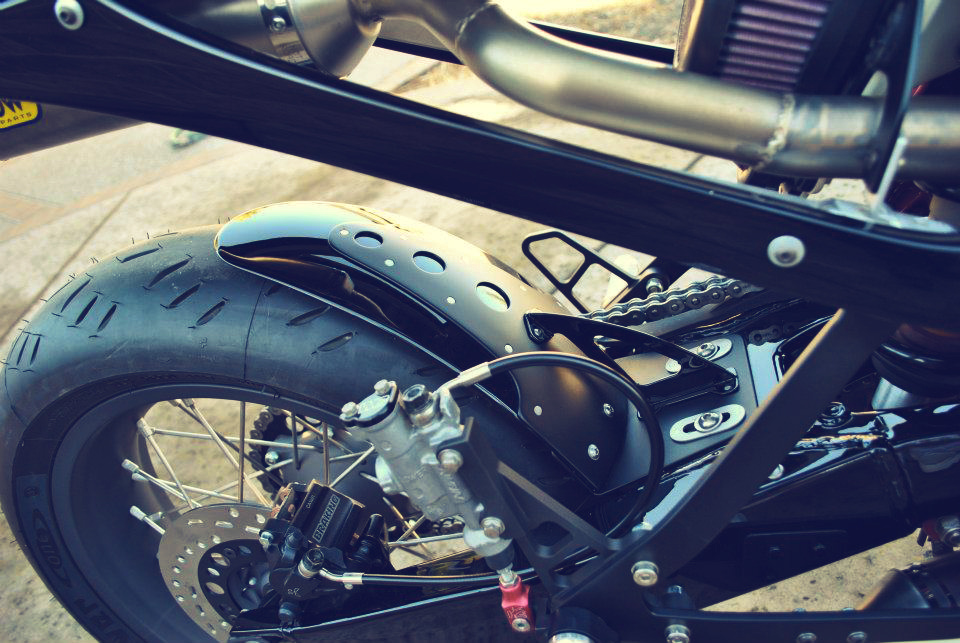 "My goal was a new twist to an old style, nothing fancy, just something that you want to ride."
"The GP 250R Cafe Racer is my version of a Moto GP 3 250 four stroke blended with Cafe Racer styling. I had to have a Honda Elsinore style fuel tank as these were the coolest bikes when I was a kid. The front faring, fuel tank cover, seat, rear fender, side panels and air intake were first made out of wood, foam and body filler. These were then used to make molds which I pulled the final fibreglass parts from."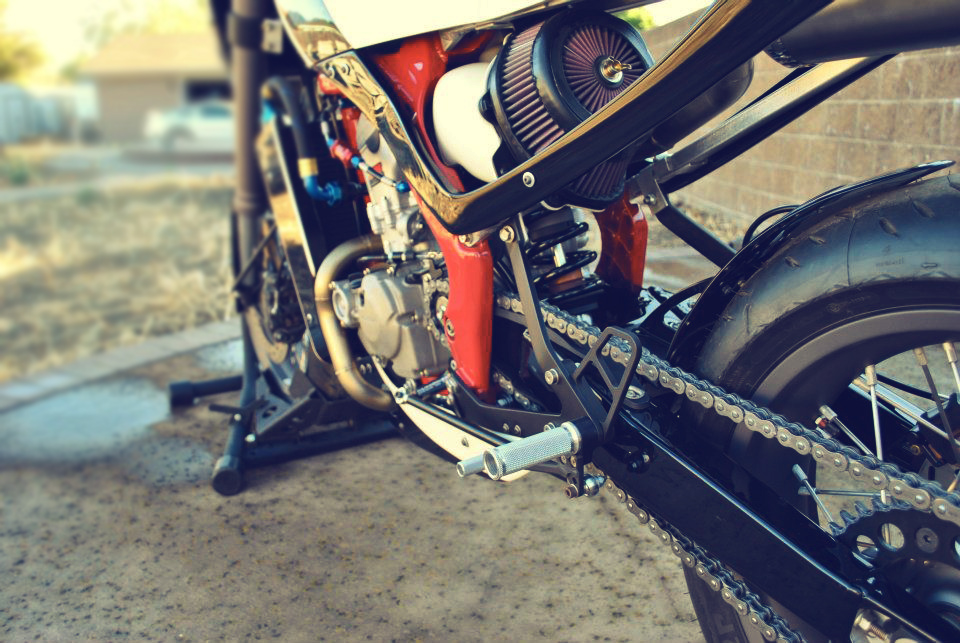 "The subframe was made in aluminum (this was fun) and has brackets that hold the fuel cell, fuel tank cover, seat, rear fender, exhaust, rear-sets and more built in to it. The suspension is CRF 250R that was prepared by Race Tech, it's their Super Single Set up with a rear height adjuster I added. The Arrow CRF dual exhaust look too fat with two pipes so it was modified to just have one which we ran under the tail of the bike. For the controls I cut a set of Renthal MX bars in half and mounted them with clip on brackets. This looks right to me, like a lowered Supermoto bike coming at you."
Aside from the motor the GP 250R Cafe Racer is almost completely custom made. While I'm not sold on the paint scheme and the front fairing this is a very impressive build, especially considering this is Darrell's first custom motorcycle. I'd love to see what the bike would look like with a minimal bikini fairing or a bates style headlight, but that's just my love of naked racers coming through. To offset the hi-gloss finish of the tank and frame many of the exposed aluminium parts were hard anodised giving them a stealth-like appearance which I'm going to have to try on a future build of my own. To see the build process of Darrell's GP 250R Cafe Racer visit the DS Restorations facebook page.