Everyone knows by now that fossil-fueled transportation is inherently bad for the environment. This, of course, includes our beloved motorcycles. Despite this it's rare we hear sustainable practices and motorcycles mentioned in the same conversation. Today we're bucking that trend with a build by Louis Karsenbarg. Louis has just completed his Honda Hornet 600 F cafe racer during the coronavirus lockdowns in the UK. By thinking outside of the box he's managed to reduce his bikes footprint (tyre tracks?) through the use of sustainable materials and a carbon-offset scheme.
With the goal of creating a retro-styled cafe racer, his 2006 Honda Hornet 600 required a few aesthetic tweaks to give it the right look. This meant swapping out unsuitable factory components with more classically styled alternatives. The most notable changes were to the wheels and rear end. In place of the Honda's bland cast wheels, Louis opted for a set of laced rims which he wrapped in Michelin Pilot Road 4 rubber. For a cafe correct riding position, he fitted clip-on bars and trimmed the rear down to accept a wasps tail style cowl. The custom made seat and cowl convert the bike into a single-seater, but with a few quick adjustments, the cowl can be cleverly removed to make way for a pillion.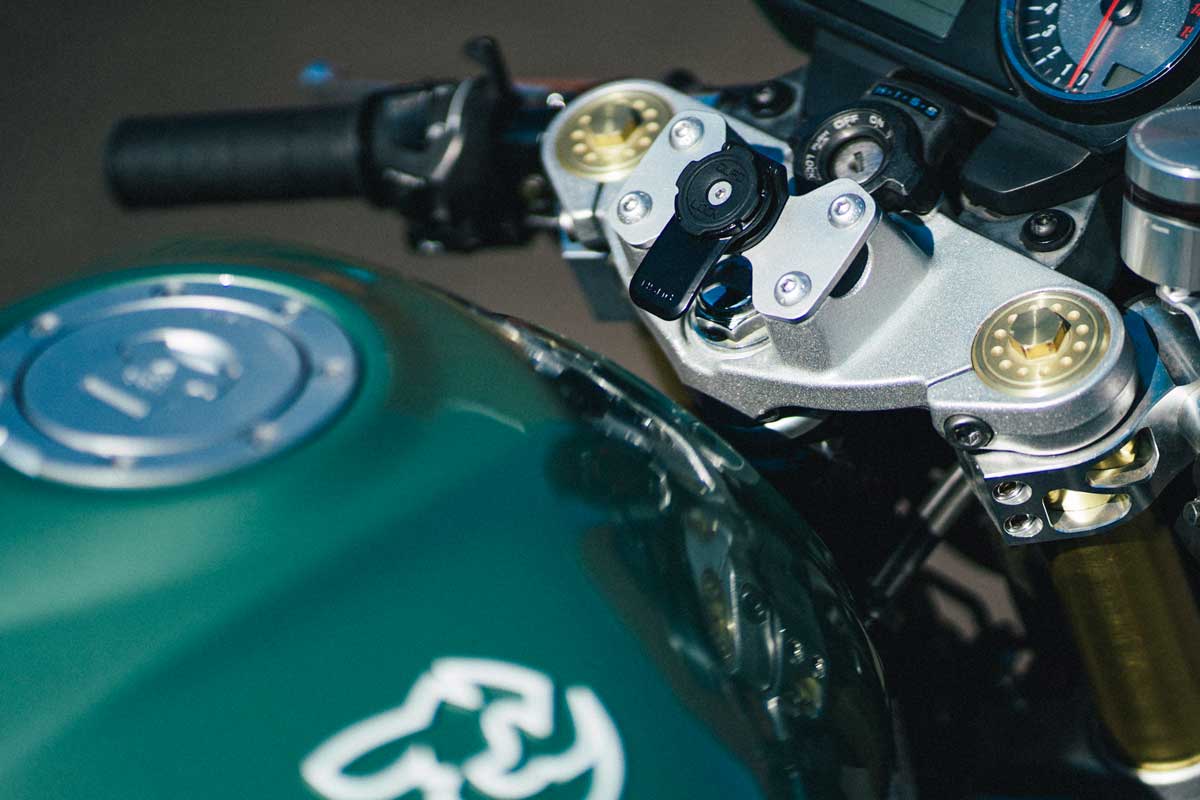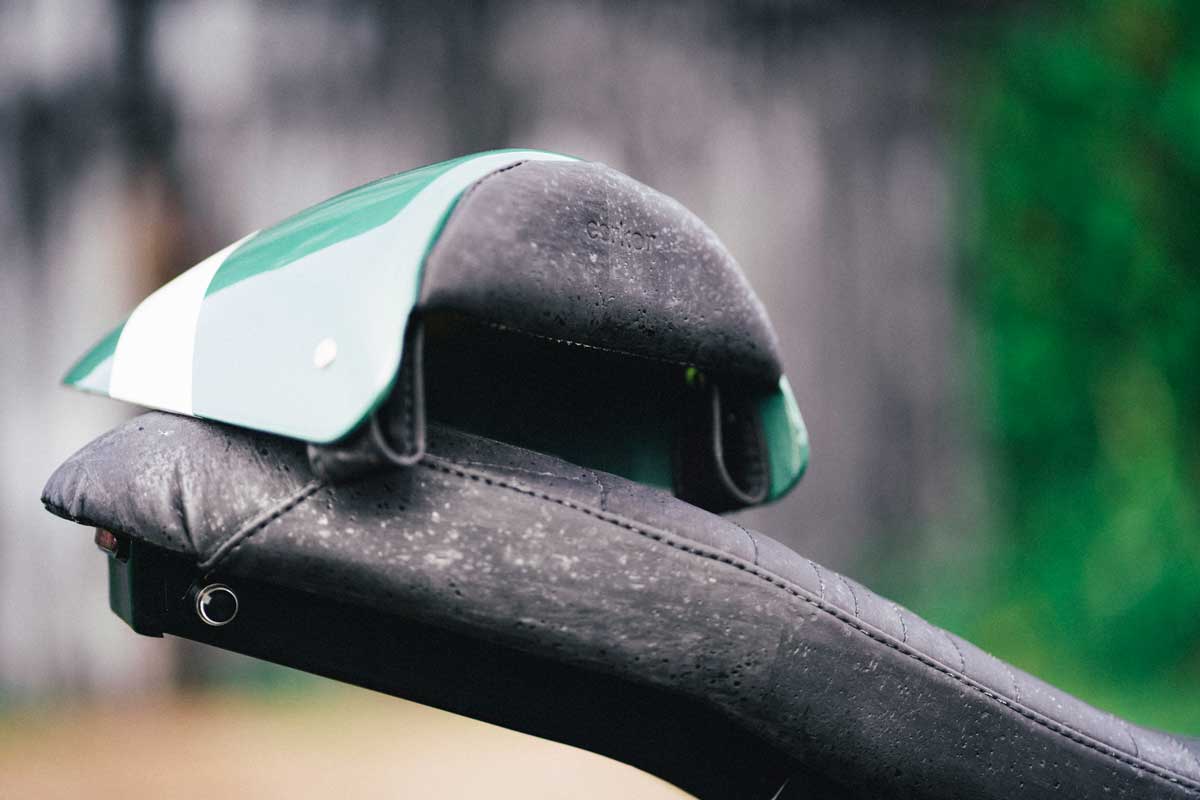 The rebuild also allowed Louis to upgrade several aspects of the Hornet that could do with improving. Rather than Honda's bulky, factory indicators Louis opted for discrete Motogadget m-Blaze Pin LED units that are mounted on either side of the headlight and on the rear of the subframe. The brake light is an LED item too from Highsider Germany which he's tucked beneath the tail. Rizoma fluid reservoirs were also added to replace plastic alternatives. For upgraded handling Louis looked to Ohlins, adding an adjustable performance shock in the rear. Then to give his Honda Hornet 600 a more aggressive sting he fitted a Spark Exhaust and had the bike tuned using a Dynojet stage 1 kit.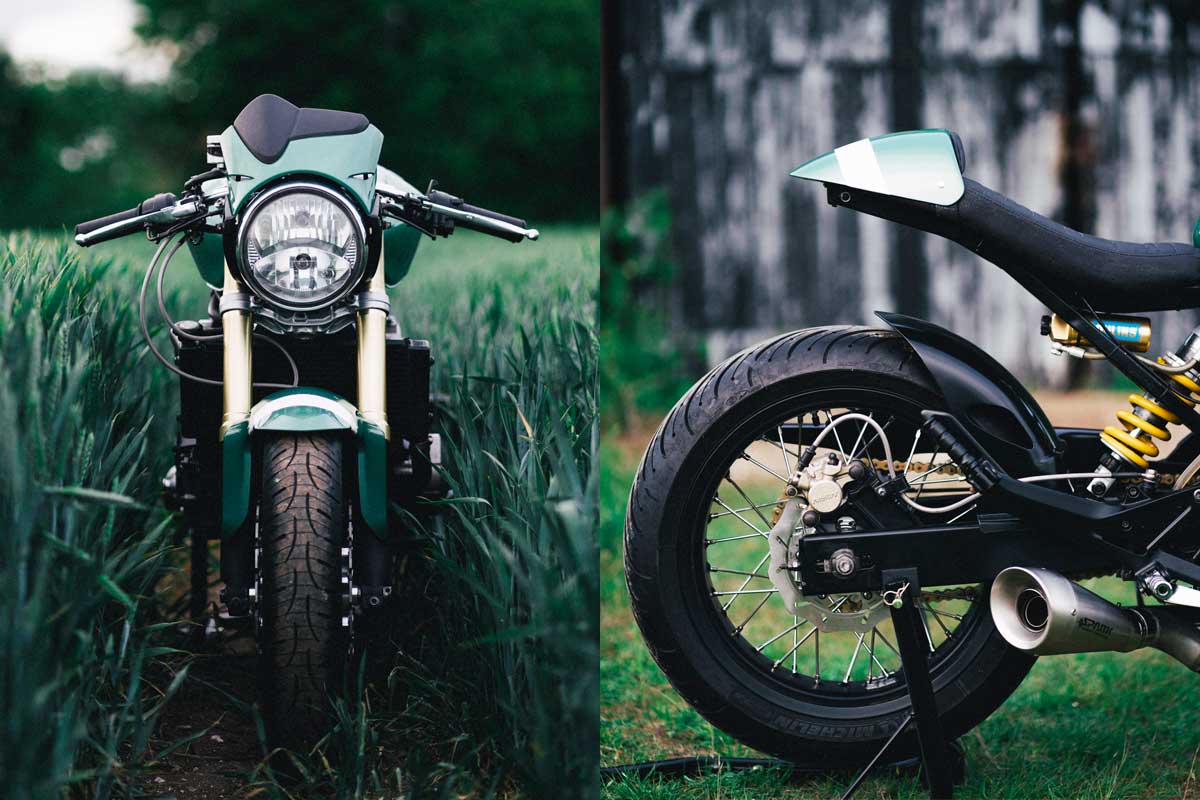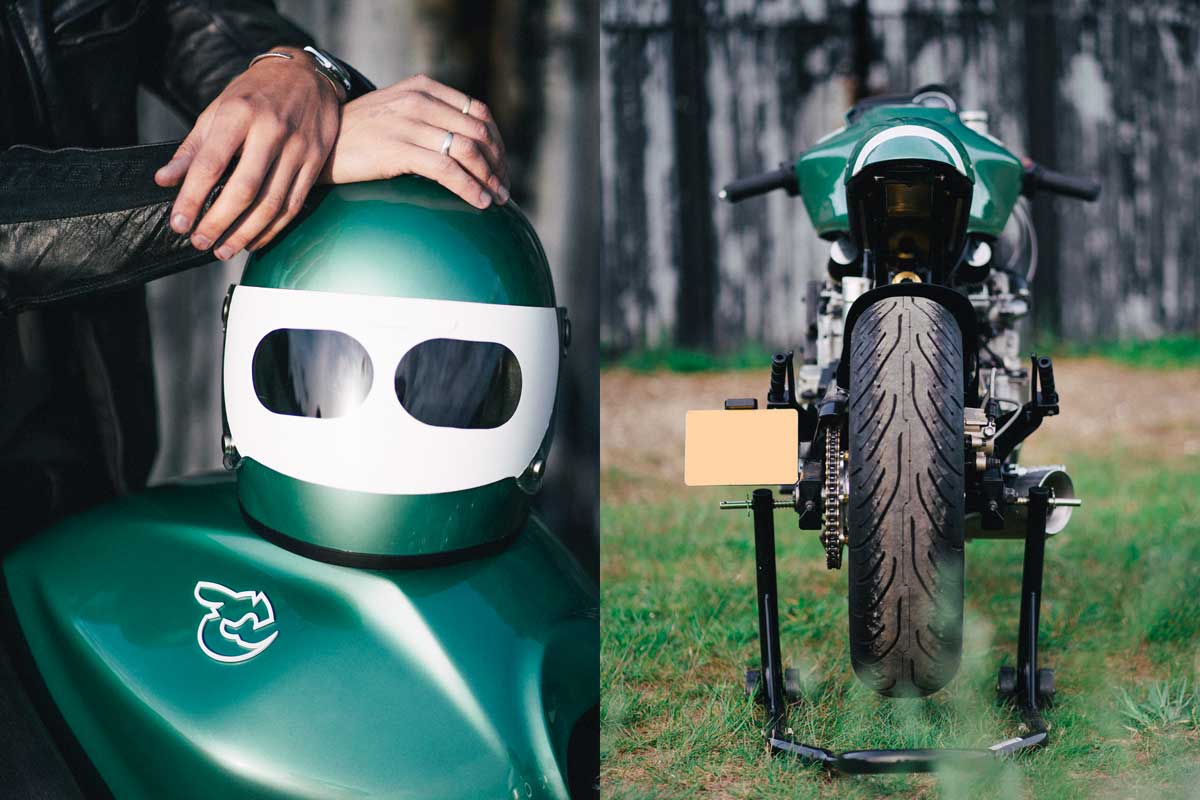 "I've become a lot more passionate about things we can do to reduce our footprint on the planet," says Louis. "As such, I've built a bike with this in mind and added some features I'm really proud." How exactly does one make an environmentally friendly, petrol-powered motorcycle? Well for starters, Louis sourced some sustainable alternatives when putting the finishing touches on his Hornet.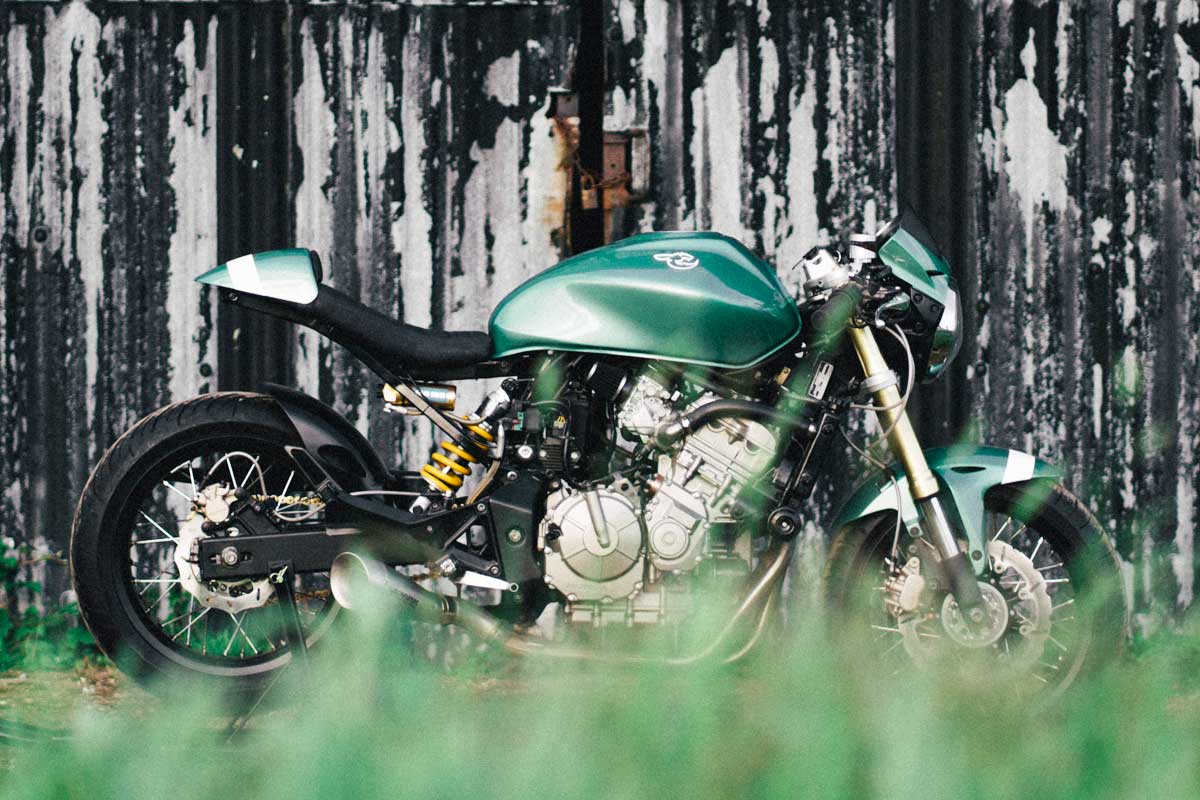 The environmentally friendly work began with a collaboration between Louis and vegan wallet manufacturers Corkor. The Corkor team covered the custom seat and bum stop using their sustainable, plant-based, animal-free cork leather. They also put together a set of matching cork leather grips to tie things together. After sourcing secondhand pieces of aluminium, he created the bike's bespoke tank badges and a mounting plate for his Quadlock phone mount. The bracket cleverly makes use of the old handlebar brackets on the triple tree that was left empty after fitting the clip-on bars. Additionally, all of the vinyl decals on the bike, and his rather interesting helmet, are made from PVC-free 3M offcuts sourced from a local sign company.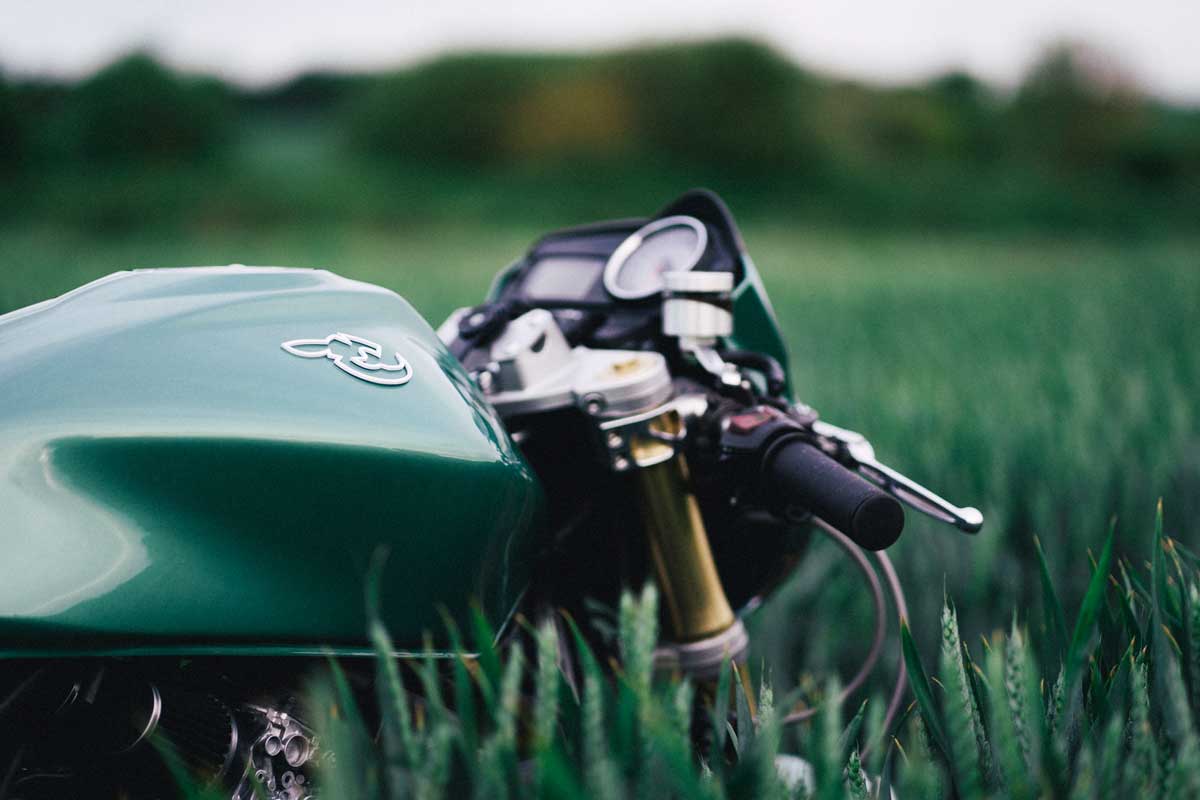 Last, but certainly not least, Louis dedicated some of his Honda Hornet 600 build fund to a carbon offset program. "I calculated that this bike will produce just under 23 tonnes of Co2 over the course of 1,000,000 kilometres, so I have donated to Team Trees," he says. This will help them to plant over 100 trees to offset my bike, essentially making it "carbon-neutral" for that distance." Whether or not his Honda ever clocks up that many kilometres our hat is off to Louis for striving to make a difference.
Photography by Alex Rory Jacobs
Shop This Look
| | | |
| --- | --- | --- |
| Image | Product | Buy Now |
| | Motogadget m-Blaze LED turn signals | |
| | Performance tyres | |
| | Ohlins suspension | |
| | Dynojet performance | |
| | Rizoma accessories | |