The Honda CB750 is often referred to as the original Universal Japanese Motorcycle. This is shortened to UJM, as most motorcycle enthusiasts like you, dear reader, are probably aware. First released in 1969 the CB750 was touted as the most sophisticated motorcycle ever, with its front disc brake and 190+km/h top speed. David Gonzalez of AdHoc Cafe Racers was approached by a discerning customer seeking a new motorcycle. A bike of minimalist construction with additions that would only improve performance. Mr. Gonzalez took this brief and surmised there was only one type of bike to base this build on. The quintessential UJM, a Honda 750.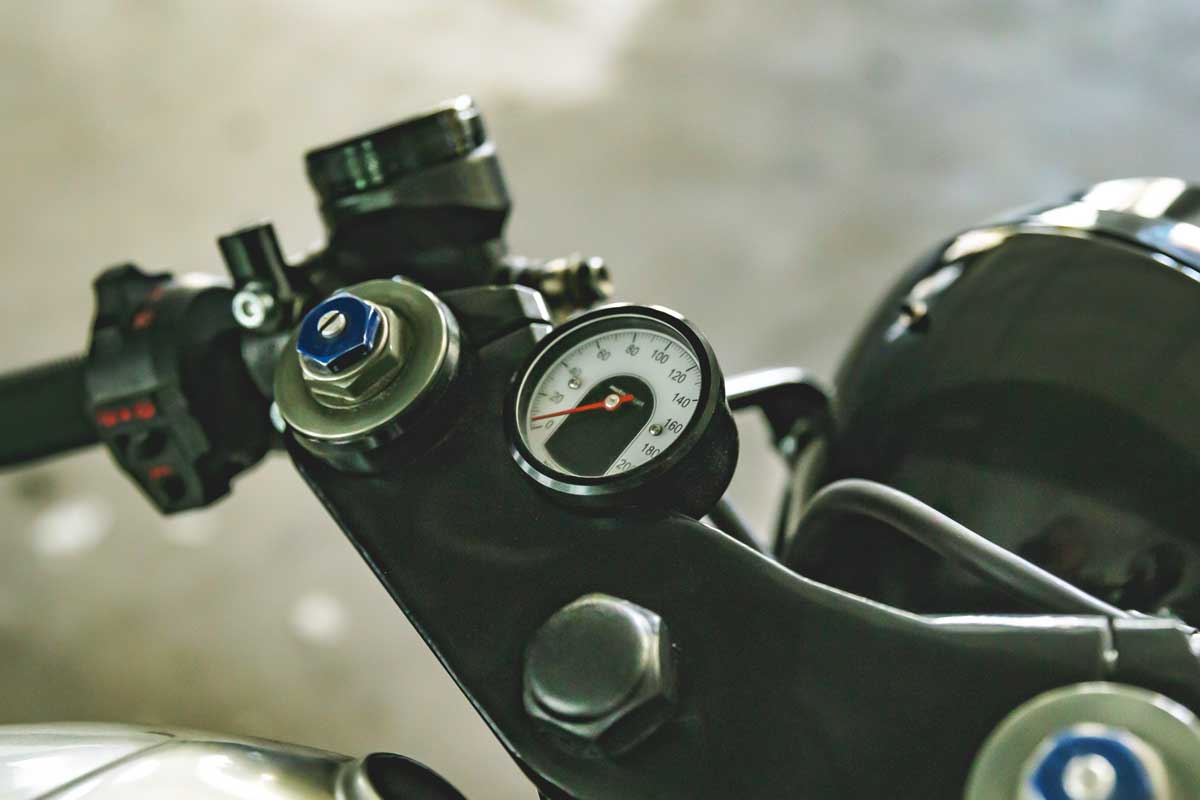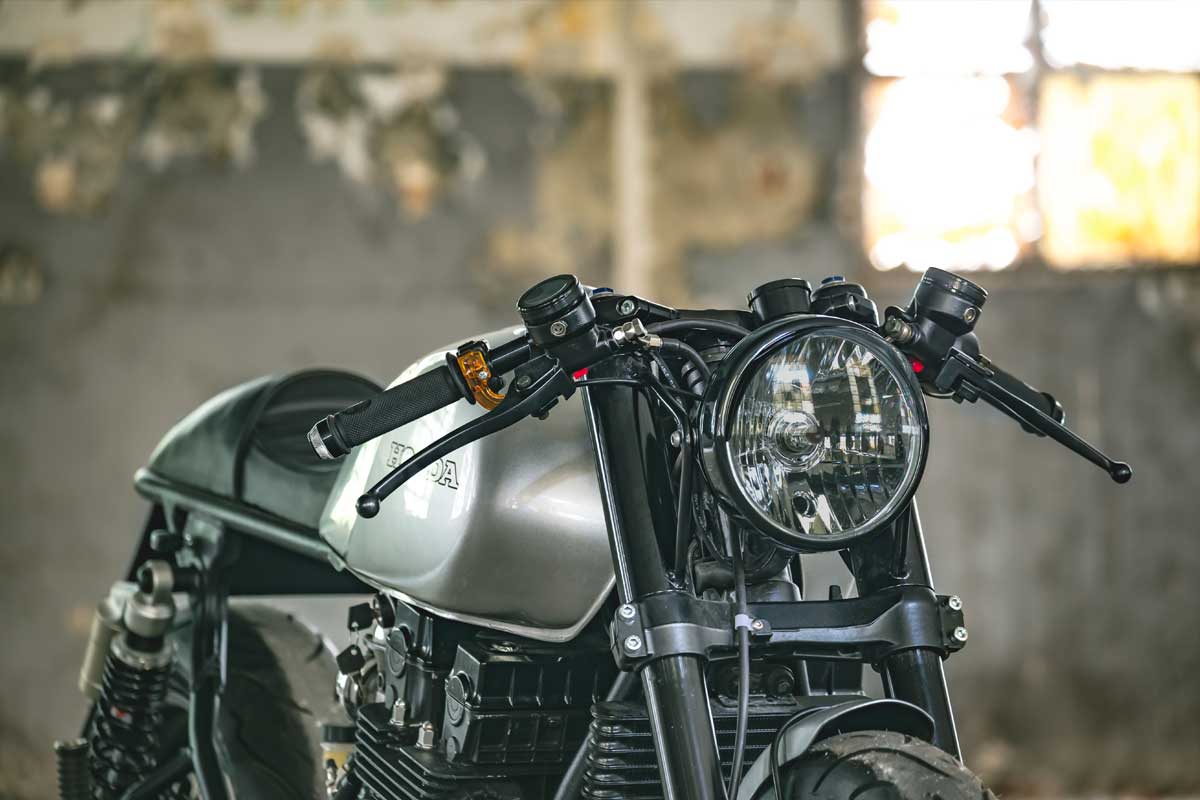 It's not uncommon to see original Honda 750s roaming the streets; a testament to their longevity and reliability. In Spain, where AdHoc Cafe Racers are based, these bikes are plentiful. Popular with custom shops and backyard builders alike, the CB750 makes a great platform for what we like to call Universal Japanese Cafe Racers or UJCR™ for short.
The donor for Adhoc's latest UJCR was sourced locally and swiftly subjected to a series of judicious performance upgrades. Many of the new components were sourced from another Japanese staple, a Suzuki GSXR1000. The complete front end from the GSXR was installed, along with its factory Tokico brakes and twin 320mm discs. To suit their projects style guide, a set of custom spoke wheels were made to order and bolted into the GSXR running gear. A custom alloy front guard and 7'' headlight have been mounted using custom bracketry. Up top, a set of clip-on bars hang off the fork legs and the modified top clamp houses a Motogadget Tiny speedometer. The controls were swapped out for modern aftermarket items and the switches and associated electrics simplified. Bar-end Motogadget LED indicators finish off this Honda's sleek cockpit.
Astute CB750 fans will have noticed the non-standard tank wearing a Monza-style filler cap. The tank was taken from another of Suzuki, this time a GS850. It's large size compliments the girth of the Honda inline-four and I'm sure the extra liters are appreciated by the owner. To finish it off AdHoc hit the tank with a coat of Mercedes Silver Grey and pinstriped the knee indents. Behind the tank is a classic cafe racer seat, wrapped in black leather and sitting on a custom subframe. Being upholstered means the rear hump can hold a passenger if the need arises. It also hides a good proportion of the bikes electrics beneath, including the battery. LED indicators and tail light keep the CB street-legal while YSS shocks ensure the bike stays planted through the bends.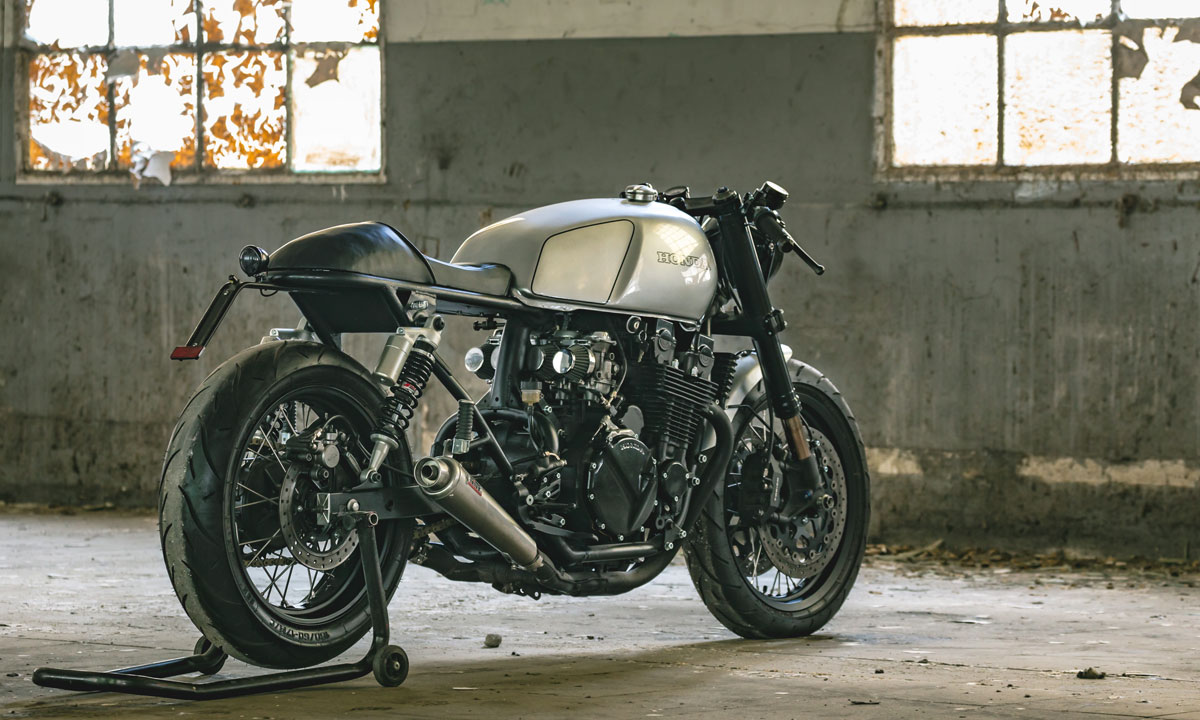 On the performance side of things, pod filters replace the restrictive factory airbox. For a little extra oomph exhaust gases are expelled via a sleek, ceramic coated 4-into-2 exhaust from MIVV. Rear set footpegs were bolted on to get the ergonomics right and modern Heidenau K80 rubber has been wrapped around each wheel. To finish it all off a lick of black paint was applied to the CB750 frame, engine, and wheels.
So, what's the bike like to ride now? David explains, "The bike is much better with all the suspension and brake improvements. The motor breathes well, has more punch and the sound is amazing." I'm sure he's is very proud to see everything come together to form such a cohesive package. These later model 750s can yield spectacular results with the help of workshops like AdHoc Cafe Racers. Perhaps it's time a UJCR found its way into your garage?
Photography by Xavi Dynamische / Special thanks to Revival of the Machine
Story by Ben Pilatti