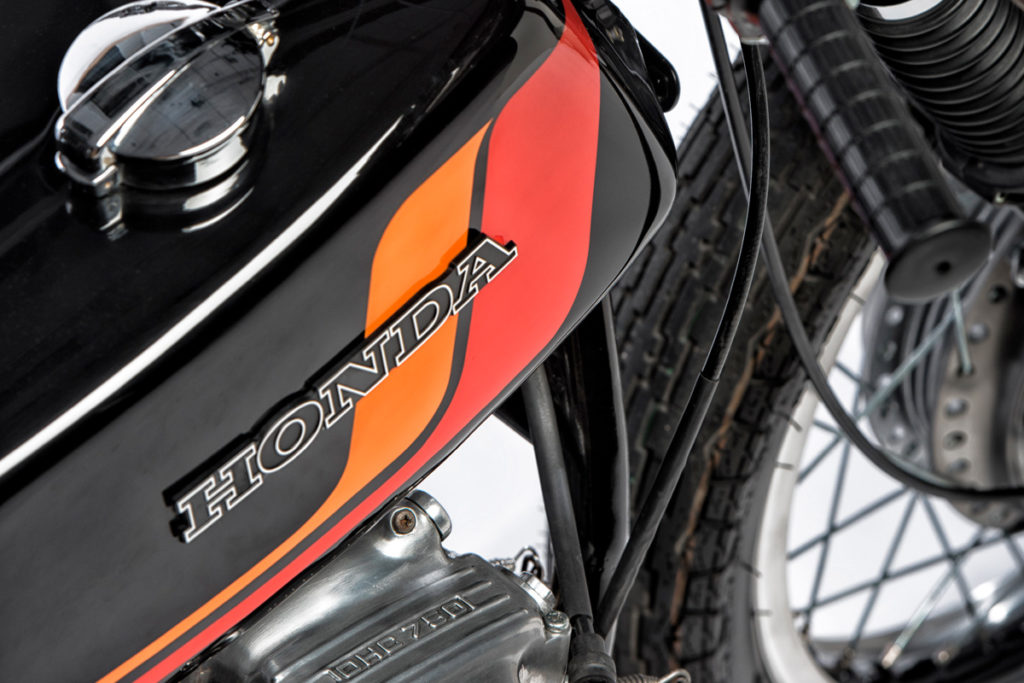 I stuck with motorcycles mainly because they take up less space than cars, and are generally cheaper. I got into CB750s about 13-14 years ago as a hobby and something to keep my hands busy.  My workshop is an overcrowded 1-car garage. This bike is a 1970 CB750.  An aquaintance gave me a heads up about it and I acquired it as a frame and motor.  It also came with a few boxes of parts including an original Honda service manual with piles of receipts.
Turns out, it had sat unused since 1976. The previous owner had a lot of work done to the motor by the legendary R.C. Engineering (Glendale, California) back in the early 70's. It has a polished and micro-balanced crank, lightened rotor, light porting on the heads etc. etc. etc. I brought it home and it sat in the garage for years until I saw a post on FB looking for submissions for an Independent motorcycle show named the D.I.M.S or Denton Independent Motorcycle Show. I entered with no bike and no photos. I just wanted to build something that I could show in my own town.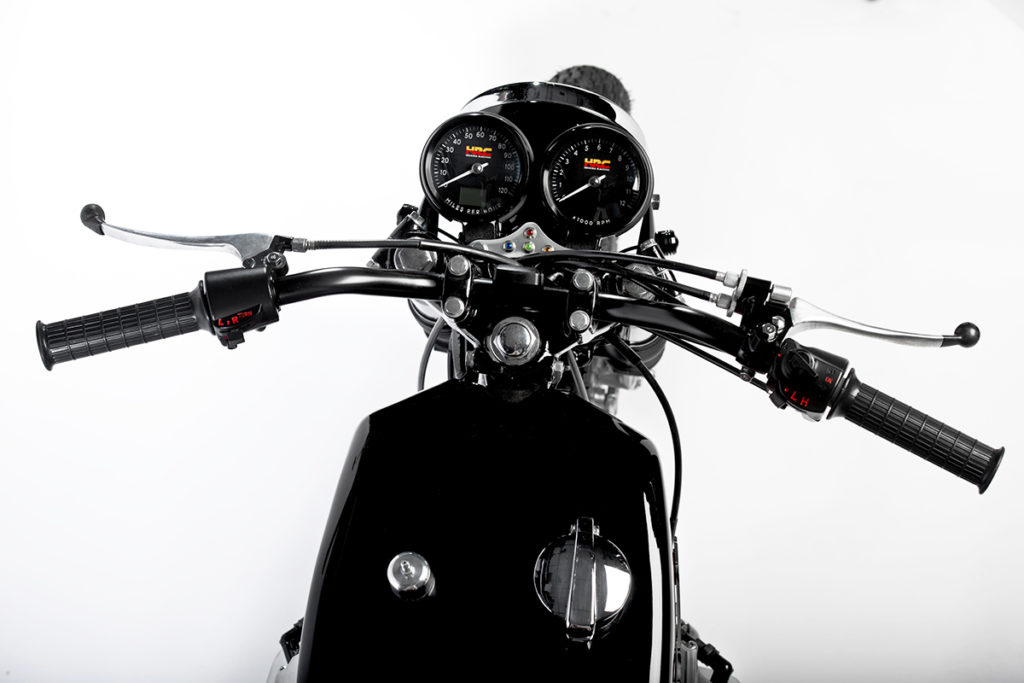 About 6 weeks out, I really started hammering on the project.  I had a pretty good collection of parts on the shelves.  In the boxes of parts, there was a NOS set of forged Venolia pistons.  I figured the previous owner had intended to use them, so I might as well.  I had the cylinders bored for the pistons which increased capacity to 836cc.  New valves, springs, and a serti valve job finished off the top end.  The cam is from a 1969 CB750 (stock)  and it's running Keihin CR29mm carburetors. The frontbrake is from a 1972 Suzuki GT750, it's a monster 4LS brake.  I like the mechanical look of it. With new shoes, it stops as well as the stock CB caliper – still by no means modern. The rear swing arm is a Calfab reproduction made by the guys at MotoGPwerks in California.
I've always liked the old stuff. Old race bikes and hotrods of the early '60s and '70s still look as cool as they did back in their day. I was hoping this bike would be my take on a café racer of that period, a bike that Honda or a weekend privateer racer might have come up with. In theory, everything on the bike is something you could do or purchase in 1970.  The only exceptions are the speedhut gauges and turn signals (I wanted something legal to ride).  The gauges have faces of my own design which have a vintage look.  They also eliminate the speedometer and tachometer cables for a cleaner front end. Back in those days, you could actually buy a kit from Honda that would turn your bike into a factory racer – fairings and all.  I wanted that look but in a naked configuration.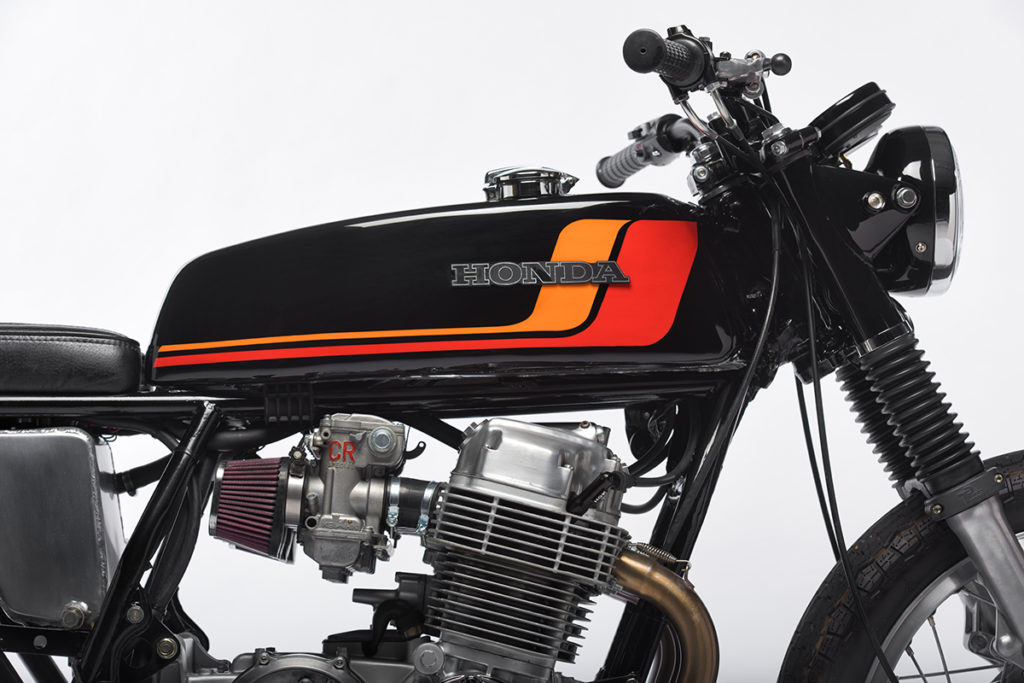 The aluminium fuel and oil tanks are loose copies of the Honda Racing CR tanks of the 1969-70 campaign.  The frame was shortened in the rear, braced and modified to fit the fuel and oil tanks. I moved the footpegs back about 4 inches but didn't really need to use rearsets as I have Yeti feet and long legs. The rear brake pedal and shift levers are shortened to accommodate. I was able to use the original foot pegs this way.  The handlebars are superbike bars, lower but not clip-ons since I'm not built for those. The rear has new shocks with progressive springs and the forks run new progressive springs as well.  I always liked the look of the old aluminum shouldered rims, so I re-laced the wheels to a new set of rims.  I painted the centers black to match the tank and to add a little contrast.  After several beers, I added a small pinstripe to them. That may be my proudest moment as I am not a pinstriper.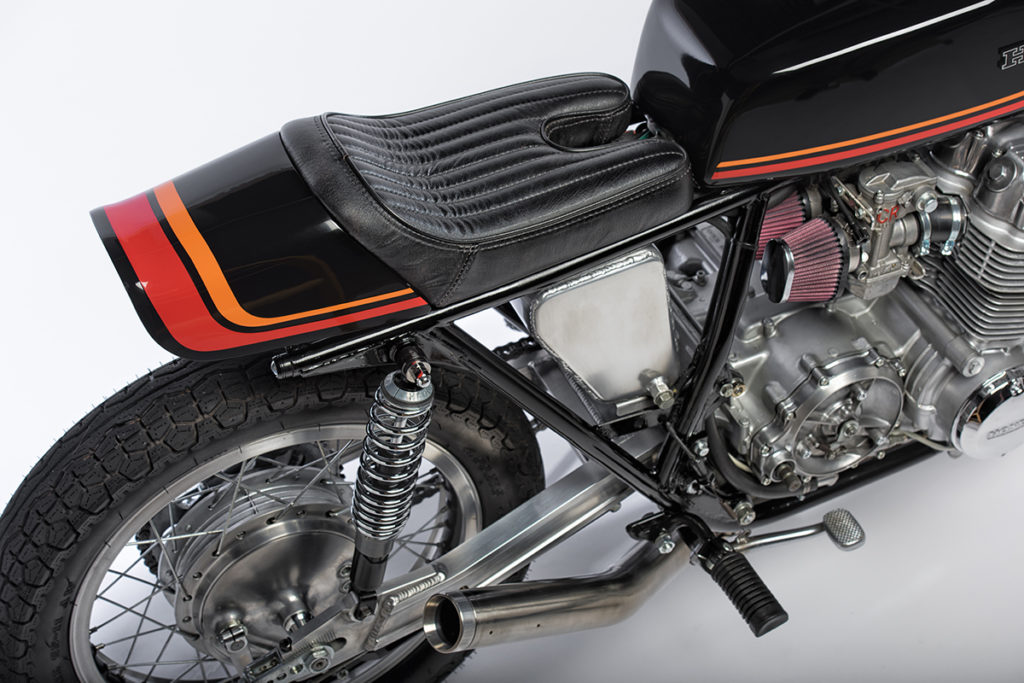 The tail section is from a Kawasaki KZ750B. I cut it apart and took sections out until I was happy with the shape.  I should have started from scratch as it would have been much faster. I tucked the original brake light underneath the tail after cutting it down and fitting it with a LED bulb. The tail also houses a small Lipo battery and the electronics. The seat pan was made from an old stop sign and some round bar stock that I covered with leather from an old jacket that had been hanging in the closet for a decade.
For me deciding what color to paint things is always the hardest decision. It seemed a shame to paint over the beautiful aluminum tank, but to me, things always look unfinished without paint.  I did, however, decide to leave the oil tank in bare aluminum so that it would reflect its surroundings and give the illusion of an empty space behind the motor. I wanted something vintage and clean but at the same time a bit flashy. My good buddy and guru of all things hotrod and moto, the Great Fantastico, sent me a photo of an old Honda Ascot that was black with orange and red stripes and my mind was made up. I played around with the shape of the stripes and it fell into place pretty easily. Painting is not really my specialty, but since I'm frugal I don't sub things out that I can do myself.
Designed, built, painted, assembled and rode by a normal dude, in a normal garage, in Denton, Texas.
Spec sheet:
750cc bored out to an 836
Forged Venolia pistons
Honda valves, heavy duty springs from Dynoman
Keihin CR 29 carbs
Velocity stacks or K&N filter pods
Stock 1969 cam
4LS front drum off a 1972 Suzuki GT750 ("Waterbuffalo")
Brake plates machined to fit between the fork tubes
Frame tabs and rear passenger mounts removed
Frame modified to fit fuel and oil tank
Frame bracing added to rear
Custom aluminum fuel and oil tank
Calfab aluminum swingarm (MotoGPwerks)
Stainless exhaust (MotoGPwerks)
Aluminum shouldered rims
Tarrozzi vintage fork brace
Stock handlebar switches and wiring harness (mostly)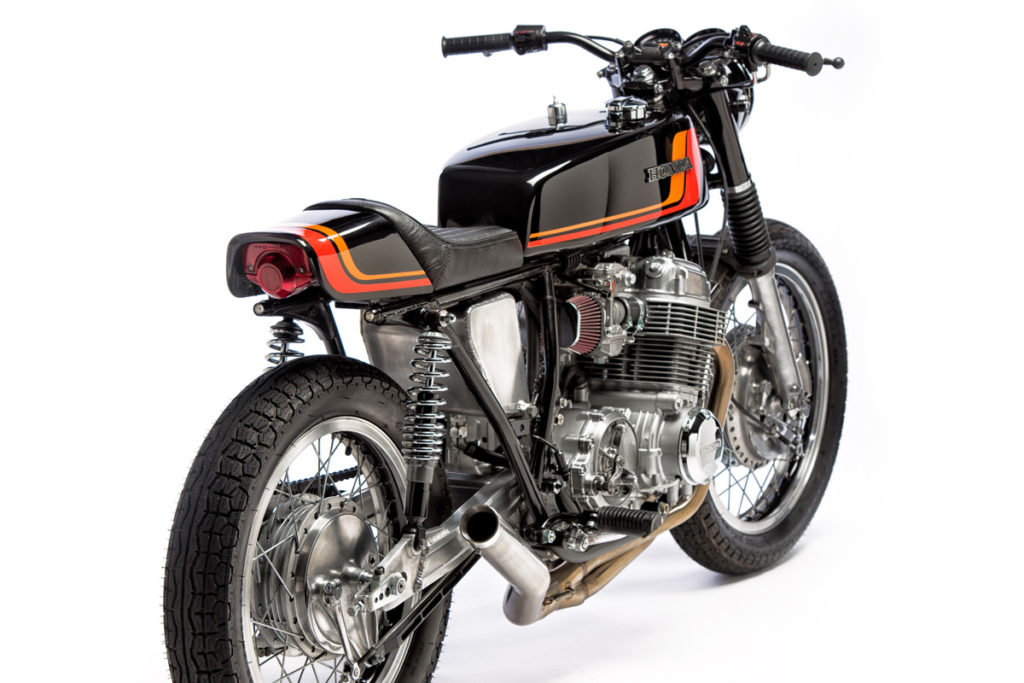 I've been into bicycles, cars, hotrods and motorcycles as long as I can remember. My dad grew up hot rodding in southern California back in the early 50's so it's in my blood. Drawings of sports cars, motorcycles and Evel Knievel posters adorned my bedroom walls growing up. Unfortunately, I was never able to have a motorcycle as a kid. Mom put the kibosh on that or any mention of such things.  However, once in made it into college and out of the house, I bought some boxes of Suzuki GT750 parts. Enough to make 1 good running bike.  I was hooked.