"This Honda CB550K was an older gentleman's highway cruiser with shield and bags when I found it. You could tell he took pride in his ride and treated it regular maintenance and parts including Dyna S ignition and Progressive fork springs until he fell sick and it was stuffed away in a garage for over 20 years.
I stripped it down and cleaned it up, painted the frame and engine, polished the engine covers, had the wheels powder coated and put on some new rubber. Installed new steering bearings and started re-assembly. Quite a few hours were spent on the buffing wheel polishing aluminium. The bike was reassembled with a Legendary-Motorcycles Dunstall Lowline replica tank to which I added "toaster tank" sides made from mirrored stainless, and a Roc city cafe racer seat. A custom gauge bracket was fabbed up and a mini speedo with dummy lights plays second fiddle to the stock tach mounted dead centre between the clubman bars with polished controls.
The Mac 4 into 1 was given a custom look with a brushed finish on the canister and a modified baffle for better performance. The carbs were re-jetted for the modded exhaust and polished velocity stacks from Dime City Cycles were fitted.
All electrics were moved to under the seat and a Ballistic battery was installed to allow retention of the electric starter. The rear tail light is shrouded by a chrome visor to match the headlight visor. The bike is running full clear lensed billet turn signals with red bulbs in the rear and work as rear brake lights. A set of aftermarket shocks were installed and feel great out on the road.
The front fender was removed from the stock mount which acts as a fork brace in stock configuration. The brace was painted and reinstalled to ensure handling isn't being sacrificed. The rear-sets were sourced from DoTheTon member DurgamK and are great quality.
The bike was built completely in my garage, from the frame modifications to the tank mounts, the stainless and aluminium electronics tray and even the paintwork and the seat upholstery. The bike rides like a dream pulls strong throughout the rev range and sounds great."
Brads not stopping with this build though. This Honda Cafe Racer will soon be listed on eBay and the funds from its sale will be put towards his next Cafe Racer build. You can see more photos of this bike on Brad's Facebook page.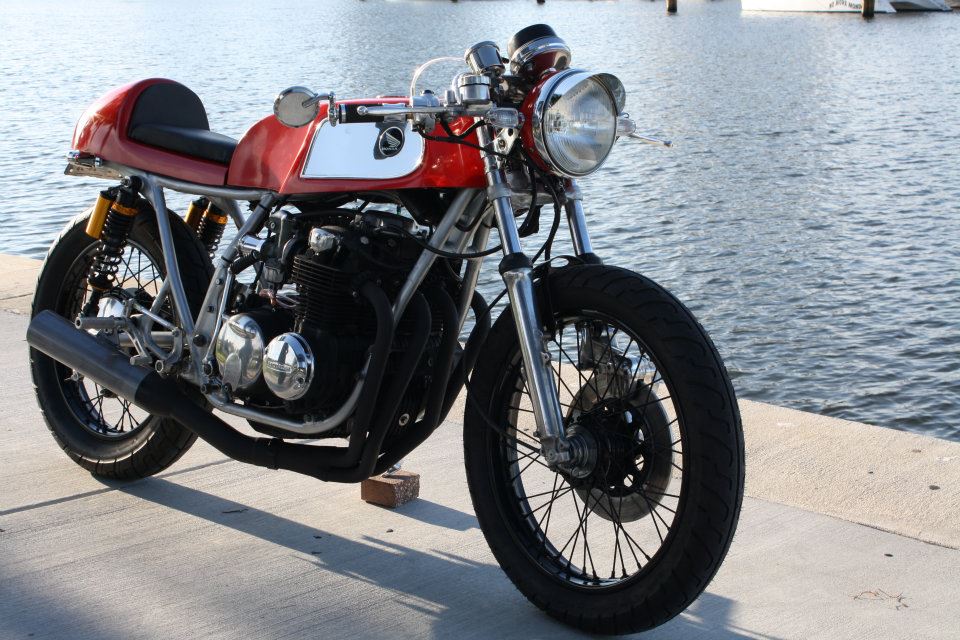 Twenty years is a long time for a motorcycle to go unused. Oil dries up, rubber cracks, polish fades and paint flakes. But when the right person stumbles across it with the right amount of vision and skill it's former glory can be returned and in some cases exceeded with some smart customisation. This is exactly the case with the Honda CB550K you see here. Owner Brad has sent it in via our submit your cafe racer page and we had to put it up on the site. Read on to enjoy Brads recount of how this Cafe Racer came to be.