One of the biggest gripes we hear from riders about electric motorcycles is the absence of engine noise. We love the burble of an aftermarket pipe just as much as the next guy, but in some parts of the world, loud pipes simply aren't allowed. In Belgium for instance, noise restrictions are so strict they have stifled any attempt to introduce flat track racing. It's a problem that has had no solution until now.
Thanks to the introduction of electric dirt bikes the prospect of a flat track race series in Belgium is achievable. But the benefits of silent off-road motorcycles reach well beyond Belgium's borders. Many rural areas restrict the use of off-road motorcycles due to noise and, as well all know, excess noise can also attract unwanted attention.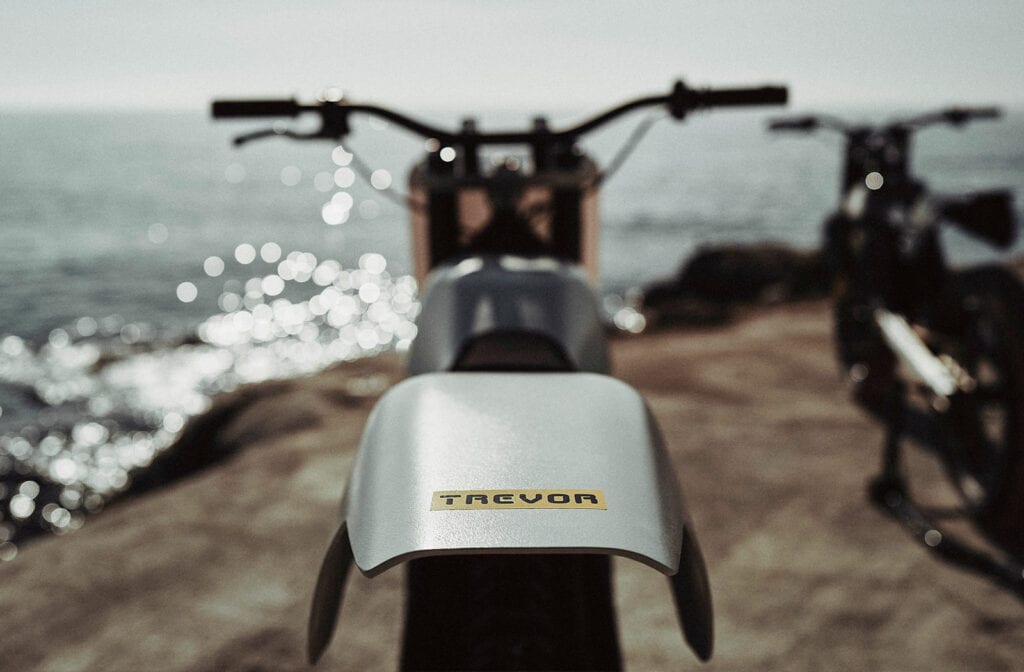 After the success of their electric sports bike, the Saroléa N60 MM.01, Philippe Stella and Jeroen-Vincent Nagels have expanded their EV offering. This time around the pair has departed from the street to create an all-new electric dirt bike under the moniker of Trevor Motorcycles.
Based in the province of Girona in Catalonia, Spain, the pair spend their free time exploring the regions many off-road tracks and coastal trails. Driven by a desire to have a clean, modern alternative to their classic dirt bikes, they created the Trevor Motorcycles DTRe Stella.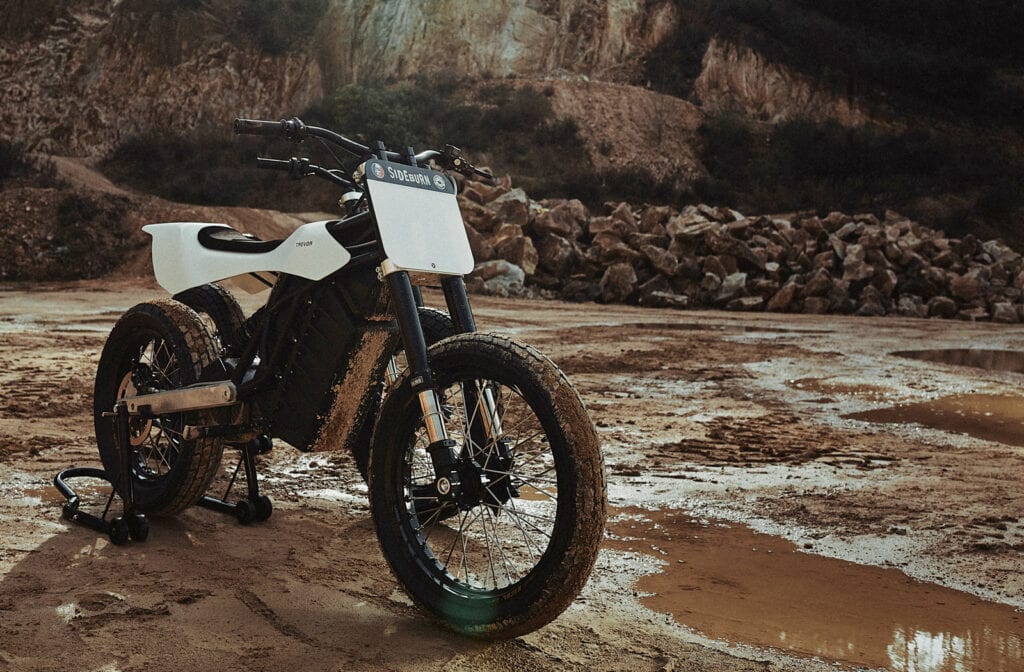 For the Design of the DTRe Stella, Trevor Motorcycles enlisted the help of California based automotive designer John McInnis. Thanks to his past work with EV company Alta Motors and a shared passion for dirt bikes, McInnis was the perfect man for the job.
The design brief was to create a modern electric dirt bike with classic flat tracker styling. The resulting design is fuss-free and purposeful thanks to premium performance components and a compact battery configuration. Without the need to carry any fuel the monocoque bodywork is nothing more than a cover sitting over the trellis chassis. And, in keeping with the company's small carbon footprint approach, Stella's bodywork and battery case are formed from 100% recyclable ABS.
The Trevor Motorcycles DTRe Stella is available in 2 different varieties. Customers can choose from either a dedicated off-road model or a homologated road-going version. Both bikes are equipped with an 11 kW brushless electric motor hooked up to a Saroléa Performance Technology 2.7 kWh lithium-ion battery pack. The setup offers riders a top speed of 90 Kph (55 Mph), 260 Nm of pulling power at the rear wheel and around 1.5 hours of trail riding per 1.3-hour charge (with a 3kW charger). As for Stella's weight, it's a measly 79kg (174lbs) including the battery so flicking it around tight bends or over jumps takes little effort.
Designed around the bike's battery pack, the trellis frame and alloy swingarm are the work of Belgium race experts Workhorse Speed Shop. The suspension comes via Ohlins both front and rear and the drivetrain utilises a single-speed chain drive. Taking pride of place atop the triple clamp are Domino Racing Ergal 7075 black alloy handlebars and the brake system hails from Beringer. Each DTRe Stella rolls on a pair of 19-inch HAAN Excel spoked rims which they've wrapped in Dunlop's dedicated flat track tyre, the DT3.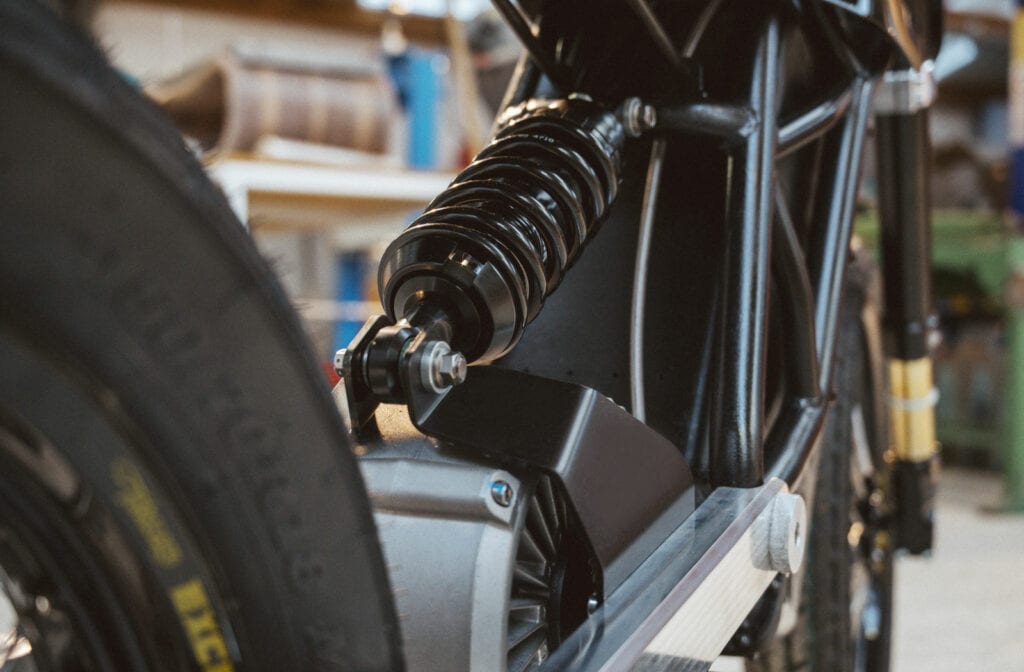 Of course, designing an electric dirt bike inspired by flat track racing is one thing, but making it a capable racer is another. So to put their creation through its paces Trevor Motorcycles teamed up with off-road rider Gille Leenknegt. After 6 days of riding and testing Gille had this to say about the DTRe Stella, "I am a vintage motorcycle fanatic with a special love for the flat track. The Stella handles perfectly and the power, without noise or vibrations, is something unique and made me live a new experience."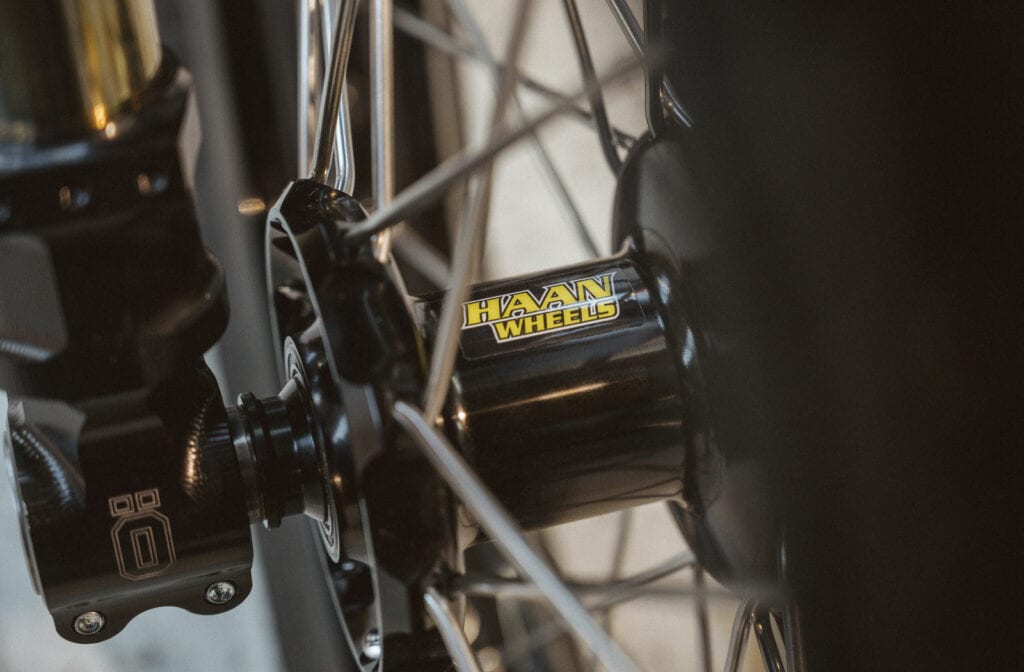 The Trevor Motorcycles DTRe Stella electric dirt bike is now to order in either the offroad or street-legal versions. Prices are set at €12,995 for the offroad and €14,495 for the street going. As a special incentive those who get in early (first 10) will also receive a limited edition Hedon x Trevor Heroin Classic Stella helmet. Visit the Trevor Motorcycles website for more details.
TREVOR MOTORCYCLES
Photography by Bramskibeat