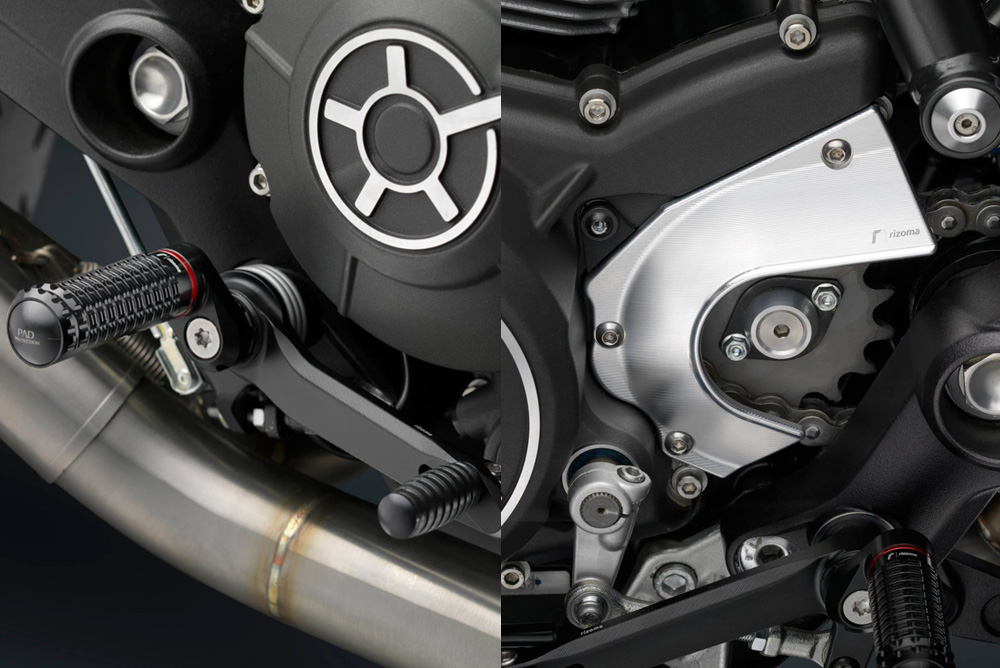 The '21010 HELL' bike by Rizoma (shown here) was unveiled at EICMA in Milan to showcase their Cafe Racer conversion parts for the Ducati Scrambler. Using a base model 'Icon' Scrambler the Rizoma design team have created a series of lightweight, milled and pressed alloy parts that can be bolted straight to a factory bike.The full set of parts for the 21010 HELL consists of around 20 pieces which, when applied will dramatically transform the Scramblers appearance.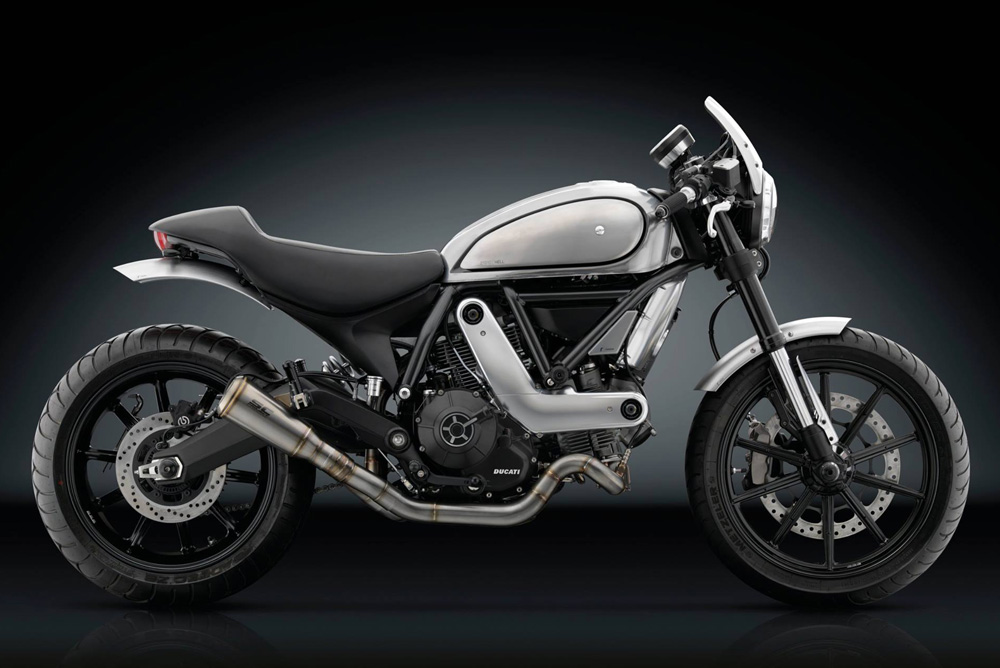 The parts available in the Rizoma Scrambler range include light weight, TUV approved Clip-on bars and rear set footpegs. Desmo 'L' timing belt covers machined from billet aluminium that feature view windows to expose the inner workings. A completely redesigned alloy airbox cover that weighs only 1.1kg and features a floating 803 decal.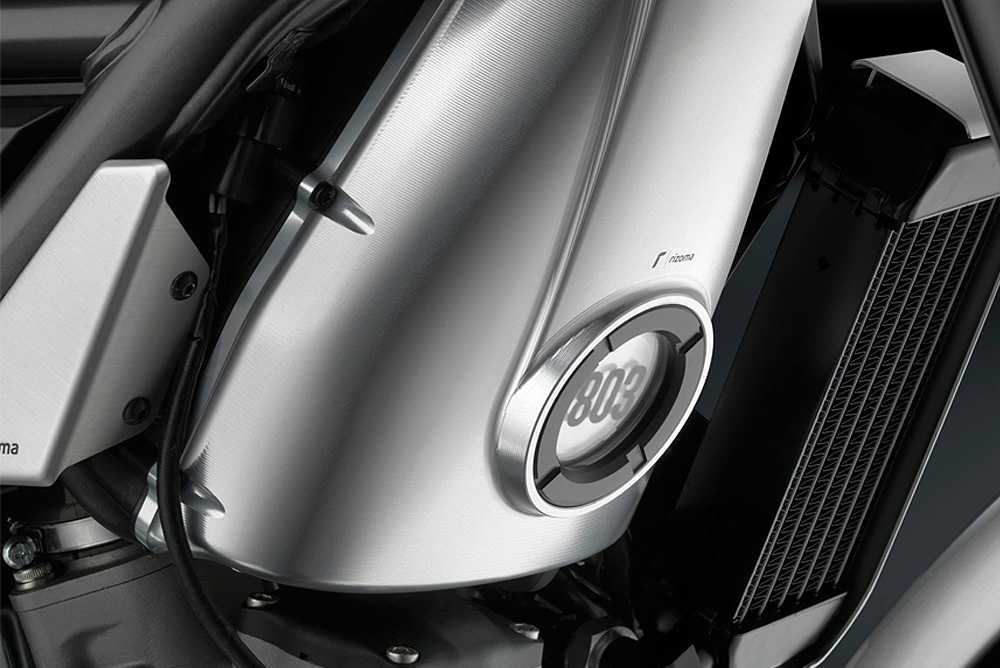 You'll also find new grips and levers and a collection of bare alloy dress up parts to give your Scrambler that raw look. You can ditch the standard plastic guards and add alloy front and rear fenders, there's a larger, bikini style headlight fairing, alloy fork tube guards, radiator and oil cooler covers and chain and sprocket guards.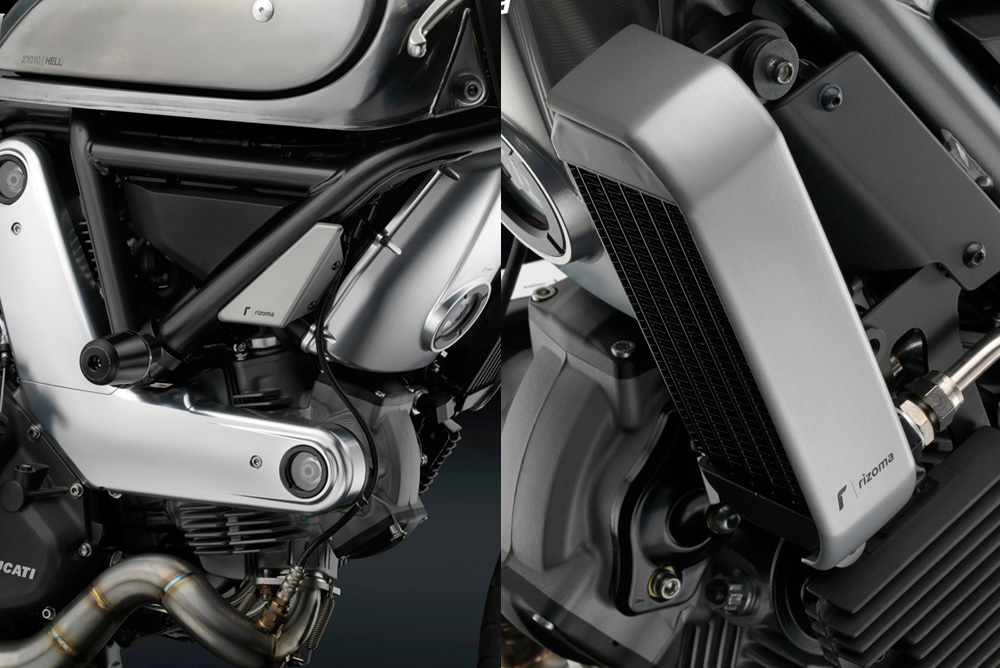 The best thing about this range is that you can use as many or as few of them as you like. All of the parts are available for purchase individually and prices range from €30 to €700 per item. Builders can also choose from an assortment of indicator and mirror options from Rizoma's huge range to suit their individual taste.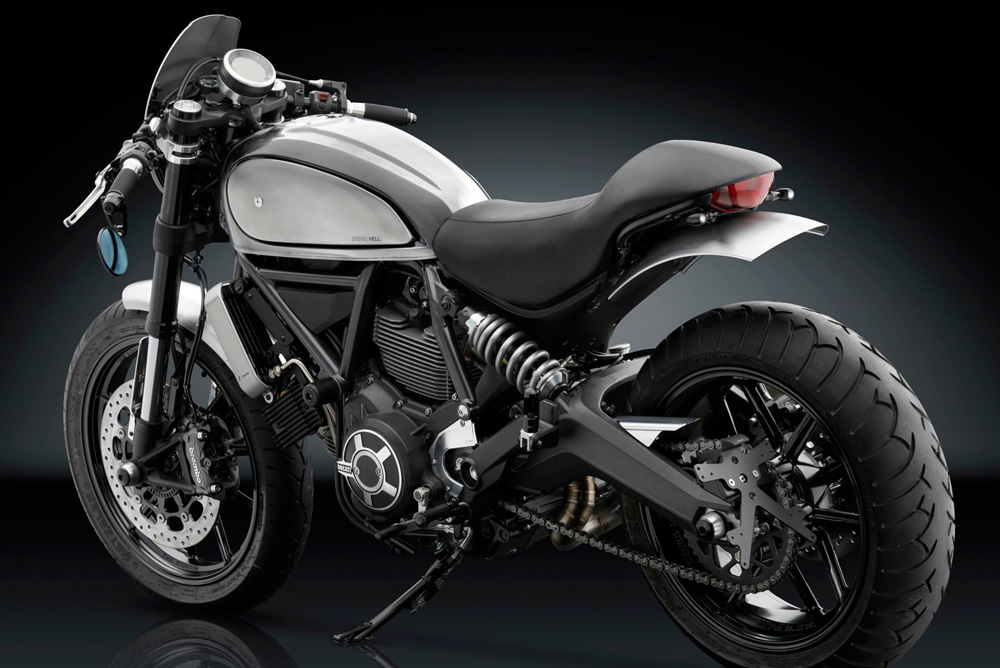 In the world of aftermarket motorcycle parts, there are a few manufacturers who stand out in the current custom scene as the cream of the crop. The design and quality of their parts are top notch and for a workshop or homebuilder who is looking for the ultimate accessories to complement their custom creations, these are the brands they turn to. One such brand is Italian manufacturer Rizoma and their parts range offers some of the best looking indicators, mirrors and dress up parts around. At the EICMA show last weekend Rizoma unveiled a series of parts aimed at owners of the new Ducati Scrambler who want to transform their bike into a bonafide Cafe Racer.