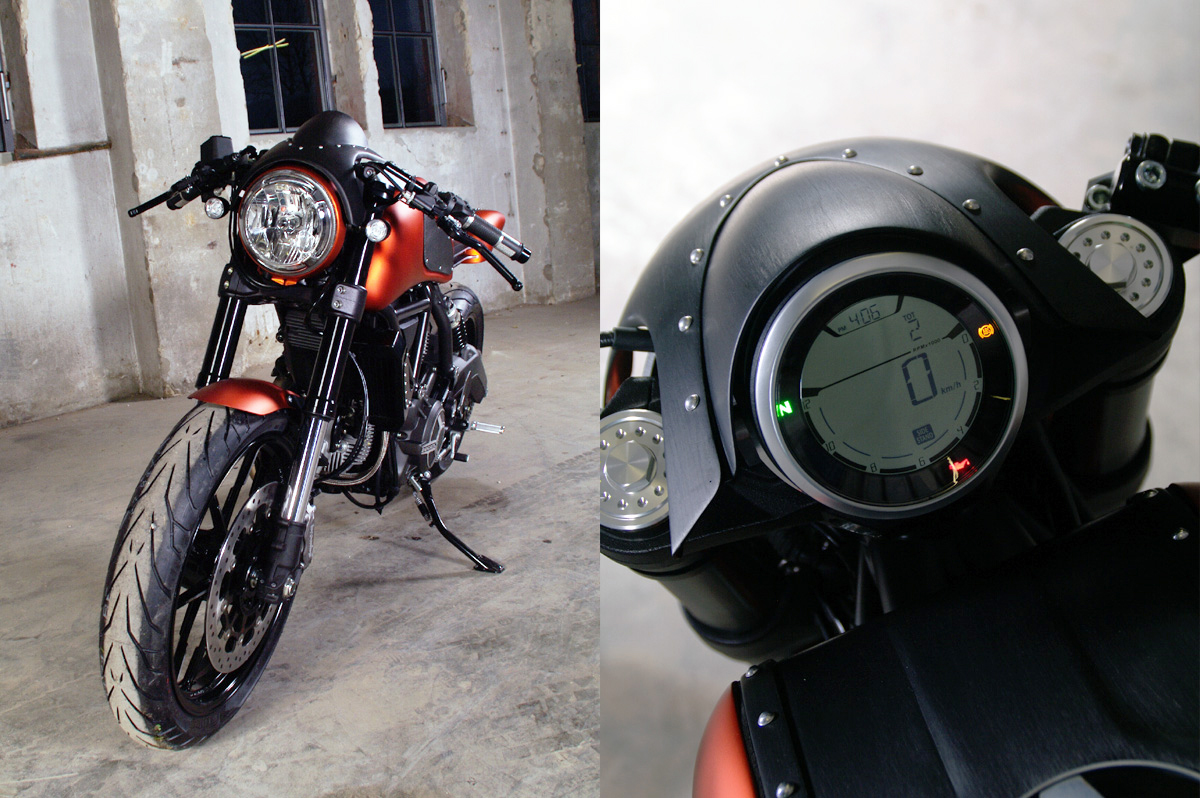 When the invitation to modify Ducati's Scrambler presented itself KRT Framework owner Marvin Diehl seized the opportunity. Fascinated by vintage aeroplanes since his early childhood the project presented the opportunity to realise one of the expert metal fabricators long term ideas. Inspired by the Scramblers slim proportions and the angular lines of its trellis frame, Marvin devised an aeronautic influenced design that would focus around a monocoque style tank and tail construction.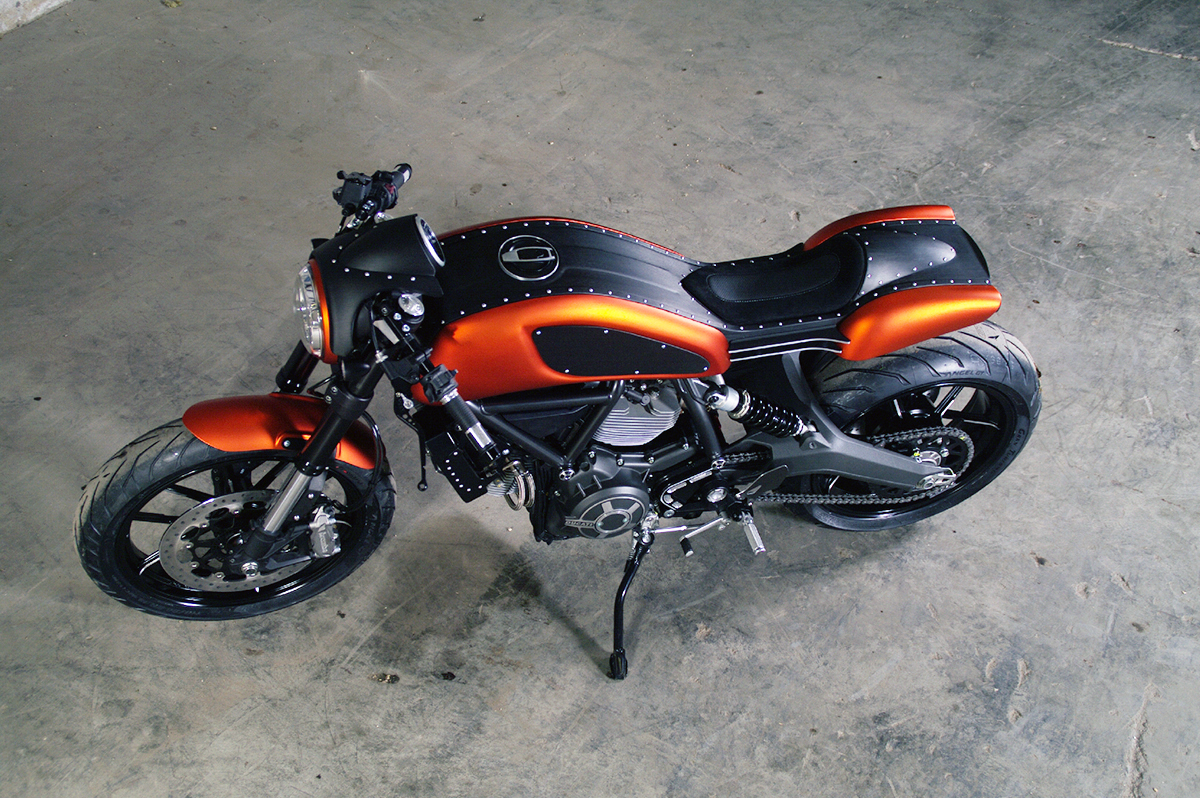 "The core idea was to create a homage to the craftsmanship of thirties airplanes while integrating classical cafe racer lines into the Scramblers modern looks."
After stripping the bike of it's bodywork Marvin sketched an aluminium monocoque, rib construction body. Void of welds, the separate panels of the bodywork would use rivets like those found on aeroplanes to hold it together and would house a custom made, rubber mounted aluminium fuel cell. With his sketchwork approved Marvin began the build process by constructing a wooden buck to define the new proportions and to function as a template for each of the bodyworks individual pieces.
Using traditional metal shaping and coachbuilding techniques Marvin hand-shaped aluminium sheet to form the pieces of the bodywork. Once each segment was completed they were set aside to be brushed and anodised black or painted by local expert Ingo Kruse using a satin orange candy paint. With all the pieces complete the task of securing them together was then completed by applying around 450 individual rivets, one at a time.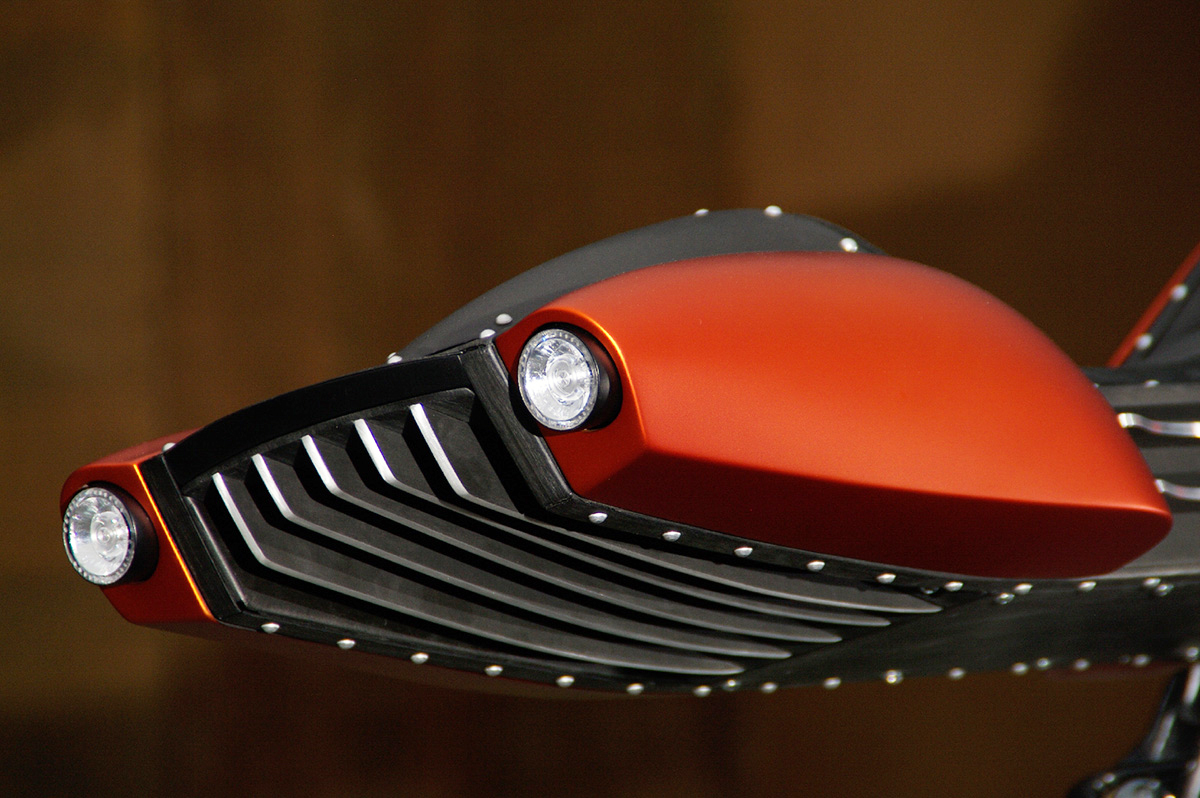 Along with its redesigned bodywork the Rivartoro Scrambler also features integrated taillight/indicators, a custom front fairing that incorporates the stock speedometer, more downward swept handlebars, Wilbers suspension, Ducati Monster footpegs and a Hydroform Satin HP Corse muffler. While Marvin toiled away on the bikes bodywork his neighbours at Motorrad Tellenbrock worked with the Ducati team to revise the bikes wiring loom and to relocate electrics to the tail section. Lastly to compliment the fins of the bodywork the standard Scrambler rims were milled and polished to add exposed silver details.
If you'd like to see Marvin and his team rewarded for their efforts, give it a 'like' on the Ducati Custom Rumble Instagram account by clicking here.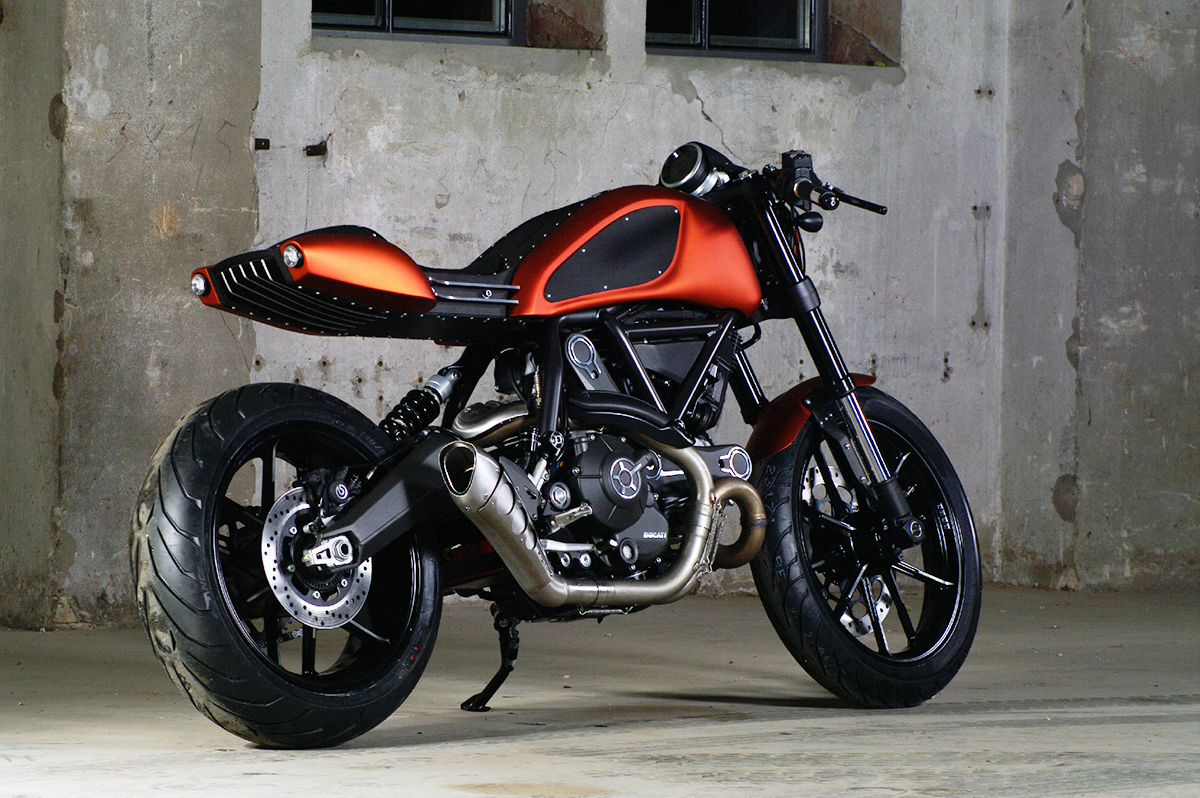 During the last quarter of 2015 <a href="https://www.returnofthecaferacers.com/category/ducati-cafe-racer/">Ducati</a> announced a worldwide competition that invited its dealers to customise one of their Scramblers. The 'Custom Rumble' competition attracted entrants from around the globe with the winner soon being selected based on public votes. While many of the entrants opted to simply fit bolt-on parts and apply custom paint a handful enlisted the assistance of local custom workshops to create something really unique. In Germany, the Rhein-Sieg based Ducati dealership looked to metal fabrication experts KRT Framework for a solution and the result is their aeronautics inspired, 'Rivatoro' Scrambler.