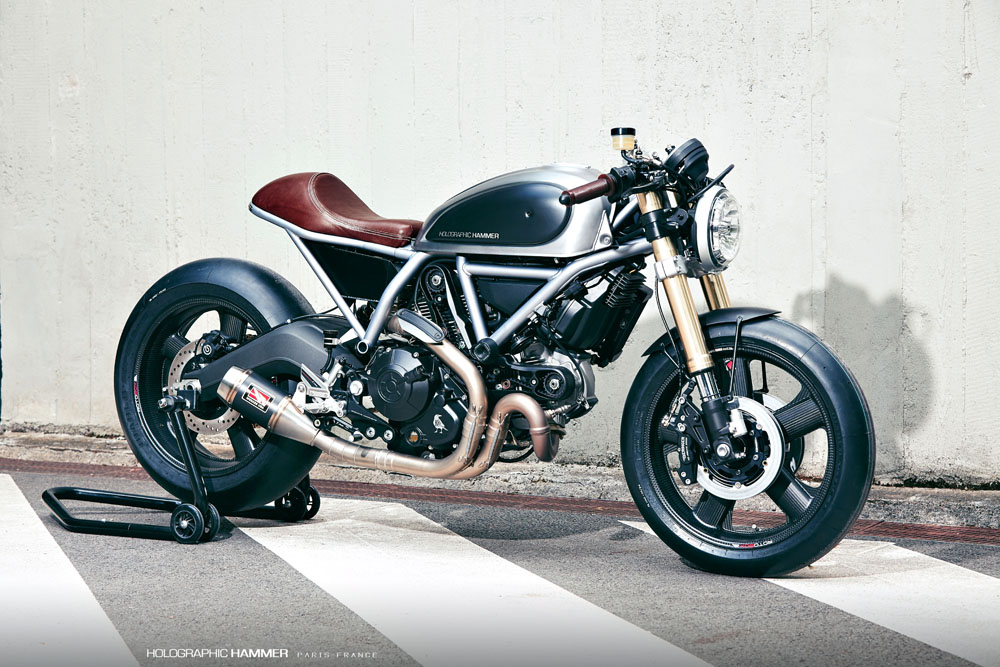 Just in time for the Wheels & Waves festival in France, Holographic Hammer have unveiled their latest creation and it's a much anticipated translation from digital design to a real world, rolling custom. Thanks to yet another collaboration with Ducati using their hugely popular 2015 Scrambler, Holographic Hammer have teamed up with Moto Heroes in France to produced the best Cafe Racer style conversion of the Scrambler we've seen so far. Constructed by brothers Sylvain (the Holographic Hammer) & Florent Berneron over 14 weeks and taking some 170 hours of work to complete their custom Scrambler boasts parts from some of the worlds best custom and performance parts manufacturers; ensuring this isn't simply a good looking custom Scrambler, but also a greatly upgraded one.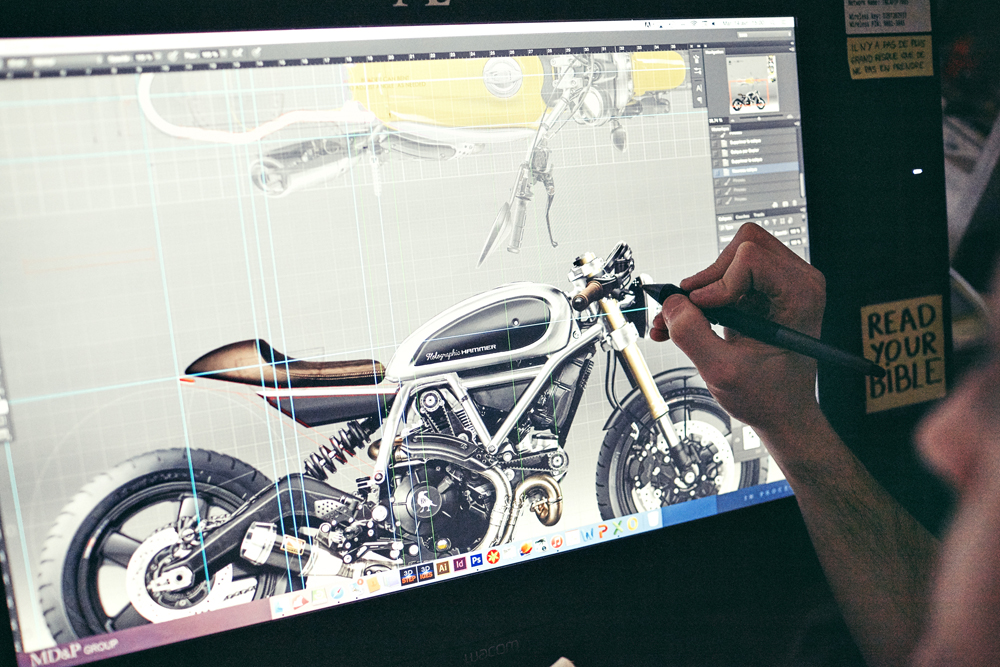 Holographic Hammer: "Three months ago, Ducati contacted us to ask if we could work on an official Scrambler project, for a release at Wheels & Waves in Biarritz. The bike is so cool that we said yes right away, but 14 weeks to do it all was quite short notice. We signed the deal and a few days later we received a brand new scrambler, fresh from the factory.
The question was then, what should we do with it? We had a few rides on the Scrambler while we were still discussing the project, the bike handles really well and is very fun to ride, but for us a Scrambler is a bike you want to live with. I mean you'll scratch it, go through mud and dirt, even lose the front here and there and fall over, so if you want to spend money on it, it will most probably be to change tires and brake pads to keep the fun coming. We didn't feel like putting all our parts and labour into a bike of that design because it would make it too shiny for what it's purpose really is. So, from that point, it was clear that we would turn the Scrambler into something else, something faster and cleaner.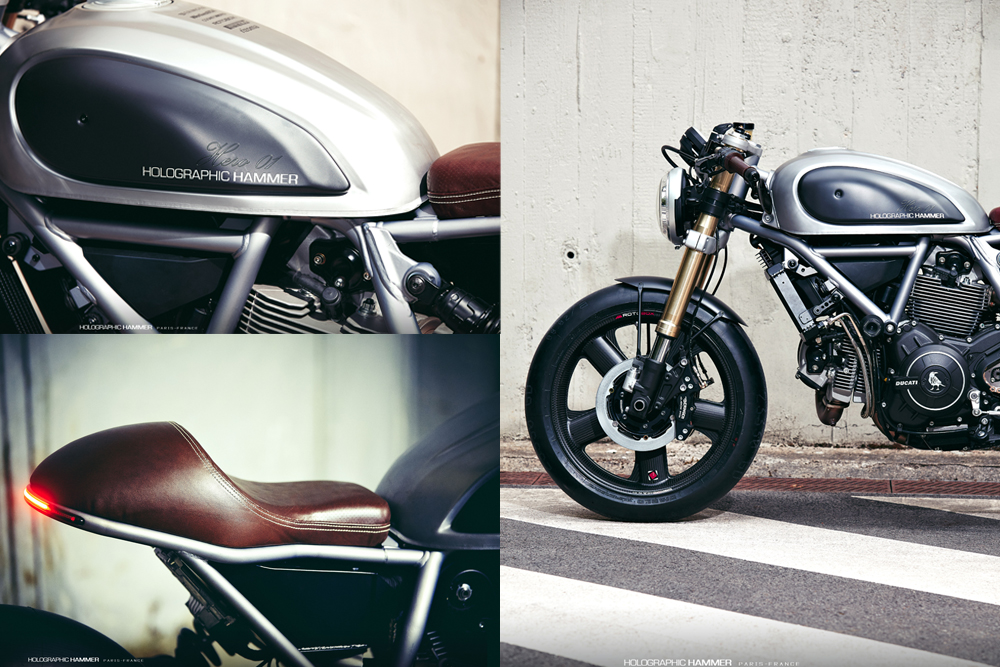 When I was doing the research phase before sketching, I noticed that a lot of the original 1962 scramblers ended up being Cafe Racers back then. The bike is so light that you can brake very late and turn quick, instead of power, it is really the package that provides the speed here. After a week of sketching and planning the final design was done. The plan was to do a proper Cafe Racer like in the old days, but loaded with 2015 technology like high performance parts, LEDs, fuel injection, proper suspensions and brakes. Nothing revolutionary I know, but still at the moment there is no proper Cafe Racer in the Ducati range, the Monster is now liquid cooled and became a high performance roadster over the years. If you look for an old school engine, something strong and simple in 2015 there is not so many bikes to choose from.
We took away all the parts we could, without making it rough to ride. We dropped 20kgs during this process so it now has a dry weight of 145 Kgs. Saving weight is as efficient as adding more power, so in its current state the bike feels even lighter to handle, making it a lot easier to carry more speed in the corners. We wanted to properly upgrade the chassis, so we asked some specialists if they wanted to be part of this project. Some say custom is all about "do it yourself" or "built not bought" , well at Holographic Hammer we don't want to reinvent the wheel, we focus on our strength which is designing and building one off parts and bikes, but when it comes to developing racing brakes and rims for example, we prefer to team up with people who have the best knowledge and the experience.
We sent a peach to convince potential sponsors, and got the support from the following brands:
– COGNITO MOTO  >  Frame loop with the integrated LED brake light
– RIZOMA  >  Milled parts and details.
– WERKES USA  >  Silencer
– PIRELLI  > Racing and road tires
– BERINGER  > Racing brakes – 4D System
– ROTOBOX  >  Carbon rims
But if it was just about mounting brand new parts on the bike to call it a custom, it would be too easy and Holographic Hammer would be useless in the mix. The Scrambler just came out, so none of the parts we received were made specifically for this bike so we had to modify each one to fit properly."
Here's some of the tasks Holographic Hammer performed on the Ducati Scrambler Cafe Racer:
– redesigned subframe developed and made in house
– Custom battery box to store all the wiring and electronics
– The seat has been entirely made in house
– Front end swap for a set of 43mm upside down SHOWA forks
– Reworked triple clamps and steering head
– Custom mountings for the headlight and speedo
– Modified wiring harness
– Modified exhaust system
– Milling of various parts and spacers to mount the brakes and the rims
– New side stand to clear custom rear sets
– One-off front fender
– Custom engine covers
– and a modified tank and frame
This weekend if you're lucky enough to be attending Wheels and Waves in Biarritz, France you can see this bike on display and hopefully in action at the 'Punk's Peak Races'. Then soon afterwards the bike will go on sale with it's original 2 years warranty, despite being loaded with high end aftermarket components and the fact that it's a one-of-a-kind.