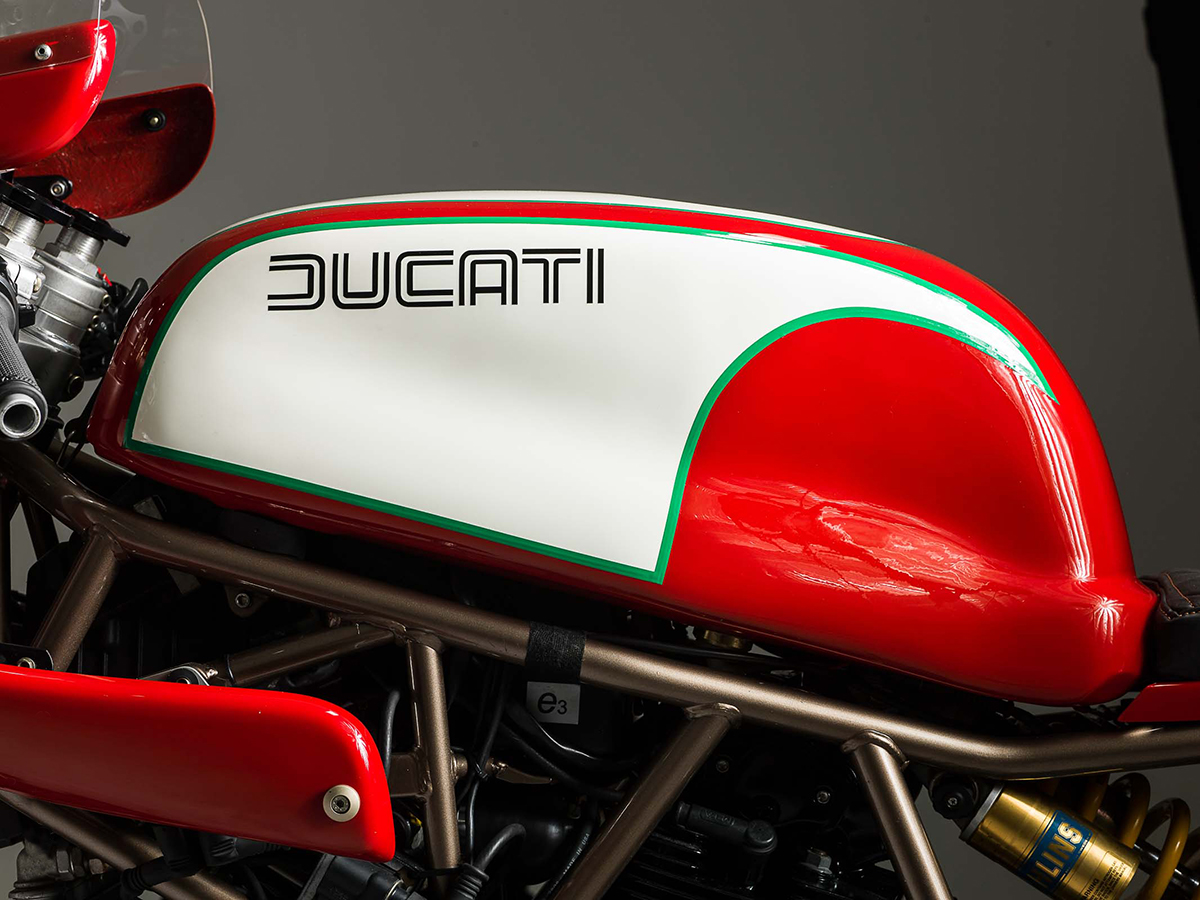 "The story starts with a 2007 Ducati SS1000 DS with 18,000 miles on the clock, an upgraded Öhlins rear shock and a specially tuned set of forks." Says Sven. "This Ducati was the last of the air-cooled Supersport series with dual spark cylinders that give the engine extra torque and power. Our client lives near the Alps and loves carving through the mountain roads so improving low down grunt and agility were our top priority.
The customer had great taste and his request was clear, 'I've always wanted a Ducati Tricolore café racer with a bronze painted frame!'. We didn't waste any time ordering a top fairing, Imola style seat cowl, spoked wheels, minimal indicators and an LED tail light. We opted for a set of gorgeous Alpina Wheels and Kellerman indicators that provide a tiny but strong light."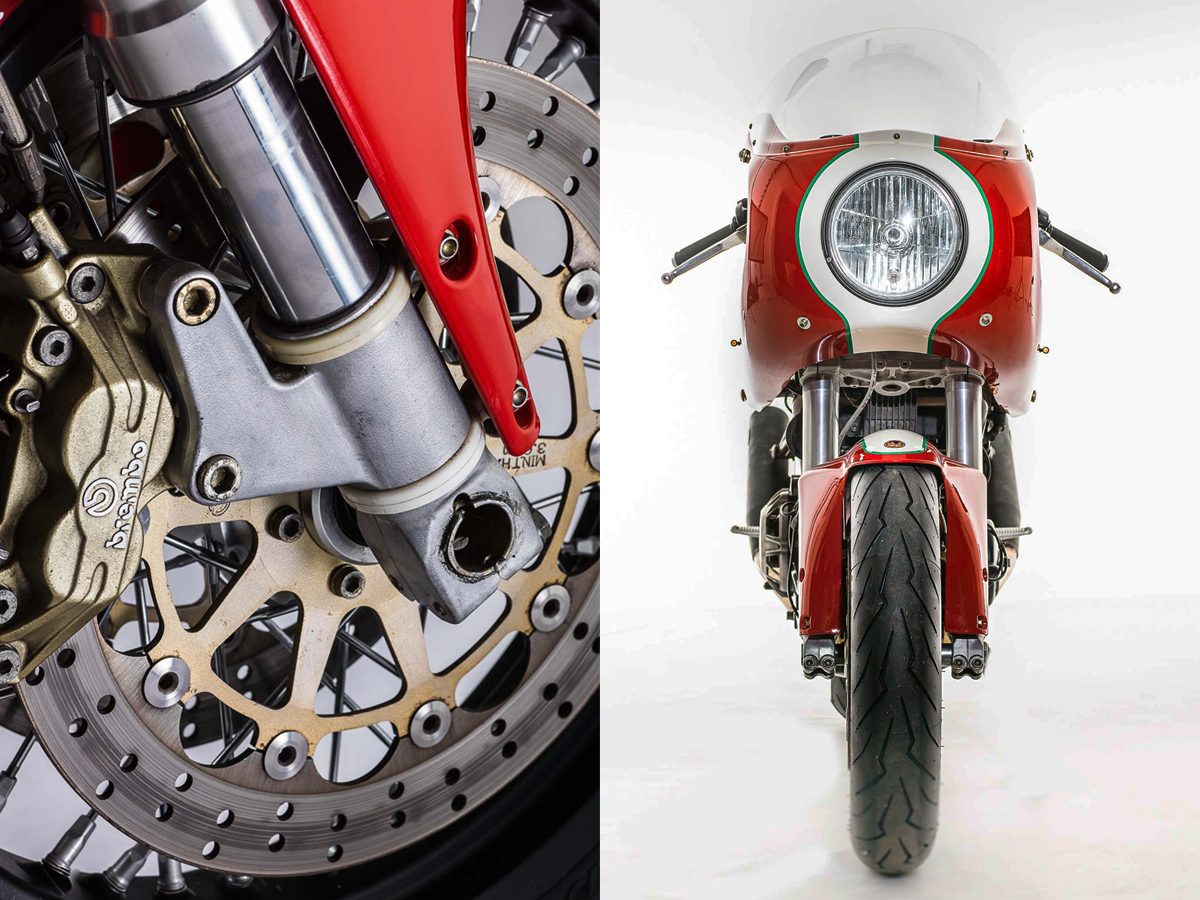 "On the previous build that inspired this one, our Ducati SS900, our friend Nico Dehert fabricated a custom fuel tank made in the style of the old 750 Sport with a built-in fuel pump. He did a stunning job but for this bike, we wanted more fuel capacity than the 8.3 liters it held. As mentioned before, an extended Alps ride had to be possible, so we worked with Nico once again to create a similarly shaped tank but with a 12-liter capacity."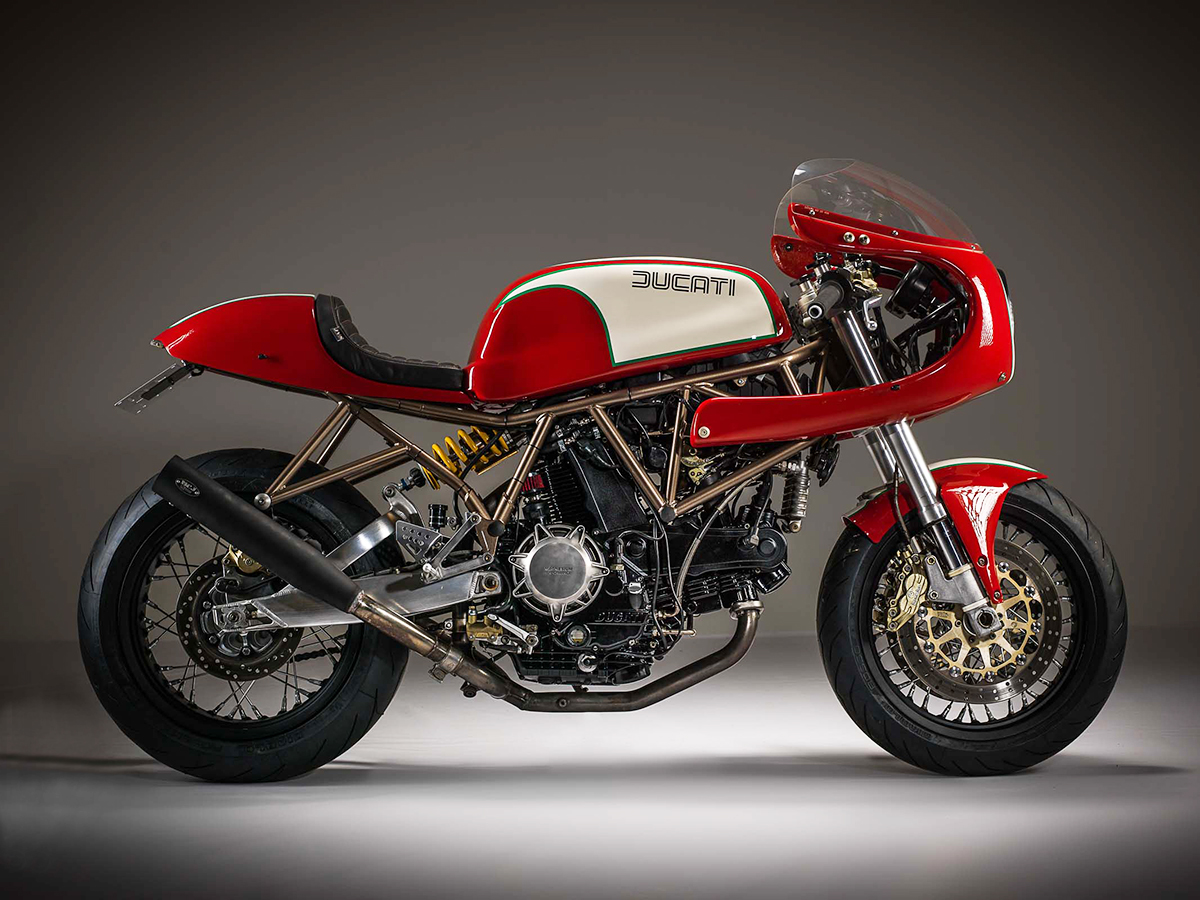 "The Ducati's original aluminum swingarm was polished and brushed to show-off its lines. The engine was in very good technical condition but required a couple of days of sanding to prepare it for a coat of fresh black paint. The clutch cover and rear-set plates were then stripped and brushed to contrast with the engine's blackness. Engine detailing was completed with the fitment of a Pro Bolt RVS screw set. To give the engine a voice we then fit steel Linea HJC mufflers which were customized to suit the OEM exhaust. The result is a befitting deep growl that can be adjusted with DB-killers."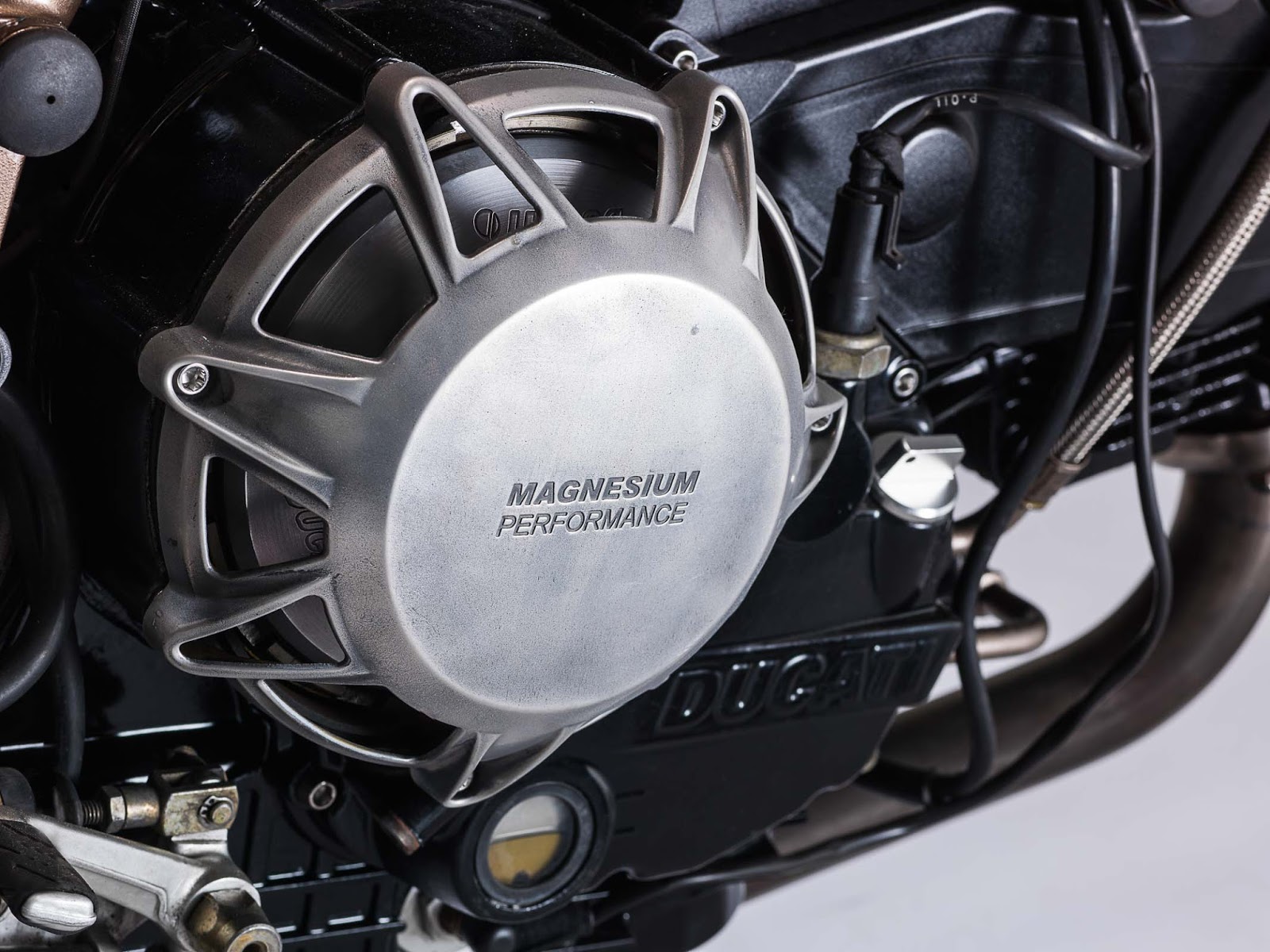 "Beneath the top fairing, we retained the original speedo and tachometer. Rizoma provided the new brake and clutch reservoirs and they sit on OEM clip ons wearing Renthal grips. The homemade seat pan was holstered by JVS leatherworks using patinated black leather with contrasting grey stitching. Cables and other electronics were rerouted to keep the frame free from clutter. The Alpina Wheels then got Pirelli Diablo Rosso III rubber to support our client's sporty riding style."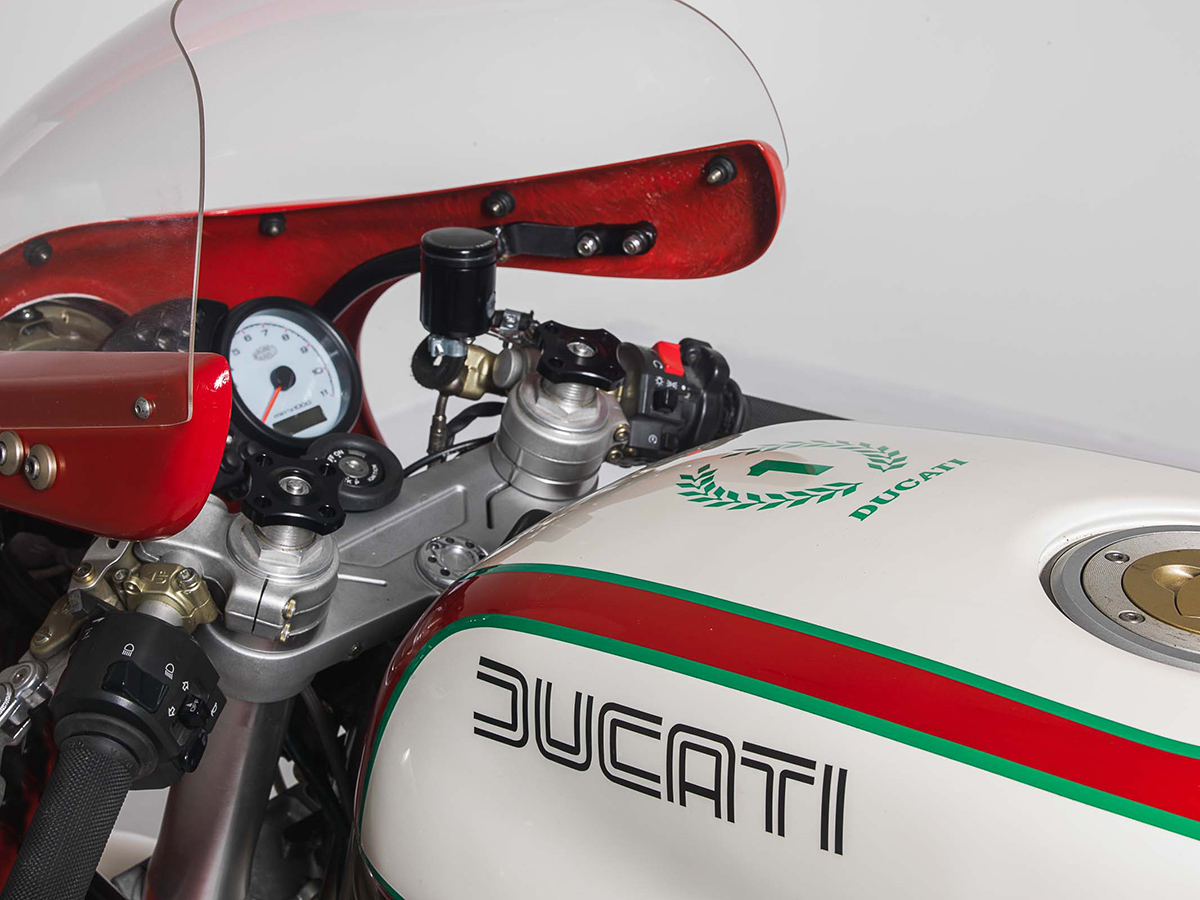 "Nico then completed the bike's Tricolore paintwork which in our opinion is a very tasteful color scheme. We completed our customers vision of the bike by applying bronze paint to the reworked frame and with his permission we added a tiny Barn Built Bikes decal to the front guard.
The outcome, after several months of work, was a Ducati cafe racer that pleased everyone involved. An Italian café racer with modern technology and suspension. The perfect machine for carving along the rocky shoulders of the Alps."
Photography by Berten photography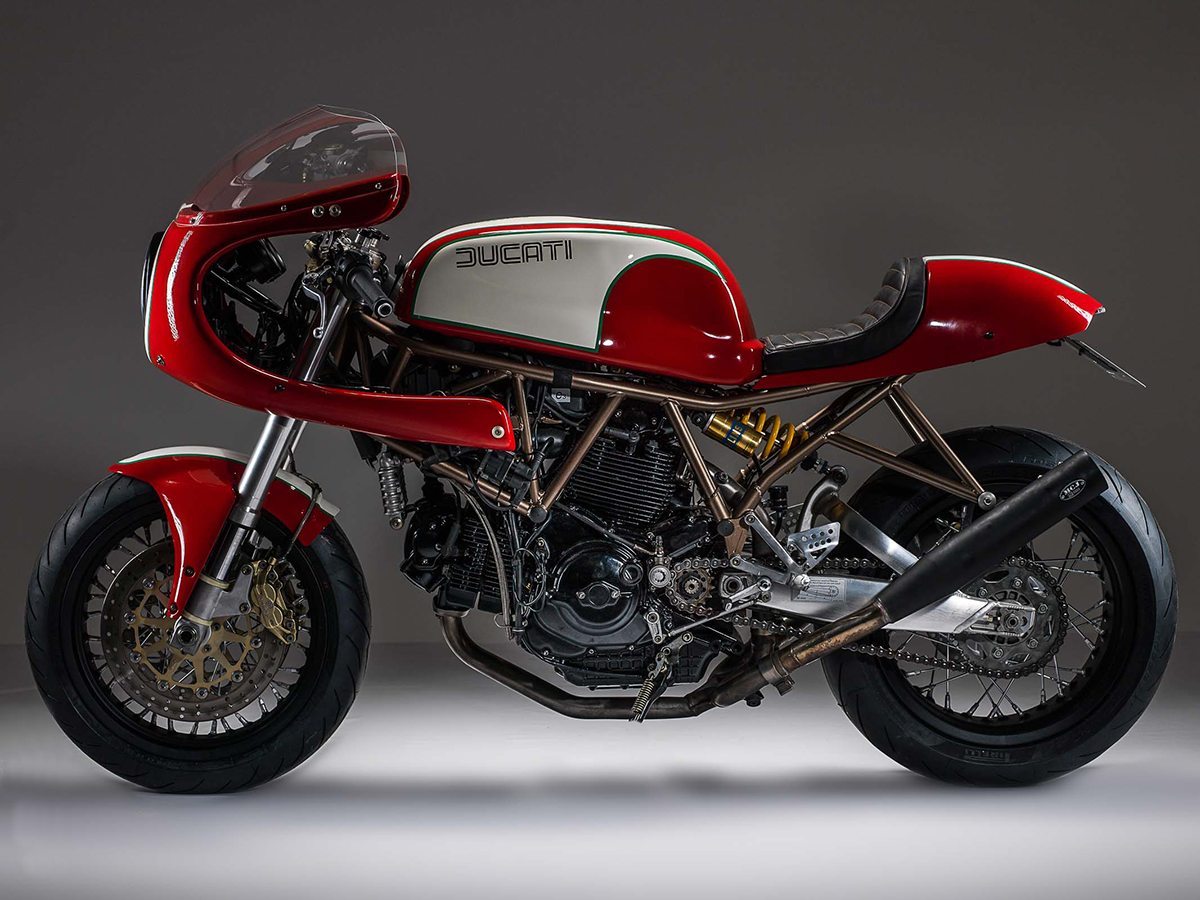 It's not often we get to revisit a past project. We are all so focused on the future that we forget about the great things we've done in the past. Back in 2015, Sven Decoux's 900SS graced the pages of Return of the Cafe Racers and since then he's amassed an impressive portfolio of custom builds at his Barn Built Bikes workshop.
Sven's latest build is a direct descendant of that Ducati 900SS and was commissioned by a customer who saw the story here on our site. "Can you build me a similar bike, but with technical upgrades and a Tricolore color-scheme?" was the customers request and Sven gladly accepted.