On the surface, the 2001 Ducati Monster S4 didn't look all that different from its predecessors. It used the same styling formula that Ducati pioneered with the Monster in '93; aside from a new swingarm and a slew of carbon fibre trinkets. However, thanks to pressure from its competitors, the Italian's decided this Monster needed performance more befitting of its name. To do this they wedged a retuned 916 L-twin into the trellis frame. This bumped power up to a touch over 100 horses and reinvigorated interest in the evergreen naked. Today it's the S4's ageing styling that lets it down more than anything. So when Sven and the team at Barn Built Bikes got their hands on one, they added a dash of cafe racer styling to put it back in the spotlight.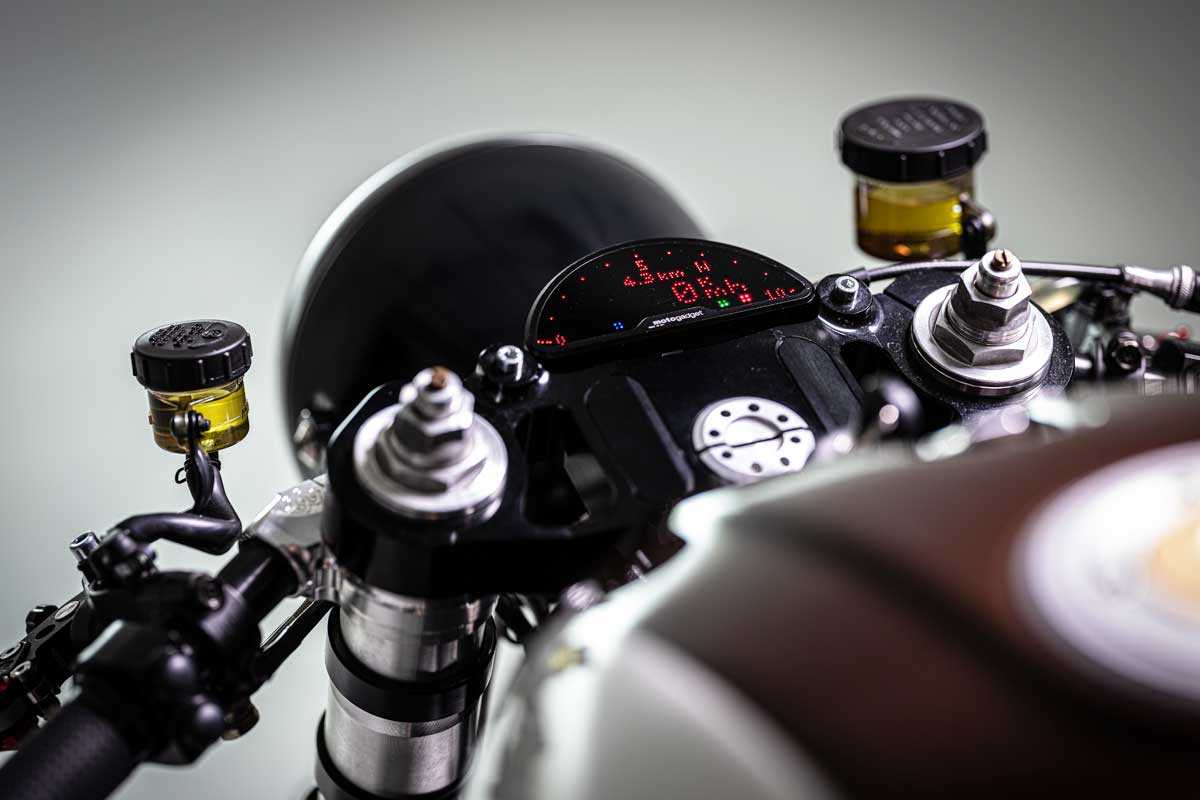 At their Belgium based workshop, Barn Built Bikes work on all manner of motorcycles and projects. When it came to modifying this 2002 Ducati Monster S4 things were done a little differently. "It's a bike we bought that already had a lot of parts bolted on and a 2-into-1 handmade exhaust," recalls Sven. "It looked like a custom bike, but lacked any real fabrication or one-off custom parts." So the first thing to go was the majority of the bolt-on bits. These were promptly sold to recoup funds for the build ahead.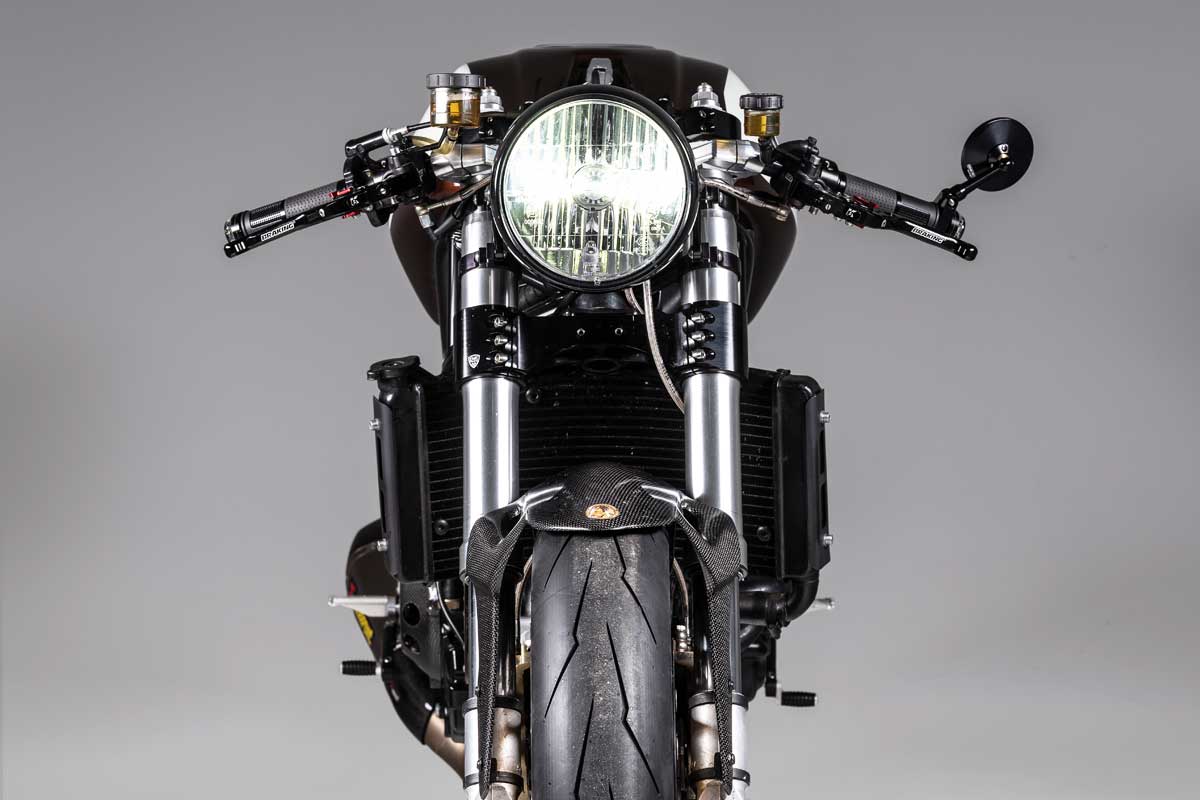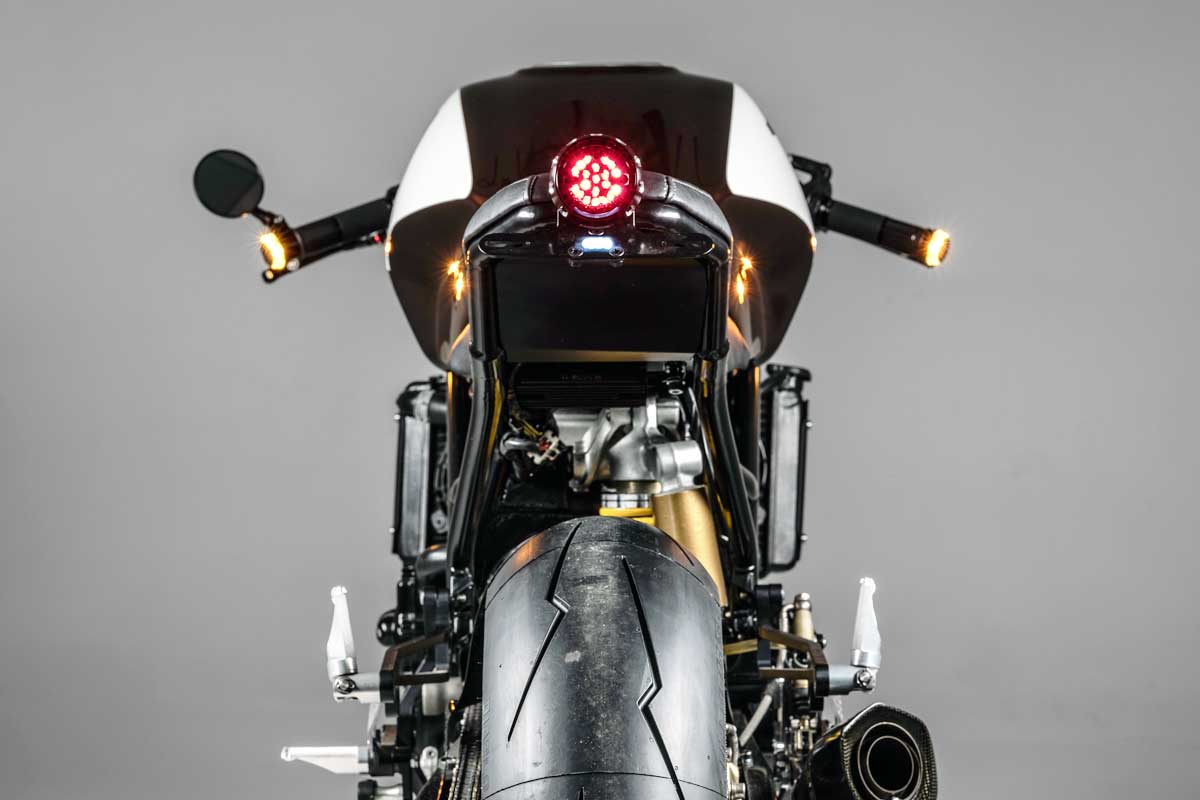 Sven knew their S4 Monster was destined to be a cafe racer, but getting it there was going to take more effort than the previous owner undertook. "To me, the worst looking section of the Ducati Monster S4 was the fuel tank. It sits too deep on the frame." says Sven. Fixing this issue was a lot more complicated than simply raising the rear. With no other option, Sven took to the tank with a grinder, slicing away the unsightly bits. Although a very difficult task to undertake, this approach achieved two worthy goals. First, it levelled out the bikes bone line for a more traditional cafe racer stance. Second, it exposed more of the L-twin eye candy that lay beneath. Satisfied they'd trimmed away the excess Barn Built painstakingly welded the tank shut, achieving a factory level of fit and finish with their efforts.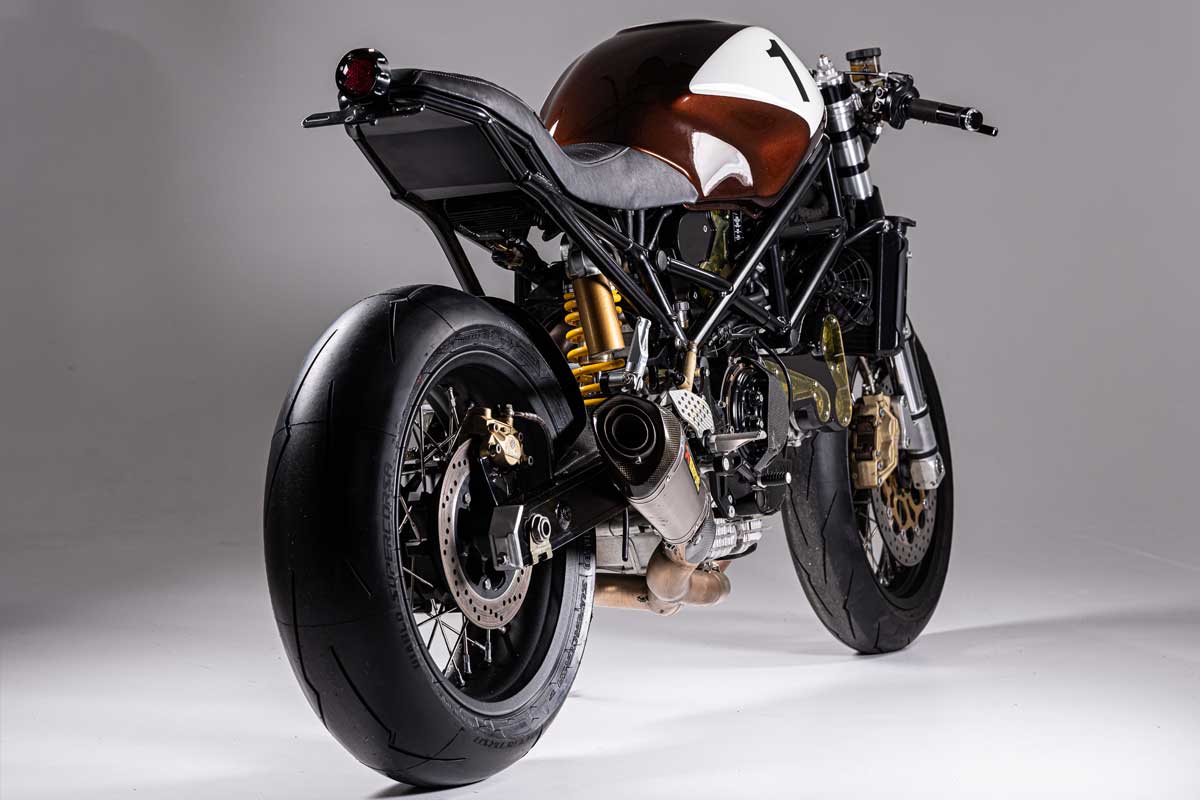 Restyling the tail was another carefully considered technique. "A lot of custom builders put a loop on the end of the Monster frame," says Sven. "That's an easier solution, but a trellis frame has no curves… so why add one in the back?" This is a mistake Sven learned himself on a previous build and has since developed a technique for how to tackle it. Rather than adding in a hoop, they followed the existing line of the frame upward. The new subframe adds an additional diamond to the trellis structure that again looks like a factory part. The triangulated design is also much stronger than alternatives so sitting a passenger on the back isn't an issue. Rather than capping the tail off with a cowl it was then decided this cafe racer would be two-up capable using a custom made saddle. Within the revised subframe of their Ducati Monster S4 is a custom electrics tray. It houses a Motogadget M.unit which can be accessed using the bikes standard seat locking mechanism.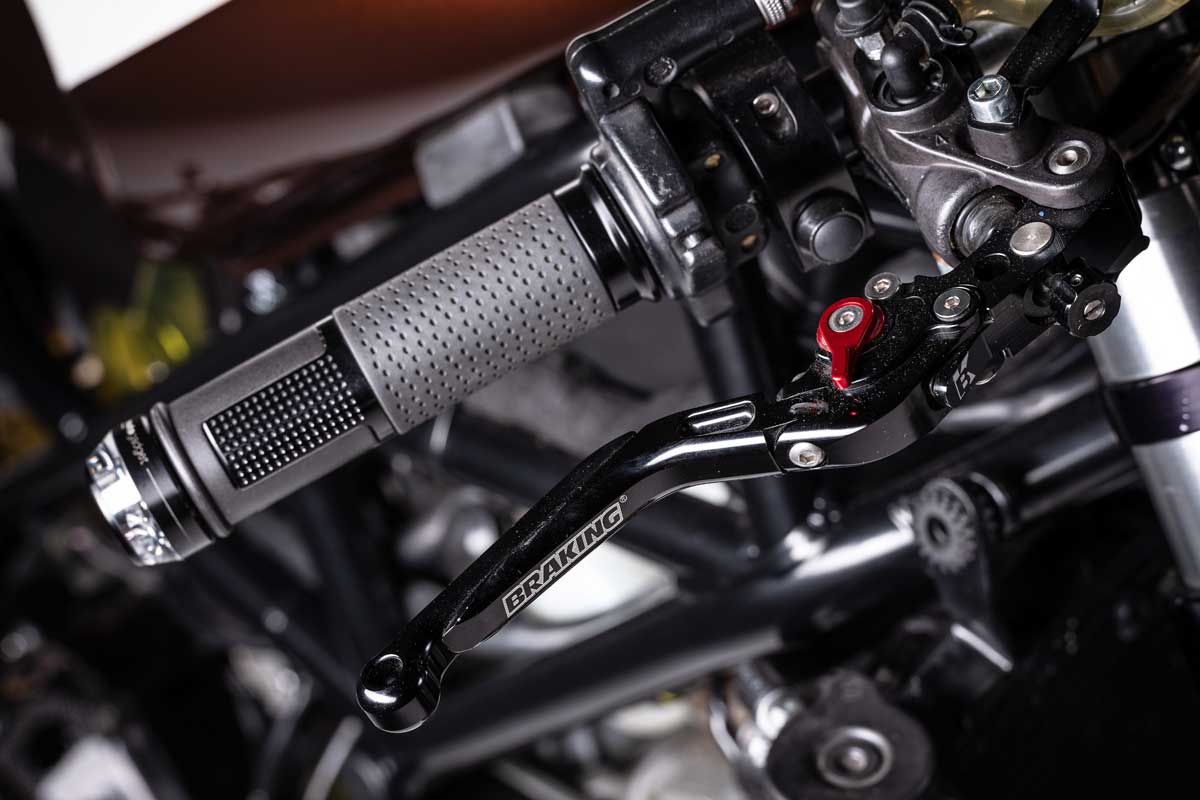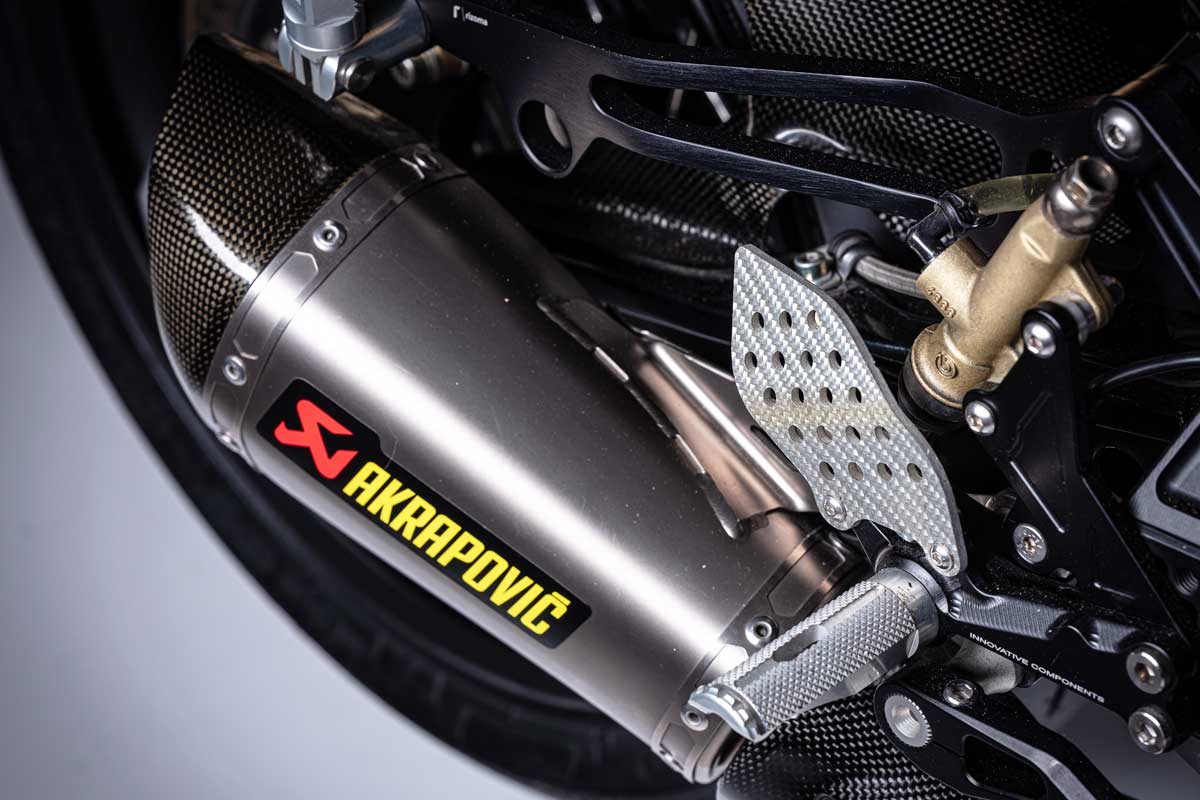 Another key ingredient of Barn Built's Monster cafe racer formula is the treatment of the cockpit. The standard bars have been swapped out for a set of Gilles tools clip-on handlebars. These wear Magura fluid reservoirs, a single mirror and M.blaze bar end indicators for an ultra-clean finish. Motogadget also supplied the simplified switch blocks and a Chrono-classic gauge which is mounted seamlessly to a CNC machined top yoke. A classically styled, LED-powered headlight sits low between the forks and there's hardly a cable or wire in sight.
"Alpina wheels with Pirelli tyres are always a success on a Ducati" says Sven, and we couldn't agree more. The move from cast wheels to spoked adds a touch of classic style this Ducati Monster S4 cafe racer desperately needed to look the part. Completing the cafe racer riding position are fully adjustable Rizoma rear sets which came with the bike. Barn Built has complemented these with Rizoma belt covers with yellow-tinted perspex windows. To finish things off Sven picked out, of all things, a Volvo paint colour for the S4. Origins aside, the 'rich java' brown paint is a fitting colour for this understated Monster.
Built for Verona's 2020 Motorbike expo Sven's Ducati Monster S4 had no shortage of Ducatista critics. He reports that their feedback was resoundingly positive, which is no surprise here. Bikes like this may not be as awe-inspiring as some of the more elaborate customs we feature, but no one can deny that mixing timeless styling with everyday practicality is a winning formula.
SHOP THIS LOOK
| | | |
| --- | --- | --- |
| Image | Product | Buy Now |
| | Motogadget Motoscope Pro | |
| | Motogadget bar end indicators | |
| | Classic headlights | |
| | Motogadget M.unit | |
| | Ohlins suspension | |
| | Akrapovic exhausts | |
| | Rizoma accessories | |