The notion of building a cafe racer using a Ducati platform brings a few ideal donors to mind. The most obvious being any of the models that fall under the Monster moniker. After all, cafe racers are all about minimalism and the Monster's naked design is about as minimal as they come. Despite this, I've seen a steady stream of Ducati cafe racers based on full faired models popping lately. Take for instance this Ducati 916 cafe racer by Sven Decoux and his team at Belgium's Barn Built Bikes.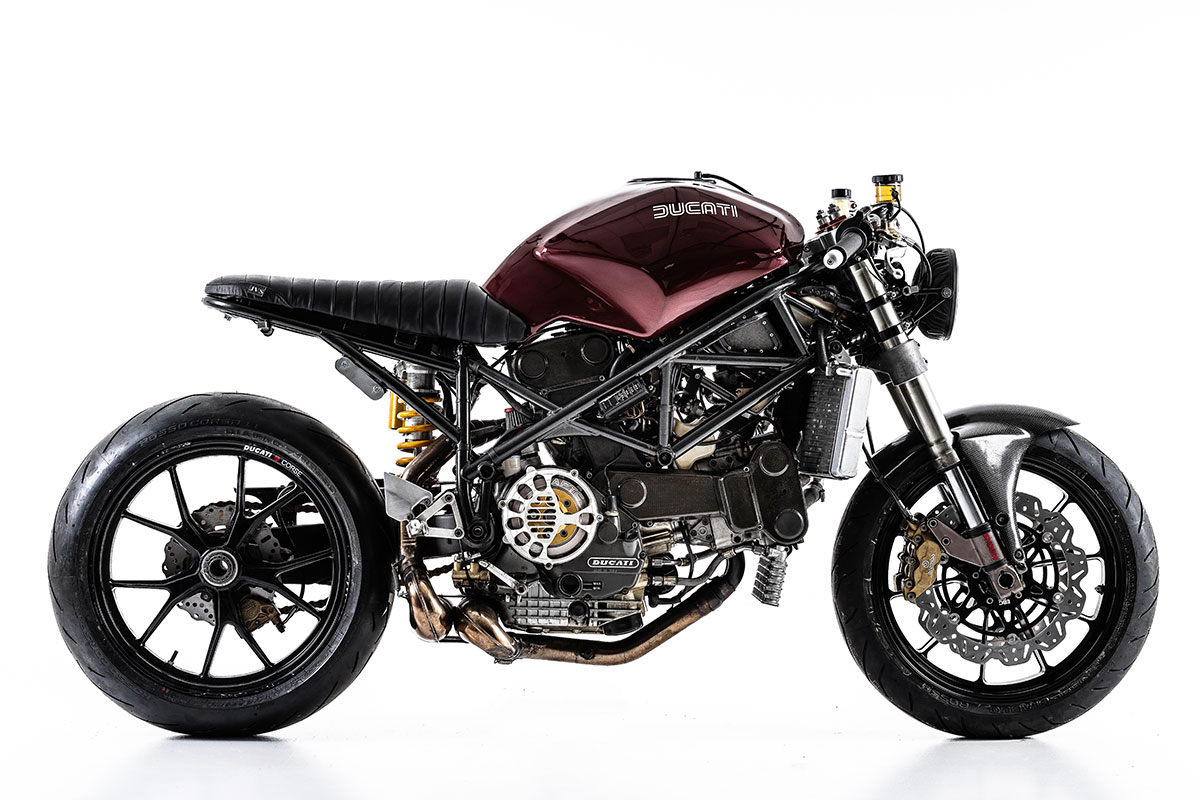 What's been happening of late at Barn Built Bikes?
We've been busy doing repairs and some nice custom builds. Winters over here are cold and wet.  People quit riding during that time so the regular servicing work stops between November and March. During that time, we turn our attention to building custom bikes.  It's a way to keep the business going and food on the table for me and my two mechanics.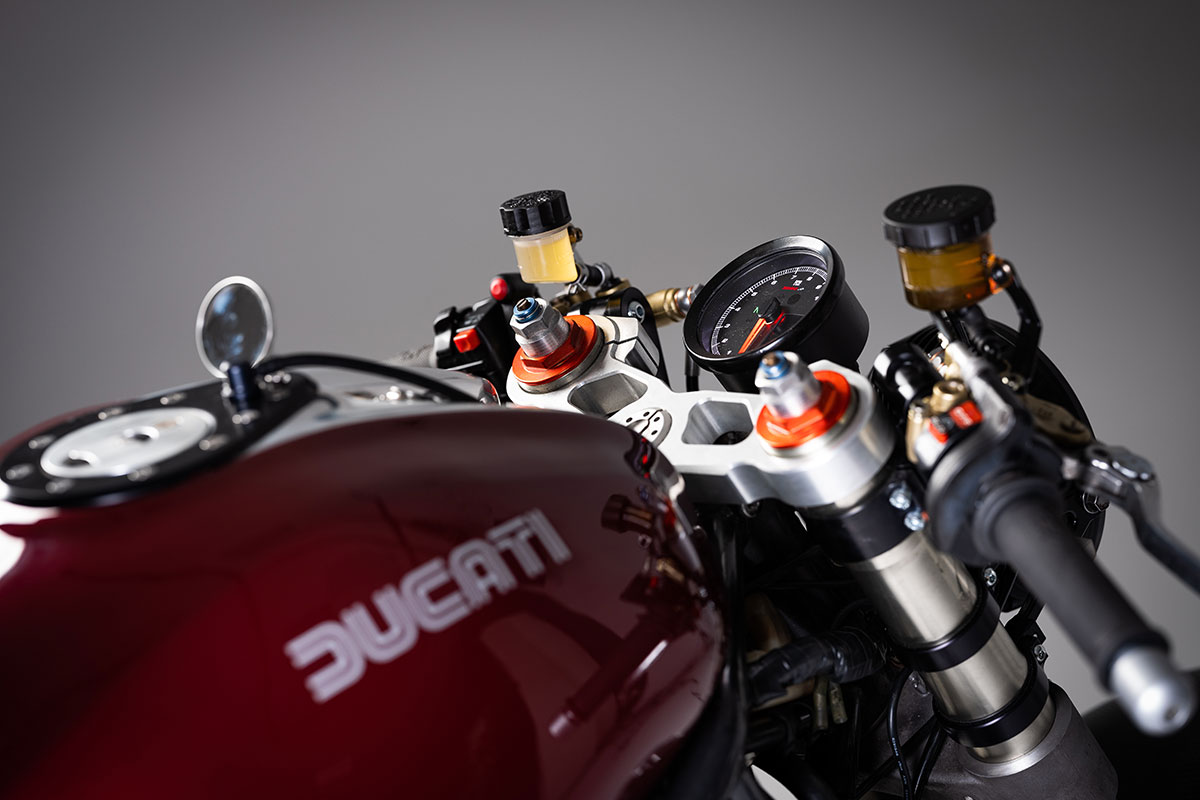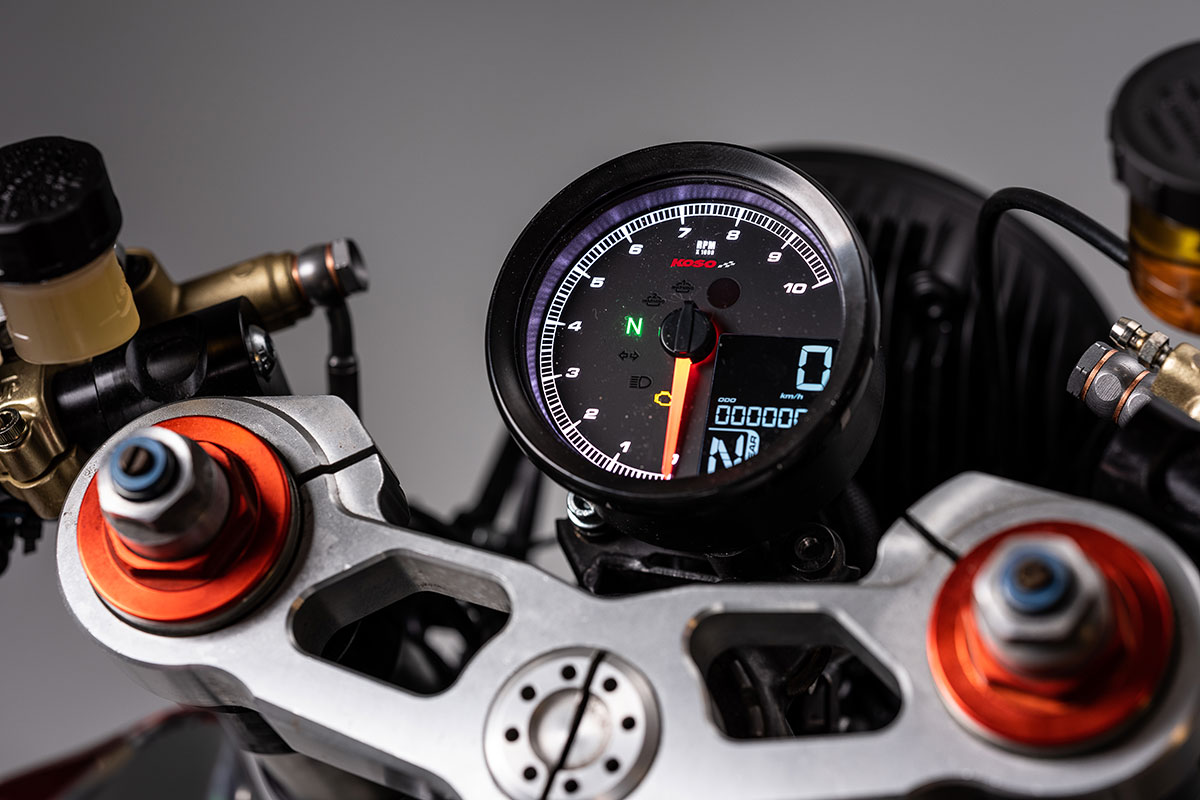 How did your latest Ducati cafe racer project get started?
The 916 project was actually one of our own shop builds. I bought the bike two years ago. It had been out of order for years prior to that and had been forgotten by its owner. It already had a Monster look to it, but more streetfighter than cafe racer.
I bought it because I've always loved the road racing style exhaust system it had on it. An added bonus was that it also wore an aluminium road racing Monster fuel tank. They are hard to find these days. Better still this one was already adapted to function with the 916 fuel injection system and ran an external fuel pump.
What challenges did you face using the 916 as a cafe racer platform?
I had actually been saying to Bart and Derek (my mechanics) that a Ducati Monster is not an easy bike to transform into a good looking cafe racer. The original Monster fuel tank and seat sit low in the middle of the bike. This creates a lot of difficult challenges if you are chasing a level bone line. With this special fuel tank already installed on the 916 frame that problem didn't exist.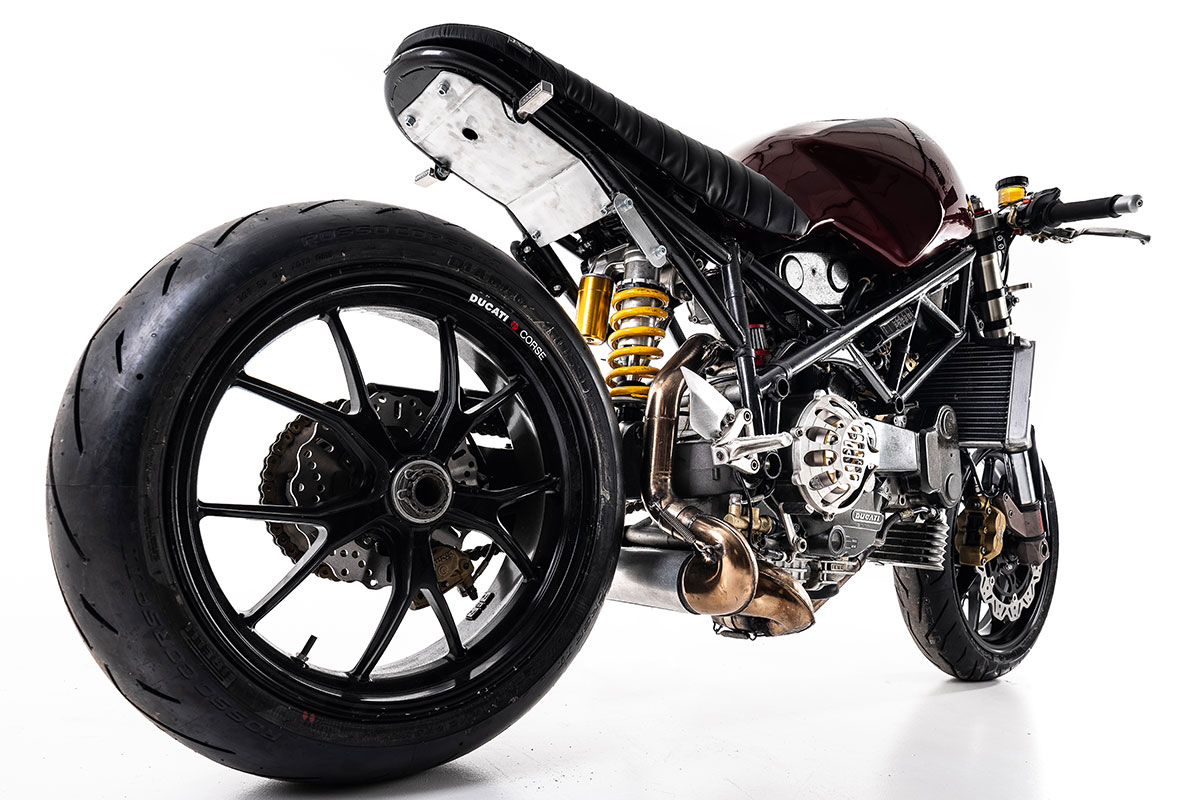 Walk us through some of the other tasks completed during the transformation.
The bike already had a Monster subframe welded to it instead of the Original 916 bolt-on unit. It was also wearing the original Monster tail, seat and taillight assembly. I didn't like how the Monster taillight looked so we made a new rear loop and integrated an LED taillight into it. I also reshaped the seat pan so that Jan from JVS could reupholster it using a nice, vintage look leather. To keep things looking clean all the electronics were relocated to beneath the seat and the battery lives beneath the fuel tank. The stock indicators have also been swapped for smaller LED units.
The outdated 3 spoke Ducati 916 wheels were then swapped for a set of sexy 848 rims. To improve the bikes stopping power we mounted Monster 1100 brake discs which conveniently fit both the 916 forks and 848 hubs. A Ducati 999 top yoke was also repurposed and we added TRW clip-ons that sit a bit higher than the stock 916 version. We're rather fond of the new Koso headlights and gauges so we decided to give them a go on this build. It 's a full LED headlight unit and the dual function gauge that has a lot of great functions built in.
Because we plan to do track days with the 916 we've fit it with a Hypermotard Ohlins rear shock and a nice pair of Pirelli Diablo Rosso 2 tyres. We also reprogrammed the bikes ECU to maximise the benefits of the open air filter and road racing exhaust system. The slipper clutch was added simply because it improves the ride.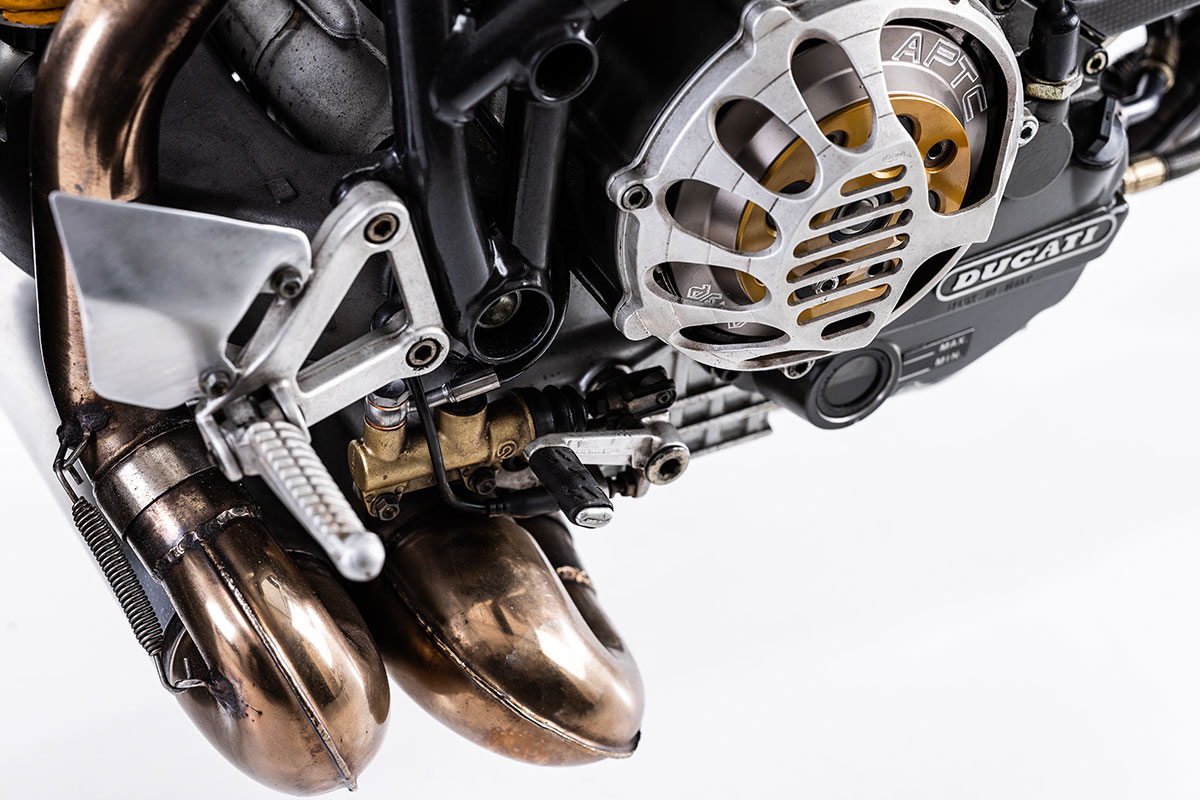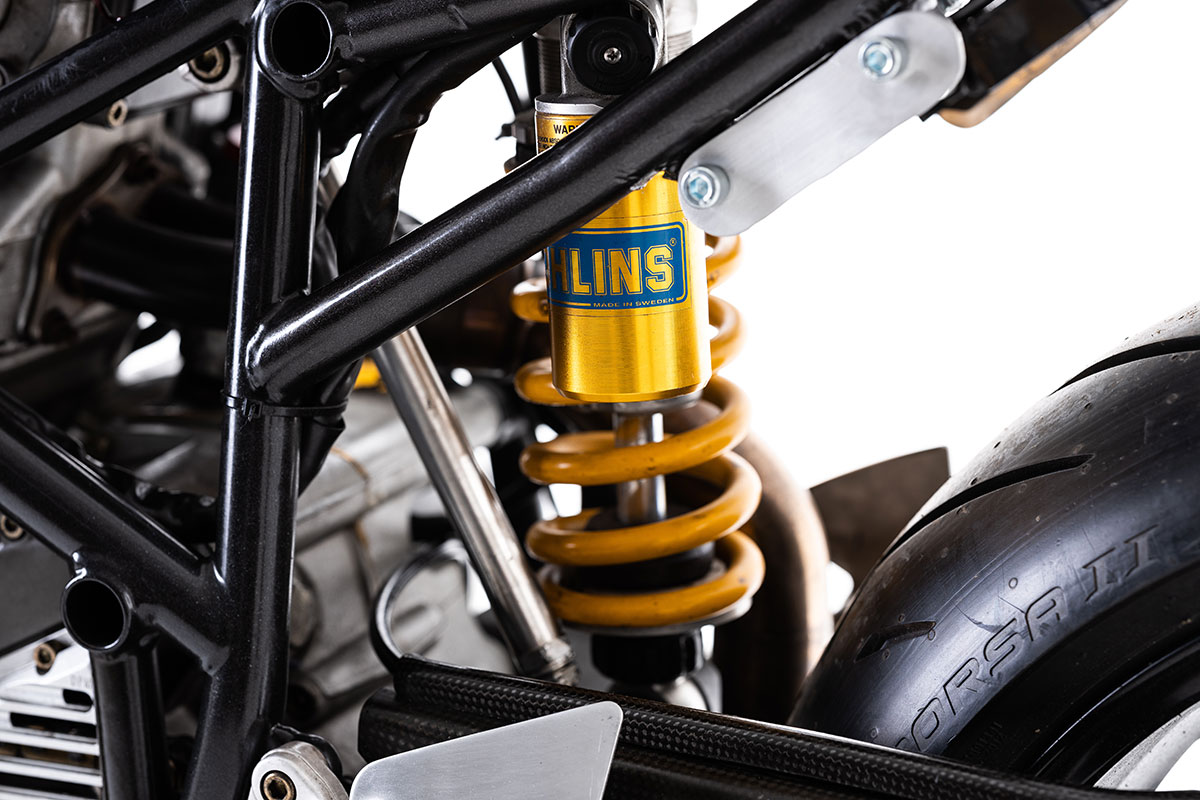 What's the plan for your Ducati 916 cafe racer now?
I've always wanted a very basic Ducati cafe racer with a Desmoquattro engine and now we have one!
I'm happy I can finally get to enjoy a cafe racer we've built. Most of the time I don't get much more than a test ride before they are delivered to our clients. Our CaféCorse Ducati 916 cafe racer will be our company bike for a while.  Derek, Bart and I plan to have a lot of fun on it. We also hope it will be a nice head turner this summer for attracting new customers.