It was Le Corbusier, father of Modern Architecture who once famously described a house as 'a machine for living in'. The theory goes, that a house should be designed to efficiently serve and provide for the necessities of life and no more. In sparse simplicity there is elegance; pragmatic engineering lends good proportion, essential comforts, and sober beauty.
In this regard, this bike from Nuno Capelo of Portugal – with it's exposed framework and strikingly spartan bodywork – may well be considered architecture in motion.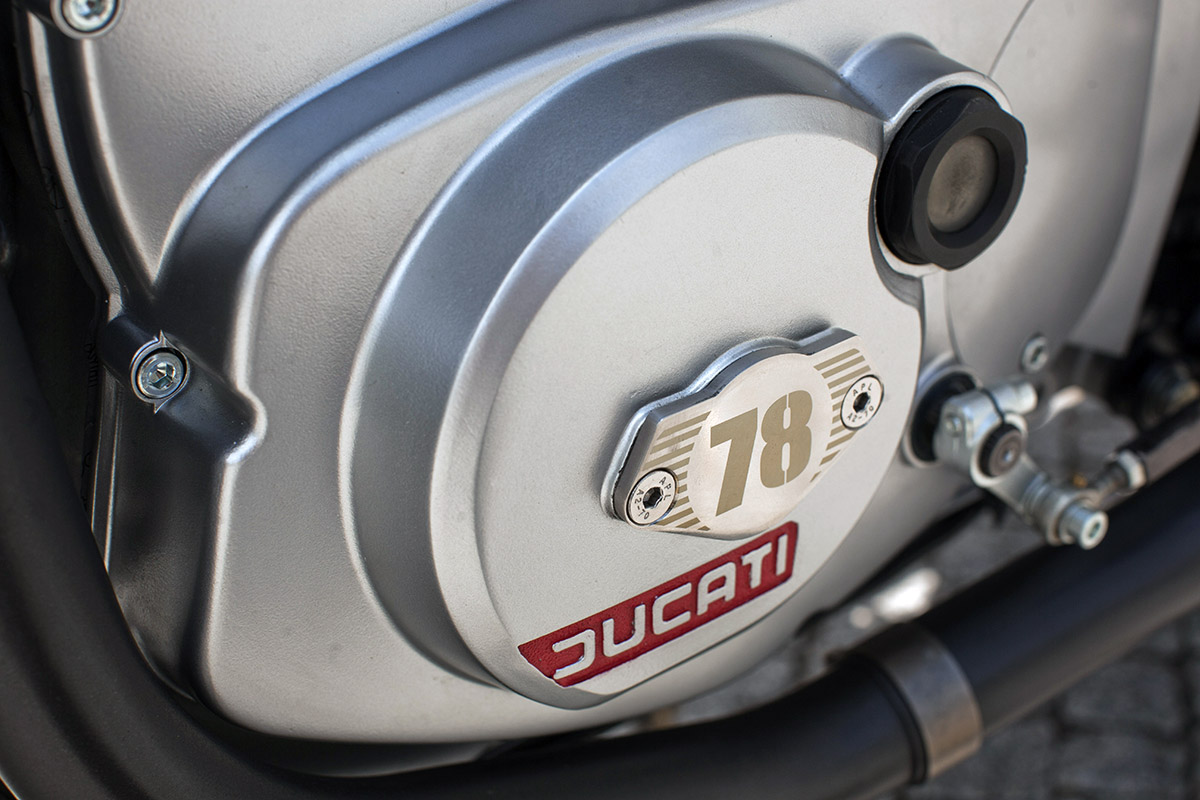 This project started life as a 1987 Cagiva Alazzura 350 – the fruits of an oddball manufacturing arrangement with Ducati evident in that iconic L-shaped twin, and left largely unchanged until it fell into the hands of Capêlo on the idyllic island of Madeira.
Capêlo is no stranger to Le Corbusier's theories, having studied and worked as an architect over the past 16 years. Nuno splits his time between the architecture firm he shares with his wife, and "Capelo's Garage"; a design studio he established in 2012 as an outlet for his passion for motorcycles.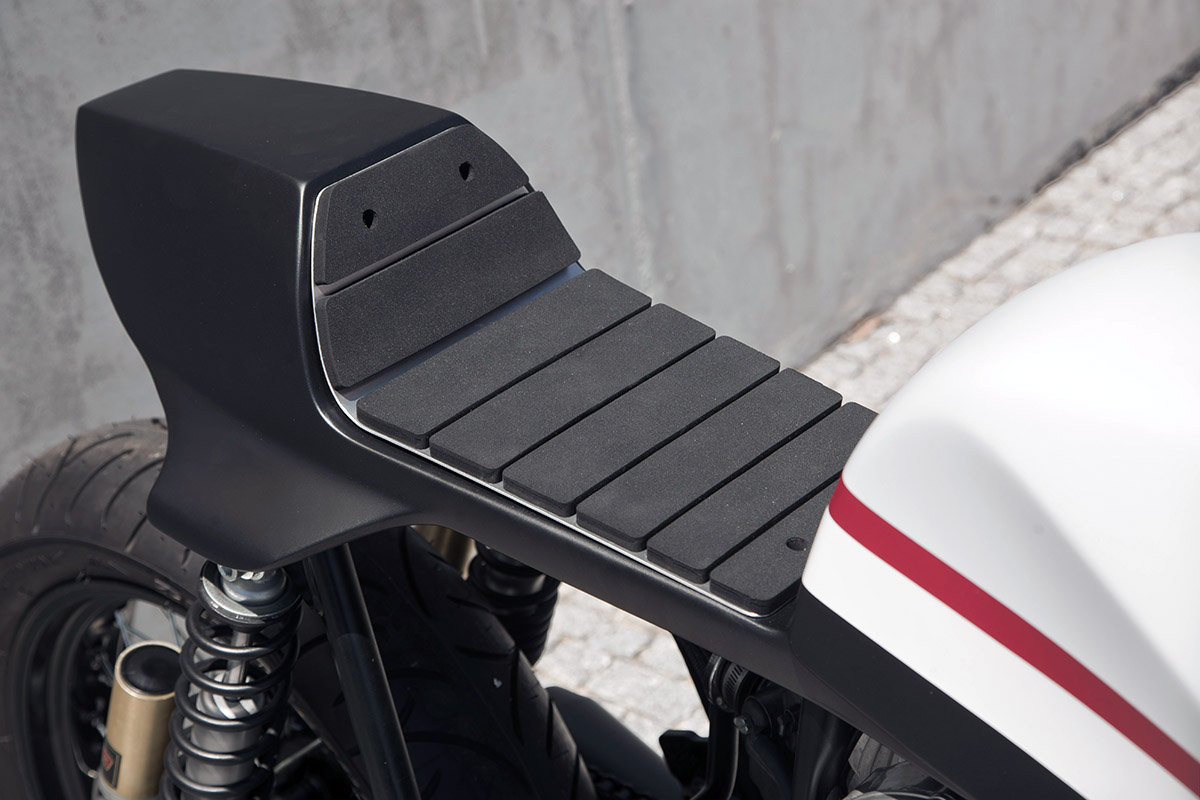 As in architecture, a good project manager recruits the help of skilled tradespeople, so with his vision for the bike laid down in blueprints, Nuno recruited the help of mechanic Leonel Ribeiro from 'Oficina Das Motos', João and Bruno from 'Project 724', local bodywork expert Miguel and electrical wizard Ricardo from "Elemental Rides".
With a plan to mix new and old, retro and modern, work began in earnest. The only parts retained from the original donor bike were the frame, engine, and the original fuel tank which was cut, welded and shaped to create a monocoque rear end. Designs for the new bodywork were digitally modeled and 3D printed to provide 1/1 scale samples for the metalwork which made for a quick and easy process. The front fairing was modified from an existing item to be slimmer and ensure the top and bottom lines were parallel.
Wheels are supermoto 17" rims fitted to the original hub at the rear and a Super Tenere hub at the front. This combination permits a fork swap from a Yamaha YZF-R1 with twin Brembo brake callipers. The beefy upside-down forks has been rebuilt to work in perfect harmony with the Showa shocks at the rear.
The engine was opened, cleaned and rebuilt with new parts before mating back into the frame along with a custom designed exhaust. Electrical work included the fitting of millimetre-perfect flush LED's at the rear, construction of a custom wiring loom that's been hiding from sight along with a tiny lithium battery and a Motogadget M-lock and Motoscope mini speedometer.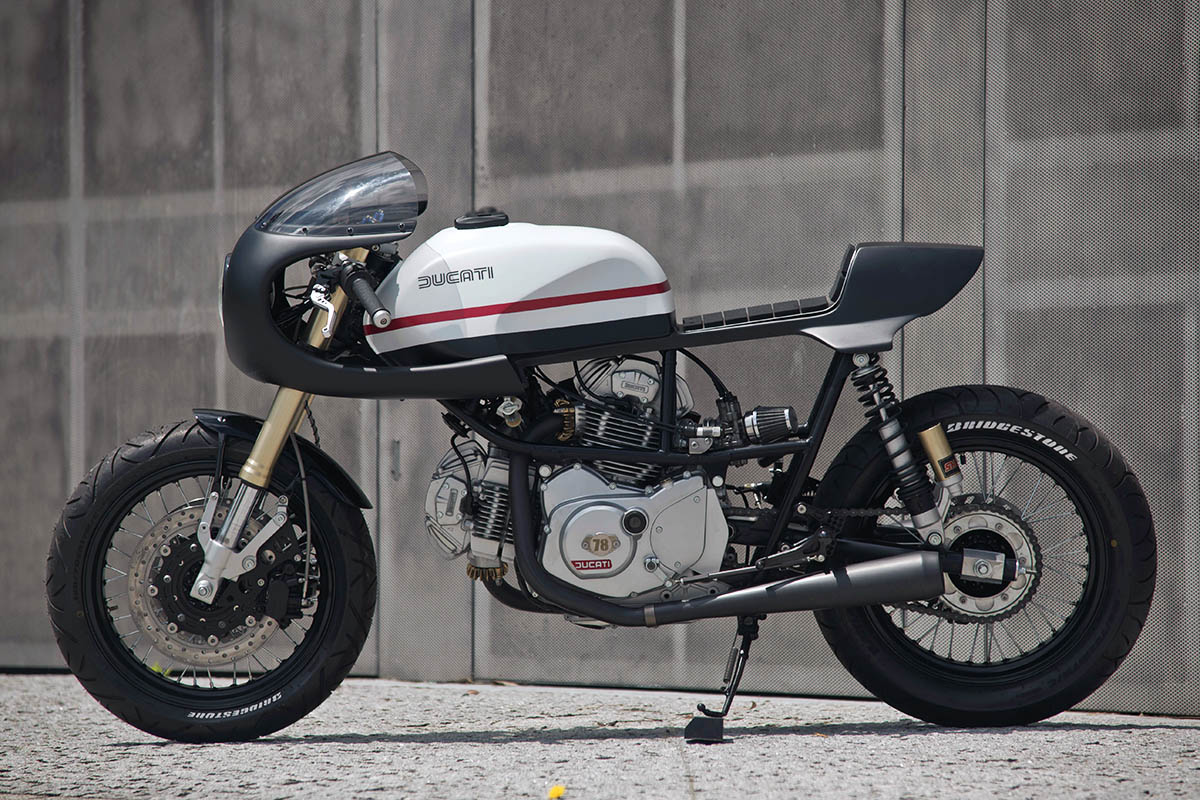 Pragmatic engineering touches abound on this bike – from the rear brake spring, the exposed trellis frame and the seat made from brushed aluminium with its interchangeable strips of high-density foam for a customised level of comfort.
While this bike is technically a Cagiva, when it came to paintwork Nuno decided to highlight the Ducati heritage of that beautiful L-twin engine. Neutral colours in dark and light greys are complemented by red and white stripes with just a hint of a pearlescent pop in the sun – It's a combination that is at once sleek, provocative and iconic and lets the quality of the build speak for itself.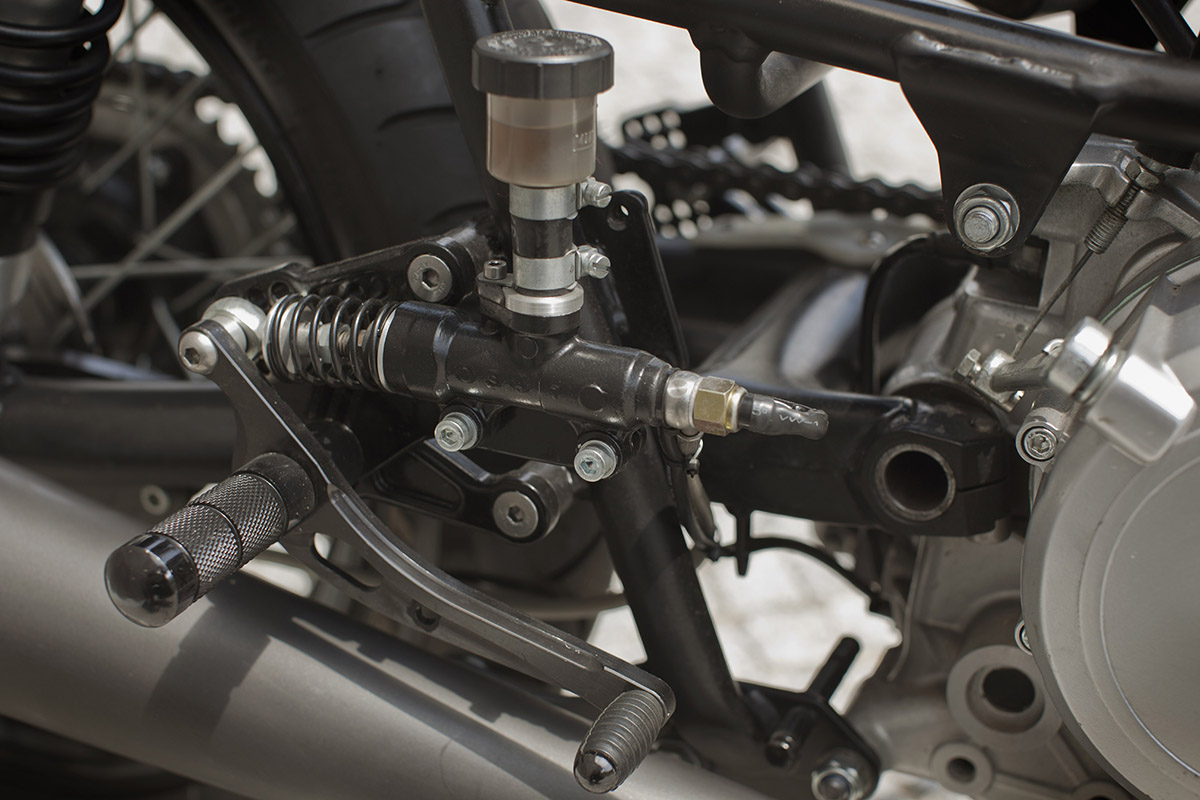 Nuno tells us the feedback on this bike has been overwhelmingly positive and a few punters have even picked up on the bike's architectural pedigree. He reports that it's a nippy and nimble ride that boils motorcycling down to its essence. Le Corbusier's houses might've been a machine for living in, but this is a machine for living.
Words by Mik.