Nicola Martini, aka Mr Martini, has always marched to the beat of his own drum. From the bright red top hat that's often seen atop his head to his 'Special' moto themed restaurant and bar in Verona, and the throng of unique custom motorcycles he's created. Nicola is, without a doubt, a unique individual.
Nicola has been doing what he does with motorcycles now for more than 25 years. Despite this, his latest project involves a marque he's never worked on before. The Mr Martini 'Dream' is based on a 1975 Montesa Cota 247 and was created in collaboration with the Italian motorcycle website Moto.it and online marketplace eBay.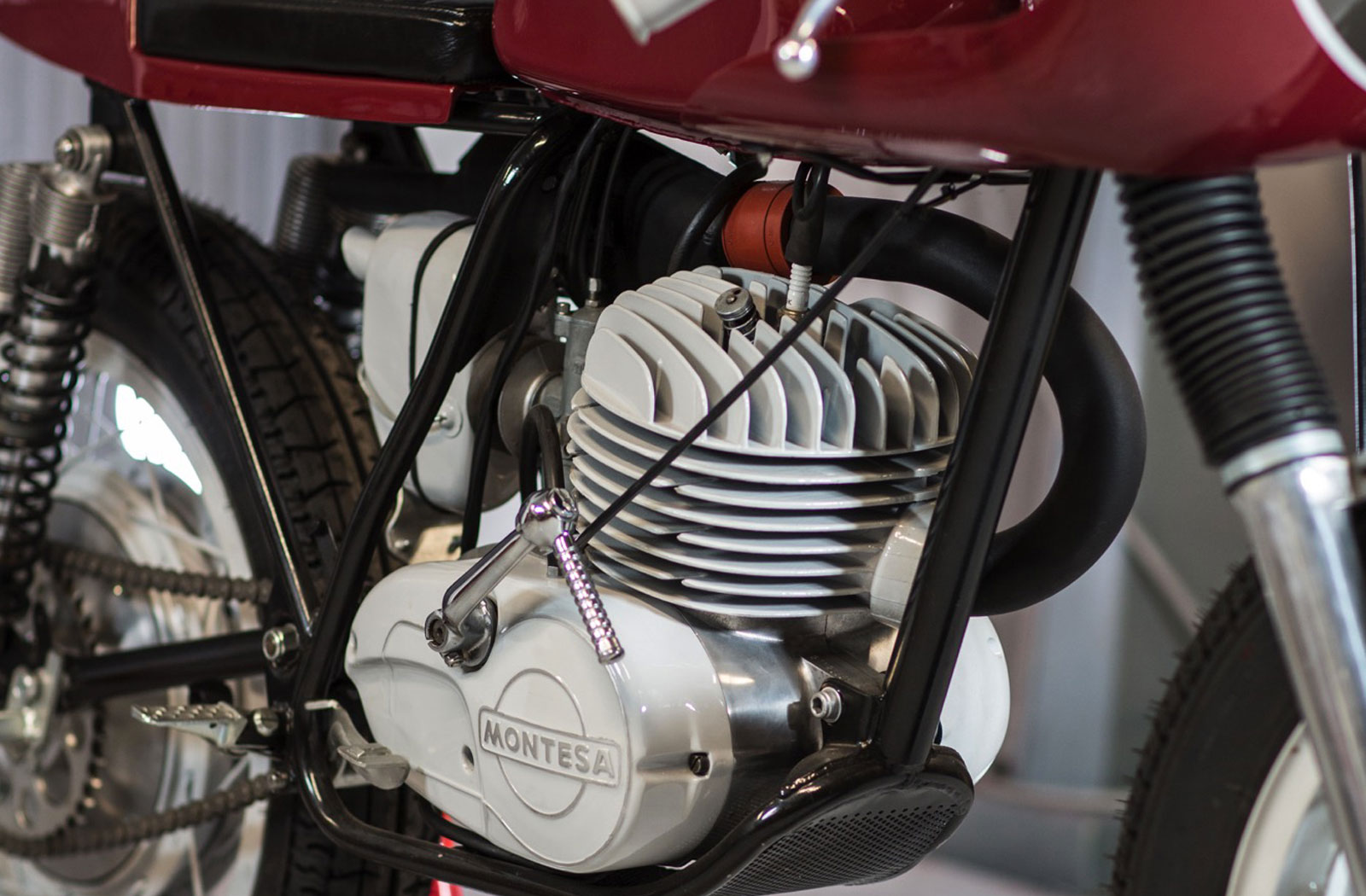 The reason Nicola had not dealt with a Montesa Cota 247 before is that it is not traditionally a road-going motorcycle, like those he usually gravitates toward. The Cota 247 is infact a trials bike that earned a strong reputation in Europe after winning the 1968 Spanish Trials Championships.
As its name would suggest, the Cota 247 is powered by a 247cc two-stroke single-cylinder engine producing 19hp. The bike wore tall suspension and large diameter wheels for plenty of ground clearance and weighed a mere 200 pounds dry (90kg). The Cota was also built tough, as all trials bikes should be, with a stiff tubular steel frame, a reinforced steering head and a sturdy skid plate acting as the last line of defence for the engine.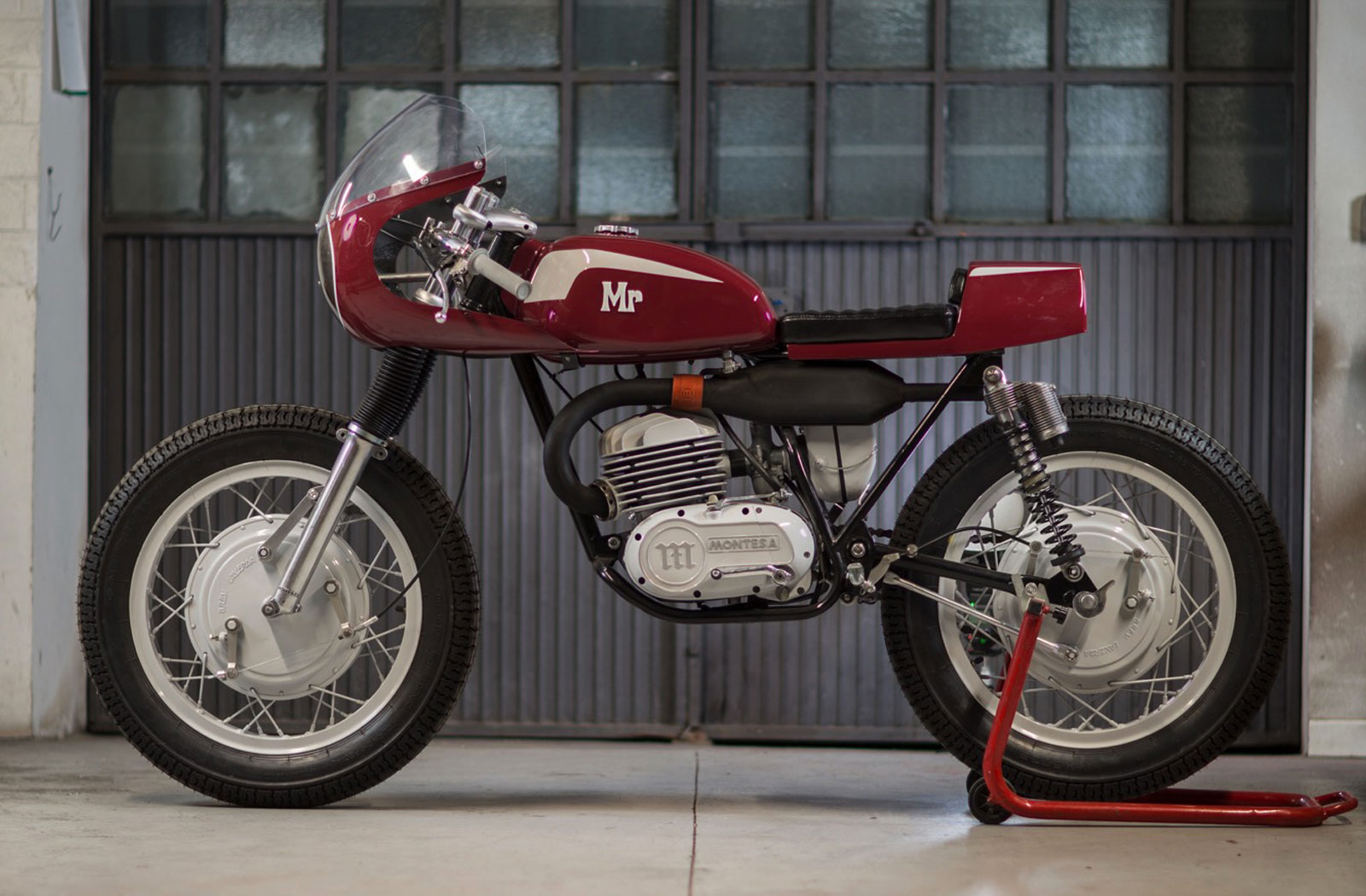 Nicola's decision to work with the Montesa was driven by his never-ending desire to create something unique. He named the project 'Dream' but, as he explains there's more to this than simply a name –  "Dreaming is not enough. You still have to roll up your sleeves and make sacrifices to achieve what you have in mind. Inspiration is the spark that starts it all."
Nicola's inspiration here came from the age of the motorcycle. The 1970s Montesa is an icon of European Trials competitions, but it also represents an era of motorcycle design that he finds very appealing. And since Nicola acquired the motorcycle in very bad condition, it presented him with the opportunity to bring it back to life in a different and unexpected form.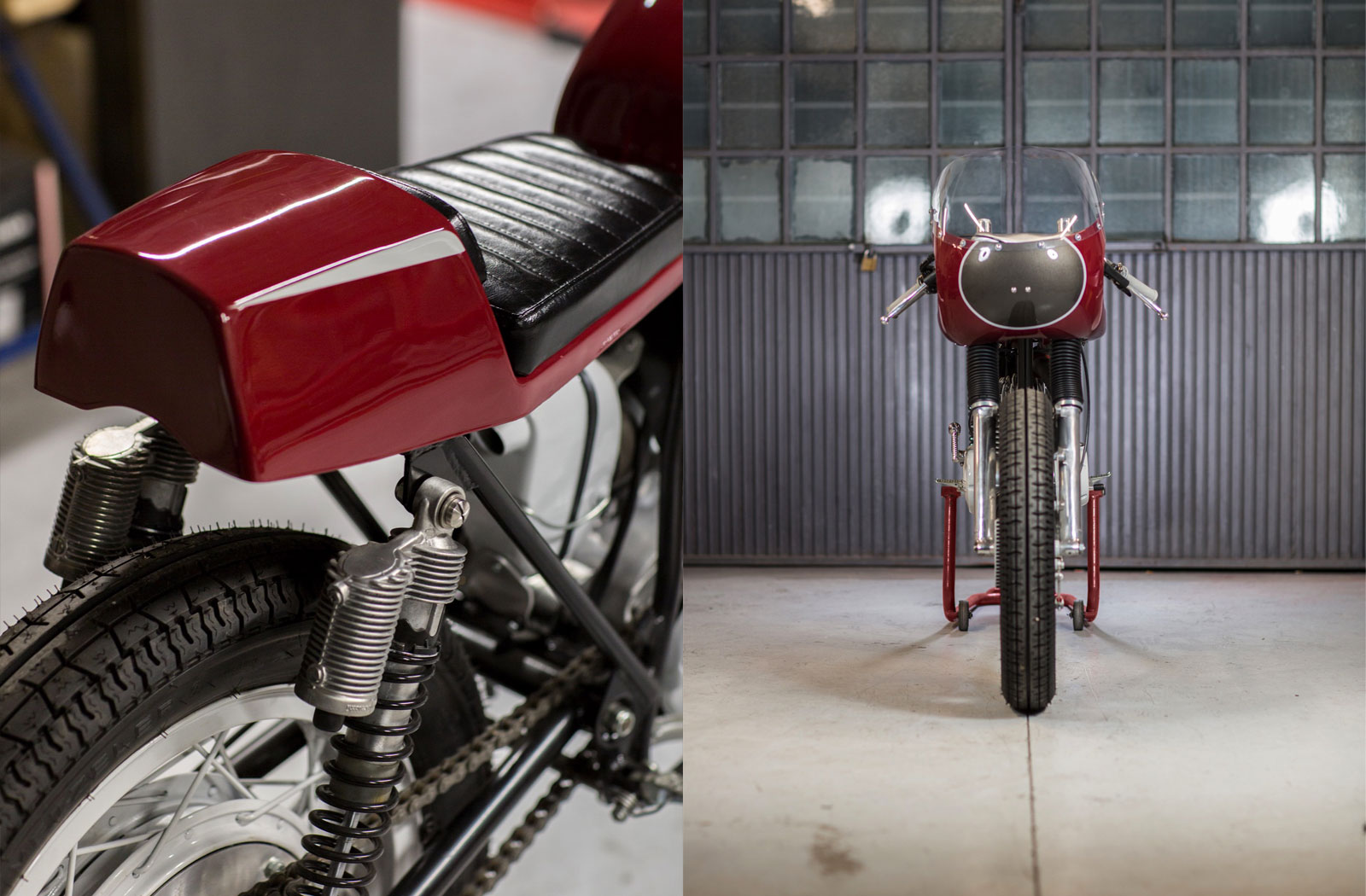 Another first for Nicola was using the eBay platform to source parts for a project. "The popular marketplace has practically everything that can be useful not only to equip a motorcycle with accessories but to find vintage parts, choose the right tires and even build a special from head to toe!" he says.
When searching for parts on eBay Nicola stuck to a strict 1970s recipe sourcing only parts from that era for the bike. His vision for the project was to create a vintage track racer which meant completely revising the bikes suspension and wheel configuration. To achieve this he started with a pair of original Marzocchi shocks for the rear end. He then rebuilt the original forks and positioned them higher in the yoke to lower and level the bikes stance. In regard to the wheels, he opted for matching 18-inch Borrani alloy rims. These have been laced to Laverda SF750 front and rear drum brakes. Along with looking the part, the large drums have more than enough vigour to manage the featherweight Montesa. To complement the 70s theme, the wheels have been wrapped in Metzeler's classic touring Block C tyres.
To convert the trials bike into a classic racer Nicola has replaced the tall handlebars. In their place are low slung Tommaselli clip-on handlebars. A vintage Maico motocross fuel tank adds to the bikes road-ready appearance but to complete the bodywork Nicola had to create some items from scratch. Both the front fairing and tail unit are original Mr Martini items built especially for this project. The leather saddle came courtesy of Nicola's go-to upholsterer, Tommaso di Casaro. He has also rewired the motorcycle from scratch and modified the stock airbox to free up some additional power.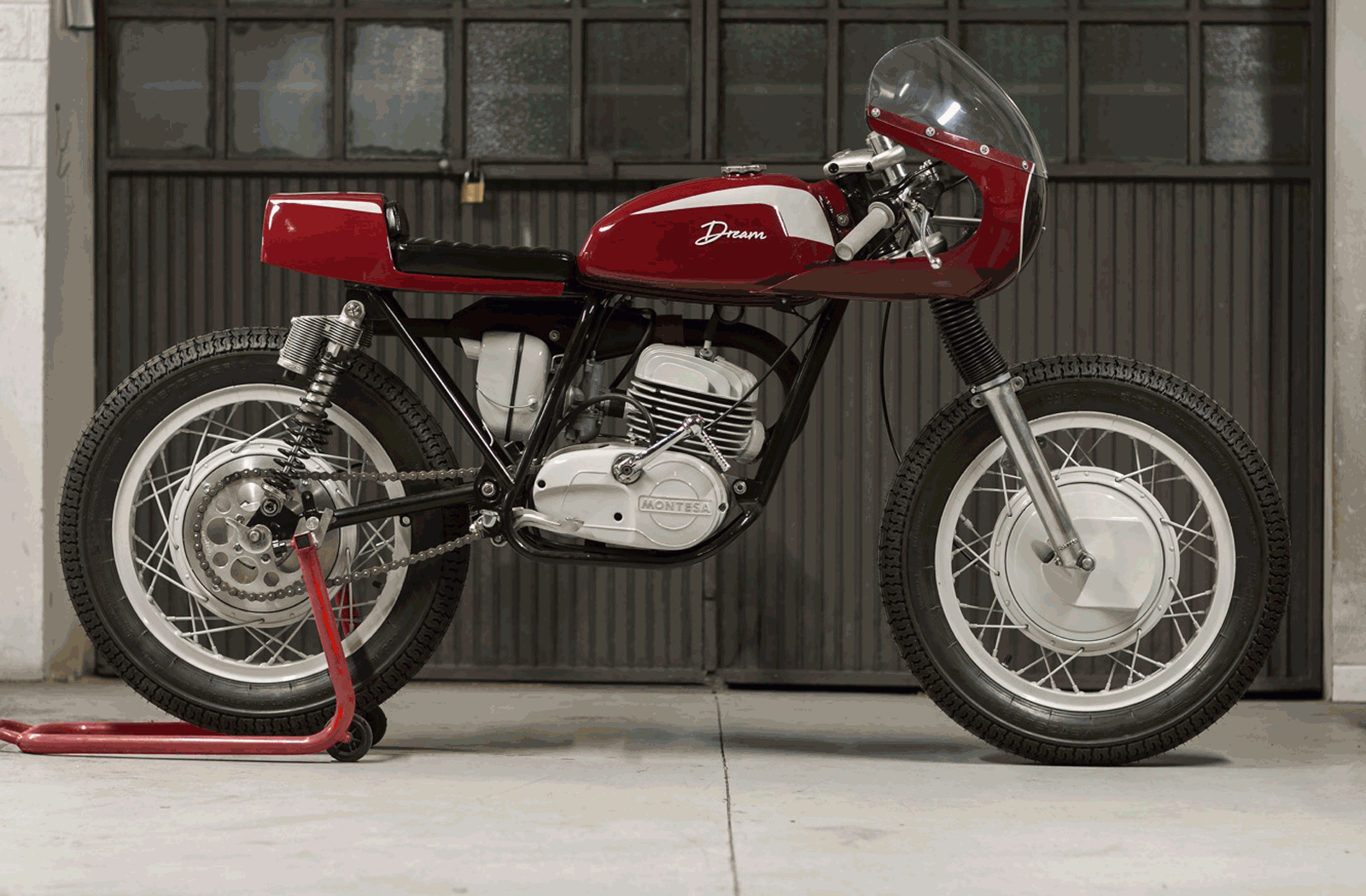 The entire conversion of this motorcycle from trials bike to vintage racer is undoubtedly impressive, but it is Nicola's chosen paint scheme that steals the show. By applying a special photoluminescent grey paint to specially chosen parts of the bike they glow a bright blue after being exposed to light. Claudio Tonel of the paint shop Garage 66 combined the glowing paint with nostalgic red to complete the dreamy paint scheme.
"I believe that one of the things that man must leave to the world is beauty," Nicola says. "Great artists of the past are remembered for what they left with their work. Being able to leave motorcycles that remain beautiful over time, in my opinion, is a great satisfaction ". I think we can all agree he's definitely achieved that here.
Photography by Michelangelo Agostinetto