The rise of the cafe racer scene has brought with it the desire to improve the performance of older motorcycles. One sure-fire way of improving how your motorcycle handles is upgrading its suspension. In this special edition of our 'Workshop Series' Australian suspension experts, Ikon Suspension, share some valuable advice on what to consider when choosing the right suspension for you and your motorcycle.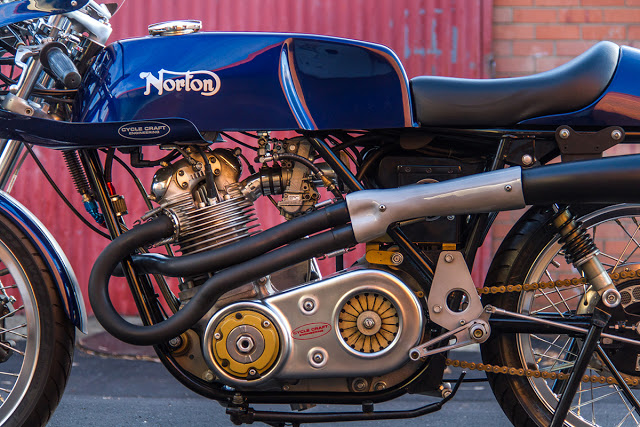 Before we begin here's a glossary of terms you'll encounter in this feature and what they each mean in relation to motorcycle suspension:
Travel – the distance suspension can compress before it will 'bottom out' or be unable to compress any further.
Spring rate – a measurement used to determine the stiffness of a suspension spring that is calculated in kg per mm.
Damping – the process of absorbing the energy of impacts through the suspension.
Rebound damping – the controlled release of energy formed during the compression of a suspension spring.
Progressive rate – springs that have specially wound coils that create progressively increased resistance as the spring compresses.
Preload – the amount a spring is compressed from its free length when installed in a fork or shock absorber. Some suspension offers adjustable preload settings.
Why upgrade your suspension?
Choosing the right suspension for you and your motorcycle is important for both comfort and safety. Worn dampers or even incorrect shocks can see the spring take over causing bounce and uncontrolled movement. When you modify an old motorcycle these issues can become magnified due to changes in weight or riding position. Preventing this kind of suspension behavior is essential to ensuring your personal safety and for the enjoyment of riding your custom creation.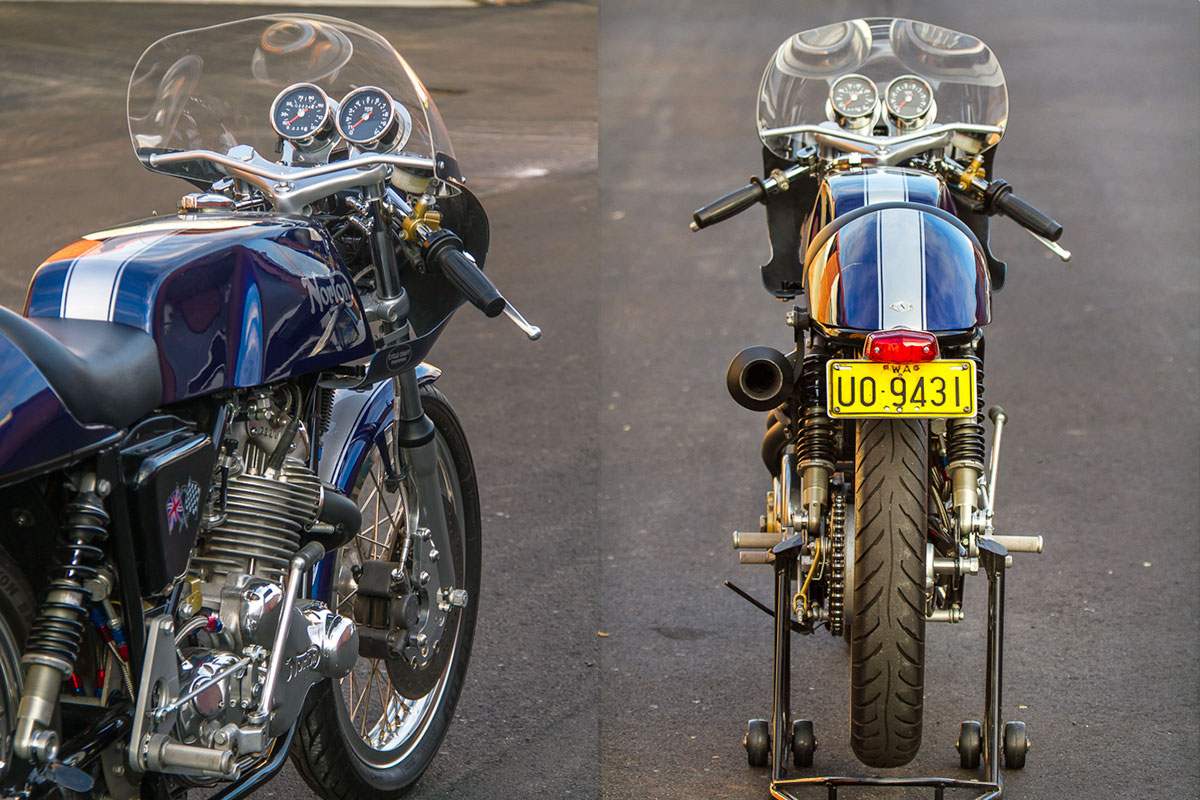 Things to consider when choosing your new suspension
One of the first things to consider in regard to your motorcycles suspension is how the bike has changed since it left the factory. For example, have you changed the bikes weight? If the bike is lighter the spring rate may need to be changed so that you don't have a harsh ride. Another consideration could be whether you have changed the wheels or the height of the motorcycle. Raising the suspension can speed up the steering, however, you don't want to go too tall and lose stability. There are also off-the-shelf lowering applications for a number of motorcycle models that are frequently used as the foundation for café racers, but you need to consider how much travel you are willing to potentially lose when lowering your bike. It's important to know how you as a rider want the bike to respond.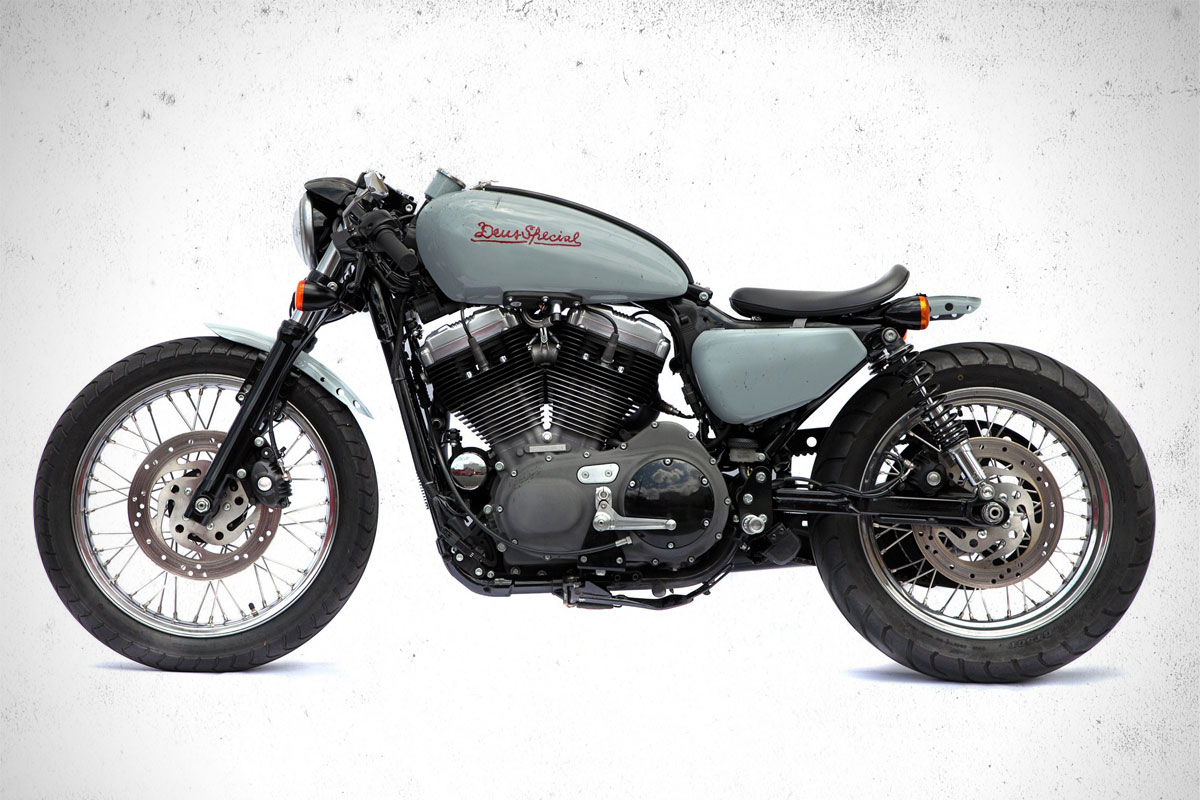 The weight of the rider should also be considered as part of the selection process. Most café racers are built with a single seat but some want the option of having a pillion. The spring rate and the rebound damping of your shocks need to work together to provide you with comfort and support for all types of riding conditions. Ikon has a range of springs that enable the correct rate of spring to be selected for your application, so as to avoid being too harsh and topping out or so soft that it bottoms out and cannot absorb bumps. Rebound damping helps the suspension return to its original position following the absorption of bumps and road irregularities in a controlled motion.
These same questions apply to the selection of front fork springs and what solution is best for you. Progressively rated front fork springs provide comfort and support over a large range of bumps and riding surfaces. Ikon offer a consultation service to help you choose the right suspension for your motorcycle to take the guesswork out of this complicated equation.
Suspension that suits your style
When the time comes to choose your new suspension you should factor in all of the things we've mentioned here along with the cosmetic appearance you're after. There is a range of off the shelf applications in the Ikon range that are a tried and tested improvement over stock suspension and will transform your ride. The twin shock range covers a variety of different motorcycles and offers the added flexibility of being able to build a set from the ground up. To ensure that the suspension you install on your café racer improves the bikes handling and compliments its styling you can contact Ikon.
About Ikon Suspension
Proven Products, the manufacturer of the Ikon Suspension was originally established in 1962 to import, distribute and service Koni shock absorbers. This involvement with Koni products saw the current director of Ikon undergo specialized training at the Koni factory. Following the decision of Koni to close its production of motorcycle shock absorbers in 2000, there was a special license agreement between Proven Products and Koni which allowed the first Ikon shock absorber to be produced in 2001.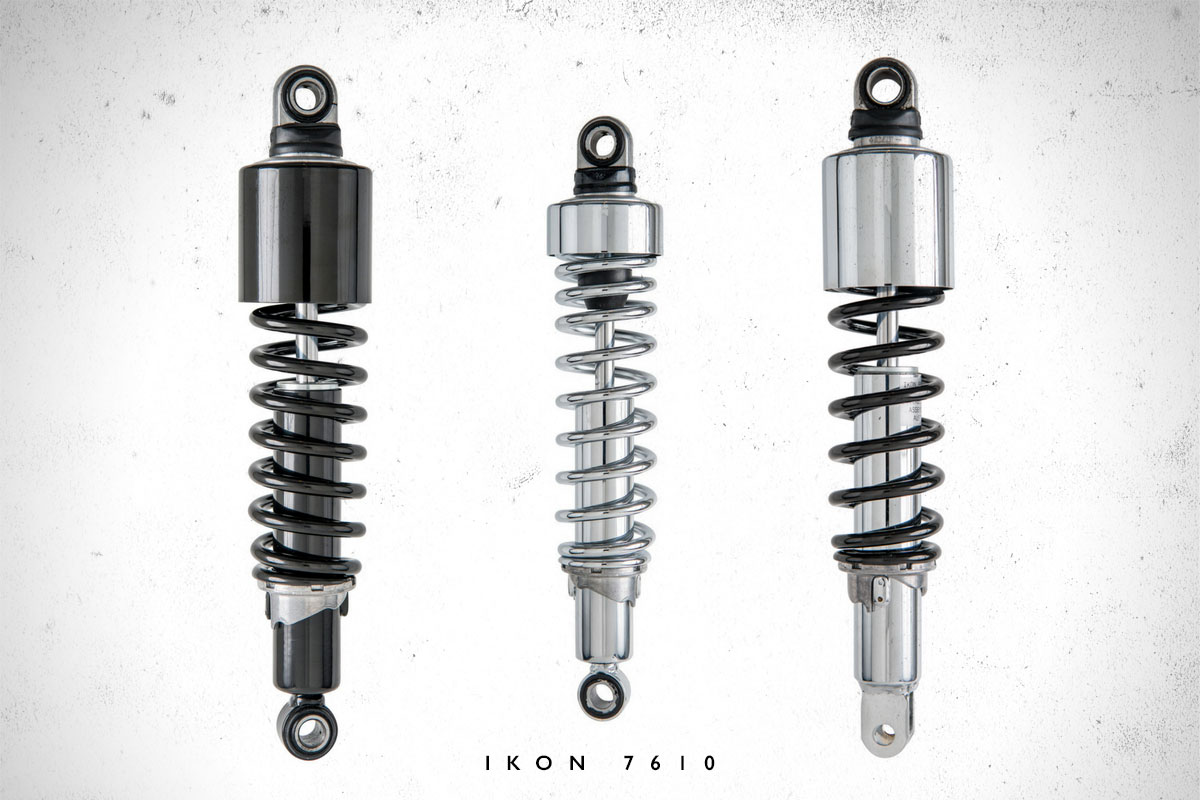 A few shocks to choose from.
The Basix. A budget-conscious suspension improvement with fixed rate rebound damping, three positions preload adjustment, a progressively rated spring and a variety of cosmetic looks available – black and chrome
The 7614's. For riders chasing a particular retro look and seeking even greater suspension adjustability. Four positions of rebound damping adjustment, screw thread preload adjustment, progressively rated spring, gas assisted operation for extra support and control and an aluminum body in grey or black.
The 7610's. Suspension that gives the rider more control over the feel and performance. Four positions of rebound damping adjustment, three positions of preload adjustment, progressively rated spring and available in black, chrome, long and short caps
The 3610's. A more adjustable and rider controlled mono shock suspension solution. Four positions of rebound damping adjustment, screw thread preload adjustment, progressively rated spring and gas assisted.
All Ikon Suspension units (twin and mono shock) are re-buildable and re-valvable. Ikon build them for life!