Melbourne is arguably the creative hub of Australia. If you're looking for great food or a cultural experience the city has an endless supply of options available. Melbourne is also home to some of the countries top custom motorcycle workshops and an ever-growing list of builders looking to make their mark on the scene. Amongst them you'll find Scott, a first time builder going by the name of Twisted Fate Builds and he's off to one hell of a start with this slick BMW K1100LT cafe racer.
An electrician by trade, Scott is a self-confessed, longtime motorcycle addict. After years of talking about building a cafe racer a gentle prod from his better half prompted him to bite the bullet on a '94 BMW K1100LT which had previously served time as an Australian police force bike.
In its standard form, BMW's K1100LT wore a full set of touring fairings making it an unlikely candidate for the cafe racer treatment. However, in comparison to similar tourers of its era, it was the sportiest of the bunch. At one time this bike also wore a full set of Police equipment including lights, sirens and radar gear for catching heavy-footed motorists in the act. Scott's desire to create a svelte cafe racer meant all of this had to go along with anything deemed unnecessary. At 551 pounds dry the K1100LT weighs around the same as 1000cc sports bike so with some aggressive weight savings it can become a potent cafe contender.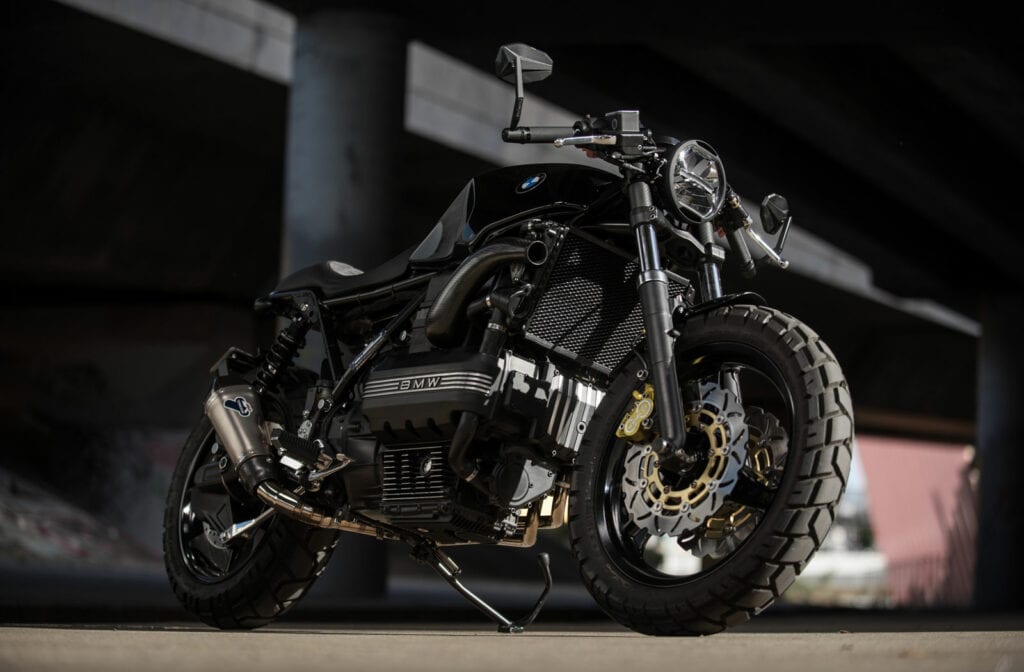 After an 18 hour round trip to pick the bike up and nearly losing it on the way back thanks to a trailer bearing blow out, Scott didn't waste any time getting the project underway. "The whole bike was torn down with every part polished or painted by me except the wheels, tank and frame," he says. "I tried to use OEM parts which were simply refreshed or modified in a unique, twisted way."
During the teardown, Scott laid into the bike's frame. Along with stripping away the tired paintwork, he cleaned up the rear end by installing a custom rear hoop. The now shorter subframe has been proportioned to accommodate a Cafe4Racer aftermarket seat into which he's installed a Highsider brake/tail light unit.
With the rear end now considerably cleaner it seemed a shame to clutter it up with a license plate. So Scott searched high and low for an aftermarket answer. When his efforts returned zero results he decided to create his own solution.
"I designed a rear licence plate holder that was cut and bent from 8mm aluminium and was 100% happy with it." he boasts, and rightly so. His minimalist approach to the bracket means it goes unseen from most angles giving the impression the plate is hovering just above the wheel. To level out the bikes stance and hop up performance, Scott then replaced the factory K1100LT monoshock with a blacked-out YSS Topline shock.
With work at the rear completed Scott turned his attention to the pointy end of the build. Lighting up the way is a Koso thunderbolt LED headlight. The modern headlight features a narrow construction allowing it to be mounted deep between the forks to further tighten the BMW's proportions. To complete the modern lighting upgrades he then installed a mix of Highsider and Kellerman turn signals. As for the cockpit, it too is devoid of any clutter thanks to the addition of a Motogadget Motoscope pro gauge that's been mounted to a Dixer parts top yoke. Scott used his skills as an electrician to simplify the OEM harness to the bare essentials and hooked it up directly to the Motogadget unit.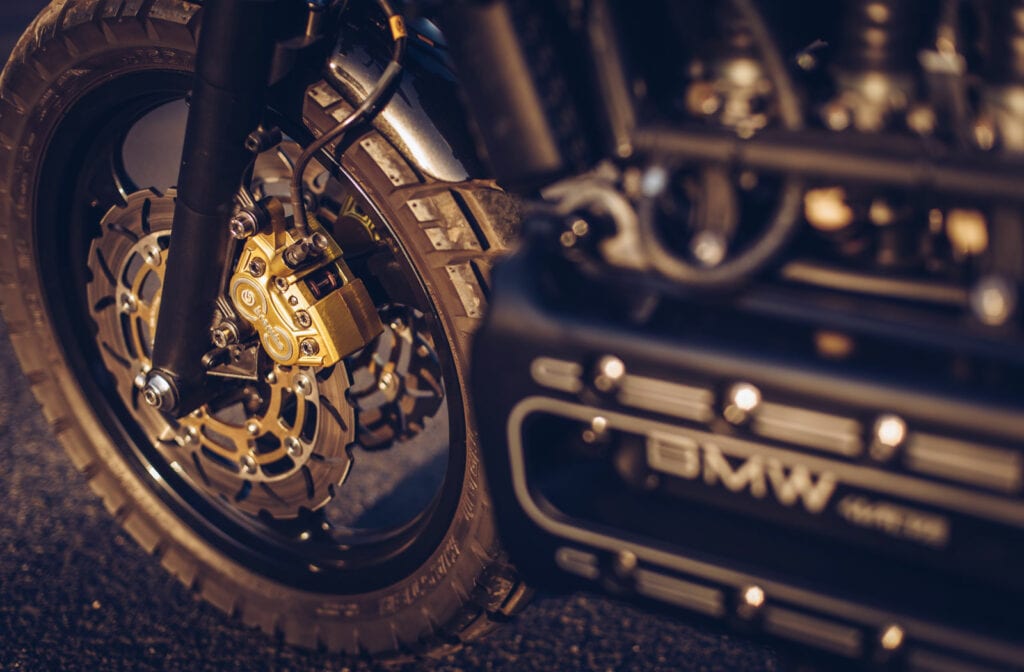 Wanting to give the bike a unique twist Scott has swapped the K1100LT rear wheel with a K1200 item which required some careful planning. "I rerouted the exhaust using a set of K100 headers which are linked to a Cafe4Racer righthand conversion link pipe," he says. The reason he went down this route was to leave the wheel as exposed as possible and hopefully cause a bit of head-scratching. Rounding out the exhaust system is a Termignoni shorty slip-on muffler with a carbon tip.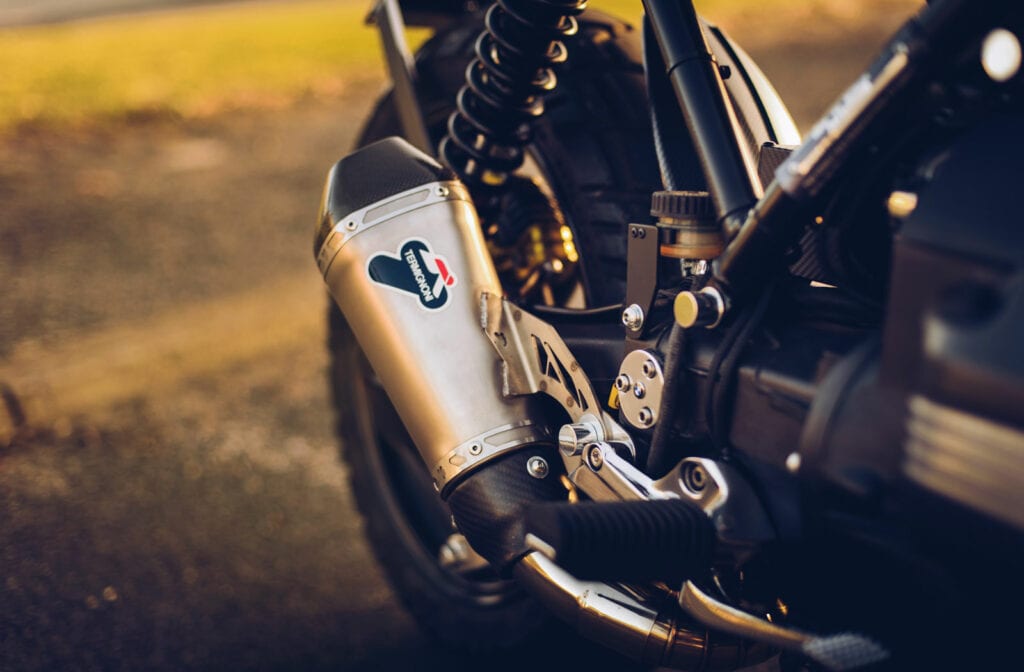 Clearly, Scott's gone for a blacked-out theme on this K1100LT cafe racer. Almost the entire bike is dressed in black with the exception of some raw details, rebuilt gold Brembo brakes and a tasteful collection of carbon fibre details. Along with the tip of the Termi muffler, Scott had a crack at laying carbon fibre with impressive results. He's laid a layer of carbon over the airbox snorkel along with installing carbon sleeves on the fork uppers, a carbon rear hugger and a carbon battery box.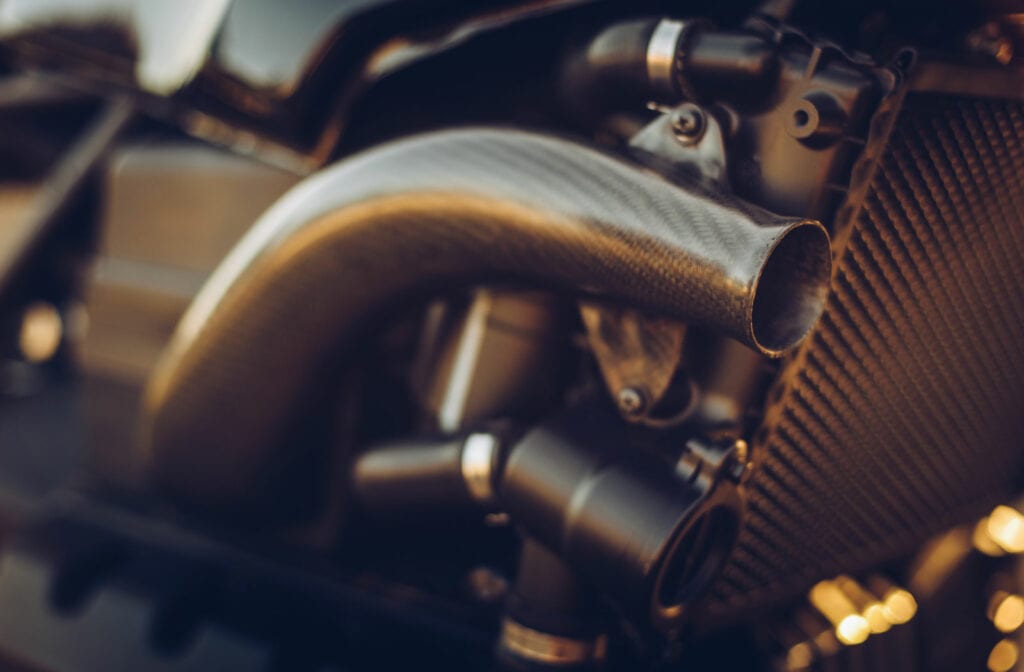 This extensive rebuild includes a long list of additional modified OEM and aftermarket parts. Closer inspection reveals HEL brake line upgrades and a rebuilt and polished front brake splitter sitting on an aftermarket front guard brace. The footpegs are mounted using repurposed components from a K100 which were cut to size and polished and the radiator is kept cool using a high-performance, low profile SPAL fan which Scott retrofitted into the OEM shroud.
According to Scott the hardest part of the entire project was sourcing parts in Australia and finding a good build/wife balance. During the project, he also paid special attention to making sure his BMW K1100LT cafe racer adhered to Melbourne's strict roadworthy rules. That seems fair enough to us considering how much time this bike has already spent in the hands of the police.
Photography by Alex Jovanovic