BMW Boxers have been all the rage in the custom motorcycle scene for years. Renowned for their bulletproof reliability and timeless good looks they are an ideal basis for cafe racer, bobber and scrambler conversions. But there are always exceptions to the rule. Despite the German's best efforts to make a motorcycle impervious to abuse, there are plenty of airheads on the market who have fallen into neglect. To the uninitiated, that could spell disaster, but for someone who knows their way around a Bavarian Boxer, a bit of hard work can really pay off.
Scott Gercovich of Melbourne's Twisted Fate Customs has been bitten by the Boxer bug. After building his Enforcer BMW K1100LT a couple of years ago, he developed an interest in R series bikes. One thing led to another and he became obsessed with the idea of owning and building his own. Sure enough, he eventually bit the bullet and purchased a 1983 BMW R100RT. In his words "She looked and rode like sh#t!" so he coined the project Winnie, as in the Pooh. Luckily Scott had all the skills required to remedy the issue and he transformed the bike into a cafe/bobber resto-mod.
Here's his recollection of how the build played out…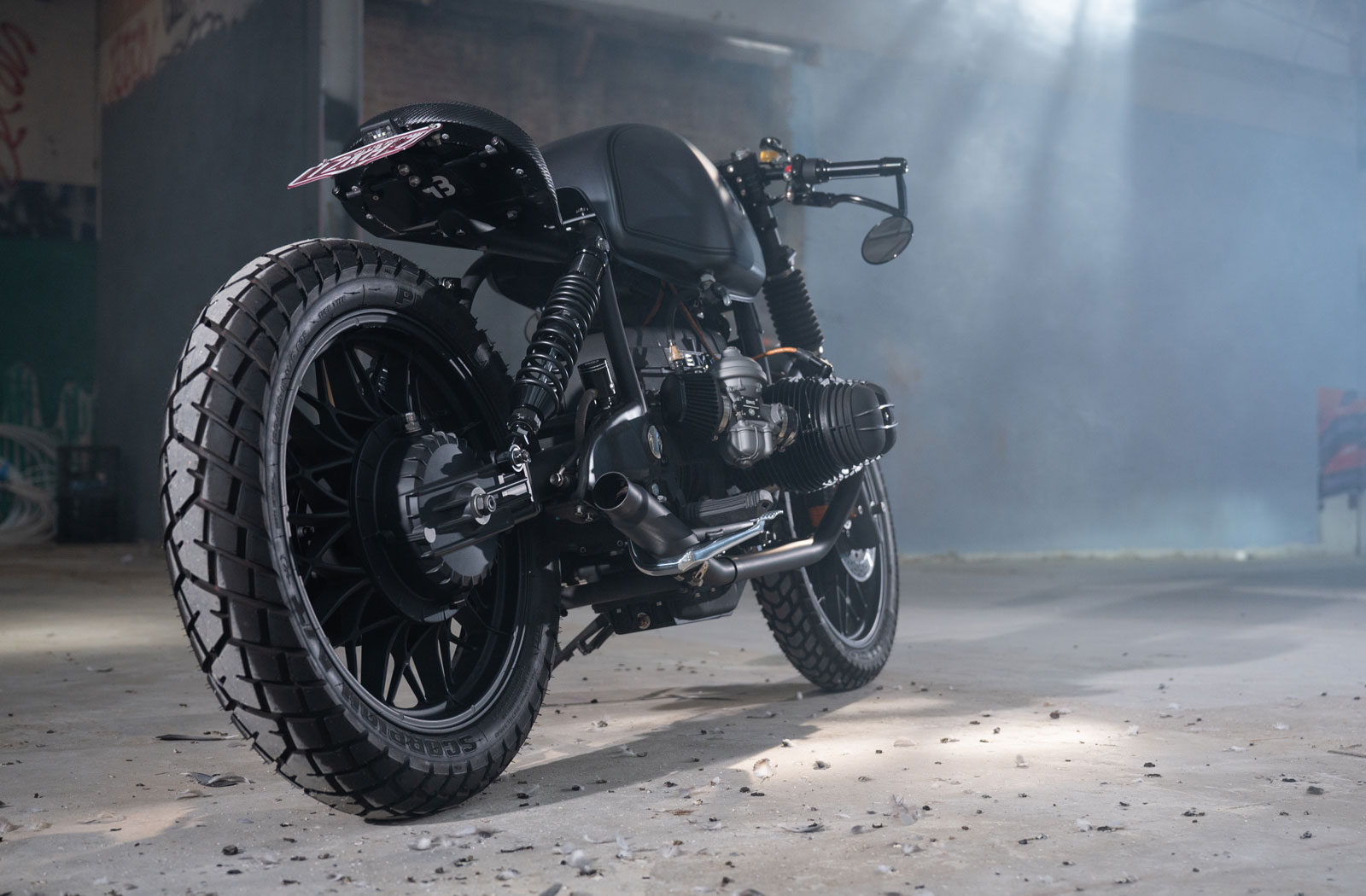 "I completely tore the whole bike and engine down leaving no nut or bolt in place and I found quite a few surprises along the way! Most of the nuts and bolts were either missing or finger tight including the driveshaft bolts which was a major catastrophe waiting to happen. Unfortunately, she had also been ridden with low oil which destroyed the crankshaft and bearings. I had those replaced by a BMW mechanic along with new conrods. The heads were re-finished, valve seats ground and every bearing, seal, ring and gasket replaced before I finished the main case in Duplicolor wrinkle coat and reassembled her."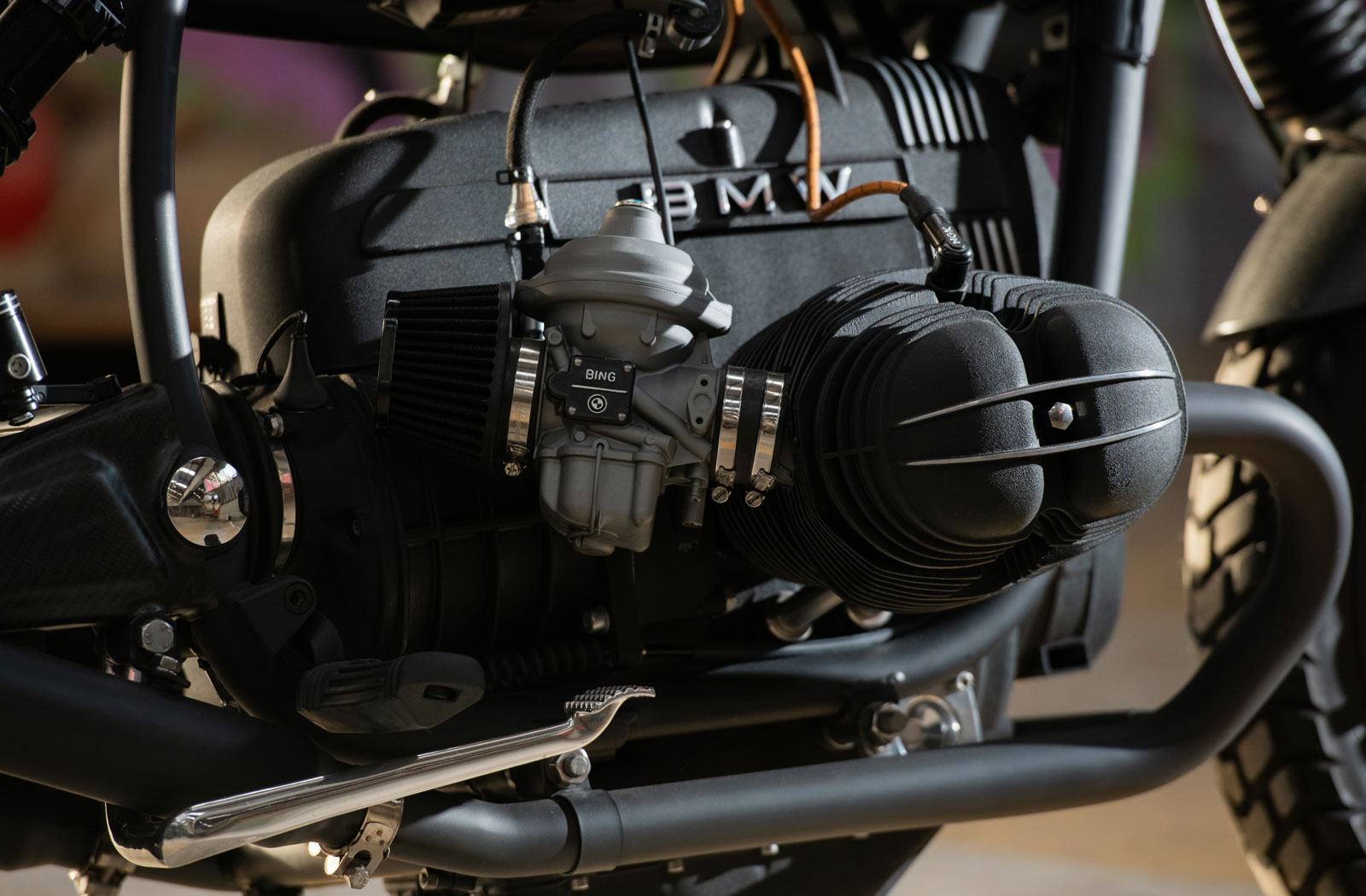 "The cylinders were blasted and coated in high temp engine enamel, the valve covers were updated to peanut shape items and finished in wrinkle coat with polished highlights as per all other engine covers and gearbox. The airbox was removed and used to house an Aliant lithium battery and the main fuse, which sit on a custom-made platform. I also mounted a Ctek charging port to the airbox delete cover to allow trickle charging while she sleeps."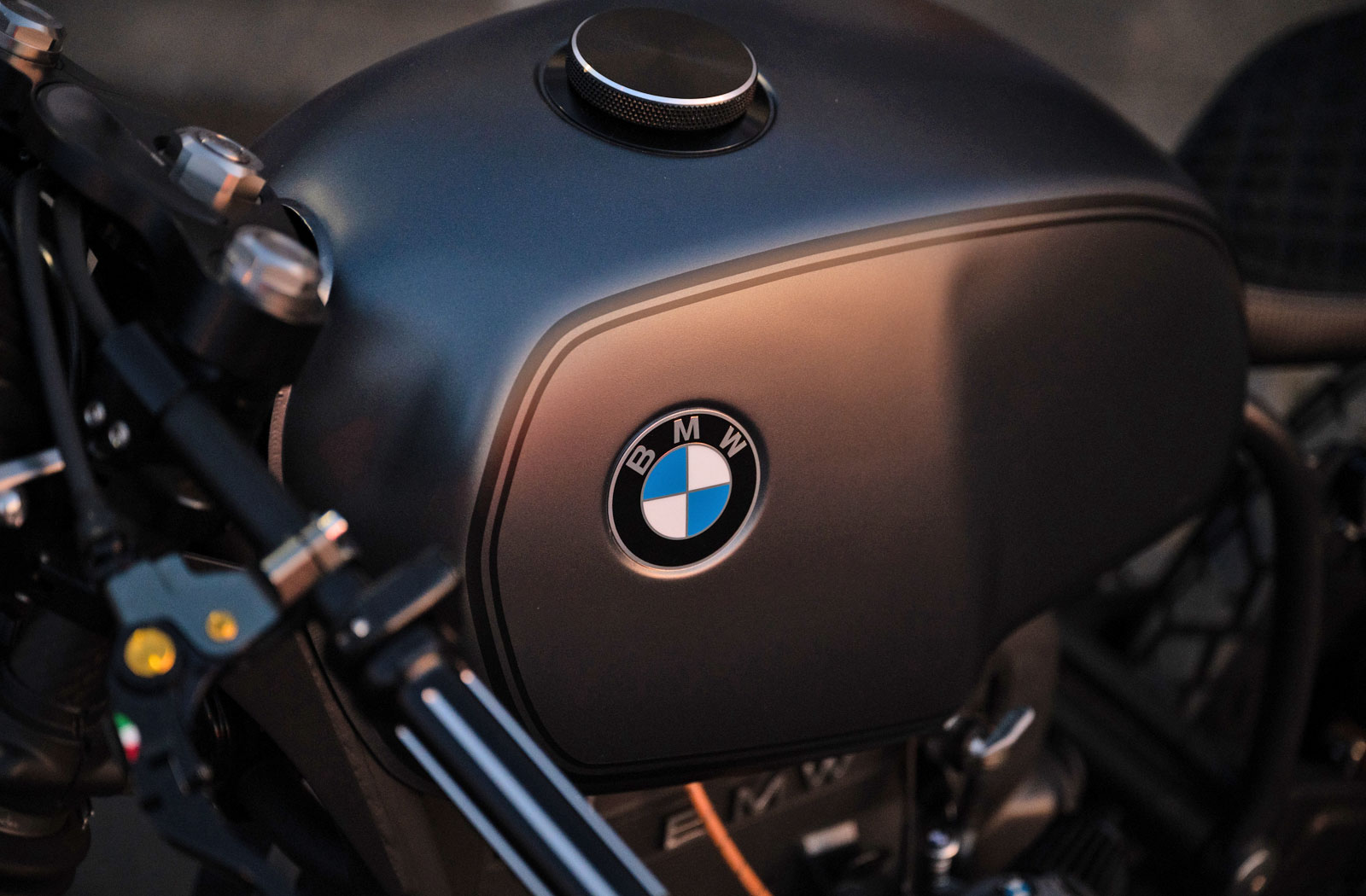 "From there I sandblasted the frame, driveshaft, bottom yoke and wheels which I then sprayed in armour black Cerakote. The front forks were torn down and shortened 25mm with new seals fitted and finished in a wrinkle coat. A new YSS Topline shock was then added to the rear. The brake callipers got the standard tear down, blast, sprayed in Cerakote tequila sunrise with new HEL carbon look lines fitted to new levers and refreshed master cylinders. The brakes were finished off with fresh pads and reconditioned discs."
"Being an electrician I was super excited to rewire the whole bike using a Motogadget M-unit blue at her heart, a Motoscope Pro dash, Rebel Moto switches, Highsider turn signals and a Koso headlight to shine the way. The alternator and starter motor were both torn down, cleaned and Cerakoted and paired up with a Ricks Motorsports lithium rec/reg and dual output coil. Jax garage custom-made a beautiful top yoke to fit the Motoscope dash and some nice aluminium billet grips to help twist the wrist."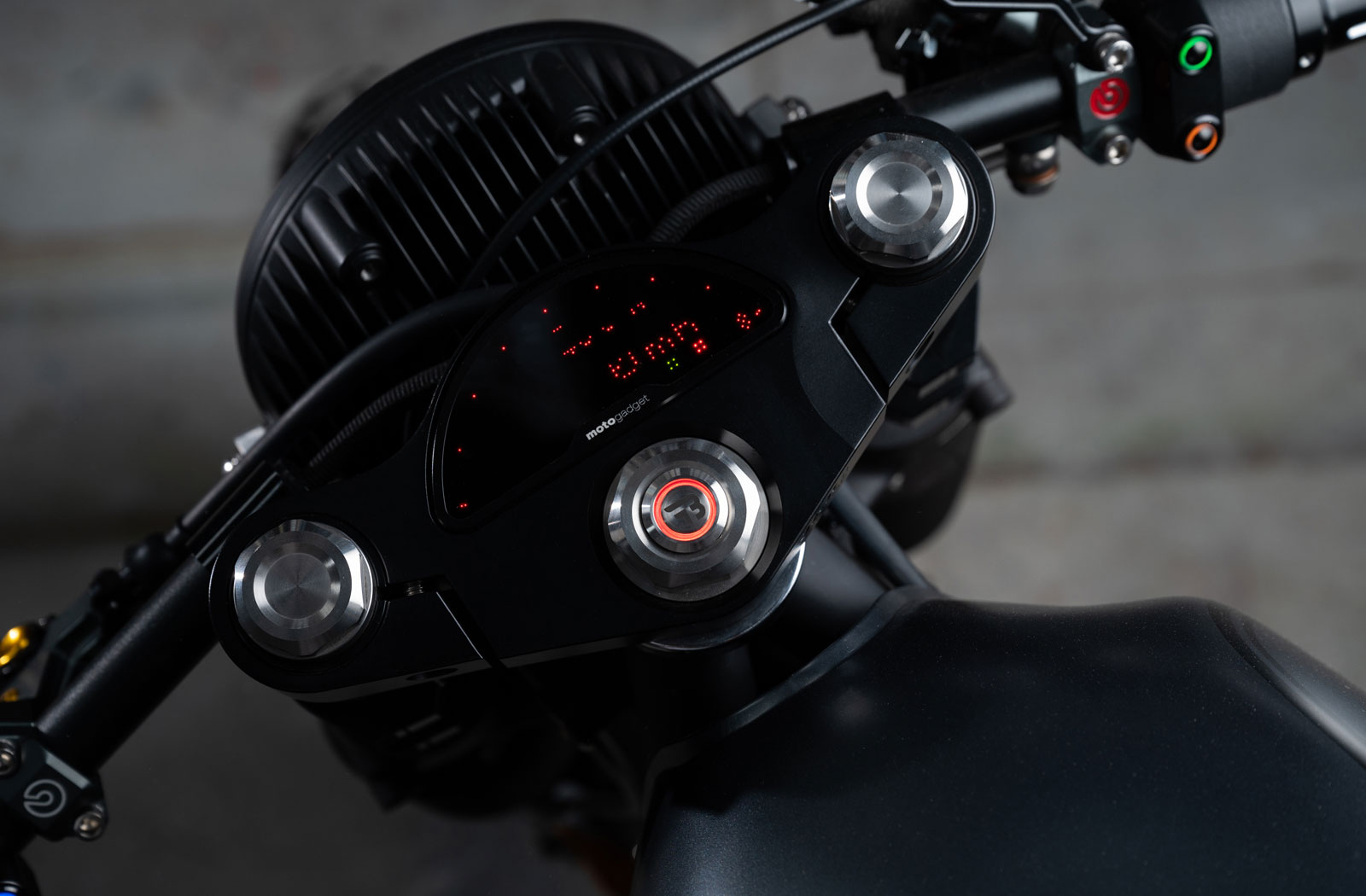 "The seat post is a tidy piece of work by Messner Moto which holds the Silvermachine Seats bobber style saddle. I had the seat made with carbon look edges, and a suede leather top and incorporated a Highsider brake/tail light into it.
I blasted the exhaust headers and coated them in armour black Cerakote along with some custom hotdog mufflers to try and hush her drumbeat down a little, but still have a good rumble. All that was left was to strip back the tank. Spot weld any rust spots. Re-seal the inside and finish it off in BMW M3 frozen dark grey with darker pinstriping by the legends at MC Panel Paint which has to be seen to be believed.
New petcocks, fuel lines and filters feed down to fully rebuilt Bing carbs I finished in Cerakote titanium with added manual chokes, pod filters and emblems. The front guard was shortened and skinned in carbon fibre. And underfoot she wears the grippiest all-terrains I could find, Pirelli Scorpions."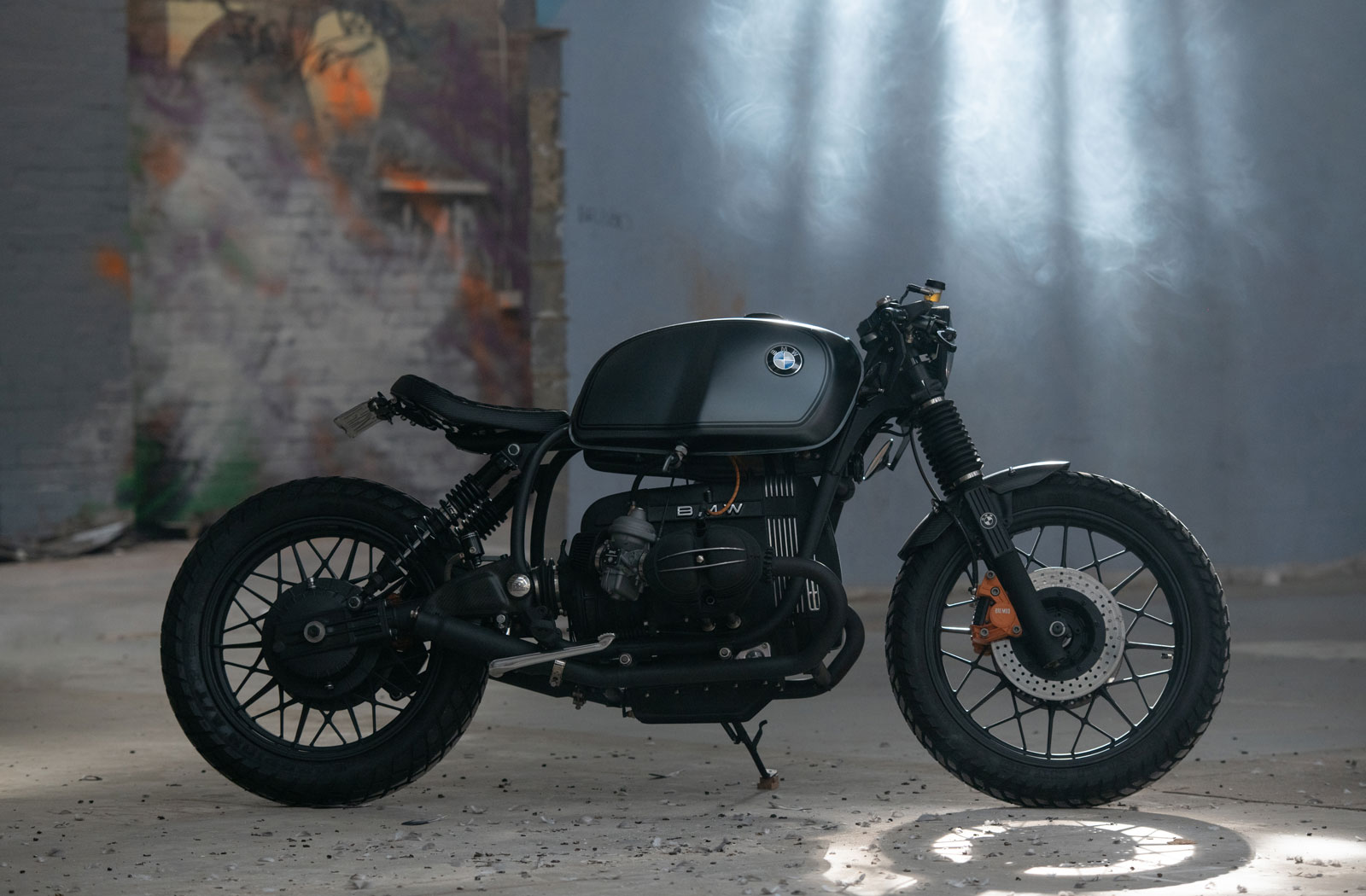 "I really can't make a comparison between when I picked the bike up and how it rides now. On the 20km stretch I did prior to the build she was in such bad shape I actually feared it would fall to bits! So much so I had to pull over a few times to check everything was still there! As for now, she's a dream to ride, nothing too sporty but a great cruiser to head out on a nice day and still feel comfortable in the twisties.
It's now very rewarding to see the appreciation she gets after being neglected for many years. I guess it goes to show you can actually polish a turd!"