In full dress, the BMW R1200RT tips the scales at hefty 259kg. This is by no means an ideal starting point for any cafe racer build. This doesn't mean it can't be done though. With a 110 bhp, 120Nm Boxer protruding from its frame the R1200RT packs plenty of punch. However, it takes a determined builder to be able to transform a bike like this into something worthy of being labelled a cafe racer. Today's featured bike is built by one such person.
Mantas Simanauskas of Lithuania is a hobby builder who modifies motorcycles in his spare time. Part of his approach is to constantly challenge his abilities. He does this by ensuring that with each new build he creates something different to anything he's done before. With this build, based on a 2007 BMW R1200RT, his goal was to create a powerful cafe racer featuring a monocoque style body.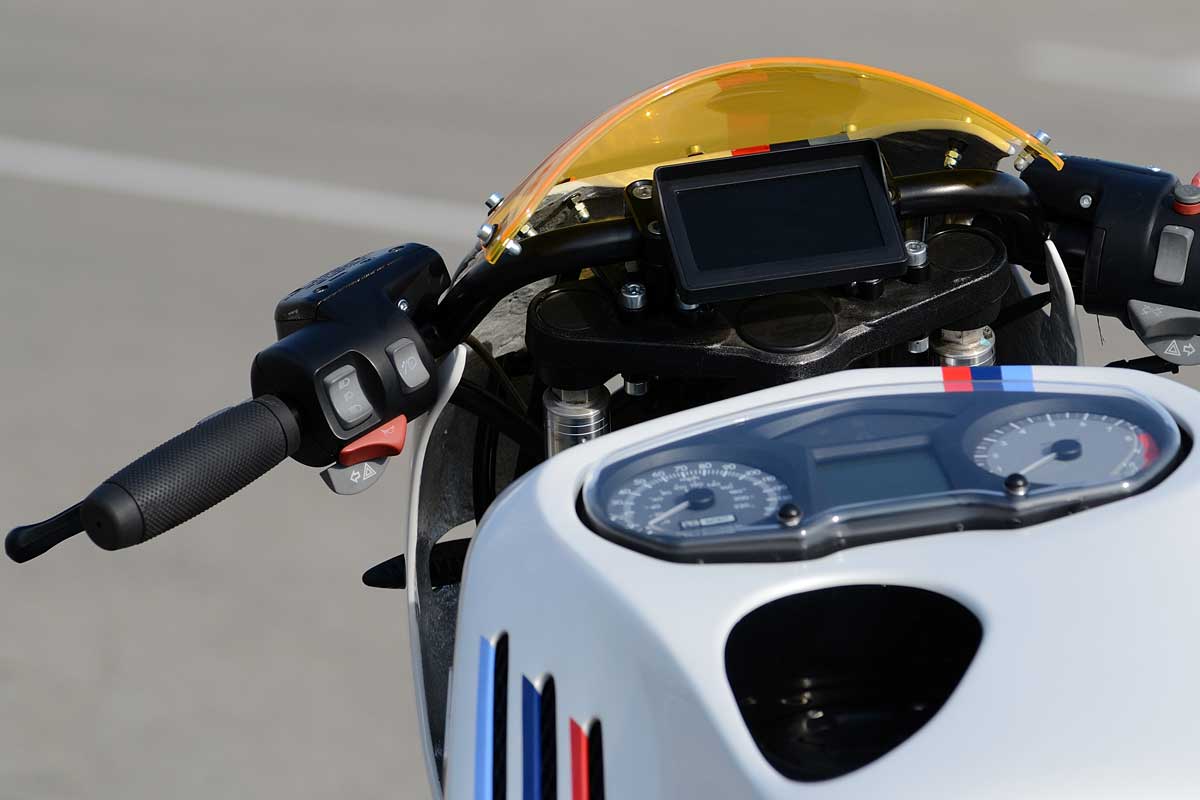 Along with having to shed a considerable amount of weight Mantas was also challenged by the R1200RT's suspension. Not wanting to compromise comfort or handling he decided to not alter the factory set up in any way. The R1200RT telelever front end is hinged to the engine by a large 'wishbone'. This meant attaching custom bodywork would prove challenging. Additionally, the R1200RT stands tall. Mantas would need to dramatically lower the height of the bike to create a convincing cafe racer stance.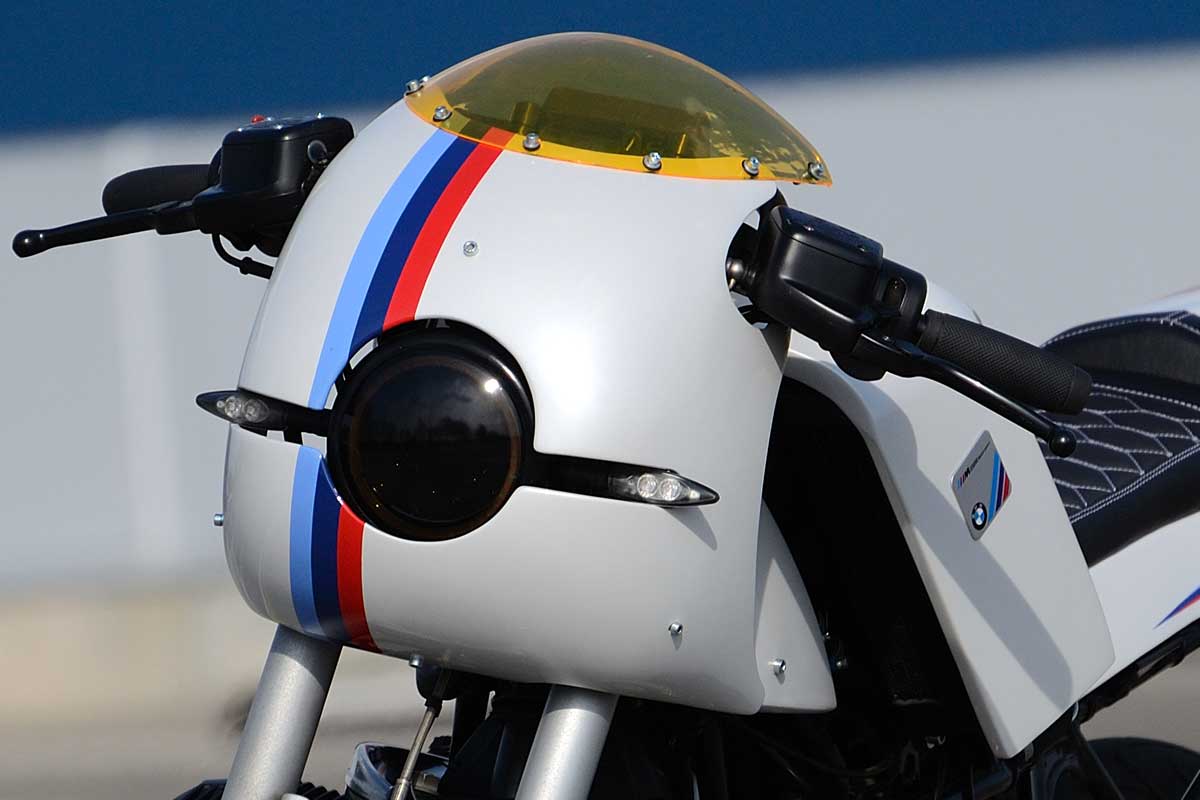 He kicked things off by stripping away the BMW's bulky bodywork. He then broke the bike down into its basic components and sent them off for fresh paint. Meanwhile, he set about drawing up a plan for his cafe racer conversion. Lowering the height of the bike required two major changes. The first was to lower the fuel tank on the frame. The second was to drop the height of the front end without altering the forks. To address the fuel tank issue he had no option than to build an entirely new cell. By removing the air box and relocating the oil cooler he freed up enough space to fabricate a new tank with decent capacity. As for the front end, he installed Clubman handlebars and mounted a custom made bikini fairing as low on the forks as possible. The design left no room for the factory gauges but sat well clear of the telelever wishbone.
The R1200RT is packed with electronics that Mantas wanted to retain so everything now sits beneath the seat pan. His desire to retain all standard functions also meant keeping the factory instruments. Since they could no longer sit up front he recessed them into his lightweight monocoque bodywork. The whole body now functions as a cover with openings that allow air to flow over the oil cooler and to access the fuel tank. Side panels were added to leave enough turning clearance and hide some of the frames less visually appealing aspects.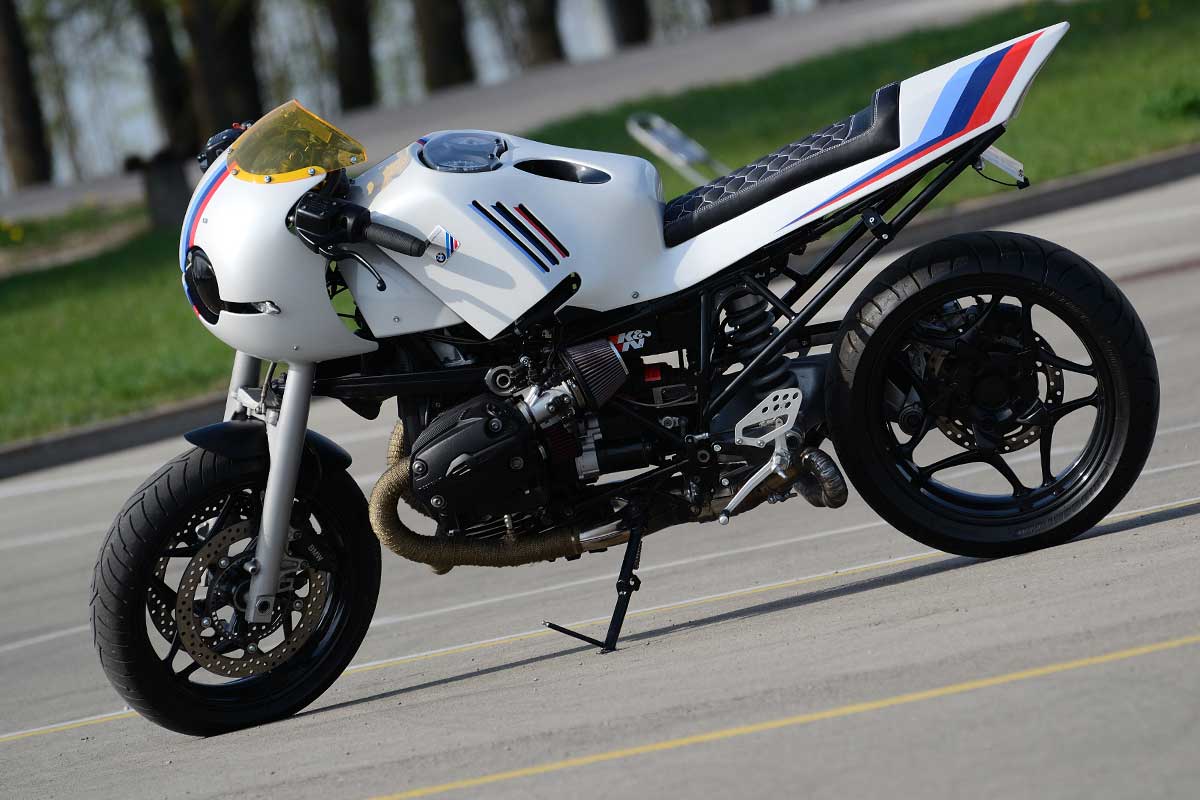 The R1200RT cafe racer also wears repurposed parts from other models in BMWs range. The LED turn signals are late model R1200GS items and the headlight an aftermarket LED unit. The tail also houses LED lighting and to fit in with the theme the instruments have been rewired with bright white LEDs. He completed the classic cafe racer riding position with BMW S1000RR footpegs and installed Biltwell grips on the bars for a touch of retro cool. As for mirrors, you won't find any here. That's because Mantas has cleverly installed a camera just below the license plate. The camera view can be seen clearly on a digital panel housed beneath the windscreen.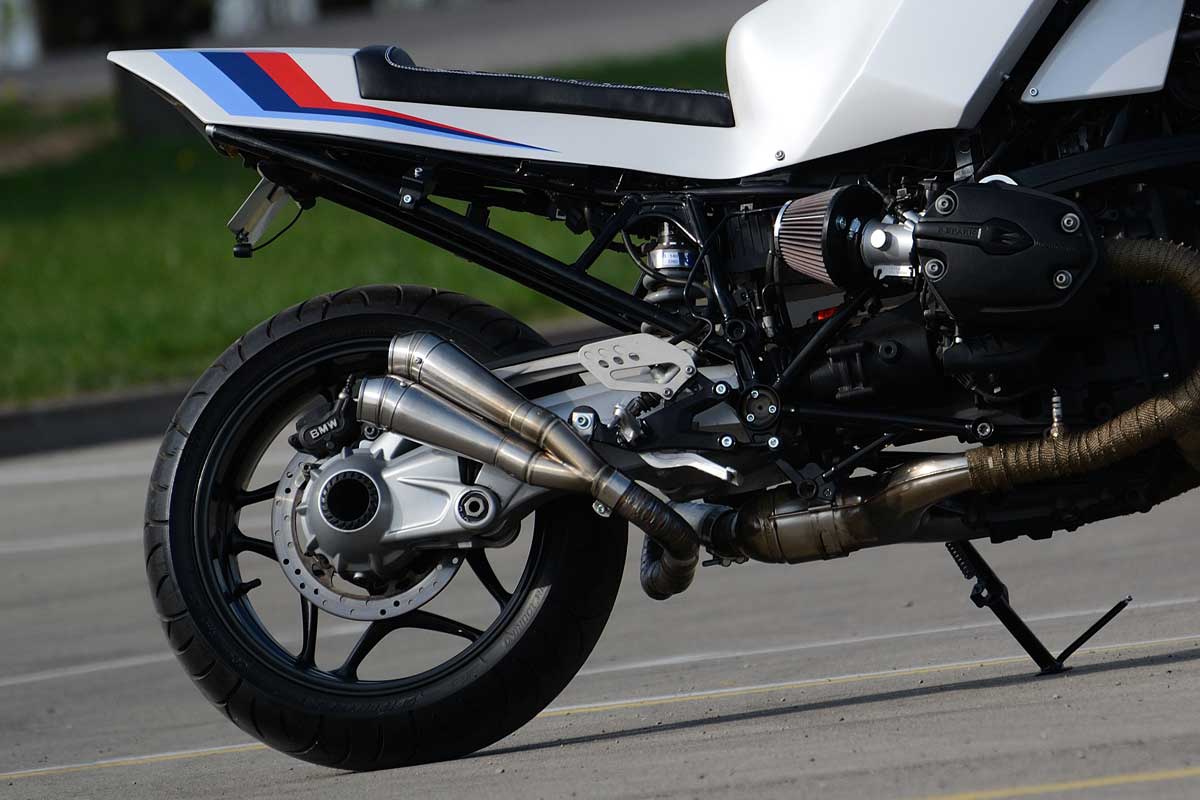 Weighing considerably less than its former self the R1200RT's 110 horses are now delivering much more excitement. To add even more oomph Mantas has built a custom stainless exhaust that leaves the single-sided swingarm exposed. As for the paint he's has gone for M series inspired livery and it looks right at home on this two-wheeled Beemer. If you'd asked me before whether a BMW R1200RT tourer would be a suitable cafe donor I'd have told you no. Thank you Mantas for proving me wrong.