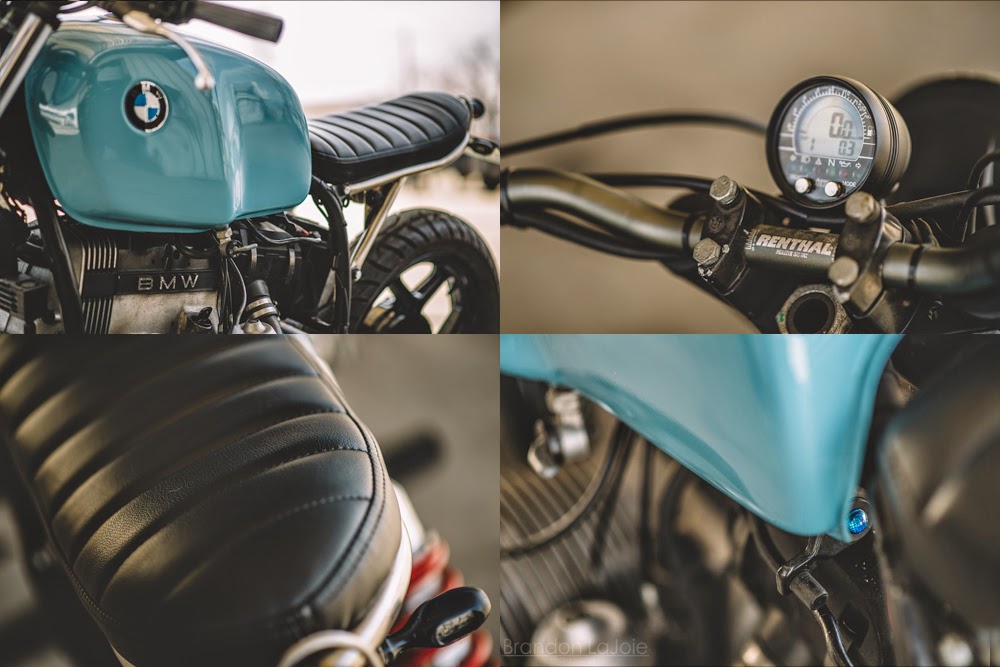 The bike started out as a fully faired stock '95 BMW R100 that Junior agreed to customise for his newly wedded friend. With only a month till his mate took off for the air force and the added pressure a the dream of getting in 2 weeks of riding prior to leaving, this request would have generated an obscene finger gesture for your average builder, but Junior being the pal that he is, accepted the challenge.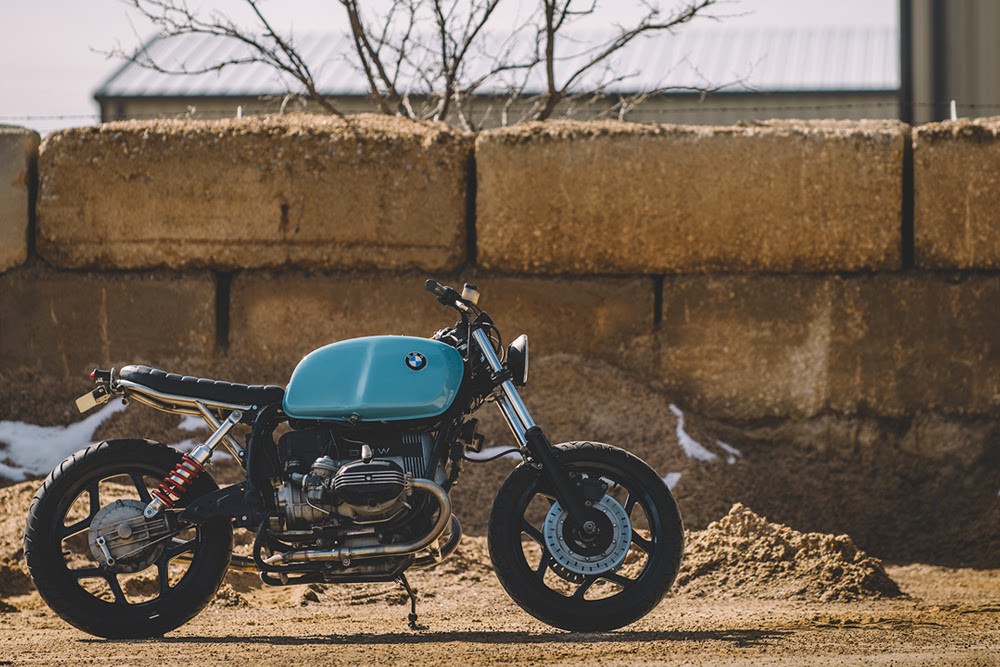 The concept was to strip the R100 down to create a clean and simple Brat/Tracker style bike. Thankfully the BMW's previous owner had kept it well maintained and serviced and it had low miles on the clock. The engine was subsequently left alone, meaning the focus could be placed on radical aesthetic modifications. With the bike stripped down junior started out by building a new stainless steel subframe and alloy seat pan to match. The pan was then covered in foam and wrapped in black leather with a Bratstyle influence tuck and roll design.
The monoshock suspension was then upgraded to a progressive shock and after a quick powdercoat of the frame and wheels, it was all bolted back together again. The stock bars were swapped out for more stylish Renthals and the instruments simplified to a single Acewell gauge mounted centrally above a new, shallow bodied Hella headlamp. Junior also pulled a 2-into-1 stainless exhaust system together with a cone style muffler to get the bike sounding as cool as it was now looking.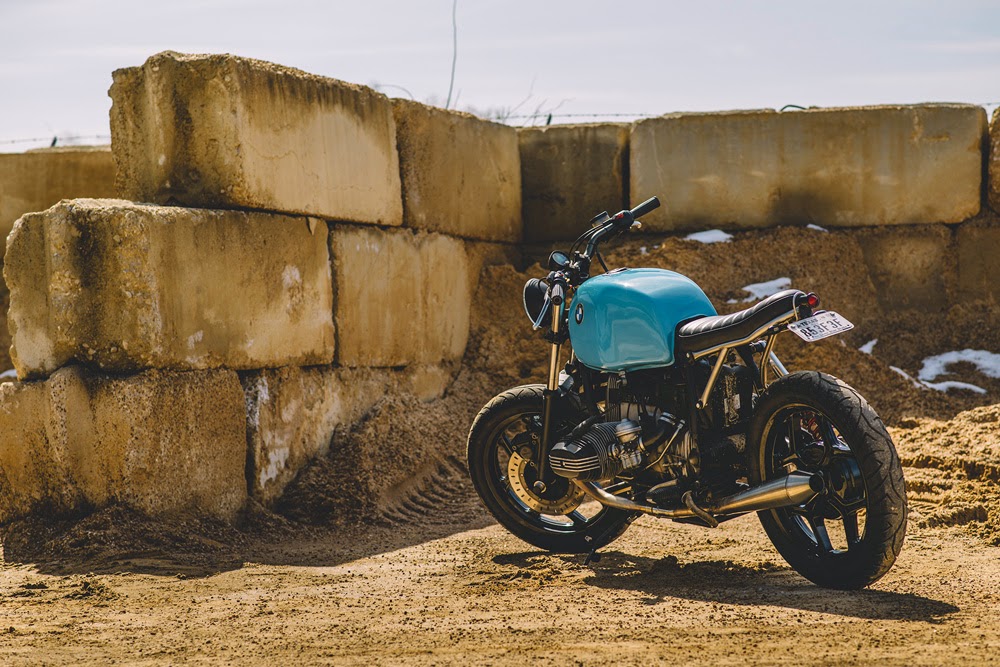 Double-sided LED Oberon turn signals were mounted inconspicuously to the tail either side of a retro-styled stop lamp that's nestled beneath "the world's smallest sissy bar". Lastly, the boys selected a light blue colour which Junior laid on the tank. Unfortunately, it came out way too pastel for their taste so Junior added a touch of blue and black to a clear coat to create the final finish you see here.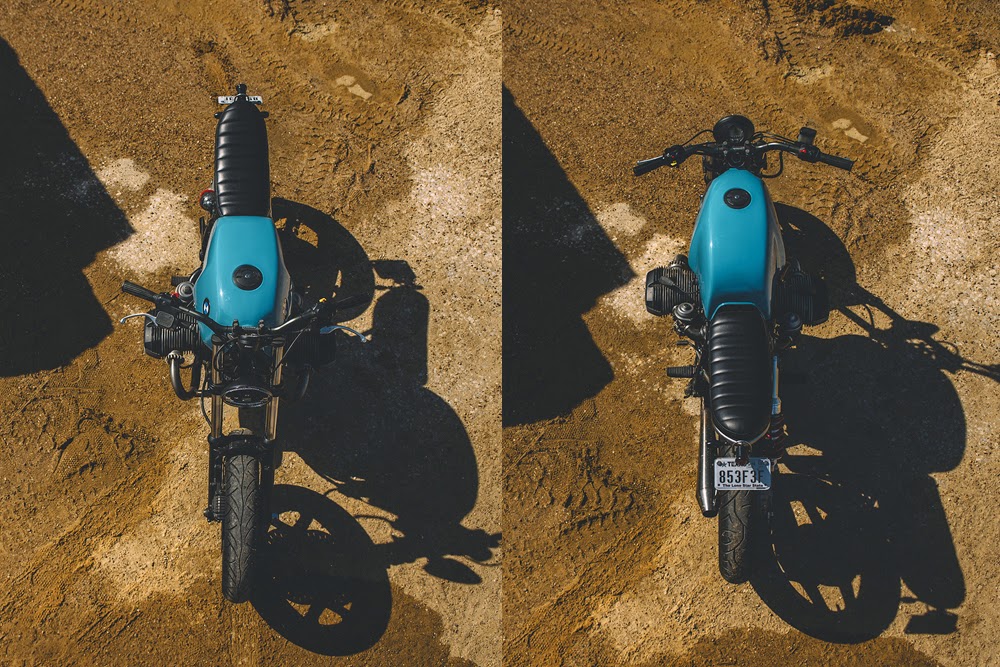 And how long did that all take? 
"We built the bike in 6 long evenings, 
over the course of 2 weeks"
Now that's impressive!
In the world of custom motorcycle building tight deadlines are about as desirable as a swift kick to the bean bag. In most cases, tight deadlines result in shortcuts being taken or bad design decisions being made. However, there's always an exception to the rule and it seems Junior Burrell of Retro Moto has it sussed. With only 2 weeks up his sleeve Junior turned a stock BMW into this superb Scrambler for a buddy who in my book, should now owe him free beer for life.