I've seen enough BMW cafe racer builds to last a lifetime. That doesn't mean I don't want to see any more of them. I just want to know that when one appears on these pages it's done right. Take for instance the work of Pete Hodson from Side Rock Cycles in the United Kingdom. He's a seasoned racer and custom motorcycle builder who takes his creations to the track where they have to perform. This bike, his BMW R80RT nicknamed 'Vanity' is no exception. I recently spoke with Pete to get the low down on his bright green purpose-built Beemer.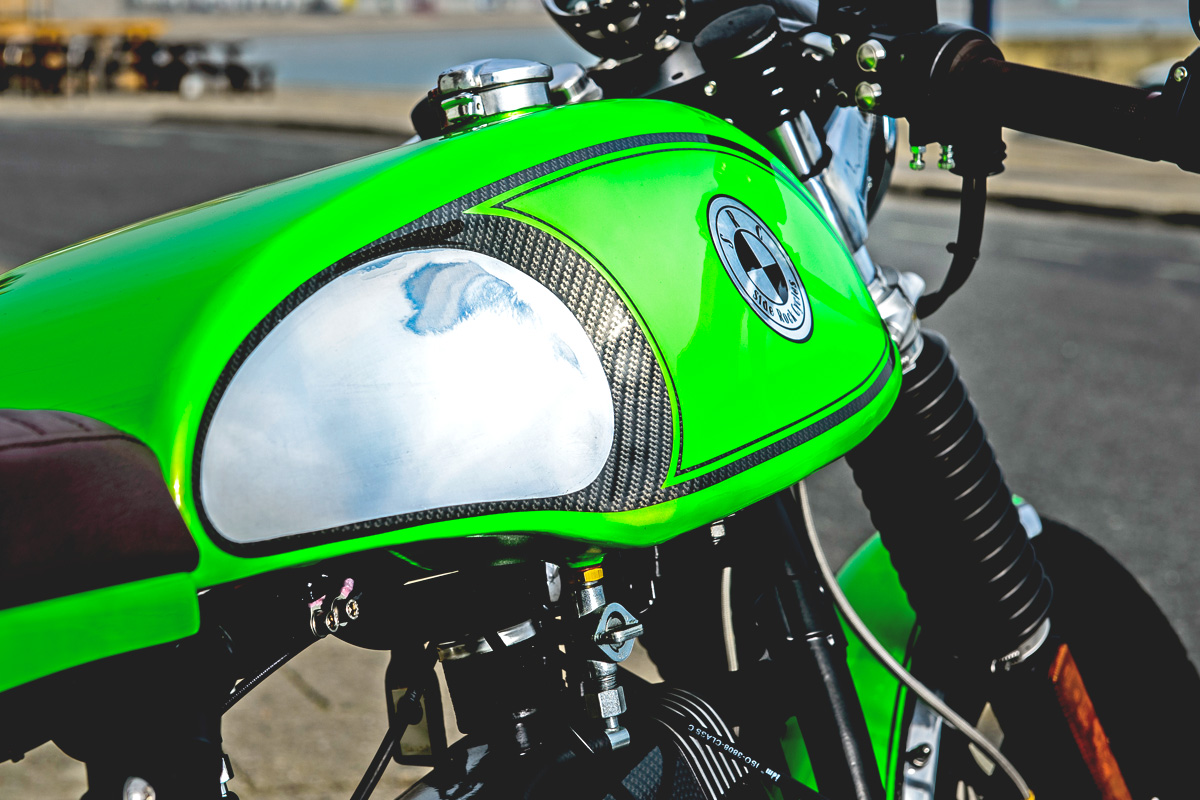 "I've been in the motorcycle and automotive game since the mid-seventies, road raced successfully for around ten years and have competed in Trials and Enduro events," says Pete. "This 1979 BMW R80RT was built for classic motorcycle racing track days and to be a rolling Side Rock Cycles portfolio piece."
"The BMW was essentially built for me. It features lots of quality parts to enhance both the performance and aesthetics of the bike. As is the standard approach with all Side Rock Cycles builds, the R80RT project began with a strip down. Once it was out of the frame we upgraded the engine by installing high compression pistons and a 1000cc Siebenrock performance kit. Additionally, we bolted a pair of 34mm Mikuni carbs to the heads, fitted a fresh timing chain kit, clutch, a lighter, gruntier starter, seals and bearings.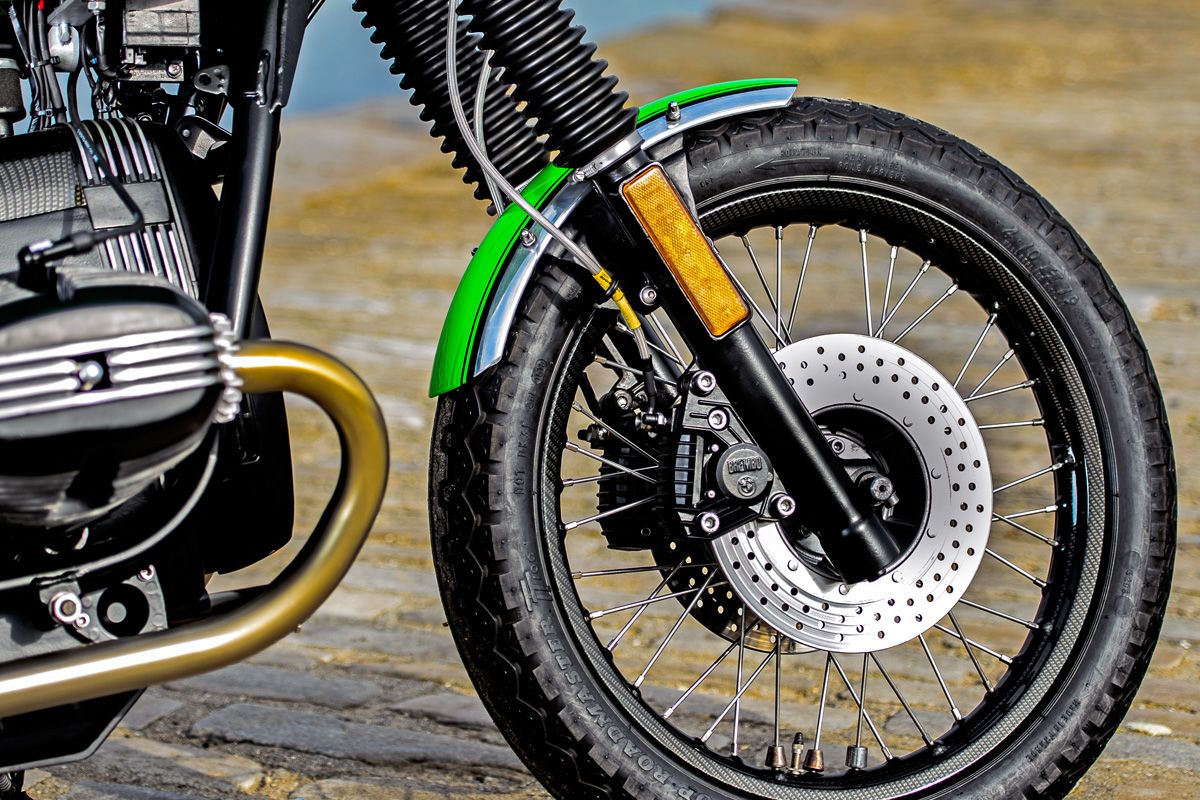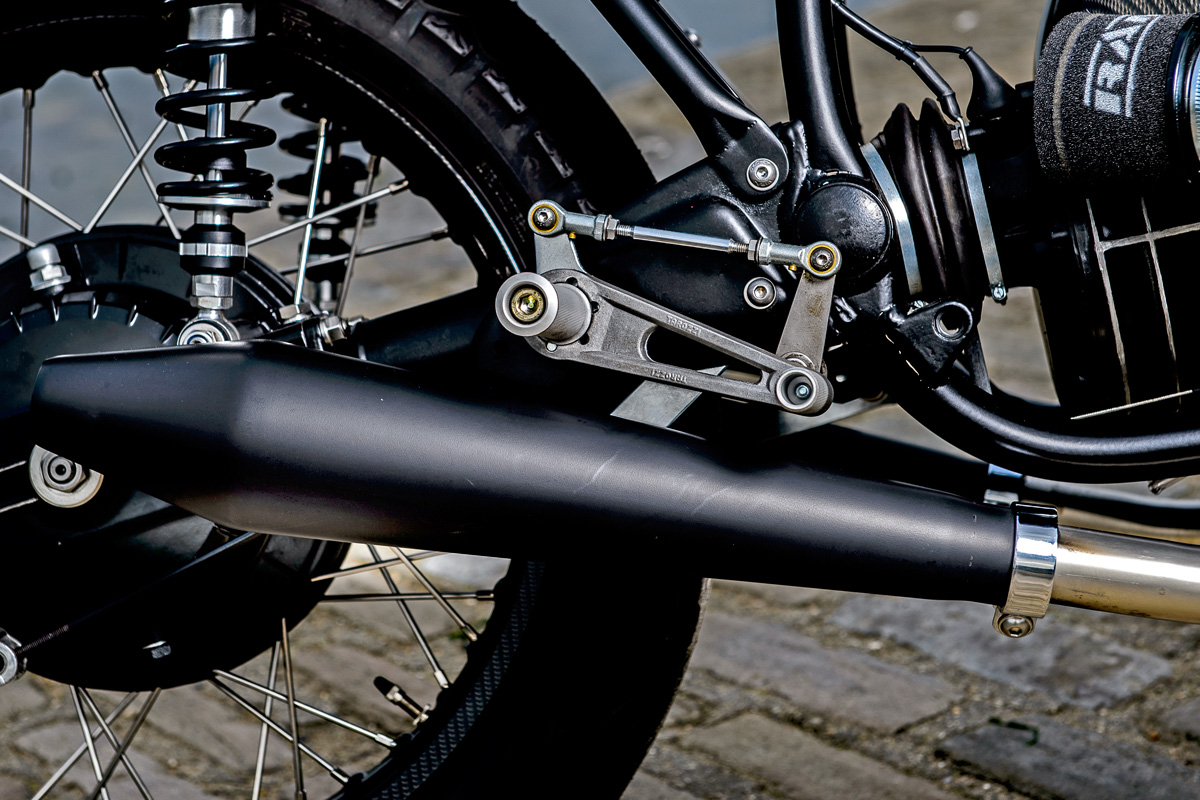 With the engine ready to race the frame and swinging arm were de-tabbed, blasted and powder coated satin black. To revise the rear end we fit a lightweight SRC subframe and a classic cafe racer style wasps tail cowl and saddle. The suspension has been overhauled using fully adjustable 'piggyback' shocks and we upgraded the fork internals with Progressive springs. Stopping power has also been upgraded by refurbishing the Brembo callipers with fresh seals, sintered pads and stainless hoses. Now the old girl stops as good as she handles!
Our 'lighter and cleaner' approach with this project included significant work on the bikes 40-year-old German electrics. We ditched the original switchgear in favour of Motogadget items. Likewise, the instruments were replaced by an Acewell speedo/tacho unit. Oberon LED indicators sit in the bar ends and below the tail and an LED brake light saves additional weight. All these are controlled by a Motogadget M-unit that's hooked up using a custom wiring loom.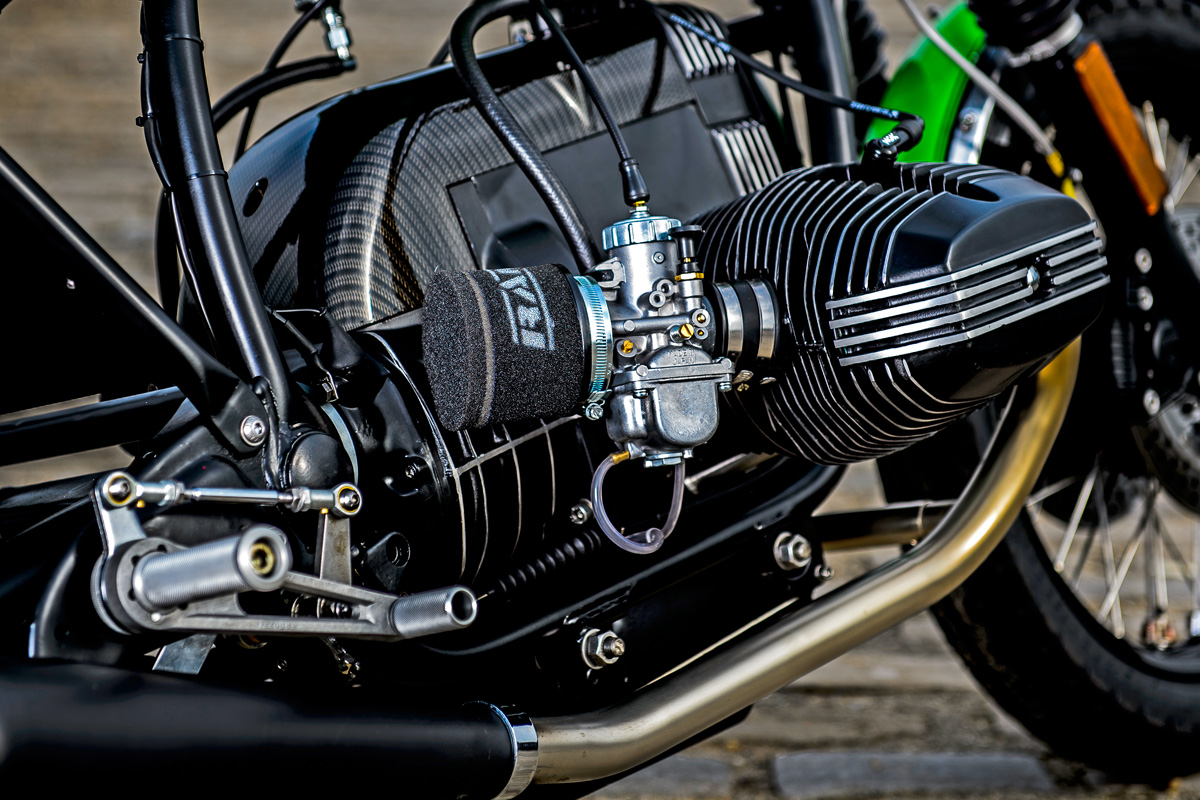 The smaller, lightweight, aluminium fuel tank was made to enhance the sleek look of our BMW cafe racer. The original paint scheme for Vanity was candy apple green with carbon inlays and some bare polished alloy. To save additional pounds we used carbon for the rims, headlamp shell and engine top cover. The worst part of this build was the late discovery of a tiny pinprick hole in the alloy tank which quickly ruined the paintwork. It had just been finished and we were exhibiting at the Bike Shed show in London so this was less than ideal. After the show, it was stripped back again, welded up and repainted.
Recently, I decided I wanted to change the colour again to a Lamborghini orange with a touch of metal flake. At the same time, a brown 'new Delhi' leather seat was made and a higher ratio rear diff fitted to stop it from 'maxing out' at the track. The best thing about this build is its awesome performance and handling. Due to the dramatic weight loss and performance parts fitted Vanity often surprises other riders out on the track."