Don't get me wrong, the BMW thumper is a great utilitarian machine. The reliability of the simple 650cc Rotax engine is why Jens selected this particular model for his project. He wanted to focus his efforts on improving aesthetics rather than chasing mechanical gremlins and BMW's G650X provided the perfect base for such a build. Jens had so much confidence in the potential of the BMW, that he had sketches based on the 650 laid out before a donor was even sourced.
Taking a quick glance at 'Octavia', you can see his efforts were well placed. Henkel began the build by experimenting directly on the bike's frame using shapes cut from cardboard and by using Google's 3D Sketchup software to create digital test models. A mockup tank, seat, radiator housing, and tailpiece were all first built from cardboard allowing for quick, cost-effective adjustments. With so much of the final aesthetic riding on the angular forms of the bodywork, the tank went through six different iterations before finally being fashioned from 1mm steel. The seat was shaped from dense memory foam and Henkel's favorite element, the tail, was brought to life using fiberglass resin and lenses created using a black tinted epoxy resin. Functional as well as beautiful, the tail also houses much of the bike's electronic components.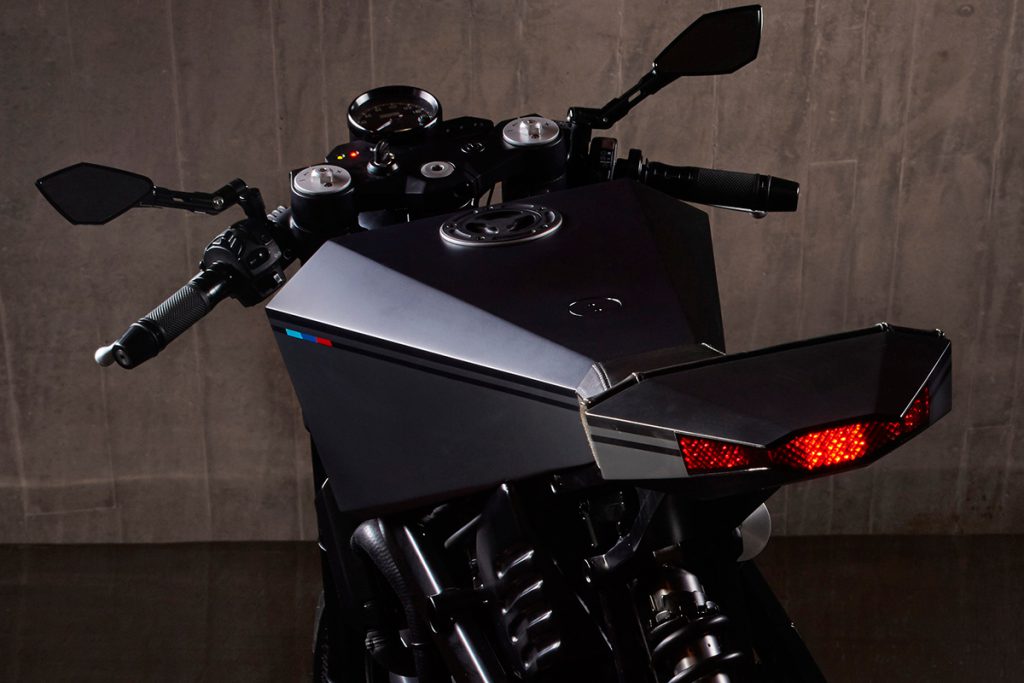 To install the new bodywork on the bike Jens also made several tweaks to the chassis, including the creation of an entirely new subframe from 2mm square bar. Clip-ons were added and Yamaha R1 springs installed into the original forks. A Showa mono-shock from an unknown Honda braces the swingarm and the wheels were salvaged from a Suzuki Bandit. There are also some nice, one-off details such as the custom mounted speedometer from SpeedHut USA, and a custom exhaust system from Stealth Pipe in Pretoria.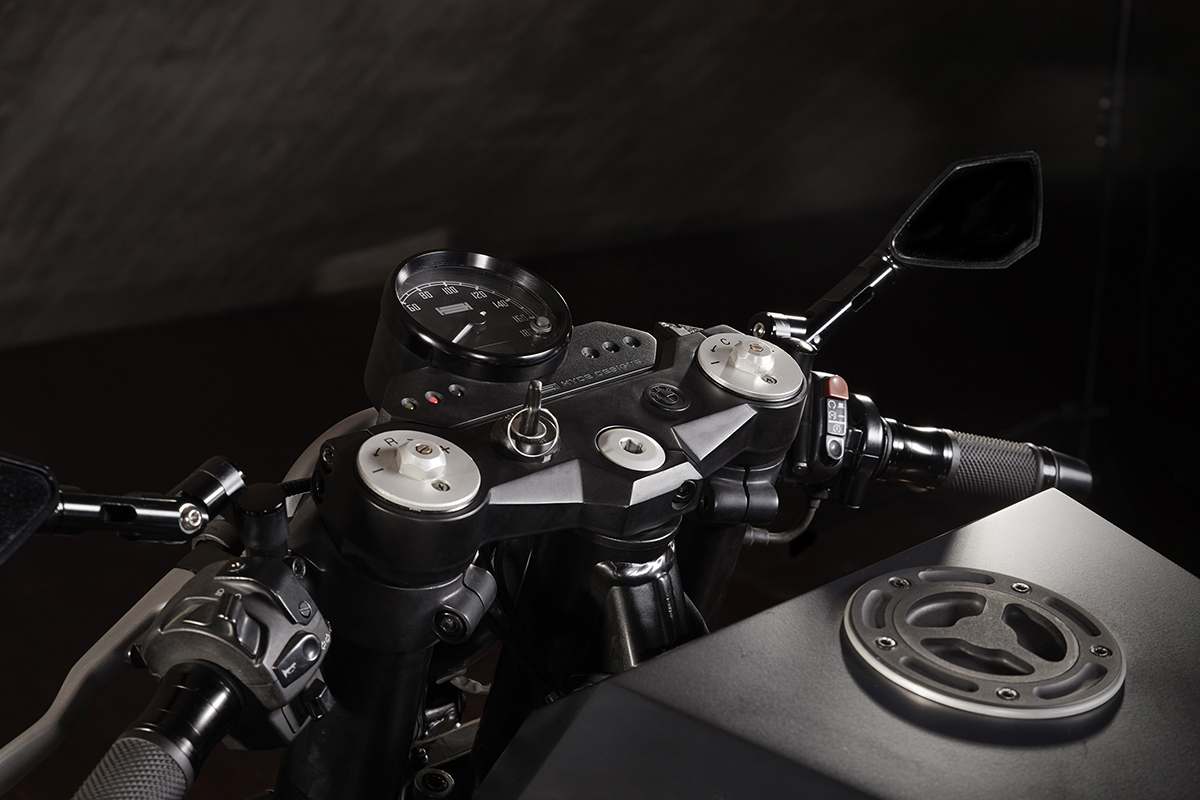 Before starting his solo venture of Hyde Designs, Jens worked with his father customizing motorcycles under the name of Hout Bay Customs. He also has a background in motocross and enduro riding, but more recently has transitioned to riding motorcycles on the street.
Knowing that, it seems that 'Octavia' might serve as a metaphor. The old generic BMW dual sport, now a capable street machine with more individuality than you can shake a spanner at. "Simplicity through detail," is the motto he's chosen for Hyde Designs. It seems to me Jens is on the right track.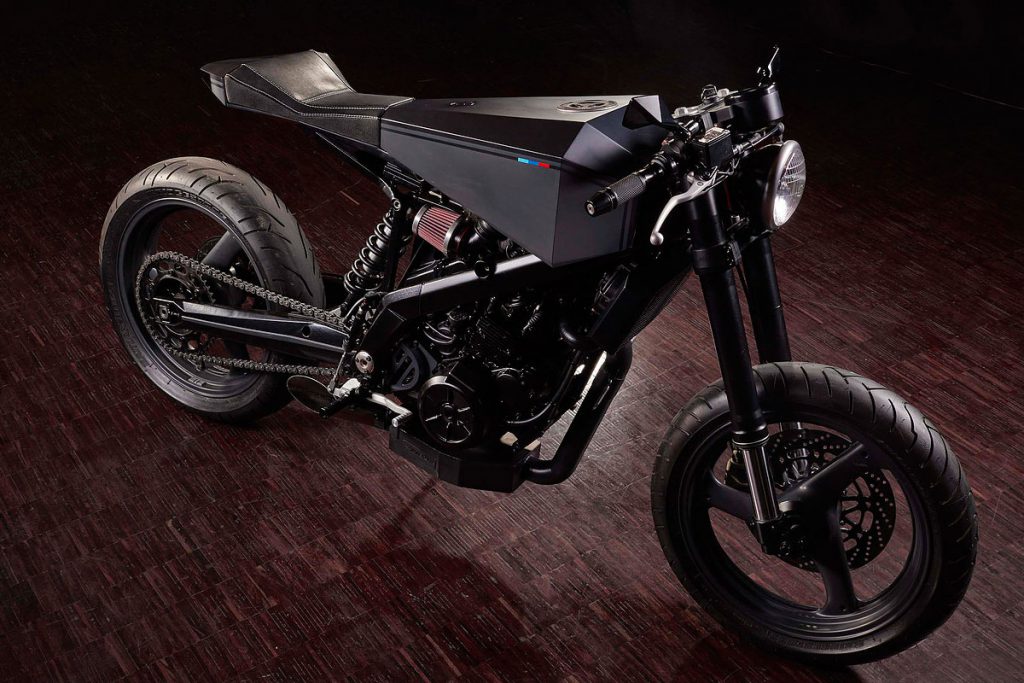 Some motorcycles are inherently exciting. Take for instance a Ducati 900ss, one of the new Triumph Thruxton Rs, the Norton Commando or a 6-cylinder Honda CBX… and we've all seen great customs based on exciting and nostalgic bikes. However, what I believe to be really special in the custom motorcycle world, is when someone takes a bike that doesn't possess that initial appeal and turns it into an absolutely lust-worthy machine. Take for example what Jens Henkel of Hyde Designs in Cape Town, South Africa has done with his 2008 BMW G650X 'Octavia'.