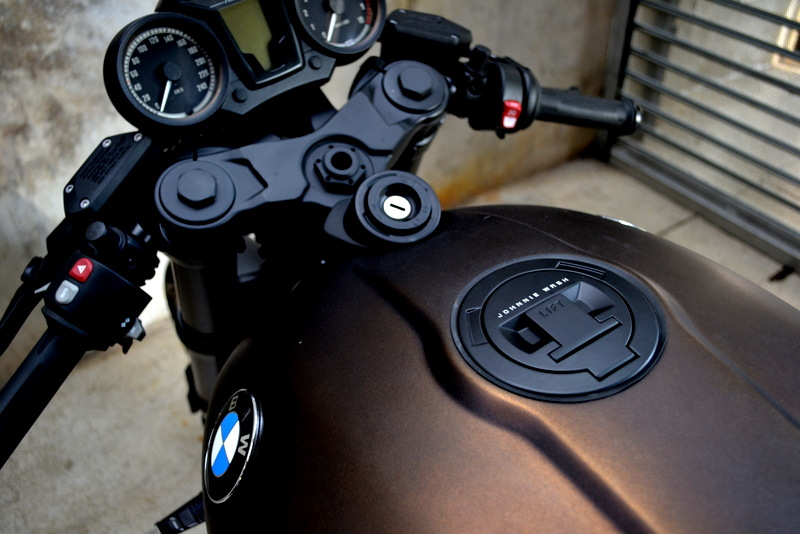 The Johnnie Wash R Nine T series features 3 different models of which the Brown is the most extensively modified. With all 3 versions, Ricardo has avoided frame modifications that require welding or cutting and has left the wiring unmodified so the bikes can be returned to their stock factory setup. Standard modifications made to all of the bikes in the series include LED lighting, decluttered subframes, custom seats, paint and anodised finishes. The Brown differs from its siblings in both styling and power and is in both instances the most aggressive of the trio.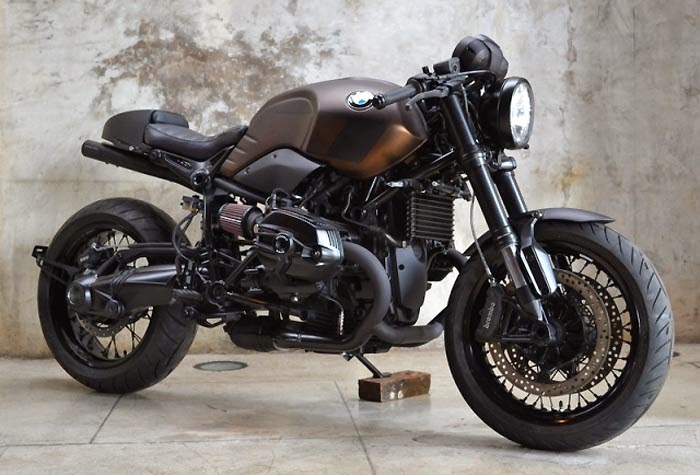 The unique design features found on the Brown include an ABS plastic Cafe Racer style rear cowl, more aggressive clip-on handlebars, relocated battery and electrics (under the tank), a two-piece solo seat and the matte black and gold/brown paint scheme. Performance upgrades come in the form of a twin-pod filter setup, custom free-flowing exhaust system and a power chip upgrade that bumps the factory power figure of 110bhp up to just shy of 130bhp.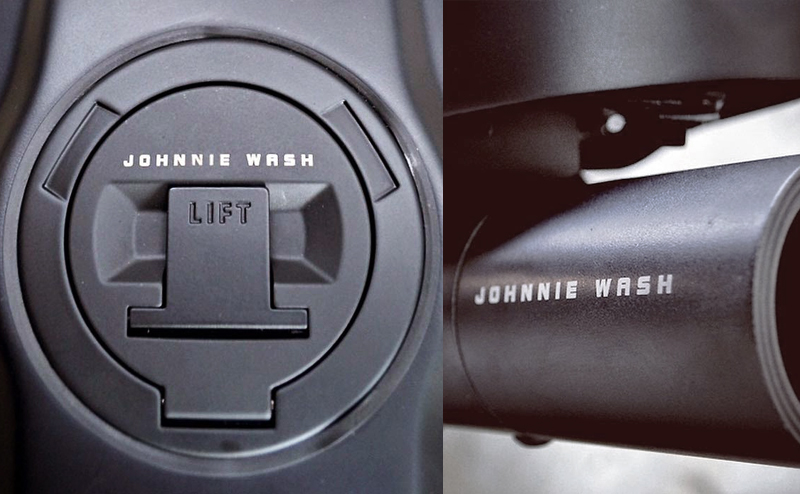 What is really interesting about these builds though is the use of 3D modelling and printing to create many of the new parts on the bikes. Printed using tough ABS plastic the parts were modelled directly onto millimetre perfect 3D scans of the R Nine T in Solidworks resulting in a factory fit and finish. This amount of work, of course, translates into big dollars and the price tag attached to this bike is enough to buy you a 4 wheeled BMW from the upper end of their range, which for most of us makes it unobtainable, but there's no reason these parts couldn't be reproduced and purchased individually at more affordable rates.
Hopefully, this is a strategy Johnnie Wash and BMW plan to adopt in the not too distant future.
Despite knowing there are some incredible things happening in the custom motorcycle scene in other parts of the world it can often be difficult to access them. One place I know has an incredible scene is Brazil, but despite this, I've featured very few builds from that part of the planet. Thankfully the internet is continuing to offer up ways of overcoming language and location barriers and awesome builds like this custom R Nine T are finding their way onto the site. This BMW aptly named 'Brown' is the work of Ricardo Medrano who manages Johnnie Wash workshop in Sao Paulo, Brazil. The bike is part of a custom series produced to meet the growing demand for custom bikes in Sao Paulo and it's one of the best R Nine T builds I've seen so far.