Smokin' Motorcycles owners Maarteen Timmer and Rob Van Der Heijden took out the people'schoice prize bagging almost 70% of votes when their 'Elegant Bastard' was unveiled. Although it may not be the most dramatic of transformations we've seen the bikes features some very tasteful…or should I say "elegant" modifications.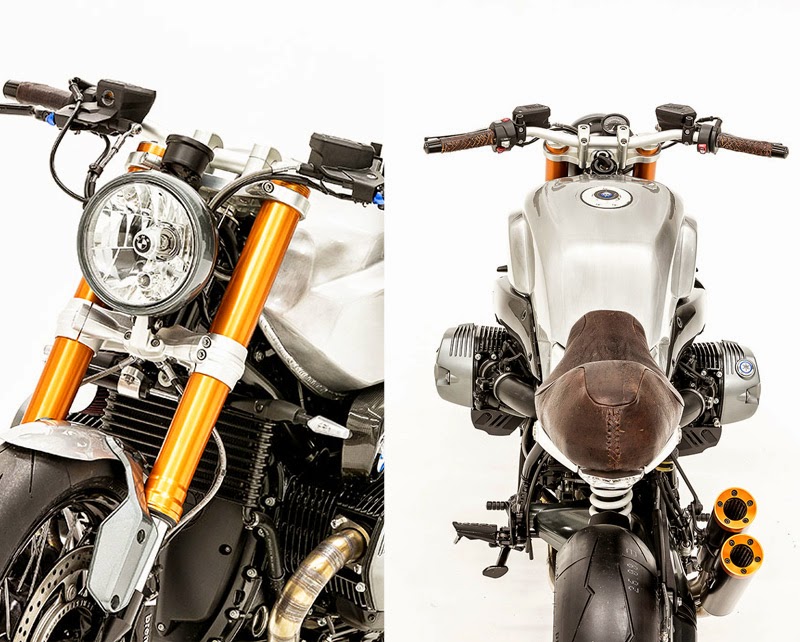 The aluminium fuel tank was hand made using wooden jigs in the Smokin workshop while the redesigned sub frame is a CNC milled piece that integrates the bikes rearward facing lights. The original tank badges have been relocated to the sides of the bike where they are fixed to carbon fibre  engine covers and a pod filter sits on the mouth of the bikes ram air inlet.
Although they didn't admit it, I presume the bastard part of this R Nine T's name comes from the sound of the custom gold tipped mufflers. Mounted on the right side of the bike rather than the left they make the most floating wheel effect of the single sided swing arm and tie in nicely with the bikes standard gold forks. Then there's the seat. Full grain buffalo hide with a rear stitch line that would be the envy of Ed Gein it's the opposite of elegant, but it looks perfectly home on the Bastard.
Although the bikes already impressed the judges there's a few more modification to make before the Smokin team are satisfied. Next up will be a CNC machined set of triple trees, some asymmetric dials and a set flat bars with bar end mirrors…nice.