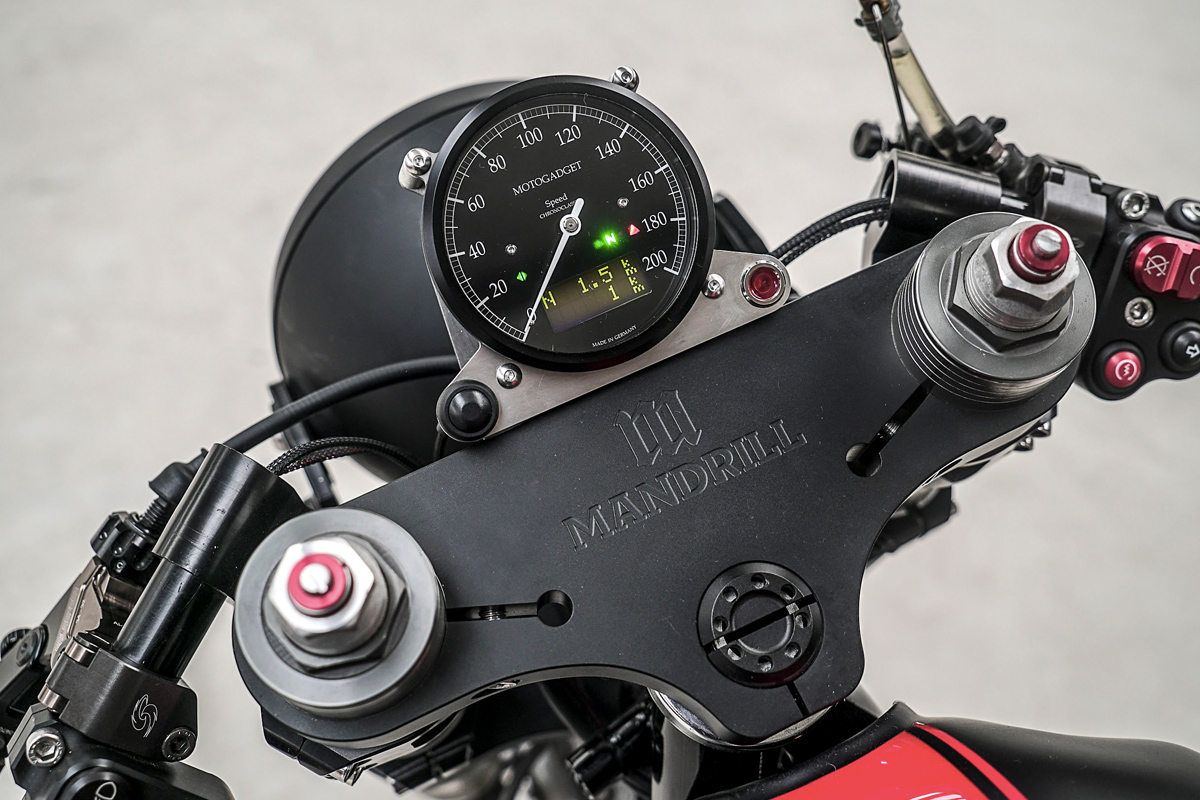 Back in 2012 four like-minded friends decided enough was enough. Driven by their desire to build and ride custom bikes they formed Mandrill Garage as a side project to their full-time careers. As word spread, interest in their work grew and it wasn't long until they were building their first customer project. Fives years on Mandrill are still going strong and this custom 1976 BMW R90/6 is the latest addition to their rapidly growing portfolio.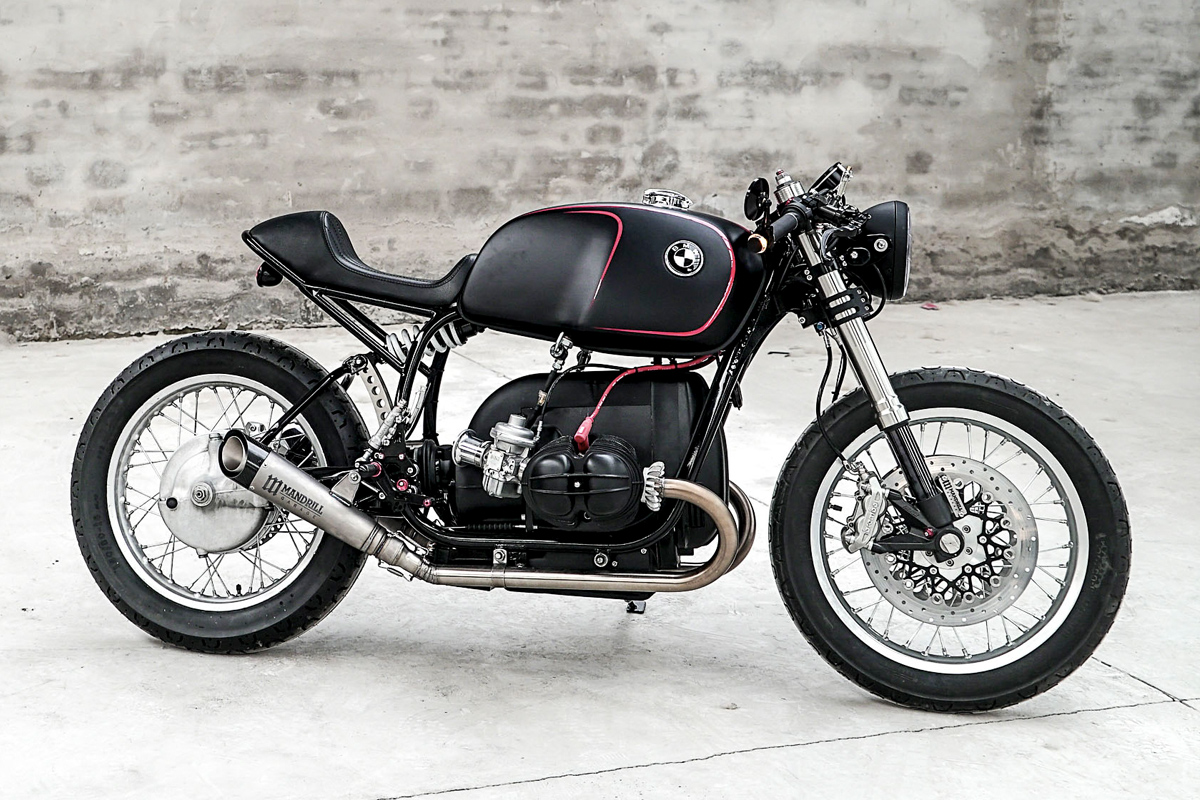 Vintage Air-cooled BMWs aren't a common sight on the streets of Beijing so it's not surprising that this bikes owner is a collector who has a knack for acquiring rarities. After seeing the potential his R90 had on custom motorcycle websites (like this one) he approached Mandrill Garage wanting to transform the stock BMW into a cool cafe racer. Mandrill team member Luohao seized the opportunity to tackle something different and spent the next 4 months with his teammates transforming the bike.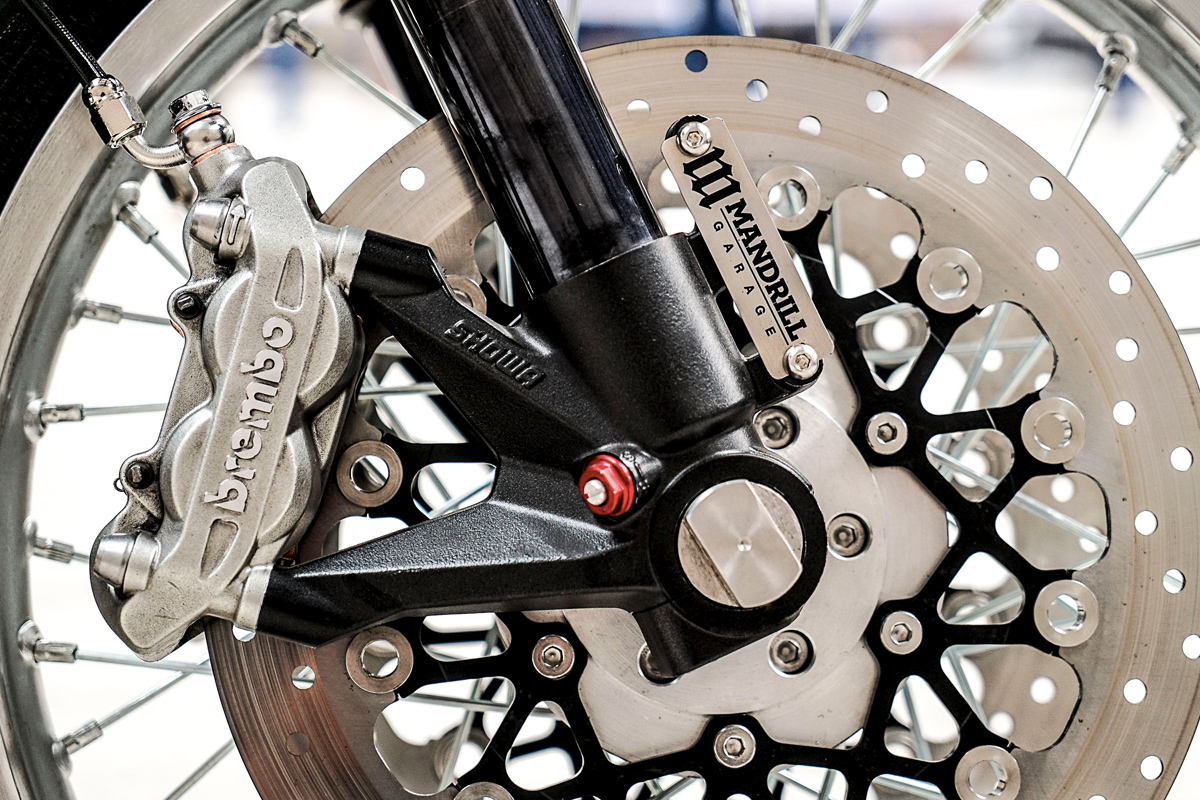 "We like the vintage style of the BMW R90/6," says Luohao. "But old bike brakes and suspension are not so good." To remedy their performance concerns the Mandrill team sourced a Ducati 1098 set of forks and brakes to beef up the bikes front end. Mounting the Ducati forks involved the fabrication of a CNC milled top clamp complete with an embossed Mandrill logo and mounting points for their revised cockpit. At the rear they opted for a slimmer mono shock set up with a rear disc brake and Brembo calibre mounted to their custom made swingarm. With the twin shocks done the subframe was way oversized so a new upswept loop was fabricated to expose the tidy shock set up and tighten up the BMW's proportions.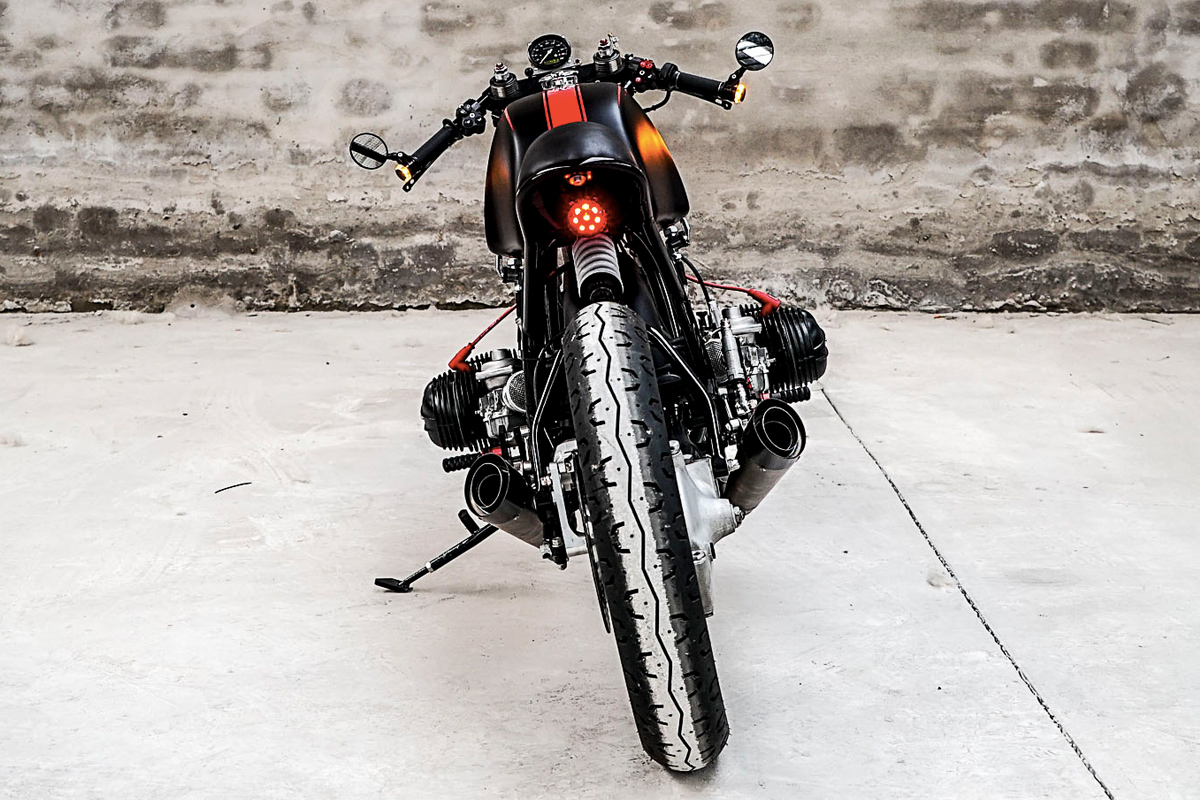 For a classic cafe racer riding position, a set of clip-on handlebars have been clamped to the fork legs and the factory footpegs swapped out for lightweight rear-set items. The tidy switches on the handlebars were imported from Renard Speed Shop in Estonia and MotoGadget provided the bar end indicators. To help bolster the bike's reliability a MotoGadget M-unit manages the electrics and the 40-year-old BMW ignition has been replaced by a modern CDI set up. Visible wires are rarely seen as simplicity was a critical ingredient of this build.
Luohao admits restoring the BMWs engine was the most challenging aspect of this build. Thanks to laws in China that forbid motorcycles older than 11 years from being ridden on the street the airhead hadn't been turned over in years. After disassembling the engine a full internal refresh was done using new seals, bearings and gaskets. The cylinders were also given a refresh and the stock carbs refurbished and fit with racing-inspired velocity stacks. Finally to balance the mix of modern and classic components Mandrill built their own exhaust system from scratch complete with a pair of titanium mufflers with carbon fibre tips.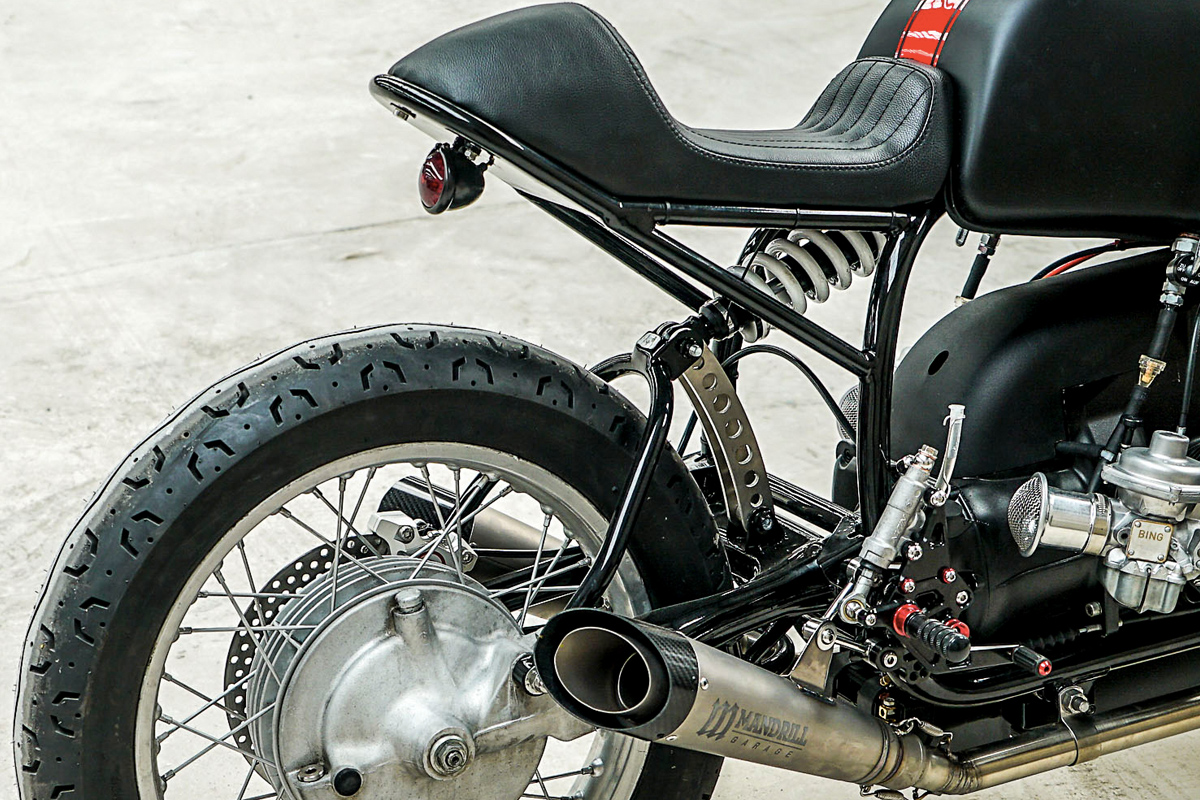 With its matte black and glossy blood red paint scheme, the Mandrill BMW R90/6 is an imposing machine. Since local laws limit the use of such a bike in Bejing it will spend most of its time being ridden at night where it will definitely look right at home.
Photography by Der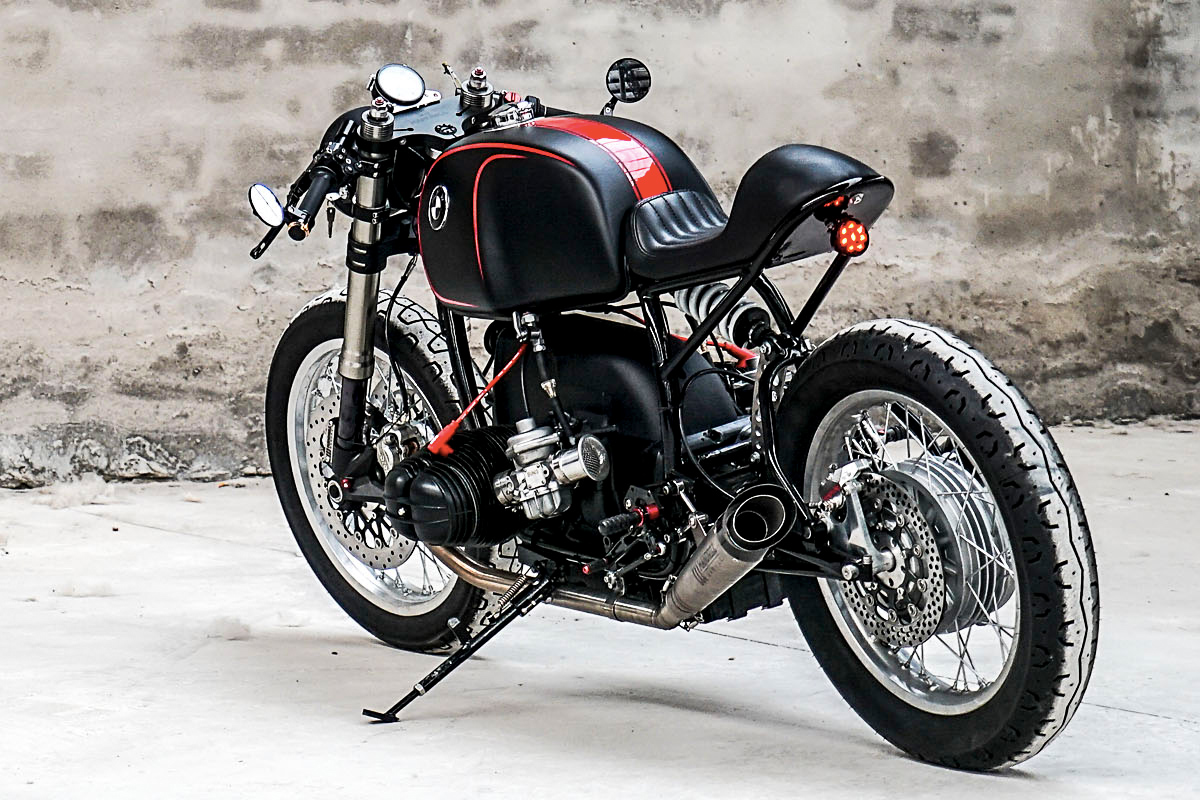 Since the launch of Return of the Cafe Racers in 2006 we've published stories covering custom motorcycle builds from workshops all over the world. The one country that has eluded our pages for all those years is China. In the countries largest city of Shanghai, riding a motorcycle on elevated freeways is prohibited and they have placed limits on the number of motorcycle registrations allowed since the mid-eighties. In some cities, motorcycles and scooters are completely banned and companies like Harley Davidson have struggled for years to gain access to the market. Despite all of this passion prevails and there are a handful of builders producing custom rides for a scene that is somehow gaining traction against the odds. One such workshop is Beijing's Mandrill Garage.