Years later I managed to scrape together enough to buy my first road bike, get my license sorted and I was away. After an assortment of track bikes and road bikes, I ended up with a bobbed 86' Harley Sportster. I'd seen some of the street scramblers and cafe racers that were being turned out by people like Cafe Racer Dreams and Down and Out and in my eyes, the BMW's were the only bike worth doing this kinda build with"
Timotei found the basis for his build, a 1983 BMW R80RT, on eBay. After meeting the buyer and negotiating what he felt was a "good price" he transported the BMW back to his shed. Regrettably, he soon realized he was going to have his work cut out for him. The big Beemer had been sitting for five or so years and had a mouse nest in the airbox to prove it. Thankfully after cleaning everything out and running fresh fluids through the airhead it passed it's MOT and the real work could begin. As he soon discovered a mouse infestation was the least of his worries.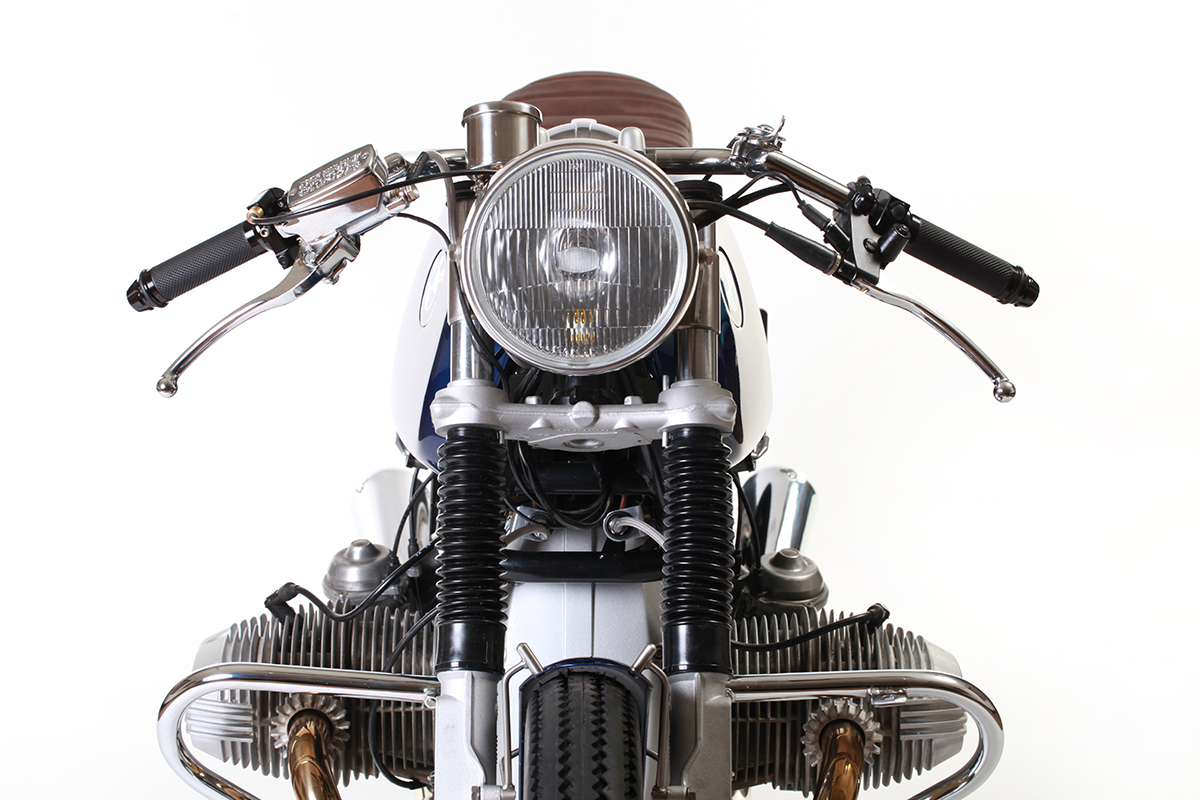 Inside the engine's rocker covers was a bucket load of silicone. After prying the heads free its presence was attributed to some badly warped and untrue heads. Luckily, Tim's father came to the rescue with his recently acquired CNC mill which they used to the mill and skim the heads true. While the heads were off the bike they also treated the engine to a full rebuild and the exhaust headers were sent off to be re-chromed.
After a flurry of eBay-ing a slew of new parts turned up at Tim's doorstep and packages containing a new subframe, flat seat, and mudguards from Down & Out Cafe Racers themselves were among them. Not wanting to change things on the bike simply for the hell of it, a conscious decision was made to retain the stock air system for bulletproof reliability.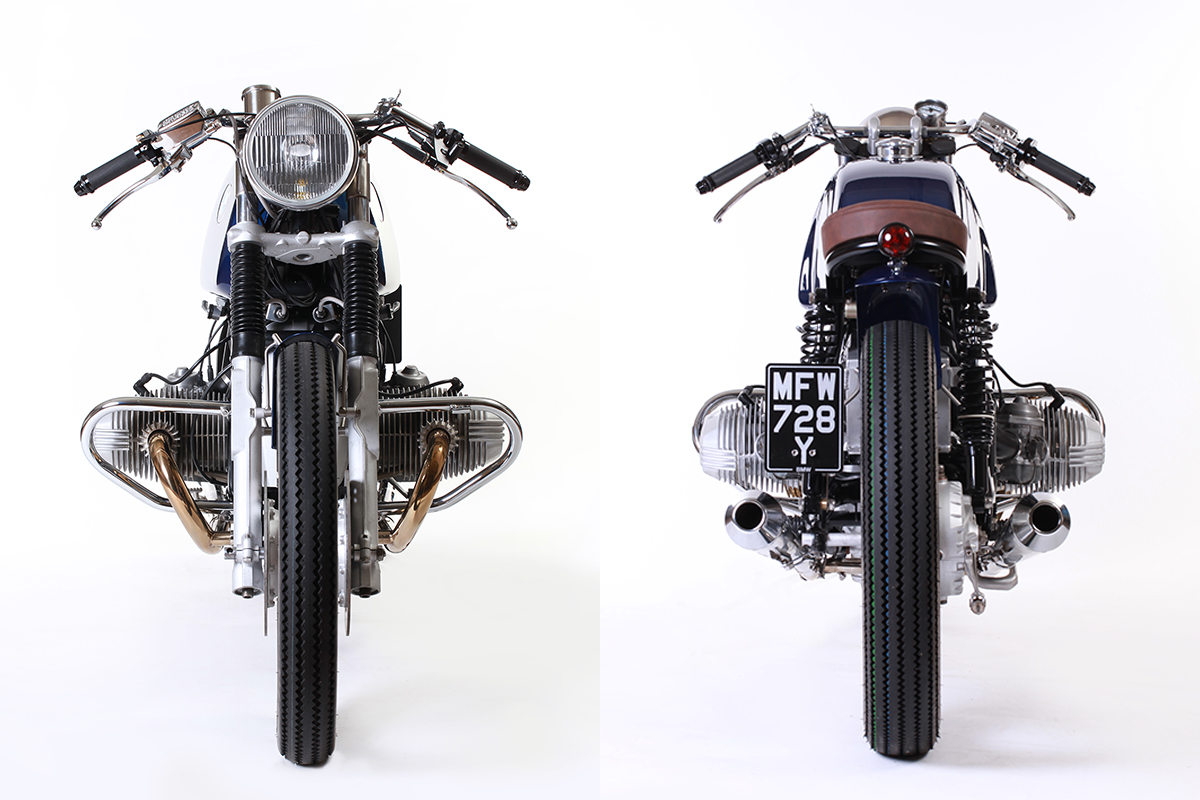 A new headlight was soon installed along with ace bars, levers, and a Motogadget M-Switch to replace the RT's old factory switches. While on the subject of the front end the brake lines were also upgraded, the spokes and rims replaced with shiny new ones and a set of Firestone cross-plys for that old school/D&O look and feel were installed. An aluminum battery box was then thrown in behind the stock airbag between the aforementioned Down & Out seat, subframe and rear guard.
New paint adorns every surface on Tim's Beemer including the tank, which is a color that made a serious impression on Tim when he was just a wee lad. "Colour for me was a no-brainer. This was decided in 1996 when I first saw a BMW Z3 in blue…at 10 years old I thought it was so classy I told myself if I ever had a BMW it had to be that color." The whole frames also stripped and powder coated black. While it was away, Tim was getting apprehensive about painting his tank so he called in another favor from his jack-of-all-trades father to teach him how to get the perfect finish. Tim also painted the black details which came out looking better than a factory finish. "…it's all credit to my old man…and his patience!" says Tim.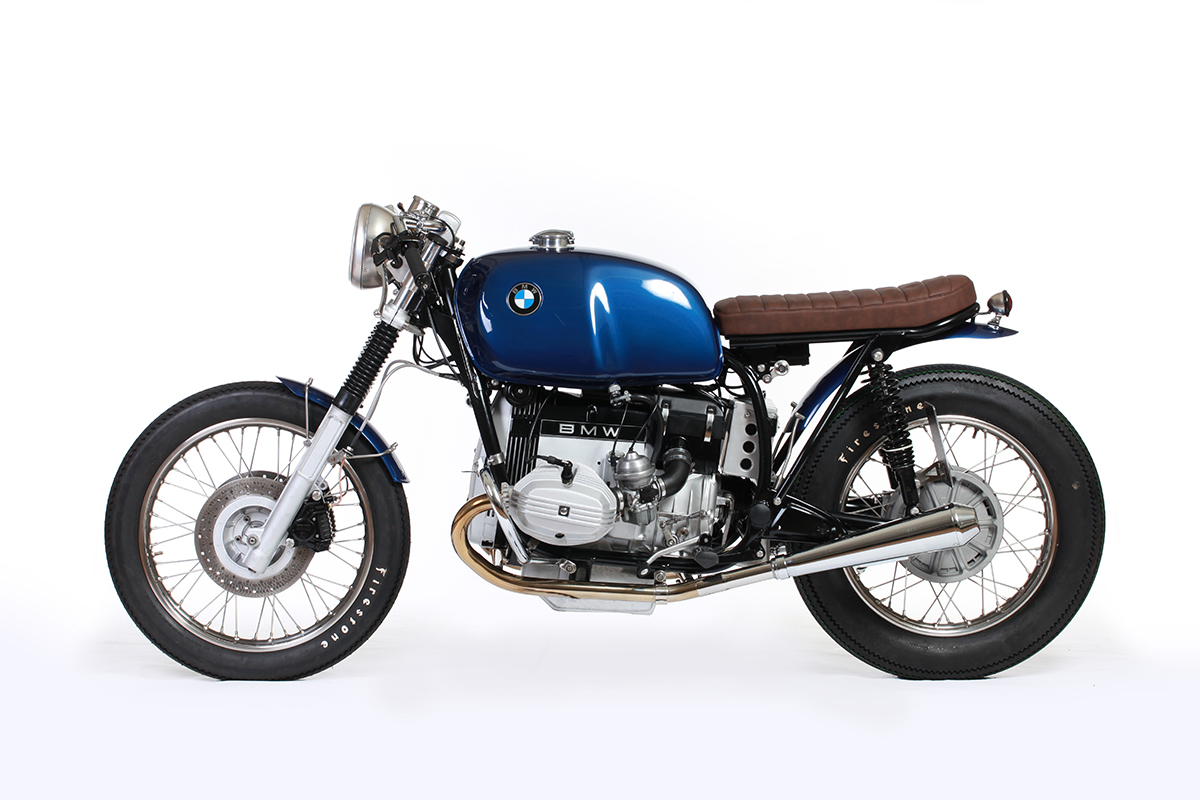 After a recent lathe purchase Tim then decided to delve even deeper into the build with some DIY fabrication. "I decided to make as many of the fixings, spacers, and brackets as I could. This meant many long nights playing with my new lathe until I'd got my head around how it worked. This also lead to my wife coming up with the phrase "you 'aint getting lathed tonight!".
"Now that the bike is done the handling is unreal and there is no better feeling than tucking in your elbows, leaning into the counter steer and opening her up." Due to all the roadblocks, Tim encountered during the course of the build the bike has ended up being affectionately referred to as "The Little Blue Bastard". Regardless of what you call it, Tim's hard work has certainly paid off – which is especially evident when you compared the transformed R80RT to its former upright touring setup.
Timotei, an Englishman from Evesham in Worcestershire, is no stranger to motorcycles. "I got my first motorbike when I was 6 years old, a TY50 trials and it was rad. My brother had just been bought a big wheel CR80 and had started motocross the year before and I thought it was the coolest thing. Dad was a mechanic and kept me and my brother into bikes, doing motocross until my brother went off to uni and we couldn't afford to keep it going.