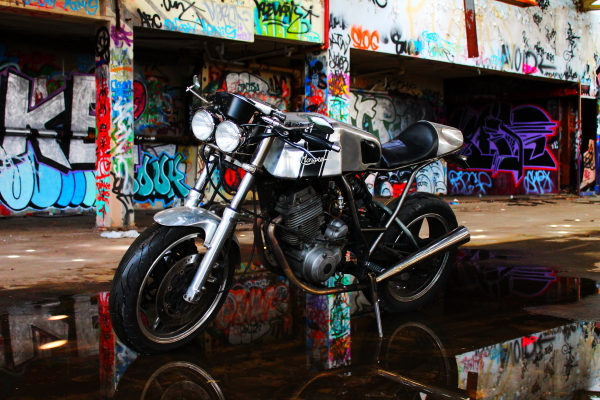 This is the Mongrel. A custom Yamaha XT600 haling from the darker side of Sydney's Cafe Racer scene. The Mongrel is a purpose built street racer that's custom to the core and ridden hard on a daily basis.
With an engine capacity increased to 650cc the Mongrel is capable of (and often doing) mid 13 second 1/4 miles. While speed was an important factor in the bikes design improving it's physics were also a goal so the front end was replaced with Kawasaki ZZR600 forks and progressive springs.
All of Yamaha's original body work has been disposed of to make way for the 100% custom tank and seat. Clip on bars, Triumph Speed Triple style twin headlights, 17 inch wheels wrapped in Michelin Pilot rubber and a custom exhaust system are only a fraction of the long list of custom parts that went in to creating the Mongrel. By definition this bike can hardly be referred to by it's former XT600 title, it's new name is much more fitting.
Mongrel  [muhng-gruhl]
noun – Of mixed origin, breeding, character, etc