Yamaha's XS650 would have to be in the top 5 list of most customised motorcycle in the world. It's bullet proof engine is renowned (unlike it's electrics) for it's never say die internals and with simple bolt on upgrades it can pump out plenty of horses. Being produced from '68 right through to '85 means there's plenty of them around and they can be bought for next to nothing. This XS650 Cafe Racer is the work of Moto Nisto a small team of talented mechanics, fabricators and designers who traditionally build modified Harley Sportsters.
The 1980 XS650 is the sixth bike by Moto Nisto and is the personal ride of Marcel Nistor one of the Moto Nisto founders. The bike was filmed by the Cafe Racer TV crew during the last series on location at the Cafe Racer workshop and coffee house in Ypsilanti, Michigan where Marcelalso works as a mechanic. It's a salute to seventies style racers and a nice change from all the chopped and hard tailed XS650's that we tend to see.
The gold painted XS has undergone an extensive list of modifications including a full fairing with Rickman style seat by Aerotech, 4.2 gallon steel fuel tank with rubber knee pads, bronze swingarm bushings, upgraded front rotors and calipers, progressive fork springs with pre-load adjusters and retro gaters. Reliability and performance upgrades come in the form of a hydraulic clutch upgrade, Heiden Tuning secondary oil filter, tuned carbs with high-flow filters, Kerker silencer tips and hi-flow pipes and a new regulator. The original cast mag wheels on the bike were swapped for early 70's aluminum rims with stainless steel spokes and the rear suspension upgraded with Monza Sport shocks.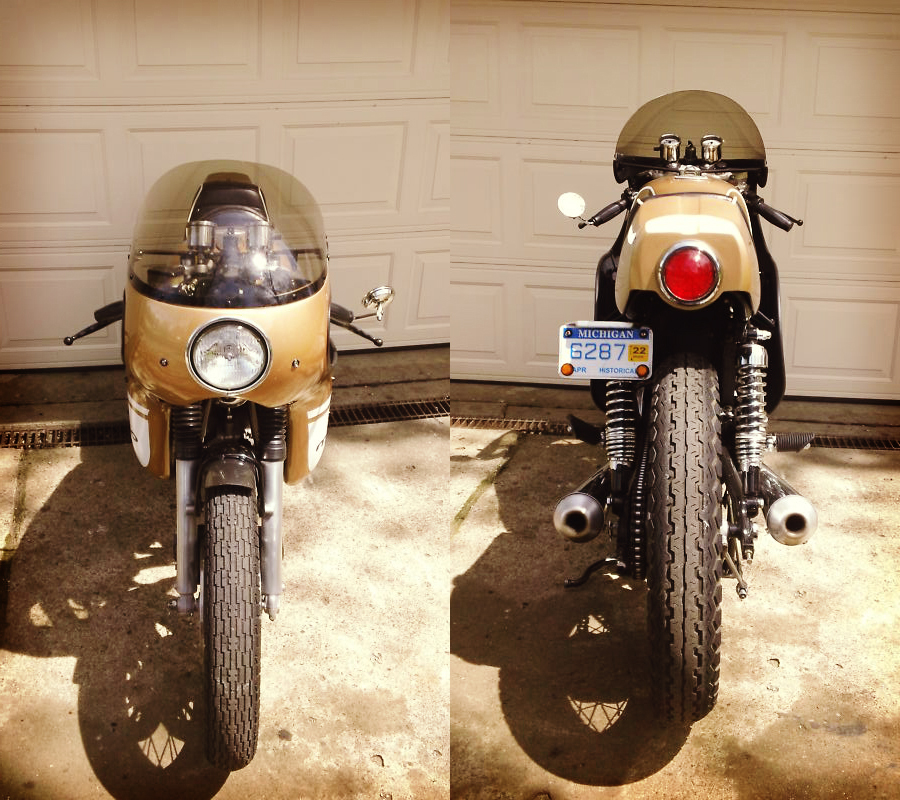 Traditionally a naked bike the XS is now dressed in a full race fairing. To balance out the bulk of the bodywork Moto Nisto opened up the frame where the battery and air box originally sat and cut back the guards to the bare minimum. "It definitely won't get lost in a parking lot," Nistor jokes and there's no denying that. Gold is one of my least favorite colours but that shade applied to this style of fairing seems to just work.
"Having a café racer is a lot like owning your own private roller coaster. Only you're in charge of how fast it goes and you have to know where to shut off the fun in certain places."