Nothing makes me happier than featuring custom motorcycles that have been built in my hometown. Today's café racer is the work of Jonny Taylor who's based in Victoria, Australia, like yours truly, and works as a maintenance fitter in the gas industry. Jonny's 1996 Yamaha TRX850 was 4 years in the making, which to some may seem like a long time. Jonny isn't the kind of guy to do things by halves though. This is a comprehensive nut and bolt build, performed by a self-proclaimed perfectionist, seeking to create a bike that exceeded his own expectations, and that's exactly what he's done.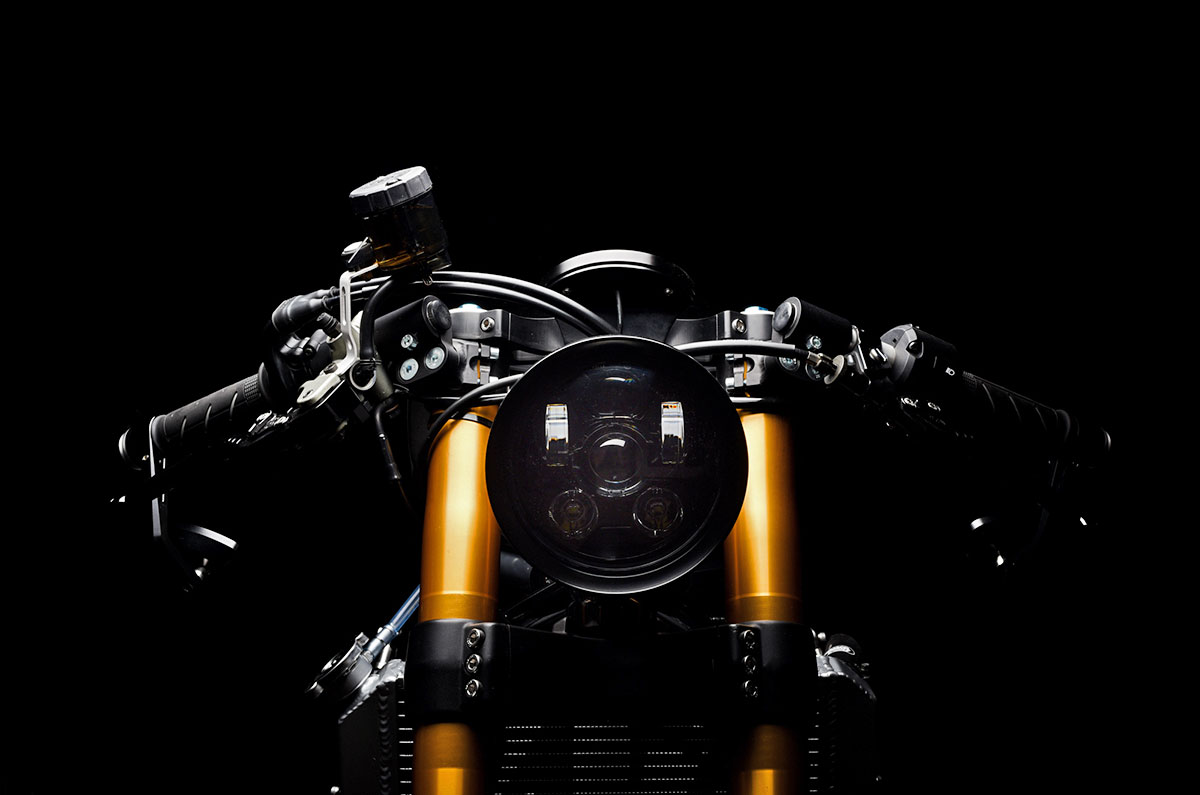 Jonny's been on or around bikes since he was 3 years old on his families farm. He's worked in the motorcycle industry, been a daily commuter for most of his life and now even competes in club level racing. "I've always had an interest in engineering and the world of custom motorcycles," he says. "It was only a matter of time before I'd turn my hand to building a cafe racer my way."
It was on a trip to Italy where he found the inspiration for his build. During his time in Verona, he happened upon the workshop of custom bike builder Mr. Martini. While he was there he spotted one of Martini's 'Jerolamo' builds and instantly knew he had to build one himself. Martini's Jerolamos are modern bikes with bare steel subframes, retro-styled saddles and an unmistakable cafe racer vibe, a recipe perfectly suited to Jonny's taste. It was just a matter of finding a suitable donor.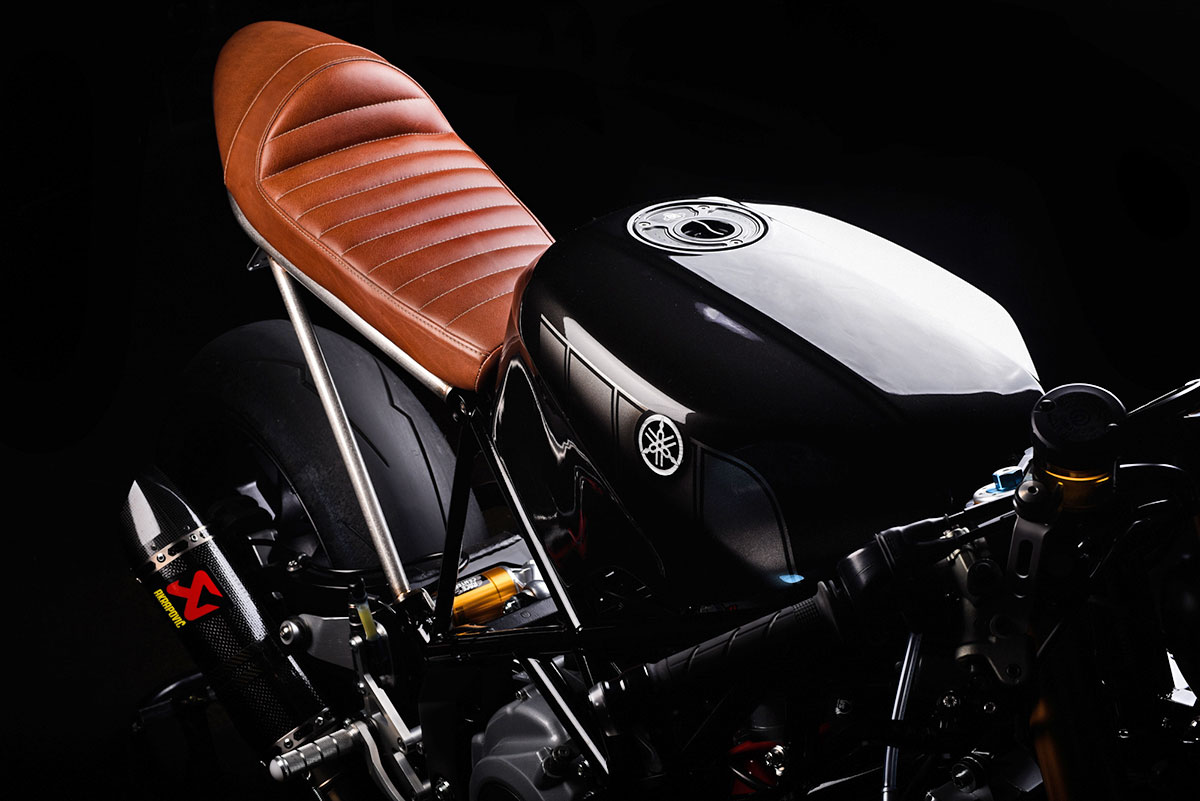 "Trying to pick the right bike was hard. Motorcycles that made it to my hit list had to be reliable (so Japanese), had to have a basic chassis, had to have some character and had to be something that people hadn't really customized properly before." Jonny's search led him to Yamaha's mid-nineties Ducati challenger, the TRX850.
Despite never quite achieving Yamaha's goal of knocking the air-cooled Italian middleweights of their perch, the TRX850 received decent reviews and satisfied Jonny's list of requirements. The 850cc parallel twin had plenty of character and was as reliable as any bike to roll out of Yamaha's factory. The trellis style tubular frame presented very well and, most importantly, he was yet to see anyone do a decent job customizing one.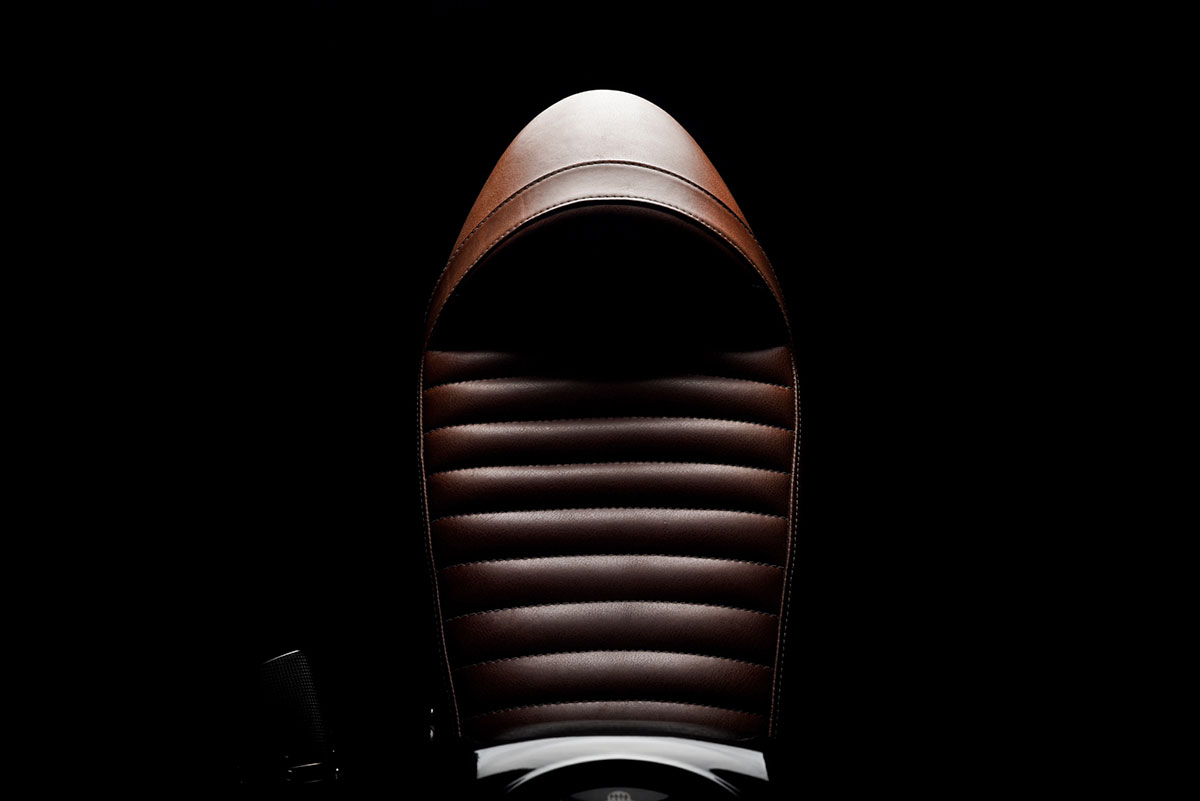 Once Jonny secured his donor bike he began the arduous task of scouring the internet for appropriate parts. This was also so the perfect opportunity to have the bike's engine overhauled so he dropped it off with Grant at Coatsworth motorcycles for a complete top to bottom rebuild. Along with simply wanting the engine to run like new Jonny was keen to unlock some of the Parallel twins potential so he placed an order for 'lots of torque' and left the engine in Grant's capable hands.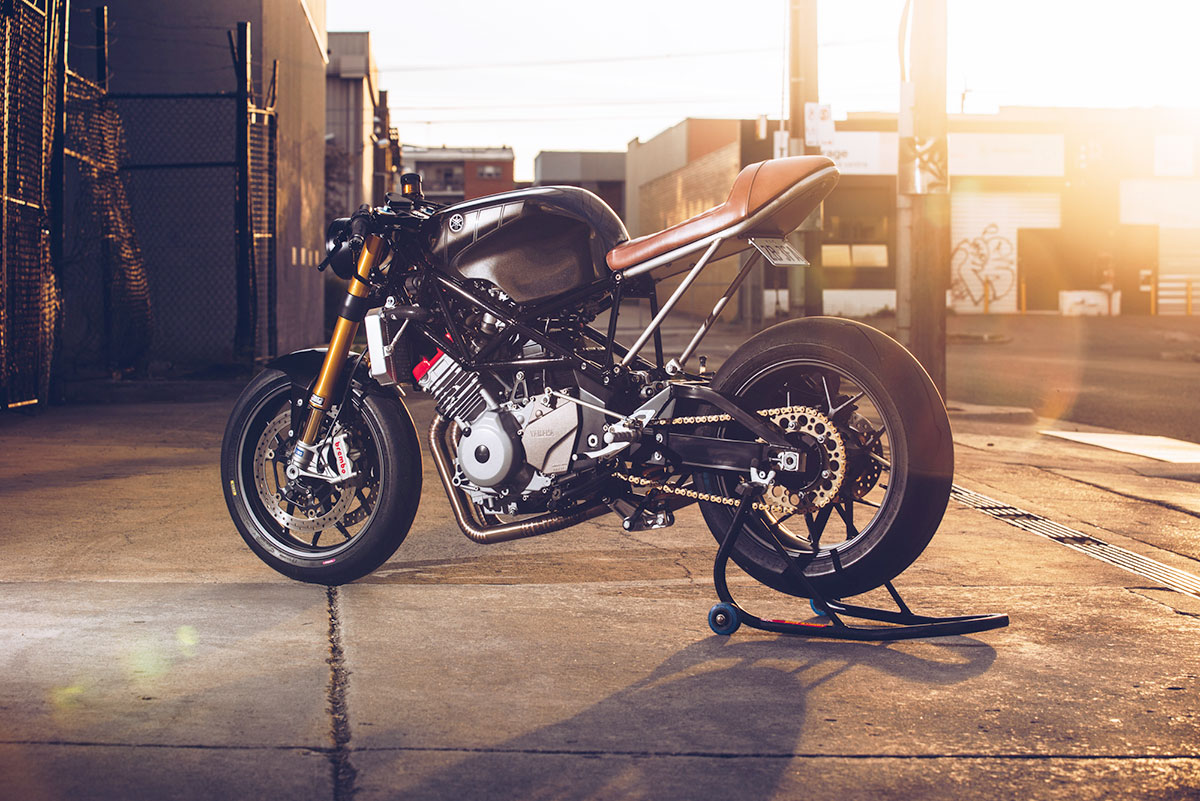 During the rebuild of the TRX engine, Grant installed a set of Aries pistons to bump capacity up to 878cc. He fit new rods, ported the heads, installed lightweight custom billet cams and all new gaskets, bearings, and fasteners. The engines exterior was also given a good clean and fresh paint to have it looking as good as it would now perform. For fuel delivery, Grant replaced the stock carbs with a pair of Keihin FCR items while at the exhaust end of the cycle he fit a custom lobster tail set of headers. An Akrapovic muffler rounds the exhaust system off while a programmable ignition makes the most out the new setup.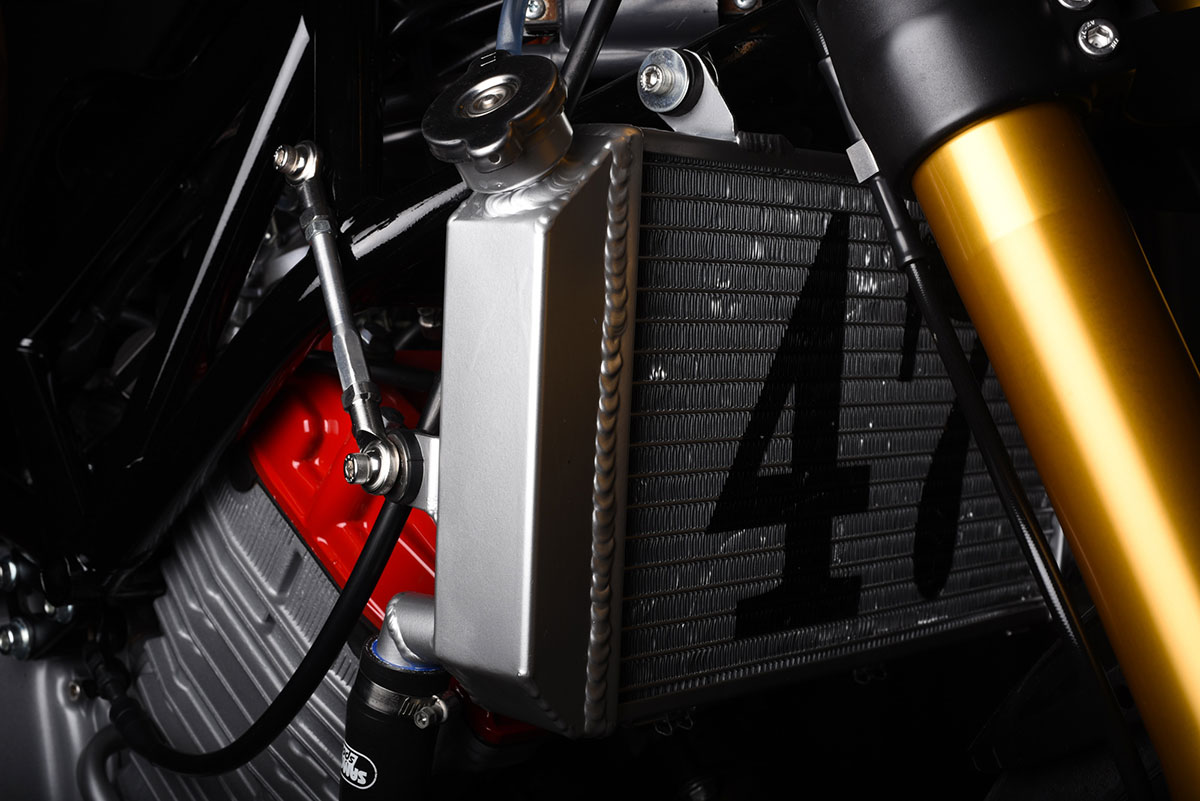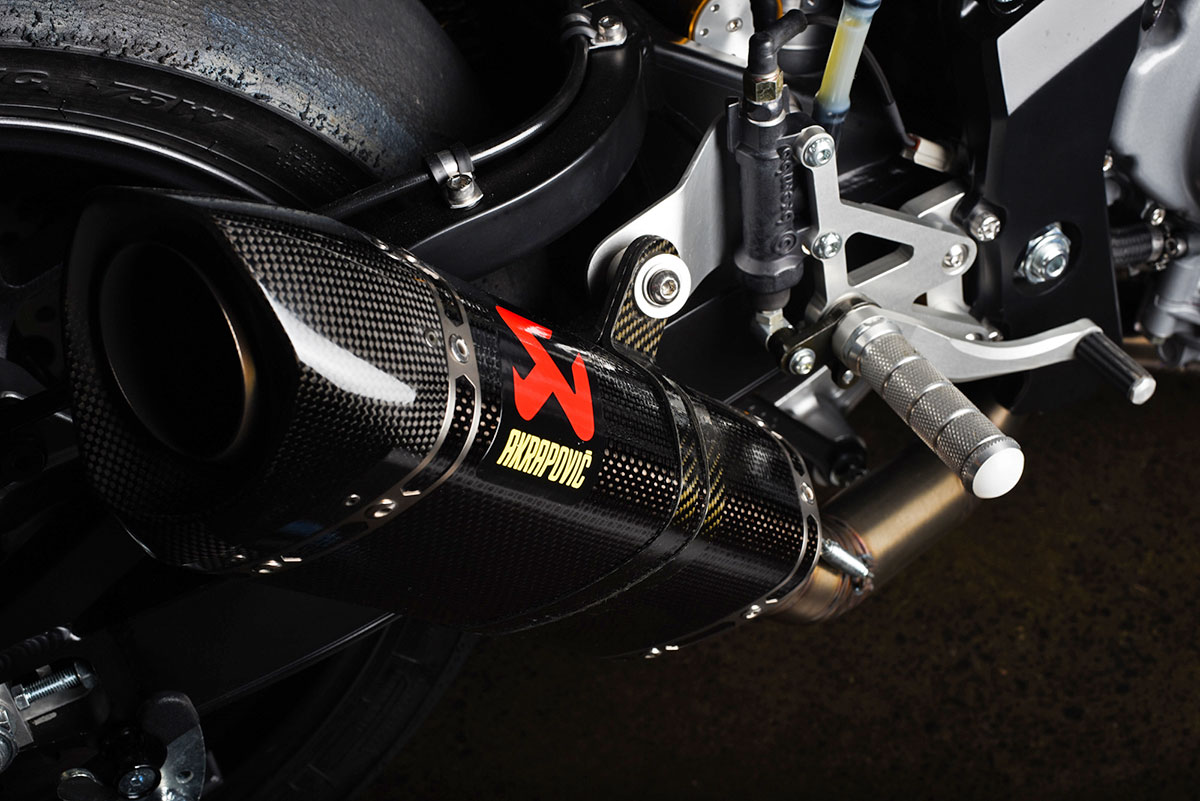 "Grant's attention to detail and quality of workmanship is second to none. The result was well above my expectations, with loads of grunt down low and a midrange that pulls like a train. It also now makes a sound that will make any bike enthusiast go weak at the knees!"
With the engine sorted Jonny turned his attention to the frame. After studying the shape of the bike and its bodywork he set about modifying the fuel tank and subframe to achieve the look he was after. The new subframe was constructed from stainless steel and bolted onto the existing framework. The original tank was also modified just enough to suit his design without losing its basic shape. "The look I ended up with is exactly what I was after, a sharp aggressive stance with a timeless look," Jonny says.
The TRX has also received a comprehensive rewire in the hands of Luke at Geelong's Gauge Works. The new system utilizes a Motogadget M-unit Blue that controls the bikes electrics and gives it Bluetooth functionality. "Now all I have to do is walk up to the bike, my phone connects, I hit the starter button and I'm away. Then when I get off and walk away the bike turns off and the alarm is set. A truly amazing piece of tech."
The suspension set up on his TRX was also a carefully considered modification. As a racer having the Yamaha handle properly was of the utmost importance so all of its original components have been upgraded. The gold anodized fork legs are fully adjustable Ohlins items mounted using a set of one-off CNC milled triple clamps. Then, at the rear, there's a matching Ohlins TTX shock that was transplanted from an R6. As with any custom application, Jonny ran into issue fitting the mono shock. Along with the new shock we wanted to fit the bike with a Yamaha YZF 750 swingarm and Honda CBR1000rr wheels; a configuration that left the shock 56mm short of its target. Thankfully Daz at Race Center was able to machine a longer shaft for the shock and install a custom spring to make up the shortfall without sacrificing any performance.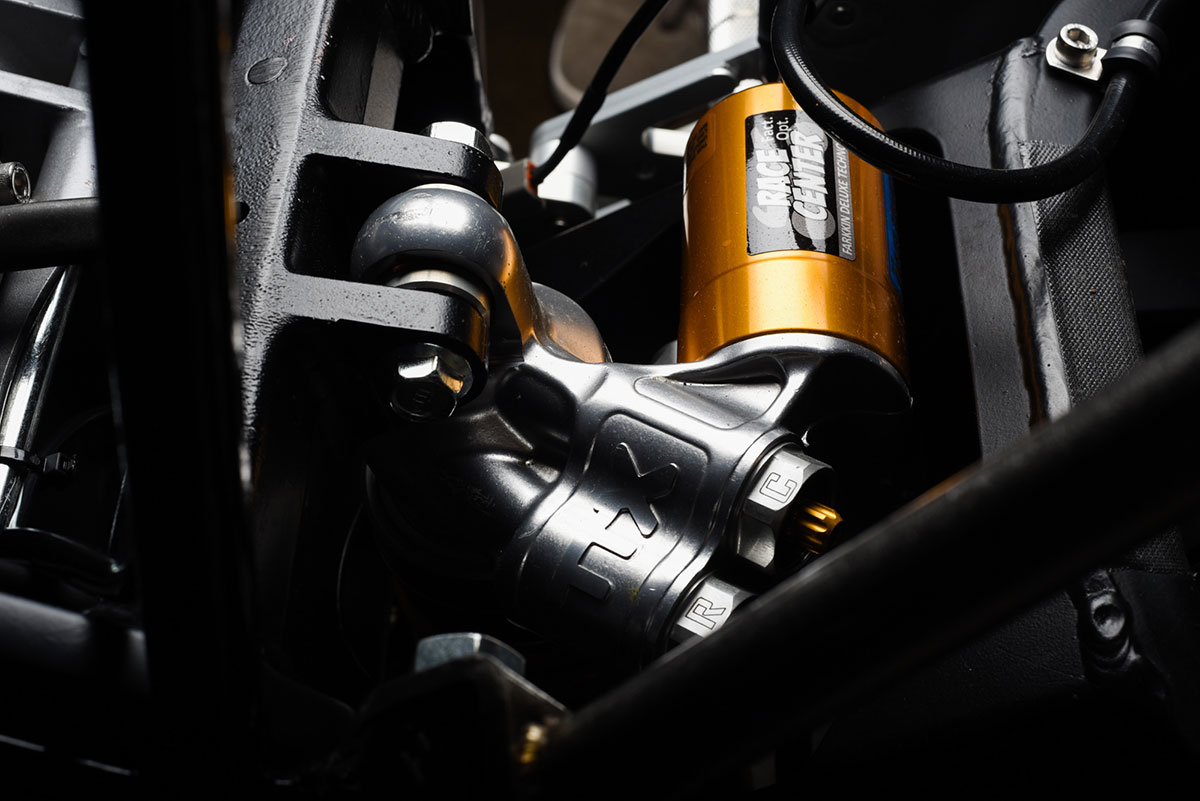 During the 4 year build, Jonny spent a lot of time figuring out ways to get all the different parts he'd sourced to work together. He says if you look closely you'd find countless one-off machined brackets, spacers and parts that he had to fabricate from scratch. The results speak for themselves and have lead to Jonny having to speak to a lot of strangers on the street. "I get countless people stopping me to talk about the bike. And it's not until they really stop and look closely, that they can see the countless hours that have gone into the bike." If that's not a clear indication of a good build I don't know what is.
Photography by Freestyle Photography