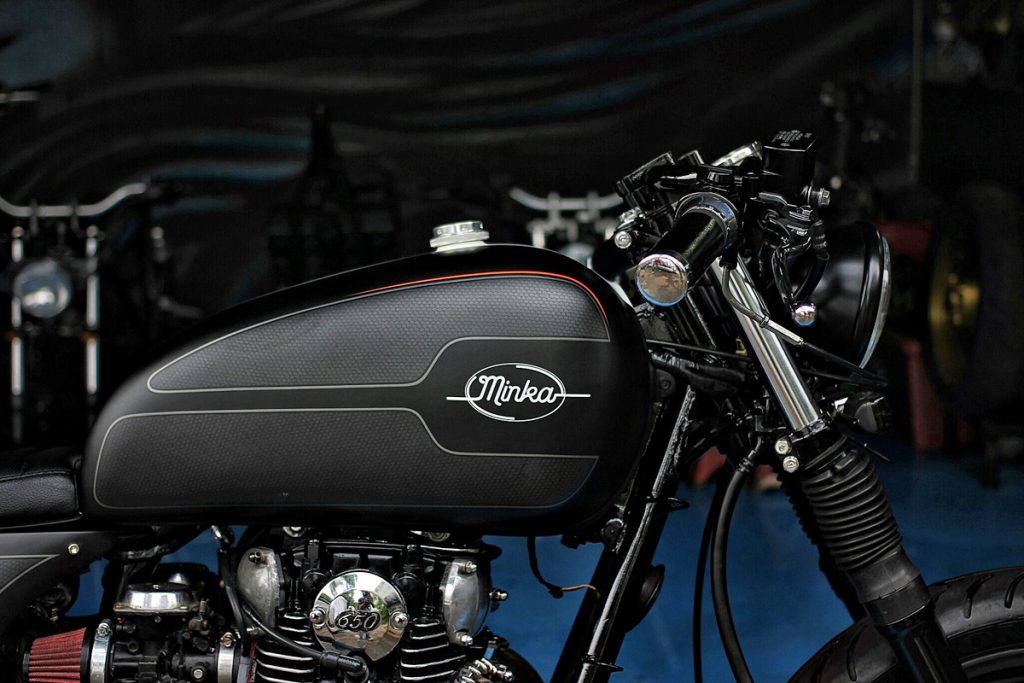 As it always goes, popularity affects price, so the days of picking up a bargain XS are gone and it seems that people have turned their attention to other classics like the Honda CB series, Yamaha SR or those beautiful BMW Boxers. Strangely though when I went to Indonesia last year I noticed a lot of workshops working on XS650 based builds. Upon questioning them I found that the XS650 is a highly desirable engine in the current Indonesian custom scene due to it's Japanese origins, solid performance and "big" capacity. In Indonesia most motorcycles are sub 250cc so the 650cc is a big step up. It's also easier to acquire than most other larger capacity bikes so people are prepared to pay top dollar to get their hands on one.
This XS is the work of our friend Donny and his team at Studio Moto in Jakarta. Donny himself is a big fan of the XS and recognises it's importance in the Indonesian scene, so when the opportunity came to work on this 1982 Yamaha XS650 he wanted to transform it into something worthy of its "Special" designation.
"While the XS is an undeniably good base for a custom build, we have to admit at times we get tired of seeing the same design approach taken time and time again." Donny explains. "Inspiration for our build came from the history of Yamaha's XS650. There's no denying that Yamaha took massive styling cues from Triumph's Bonneville twins when building the XS, so when we built this bike classic British Cafe Racers were our major influence."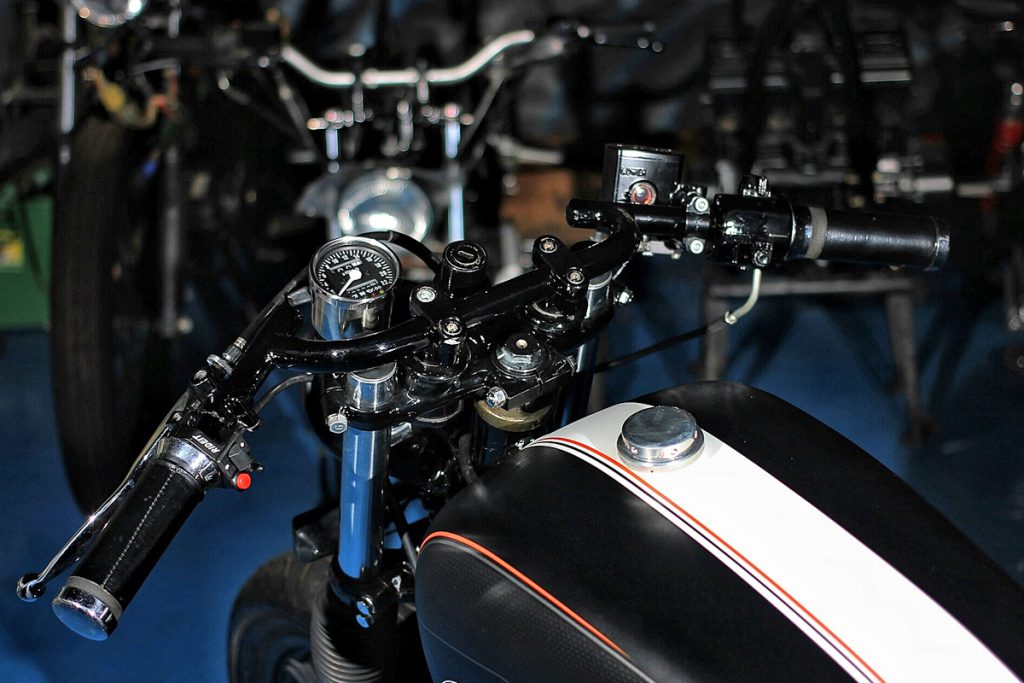 "We began by modifying the bikes subframe to raise the rider to sit level with the fuel tank. Once we were happy with the seating position we added clip-on bars and custom rear sets to correctly position the rider. We added a set of 39 mm telescopic forks to manage the change in rider weight distribution as paired them with upgraded rear shock absorbers. The original Enkei cast rims (19 x 2.50 front and 16 x 3.00 rear) have been wrapped with Avon rubber and the fuel tank, rear cowl and side cover hand formed from 1.2 mm plate."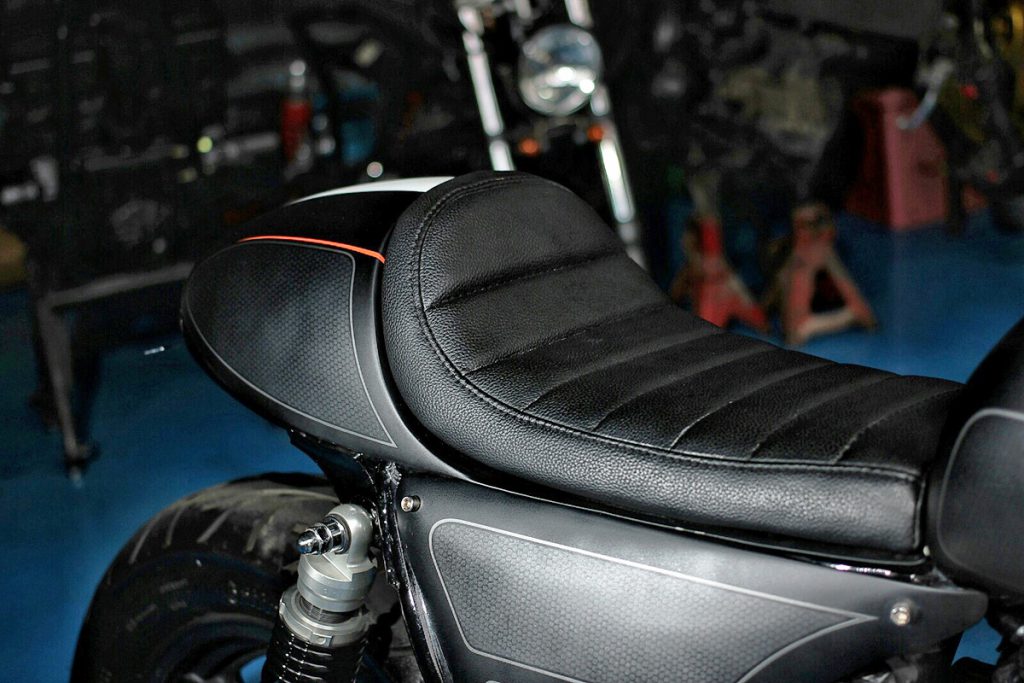 "The whole package was painted by our friends at Komet Studio in a satin black, silver pinstripe and carbon panelling using Spies Heckers paint products. Finally, to add a bit of extra performance bite and plenty of bark, we created a custom set of headers feeding our own, beautifully simple muffler."
Perhaps this bike named "Minka" (after the owner's woodcraft business) could signal a comeback from Yamaha's paragon of parallel performance?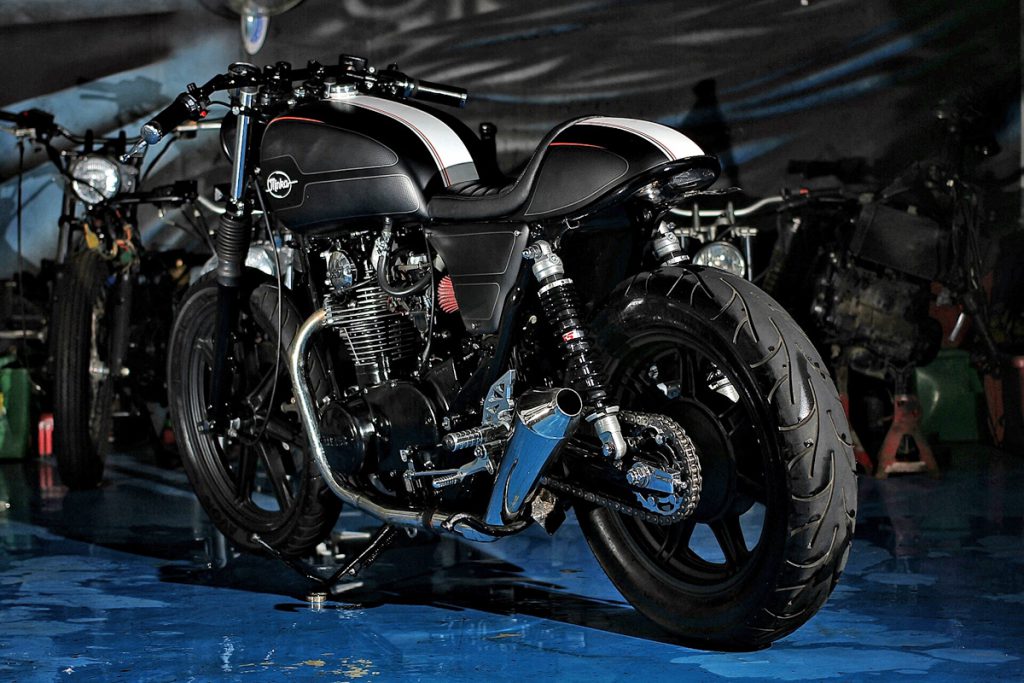 Around 5 or 6 years ago the Yamaha XS650 was the go-to bike for many custom builders. At the time you could get your hands on a decent condition, running XS for a relatively low price and there seemed to be a never-ending supply of them. Yamaha did a great job of re-engineering the British parallel twin so much so that the XS was well known for it's bulletproof reliability. The only bad thing about the XS, shall we say their Achilles heel, was the points style electrics that eventually gave way as the bikes got older. The incredible popularity of the XS also meant that there was no shortage of bolt-on accessories or kits to transform them into cafe racer, street tracker or bobber styled builds; and some people, much smarter than me, even devised an easy-to-install electrical ignition system to do away with the troublesome points.