It wasn't until I featured our first Yamaha TRX850 cafe racer back in 2013 that I learned of their existence. Some would say I must have been living under a rock, and rightly so. The TRX850 was a bold move by Yamaha aimed at stirring things up in the European market. It was, at its core, a Ducati 900SS clone, but it benefitted from steadfast Japanese engineering.
The TRX850 also had similarities to Ducati's Monster as it was somewhat of a parts bin special, being made up of components from other models in Yamaha's range. With neutral handling, a smooth as silk 270° crank, plenty of low down torque and a highly tunable engine it looked great on paper. Unfortunately, it didn't sell all that well and Yamaha ceased its production after 5 short years.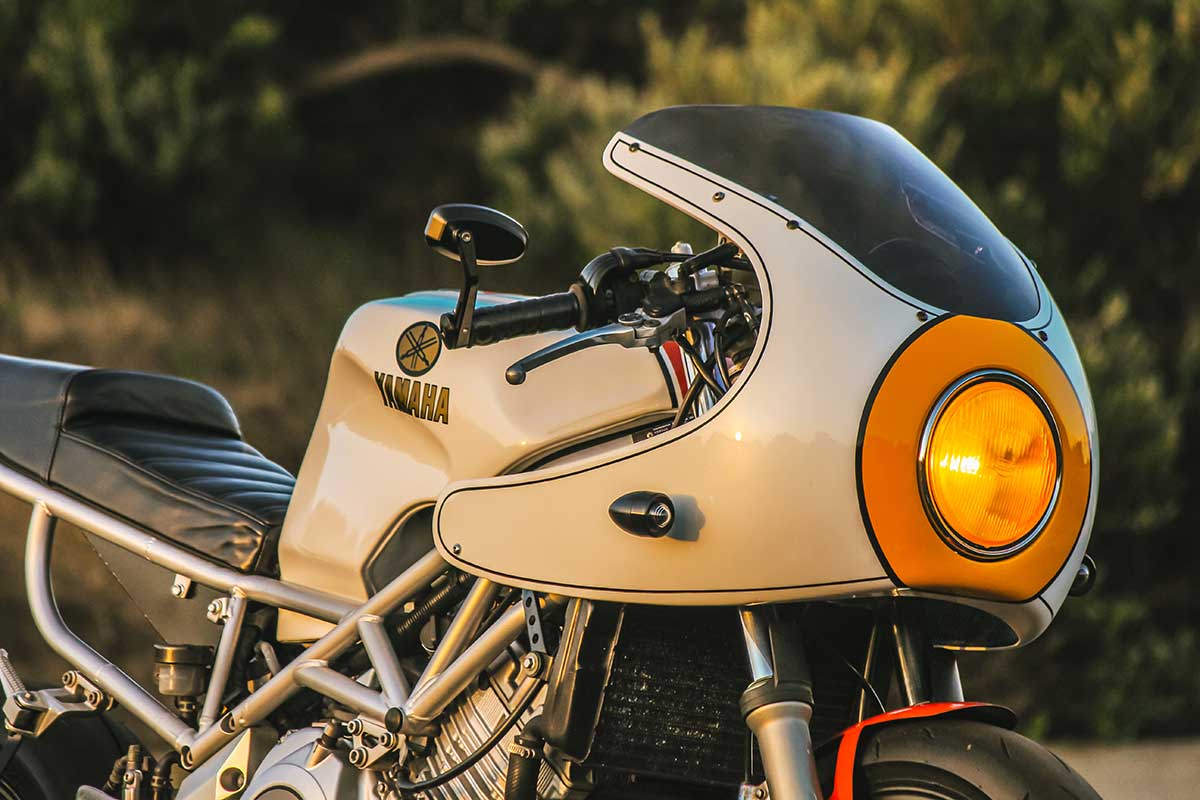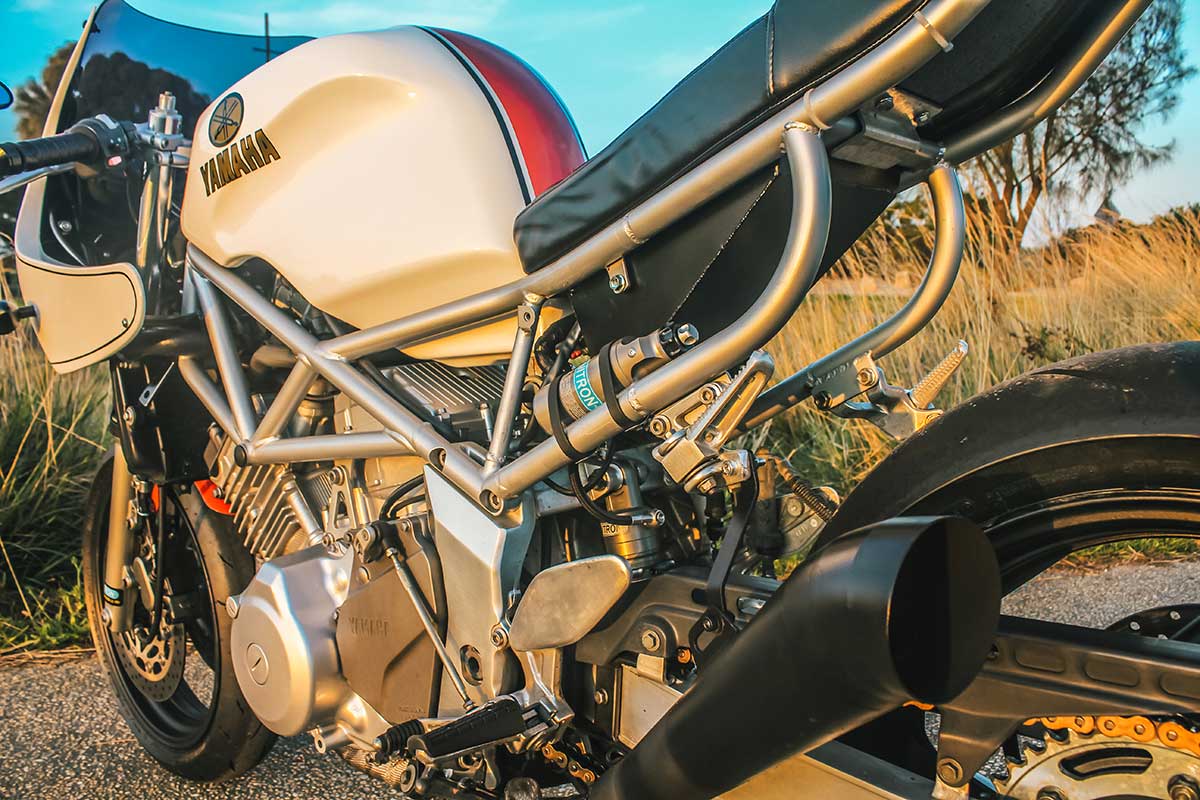 Since that first feature, I've published several more TRX850 cafe racers and have been so impressed by them that I even have an alert letting me know when they come up for sale. Today's bike is a great example of why that is. This TRX850 cafe racer was built by Darren Taylor, otherwise known as the Motogod. Darren's built plenty of bikes in his time, but with this one, he looked back to his childhood years. "The inspiration came from the TZ750's from the 70's," he says. "I wanted to tip the hat to that era of road racing. My early years were spent at many iconic racetracks around Australia watching my dad do his thing, especially the Easter races at Bathurst."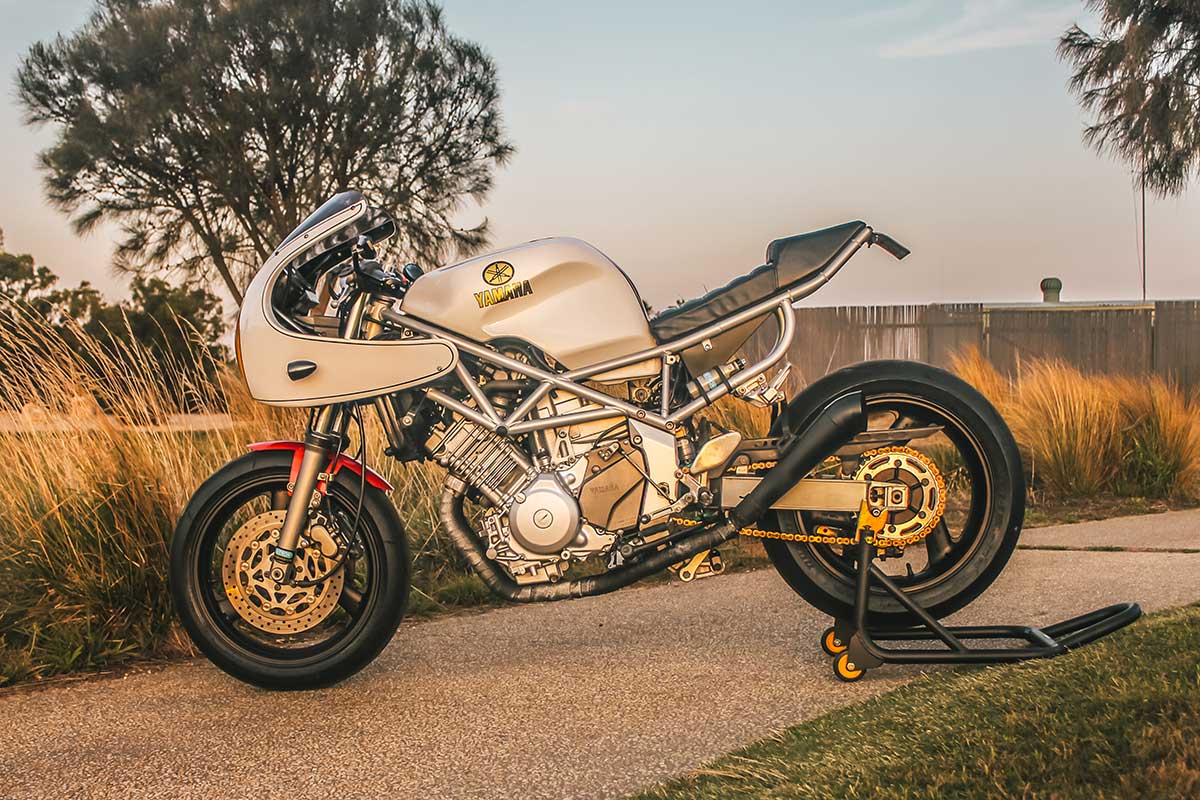 As it happens Darren now works full time for Yamaha Australia so building his custom TRX850 was limited to his spare time. "The build is still going! 2 years to date, but always tinkering and trying to improve areas that could be better." Straight away he pointed out a few of those future modifications, but first, let's look at the work he's done so far.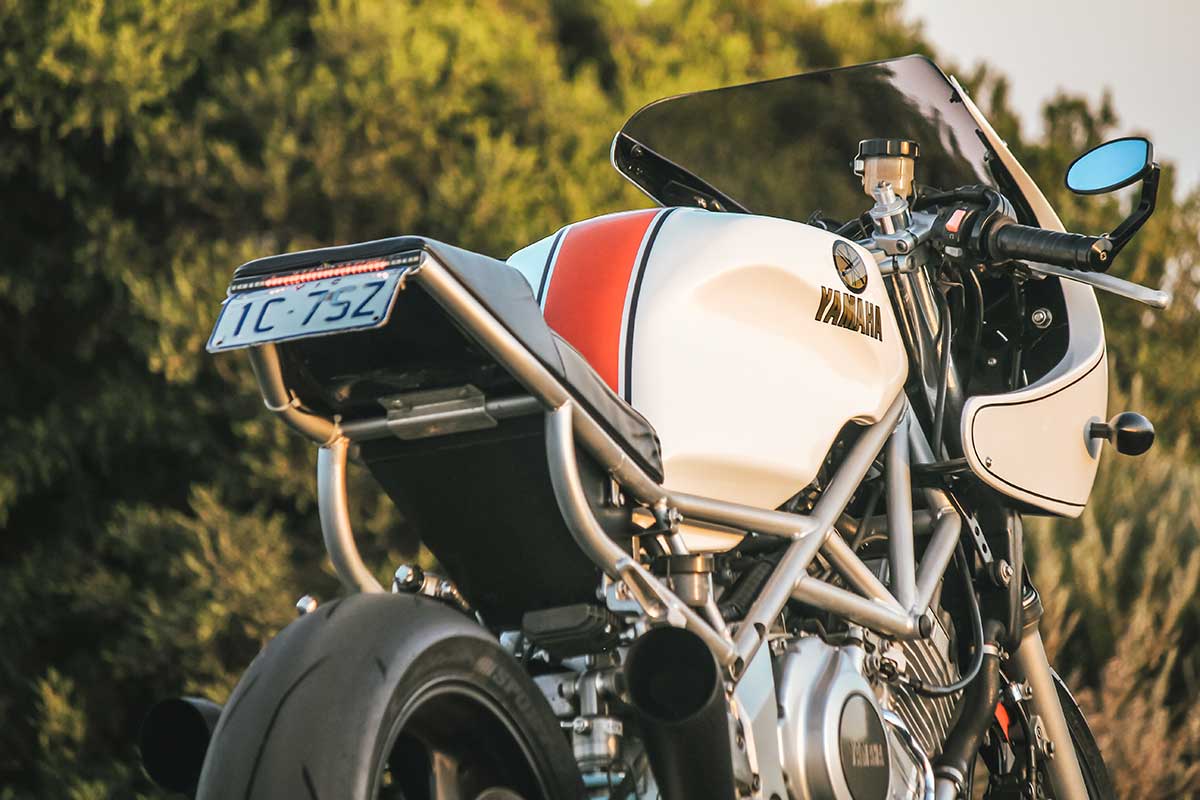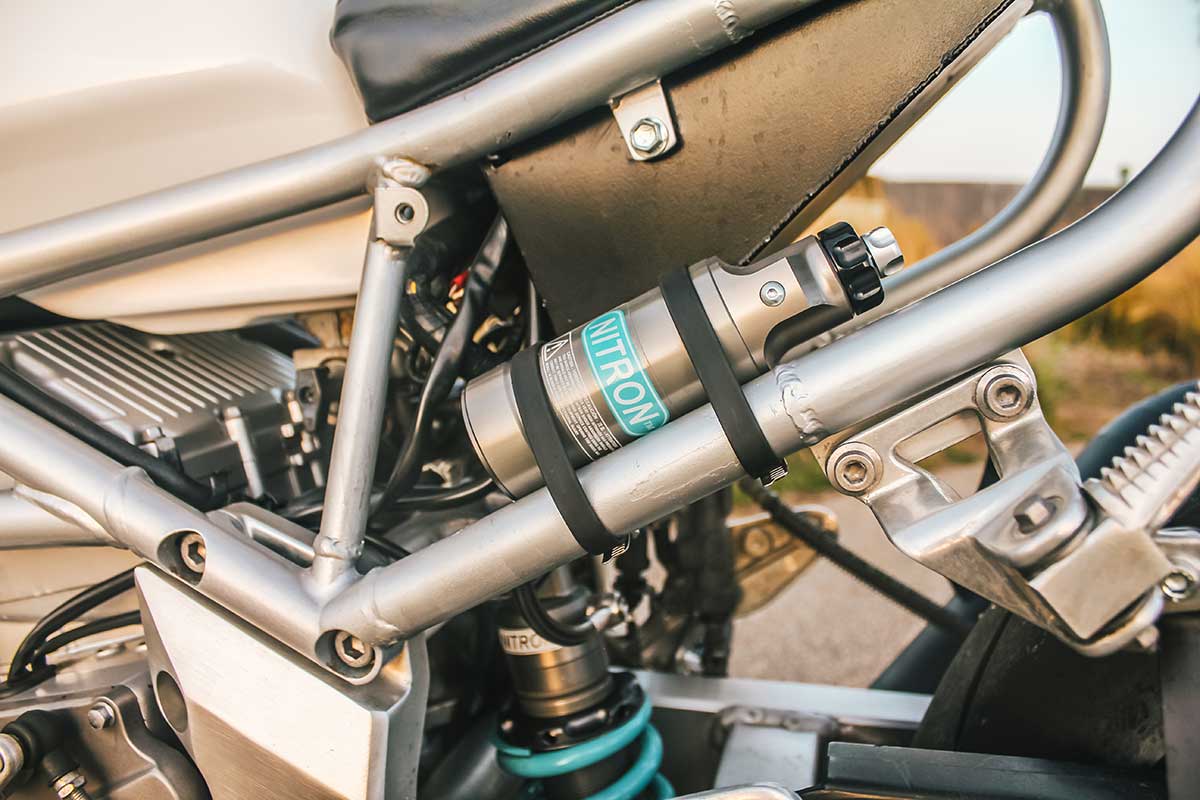 Darren tells us that the biggest and most challenging aspect of the build was the work he's done to the seat and frame. His design removes the hunched factory subframe and replaces it with a levelled out extension that kicks upward slightly at the tail. Two hand bent sections beneath add the support required and are welded again to the existing sections of the original trellis frame. A multifunction LED light strip closes off the rear and there's a custom seat pan upholstered with a classic bum stop hump. Hung beneath the seat is a tray for stashing electrics and a lithium battery which has been painted black to help conceal it. For the bodywork, Darren opted to keep the shapely TRX tank, but up front, there's a custom, 70s styled cowl and yellow lensed aftermarket headlight to tie in with the TRZ livery.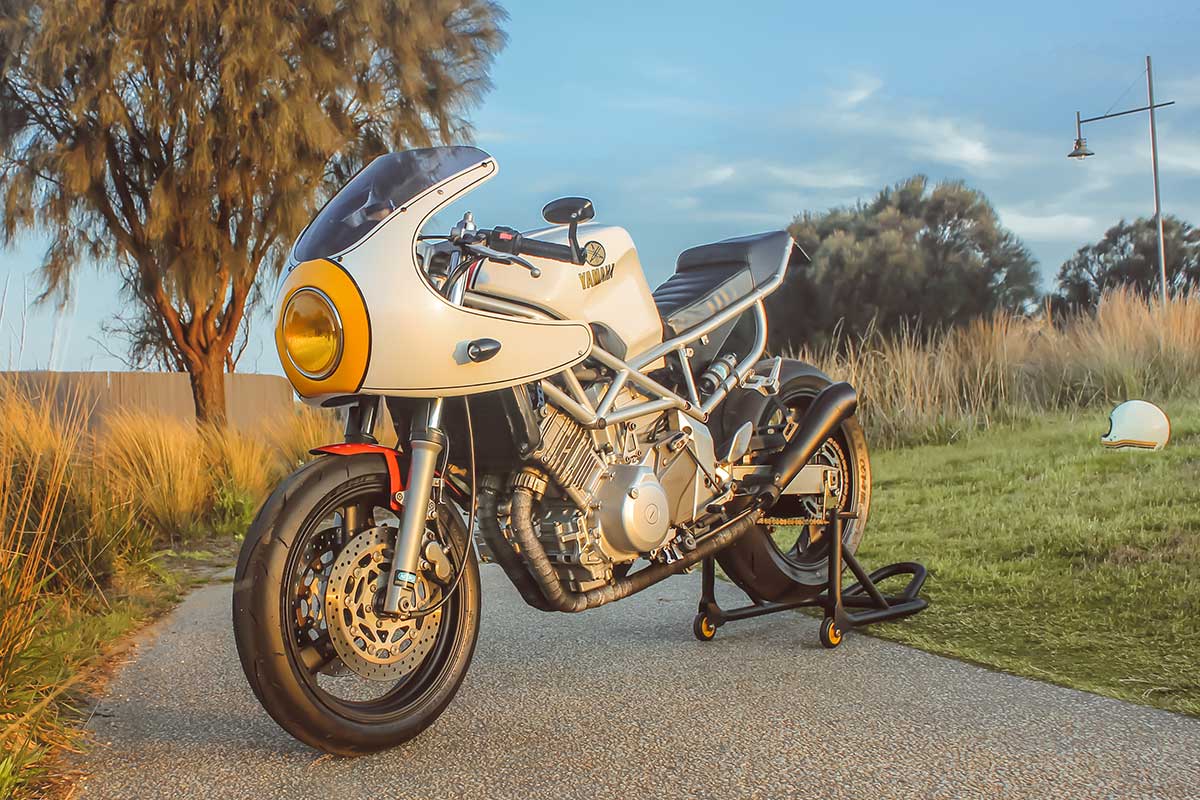 To get the bikes stance right and upgrade its handling Darren has completely revised his TRX850's suspension. The original front end has been rebuilt using Wilbers springs and Nitron valving. In the rear, you'll find a shorter shock linkage to increase the ride height and a Nitron NTR-R3 race shock. Darren's also bumped up the power slightly with MotoGP style mufflers and installed a set of Dunlop Alpha 14 tyres for exemplary grip.
As for what lies ahead for this Yamaha TRX850 racer, it'll be new brakes, controls, rear sets and gauges. Darren says sp far the handling has vastly improved, but we think it's the styling that has really lifted this bike to a whole new level.
Shop This Look
| | | |
| --- | --- | --- |
| Image | Product | Buy Now |
| | Vintage style headlights | |
| | Retro indicators | |
| | Exhaust wrap | |
| | LED lighting | |
| | Performance tyres | |
| | Bar end mirrors | |