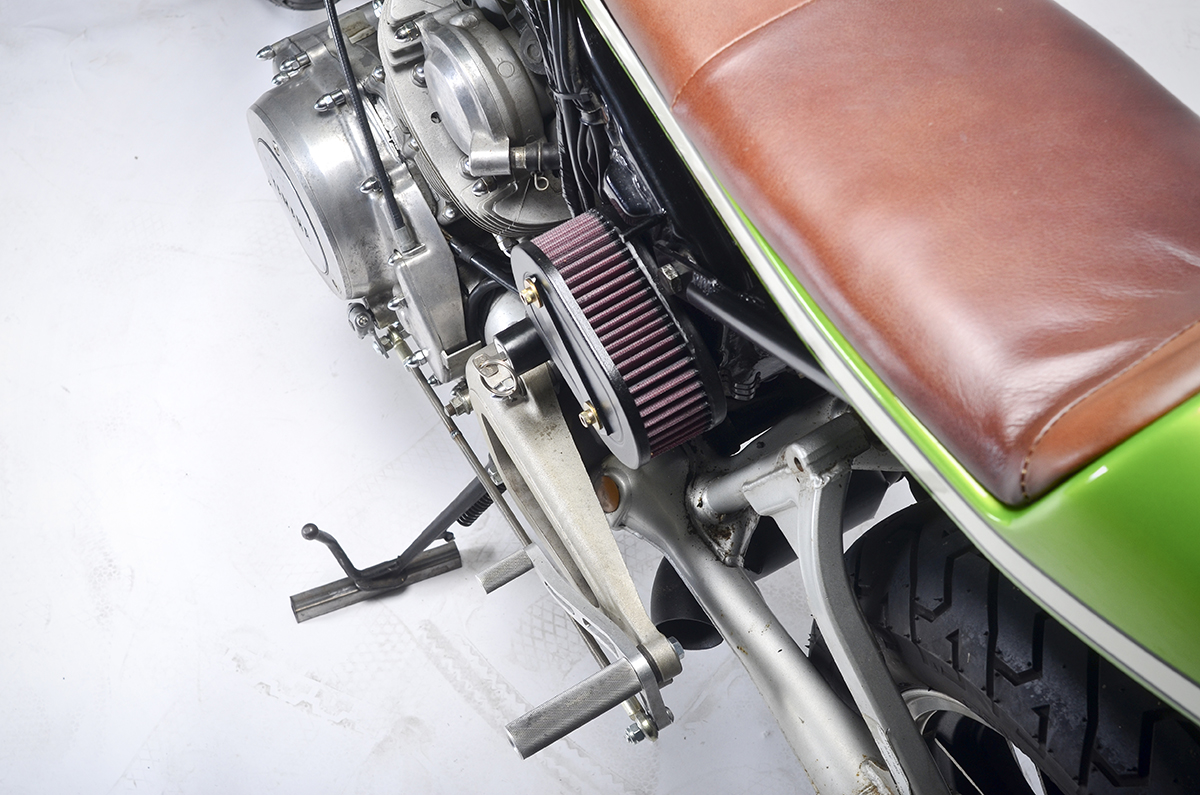 The quick turnaround on this build was made possible when Pat acquired the Virago as an unfinished project. "The previous owner had done the paint and exhaust himself." Says Pat. "It was sort of a combination of MotoHangar's work and the previous owners, so we were both very pleased with the final outcome and the way the bike now performs."
Rather than the customary full tear down Pat was able to work with most of the bikes existing components. The previous owner had made some great stylistic decisions, but lacked the know how to mount them for the best visual impact. Luckily that just so happens to be something that MotoHangar pride themselves on.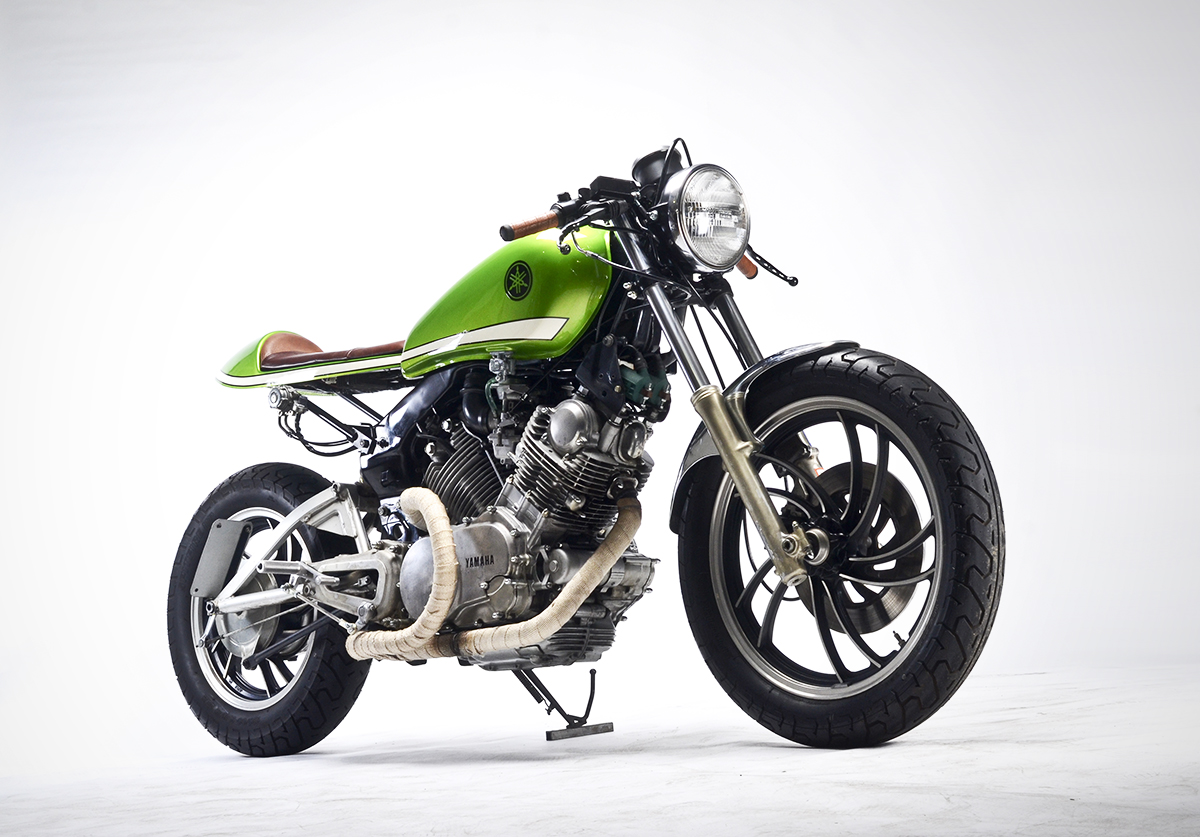 Pat constructed a custom subframe to level out the Virago's tank and tail and run them both parallel with the road. Once the seating position was finalised rear set footpegs and clip on bars were mounted for classic cafe racer styling and optimum riding comfort. After relocating the ignition switch the wiring was also redone, concealing an Anti Gravity battery under the tank and the other miscellaneous electrical components in the tail cavity.
In keeping with MotoHangar's clean and simple style an LED taillight and indicators have been mounted virtually out of sight and the oversized dials have been replaced by a single Yamaha TX500 speedometer. To get the most out of K&N filter and free flowing exhaust the carbs were jetted and Dyna ignition coils added for a clean and reliable spark.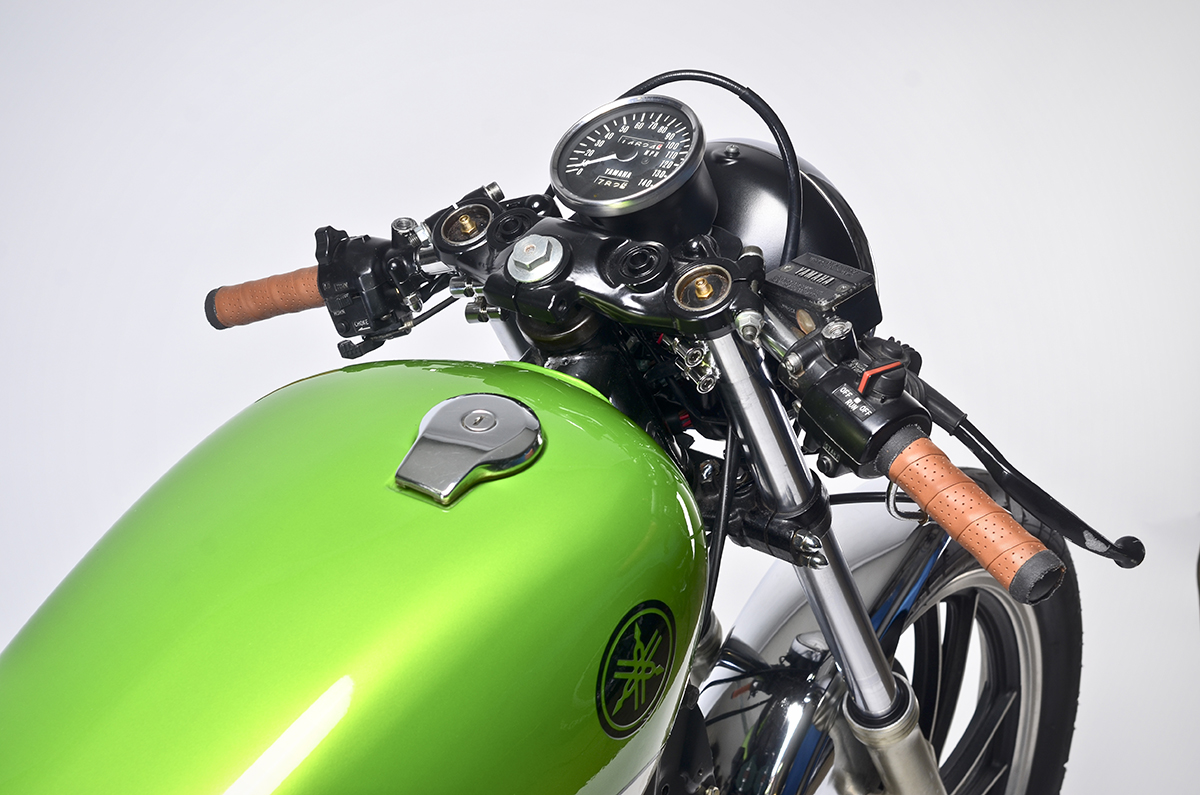 The bright, Stryker green paint of the bodywork is the same colour found on Dodge's musclebound Viper SRT. Despite this Virago's 750cc engine not packing the same punch as an 8 liter V8, it is sure to turn just as many heads.
As MotoHangar moves into another year of business Pat has his sights set on producing a series of MotoHangar bolt on fiberglass body parts. If they're anything like the ones he's made for the motorcycles in his impressive portfolio it will be worthwhile keeping an eye on their facebook page for updates!
Pat Jones has been running his MotoHangar workshop out of Vienna, Virginia now since 2010. During that time I've featured a handful of his builds on these pages and have always been a fan of his simplistic approach to customizing classic Japanese motorcycles. His latest work, based on a 1983 shaft drive version of
Yamaha's
XV750 Virago, is no exception. Unlike many of his other builds though, this one was turned around in a measly 3 weeks.