This post apocalyptic road warrior is Icon's Kawasaki ZX-7 'Thunder Chunky'. It's the latest addition to Icon's series of custom motorcycles built to showcase their Icon One Thousand collection of riding gear. The Thunder Chunky isn't just an advertisement enhancement though, the Kawasaki has undergone some serious upgrades to prepare it for battle on the desolate highways of a war ravaged Earth.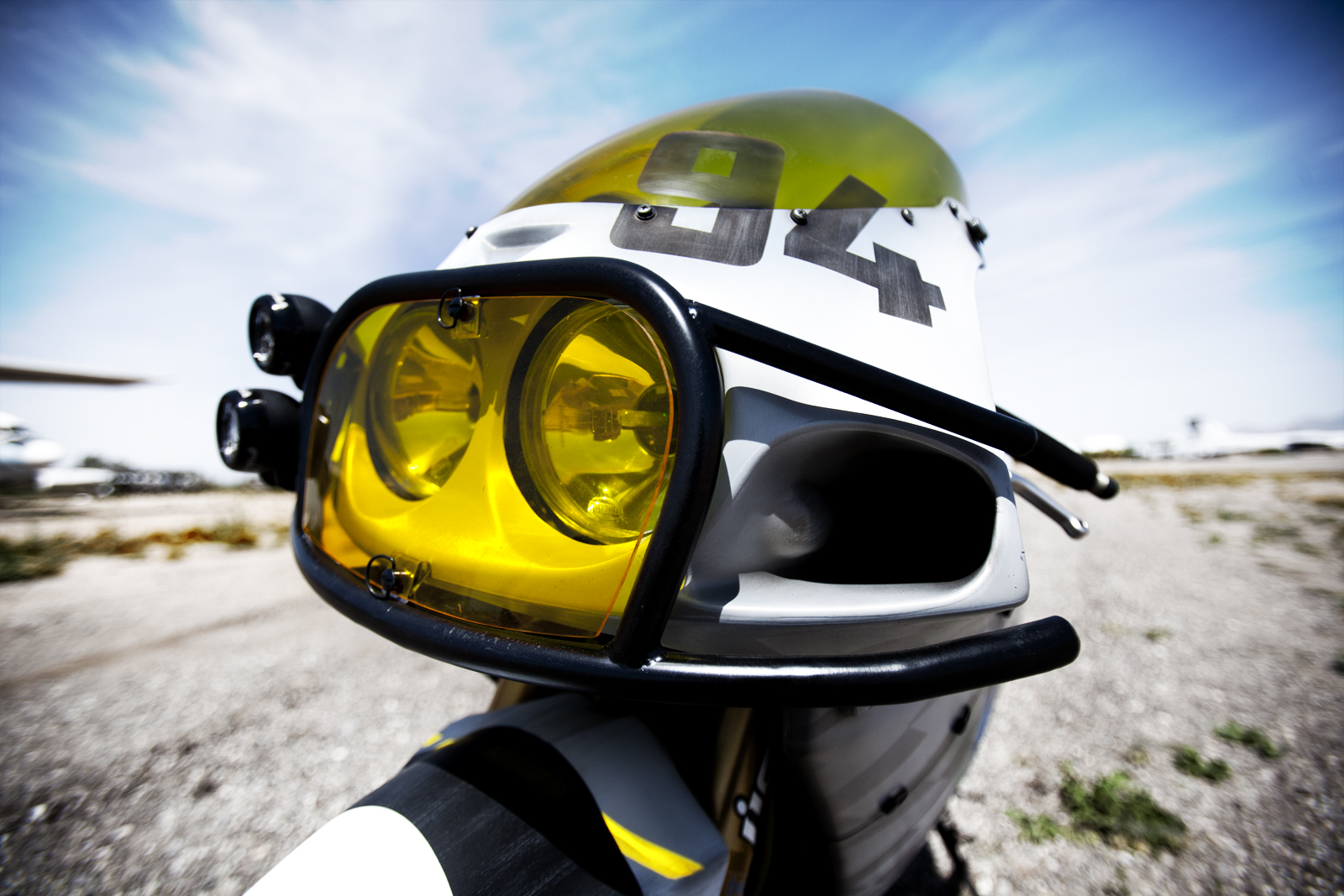 "
On the roads it was a white line nightmare. Only those mobile enough to scavenge, brutal enough to pillage would survive.
"
Mad Max 2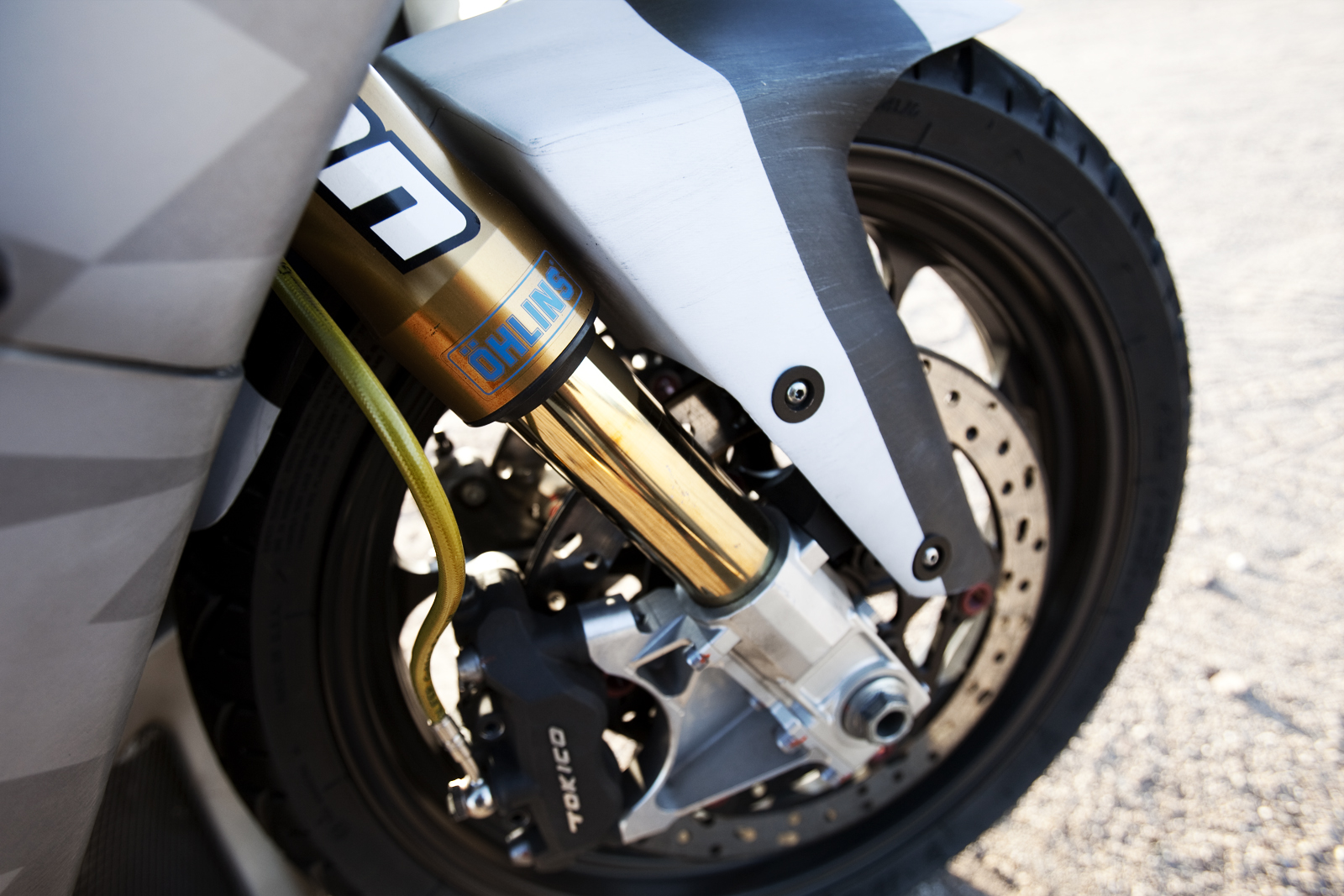 The '94 ZX-7 was by no means a poor performing motorcycle but Icon saw it fit to make a long list of upgrades and modifications to bring it up to speed with modern motorcycle technology. Starting with the suspension a set of gold Ohlins R&T forks went on the front end while at the rear an Ohlins fully adjustable Mega-Clicker shock replaced the tired, original factory set up (these changes are apparently "multi-terrain wasteland necessities").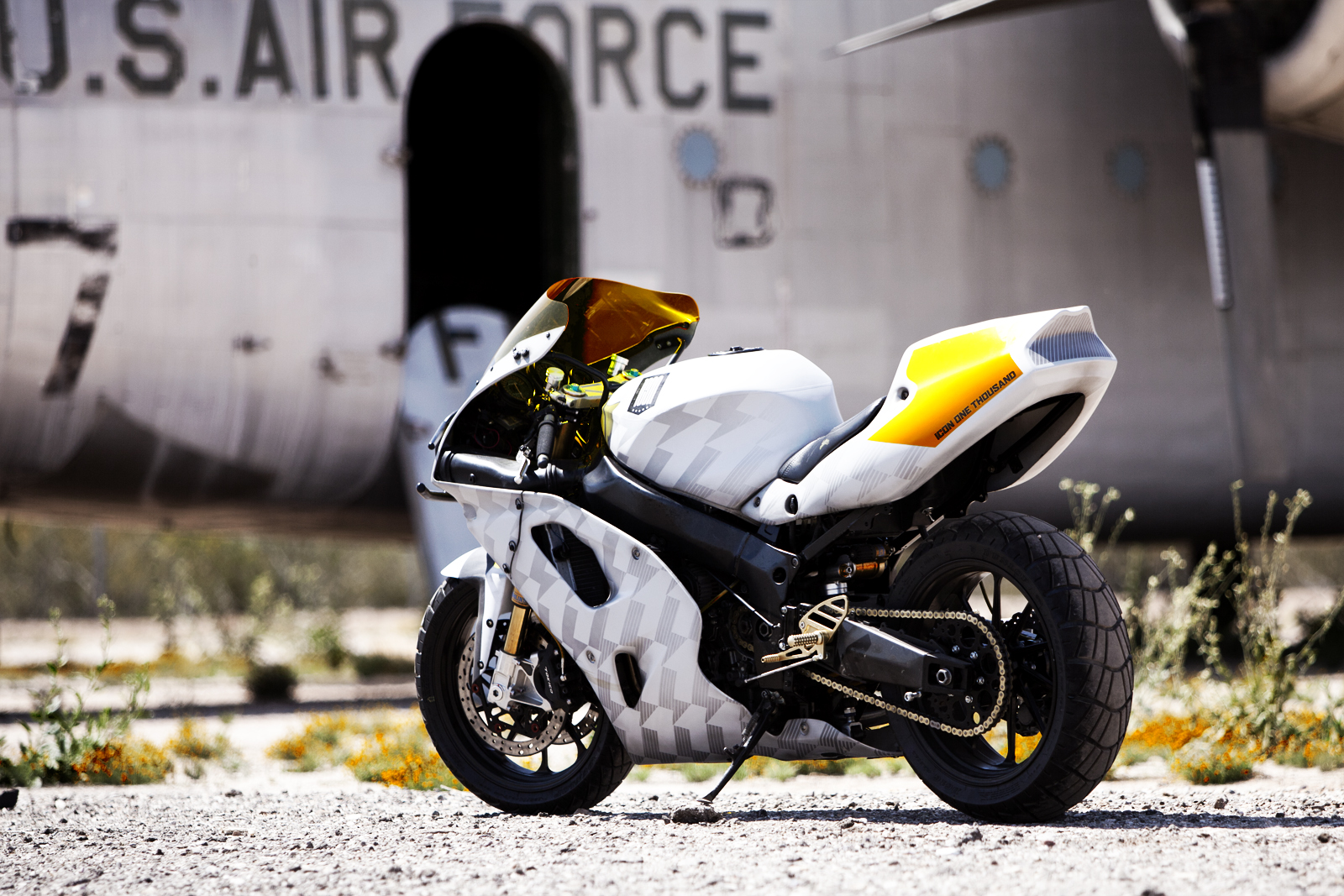 Various lightweight parts such as a set of modified Vortex Racing Kawasaki Ninja rear sets, an Assault top bridge, twin alloy brake reservoirs and control levers all help to lessen the bike kerb weight. The factory rims have been replaced with black anodised forged Assault rims wrapped with Dunlop D616 hybrid sports tires for improved traction on sealed or unkempt asphalt.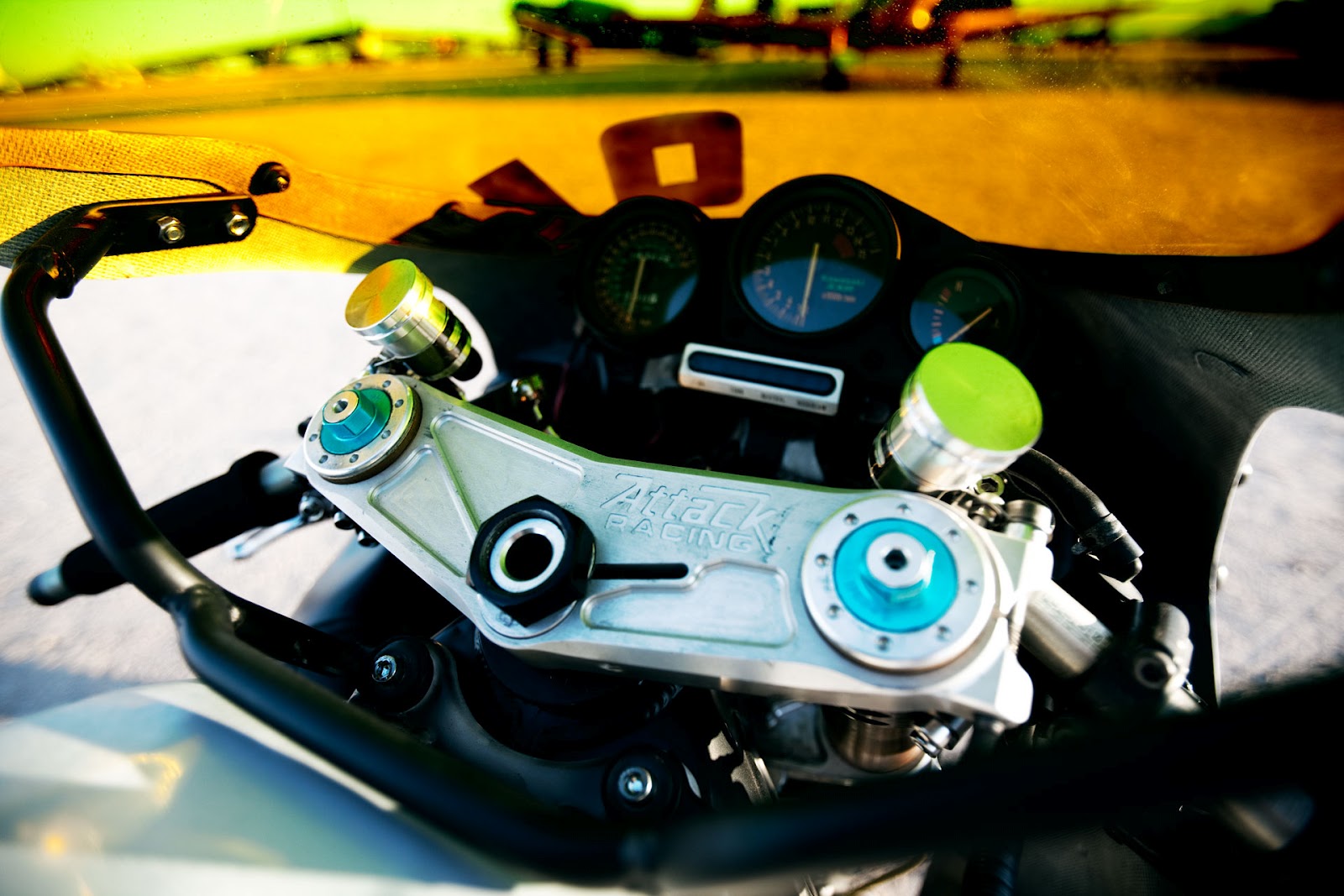 While exactly what modifications were made the the engines internals remain top secret, a stumpy Leo Vince muffler pokes out from the bodywork letting you know there's more to the Thunder Chunky's performance than Kawasaki originally planned. All of the bikes factory bodywork has been replaced with new fairings from Airtech racing, aside from the custom made yellow perspex windscreen and headlight stone screen. The twin headlights and additional mini spotlights are custom additions by the Icon team to illuminate the wastelands highways.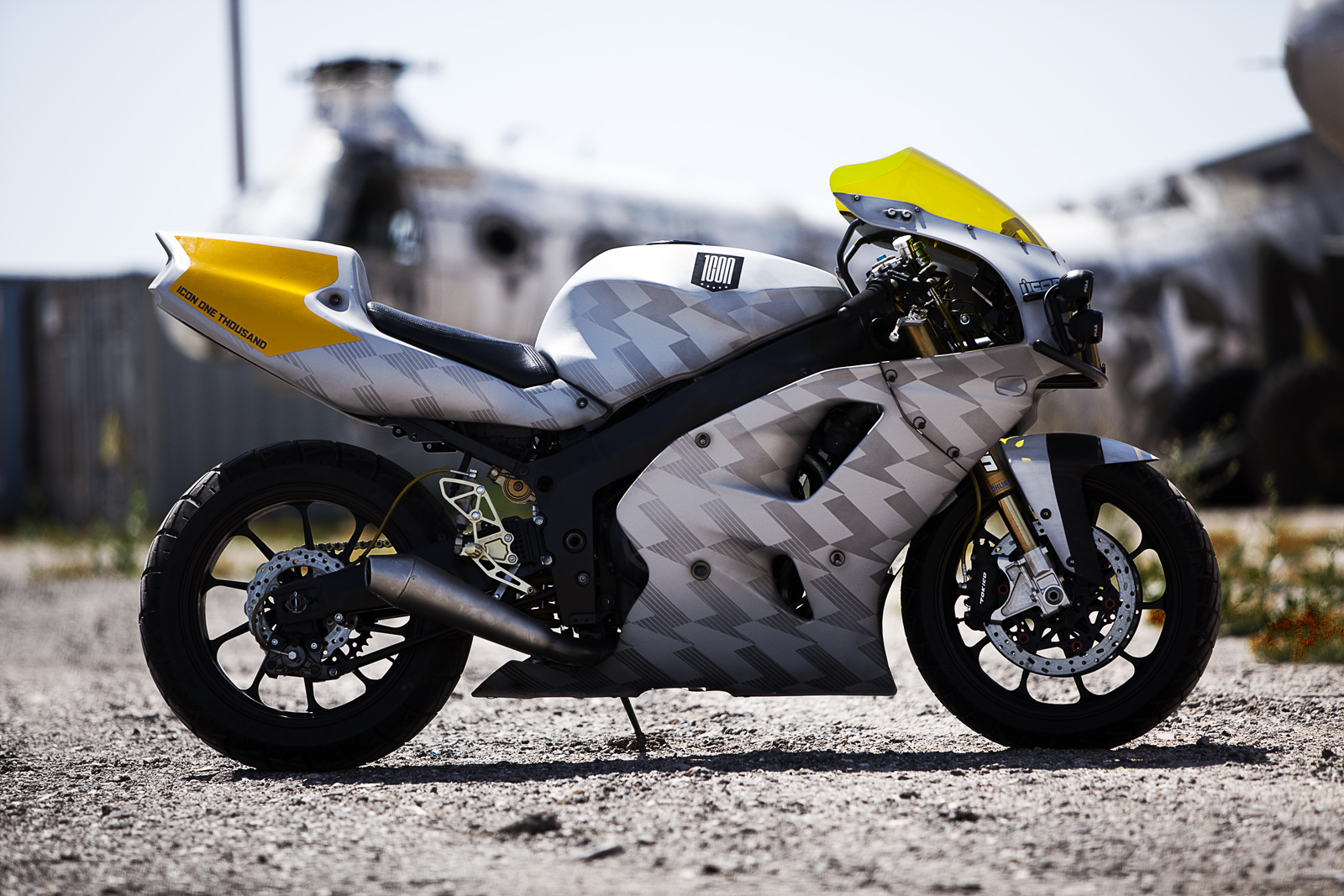 The bikes lightning bolt paint scheme is by airbrush artist Garage31. It goes perfectly with the ZX7's nineties sports bike styling but it's the gold and yellow highlights that make it for me. While sports bikes aren't really my thing I got a real kick out of checking out this bike and the others additions to the Icon One Thousand custom bike lineup. The two bikes below are also new additions. The Yamaha XS650 is named the Low Down & Shifty (read more on BikeExif) and that bizarre looking Honda is yet to be added to the site.