It doesn't take a rocket scientist to know there are very few commonalities between nautical craft and motorcycles. Infact the only thing they tend to have in common are the materials used to build them. One material that doesn't often bridge the gap between boats and motorcycles is wood, but that's not to say it never happens. Every so often a custom motorcycle pops up on my radar that has wood used in its construction, and when it's done right the results can be extraordinary.
Fifty four year old carpenter Jacques Jouvin knows a thing or two about working with wood. Based in Avignon, France his Atelier JAB workshop produces premium cabinetry for local clientele. When Jacques isn't building cabinetry, he likes to work on motorcycles and sidecars. And a couple of years ago he decided to merge his passion for wooden hulled watercraft with his love of motorcycles.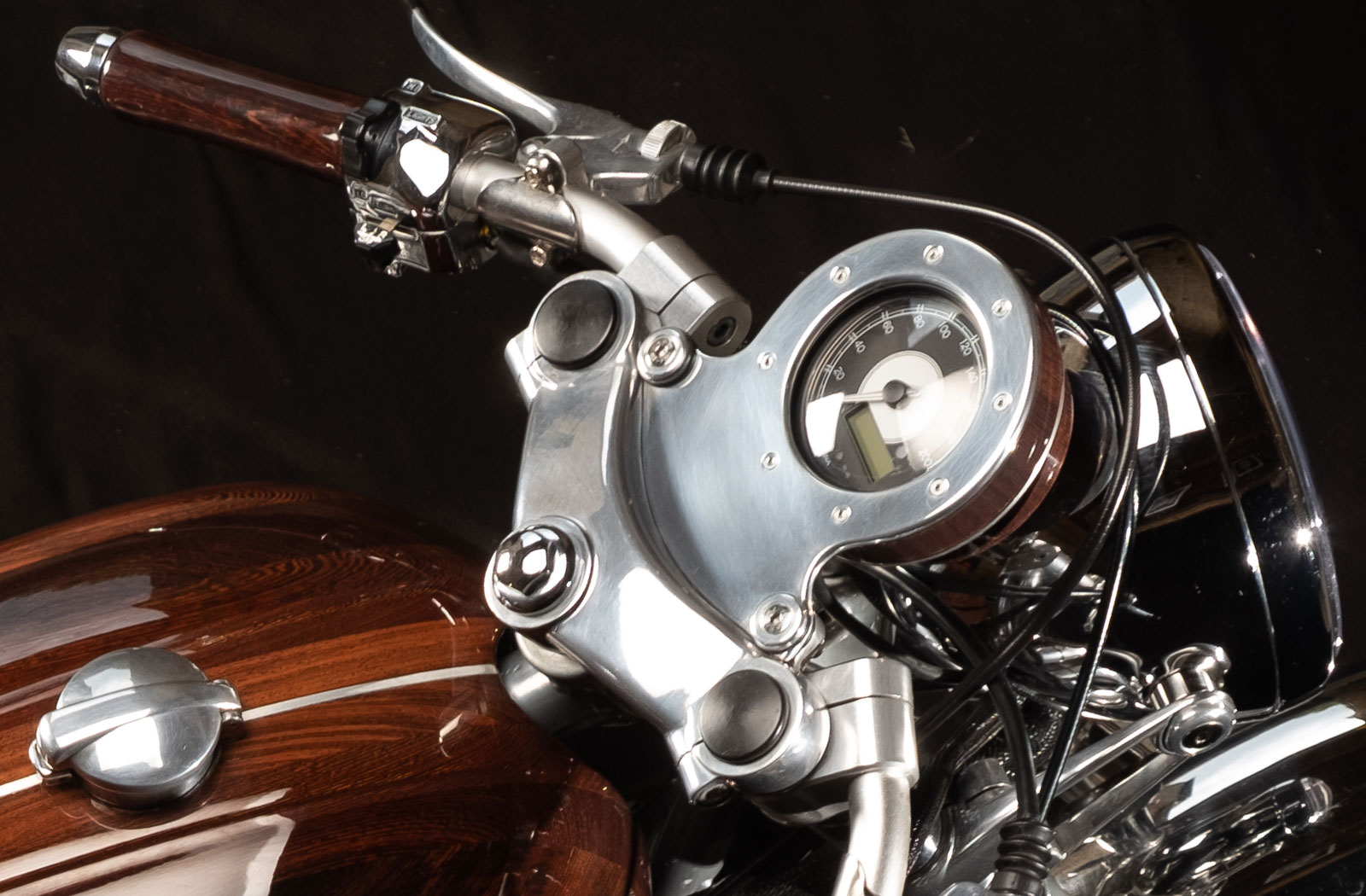 The Atelier JAB XS650 was inspired by luxury runabouts like those produced by Chris Craft and Riva.
"My personal vision is that a motorcycle must have a line; refined, elegant and racy. I make monohulls and wooden assemblies using techniques from the nautical world," says Jacques. "For this realization, everything was carefully thought out. "I started looking for a base that had marked its time, namely the Yamaha XS650. I found its lines, parts and engine very adaptable to customization."
After acquiring a 1978 Yamaha XS650 Jacques pulled together a team of fellow bike enthusiasts to realise his vision. The group consisted of Fabien Tourlan, otherwise known as "l'Atelier Les Bécanes", who specialises in vintage motorcycle restoration, Aymeric Romanowski of Atelier WIK and Bernard Christy, who deal in parts, and David Gallet Dadygraph and Laurent Chapus of Neway Designs for the paint.
"The initial idea was to build a monocoque with a very fluid line reminiscent of the American and Italian luxury sports boats of the 20s and 30s," Jacques recalls. "For the general line of the machine, I wanted a café racer that mixed steel with aluminium and wood."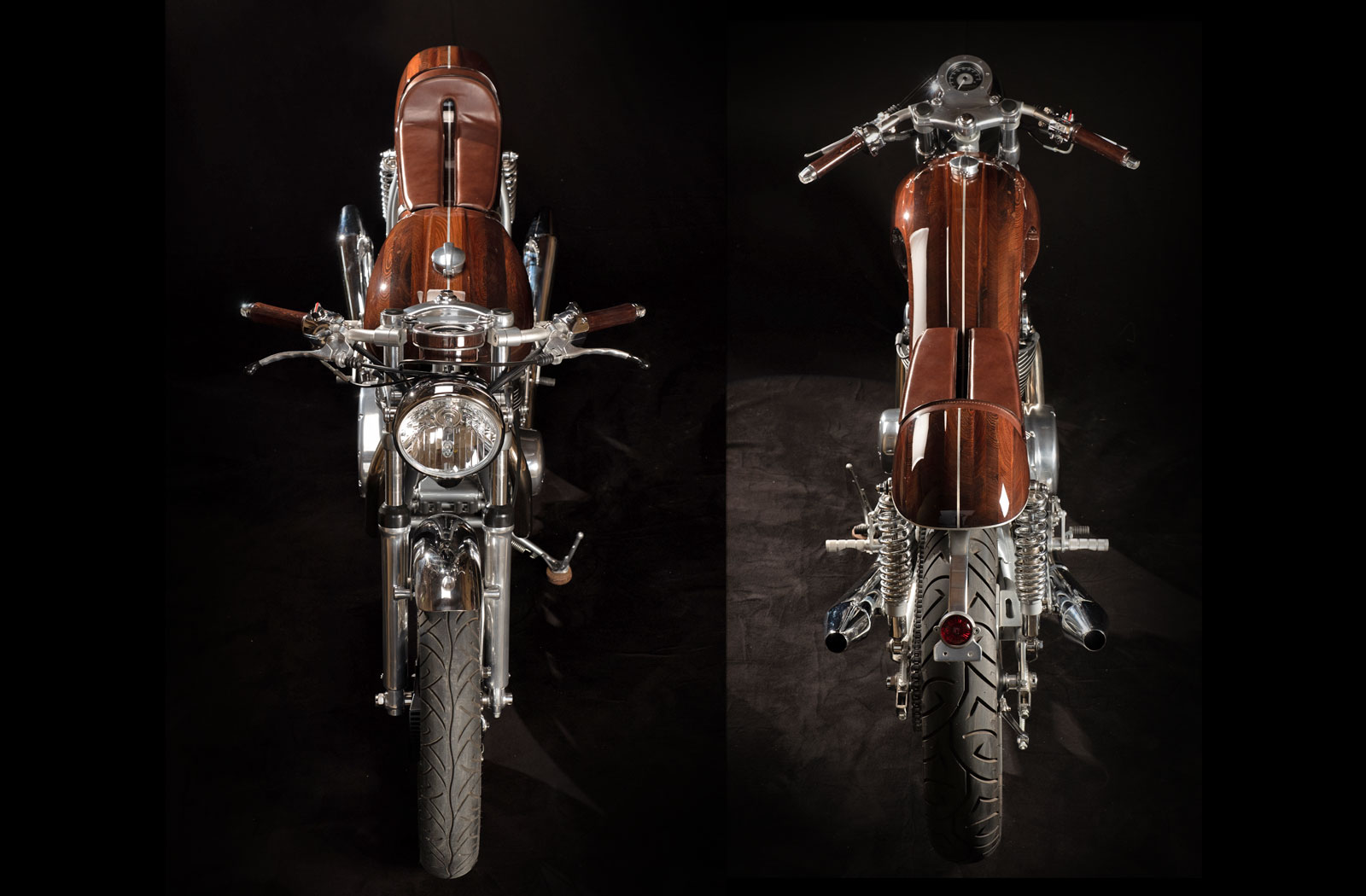 Once the XS had been dismantled Jacques modified the frame. Along with removing any nonessential brackets, the chassis was reinforced and modified in preparation for its new bodywork. Templates were then made to get the dimensions and proportions locked in and once he was happy, Jacques got to work building the Yamaha's wooden monocoque 'hull'.
With such a novel project the choice of timber had to be as unique as its application. After looking through his collection, Jacques picked out a rare and endangered wood called Wengé from the Millettia Laurentii tree in Africa.  "It was found in the home of a retired fellow woodworker who owned a stable lot since 1976," he tells us.
Transforming the raw timber into bodywork fit for a functional motorcycle was no meant feat. Taking some 10 months to complete, Jacques used several different woodworking techniques to realise it. The Wengé boards were joined together prior to shaping and aluminium has been added to the structure for additional strength and durability. To showcase the beautiful grain of the Wengé wood to the same premium level as the luxury boats that inspired it, it has been coated in 12 layers of UV-resistant varnish. A bespoke brown leather saddle and classic Monza filler cap complete the construction.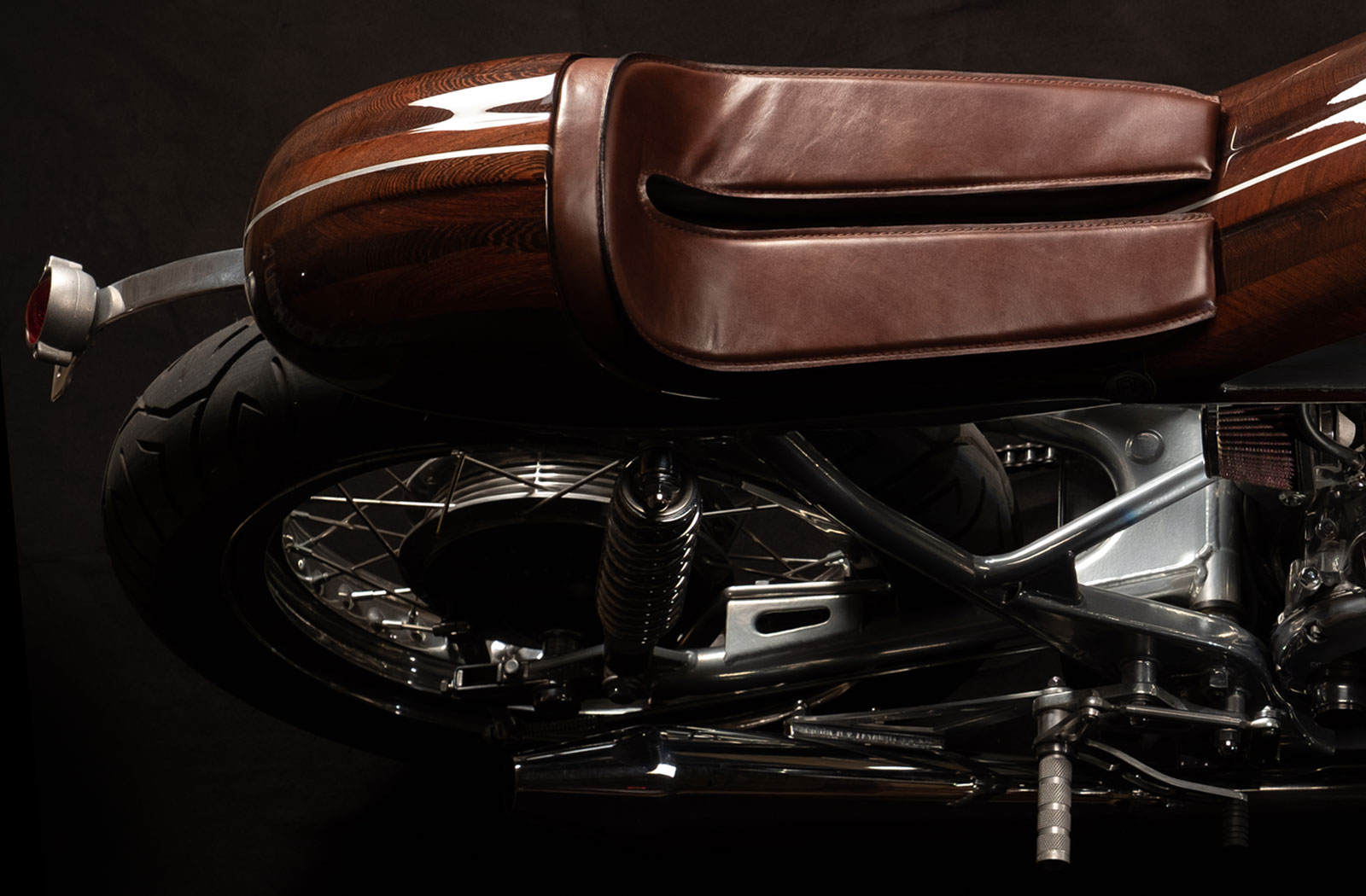 The creation of this Yamaha cafe racer went well beyond the construction of just the bodywork. The XS650 is now running a custom wiring harness featuring an updated CDI. The rear turn signals use LEDs installed into the frame rails behind repurposed orange methacrylate from a set of 1970s door handles. The battery is housed in its own box beneath the swingarm pivot and all of the electrical cables run out of sight.
After its modification, the frame was also cleaned to smooth out the factory welds, sandblasted and then powder coated using a chrome look finish. The forks have been shaved and polished and a custom drum brake support added. The rebuilt triple trees use a custom top yoke and the fork internals are upgraded using progressive springs and hydraulic adjusters. The rear suspension is all new consisting of a pair of 320mm retro-look Hagon shocks. The wheels are polished Akront Morad rims with stainless spokes and the front fender doubles as a fork brace.
Jacques also utilised several off-the-shelf components to complete his cafe racer. There are E.NOV clip-ons fitted with chrome-plated aluminium handlebars, Tommaselli Matador brake and clutch levers, Rizoma bar end turn signals and hand-turned wooden grips. A single Motogadget ChronoClassic gauge takes pride in place in the cockpit and it sits in a custom wood and aluminium surround.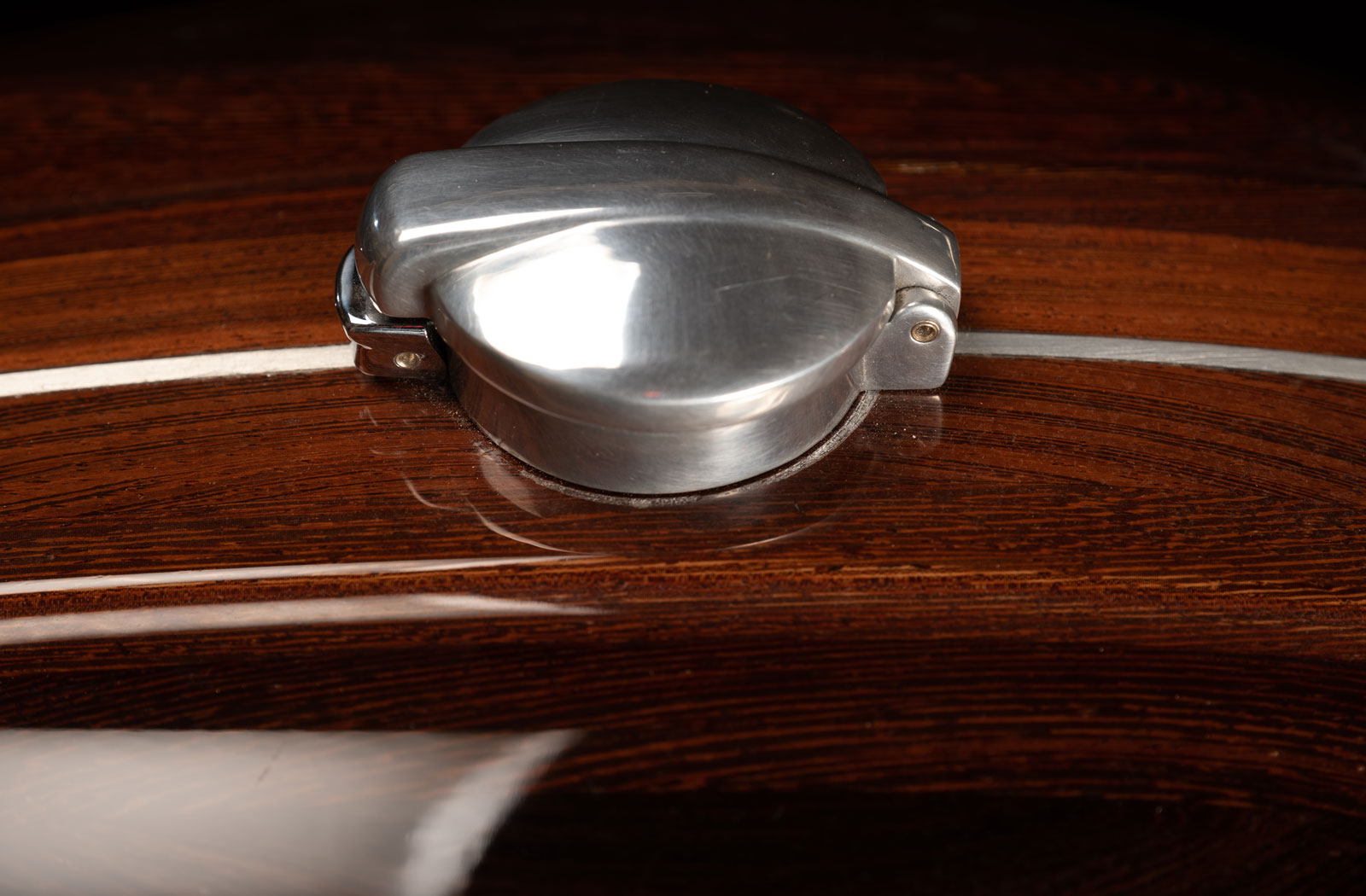 To complete the comprehensive transformation of this XS650 Jacques also had the engine entirely rebuilt.
"We changed all of the gearbox bearings, rebuilt the cylinder head (new seats and valves), rebored the cylinders, fit new pistons, reinforced the oil pump, installed an electronic ignition, suppressed the kickstart and fit a new clutch with reinforced springs."
Along with the motor's improved reliability, it's been given a boost in performance using Keihin PWK 34 carburettors, aluminium intakes, a complete stainless exhaust system and K&N air filters finished with Wengé wood. Lastly, the cylinders have been finished in satin black and all of the cases polished to a mirror finish.
Often used as recreation crafts for the rich and famous, Chris Craft and Riva runabouts are the epitome of aquatic luxury. The Atelier JAB XS650 is a bona fide homage to those watercraft. Built to exacting standards and from rare, premium materials, it's a one-of-a-kind motorcycle that would look right at home in a private collection, which is where it's likely destined. Jacques is now selling this bike and you can enquire for more information via his Instagram.