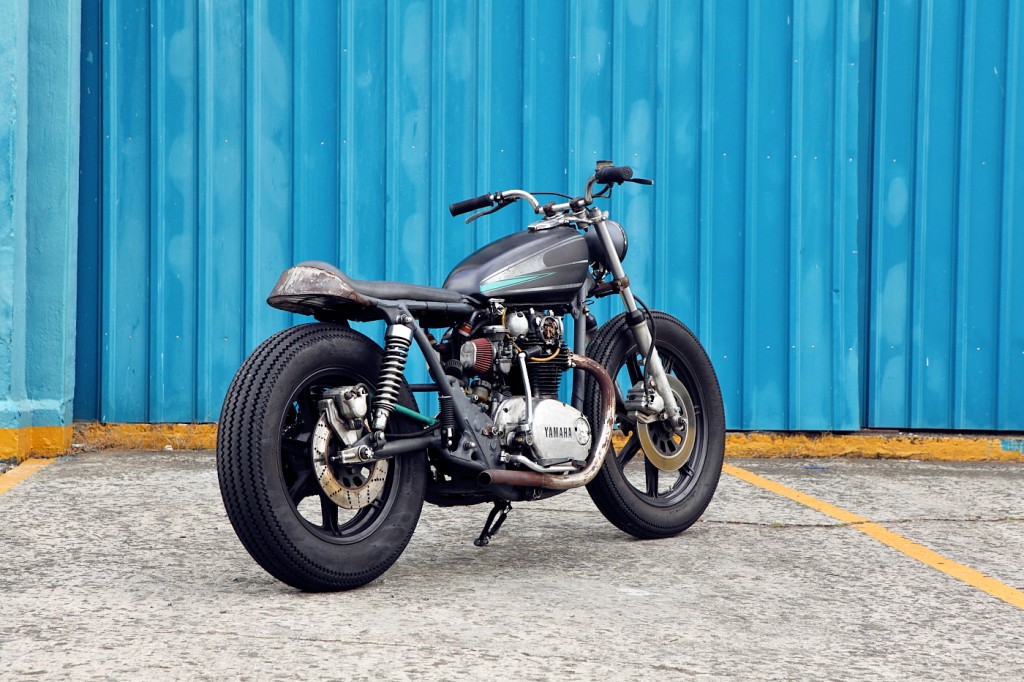 After one full day of owning the 1979 XS650 Special Giancarlo's called it quits. Stranded on the side of the road he pondered what to do with the bike and decided it would become a Cafe style, Steampunk custom, designed to satisfy his love of speed and his delight for staring at moving parts.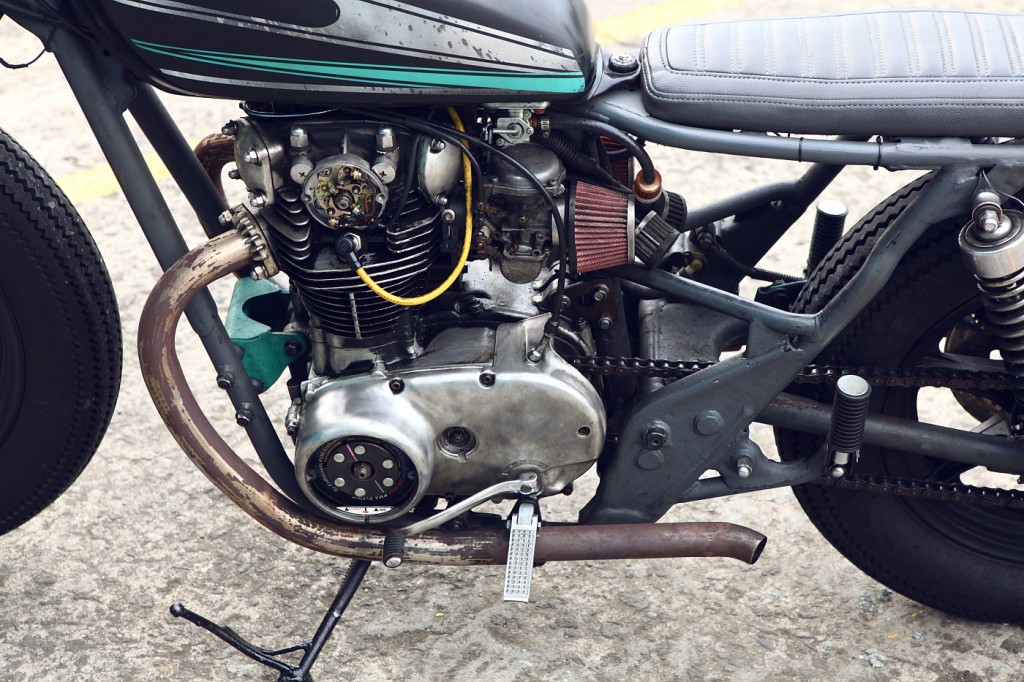 After tearing the bike down to the bolts the stock carbs were rebuilt with all new gaskets. The main culprit for the breakdown, a badly burnt out wiring harness, was rebuilt with as little wiring as possible. A permanent magnet alternator removed the need for a battery and the only lights retained were the headlight and stoplight. The XS became devoid of indicators, dials, side covers, battery box, air box and various electronic paraphernalia amounting to several kilos of "excess" weight. To satisfy his desire for visual movement the points covers were left off, revealing the twisting, swirling spectacle that is an XS650 charging system in operation.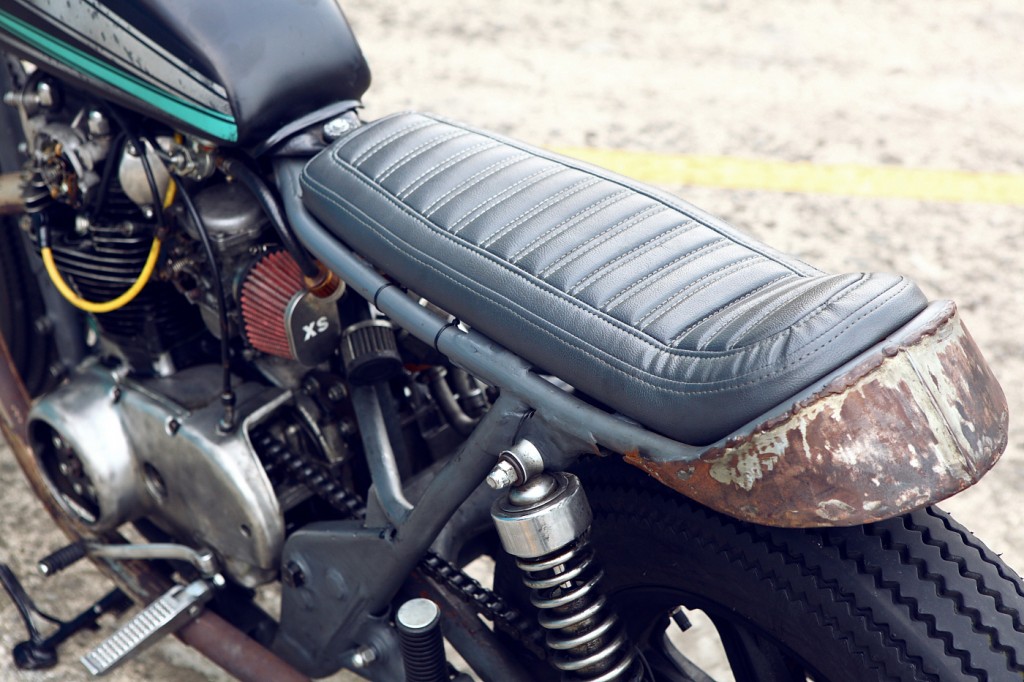 With the frame and swingarm were stripped bare it was detabbed and cleaned before being coated in matte grey. Select parts like the lower triple tree and bar raisers were cleaned and left bare to allow surface rust to form in a controlled environment, while alloy parts such as the lower forks, engine covers and brake calipers were sanded and polished. A set of custom handlebars were fabricated along with the beautifully simple tail section which has been cleverly welded to the frames existing rear loop.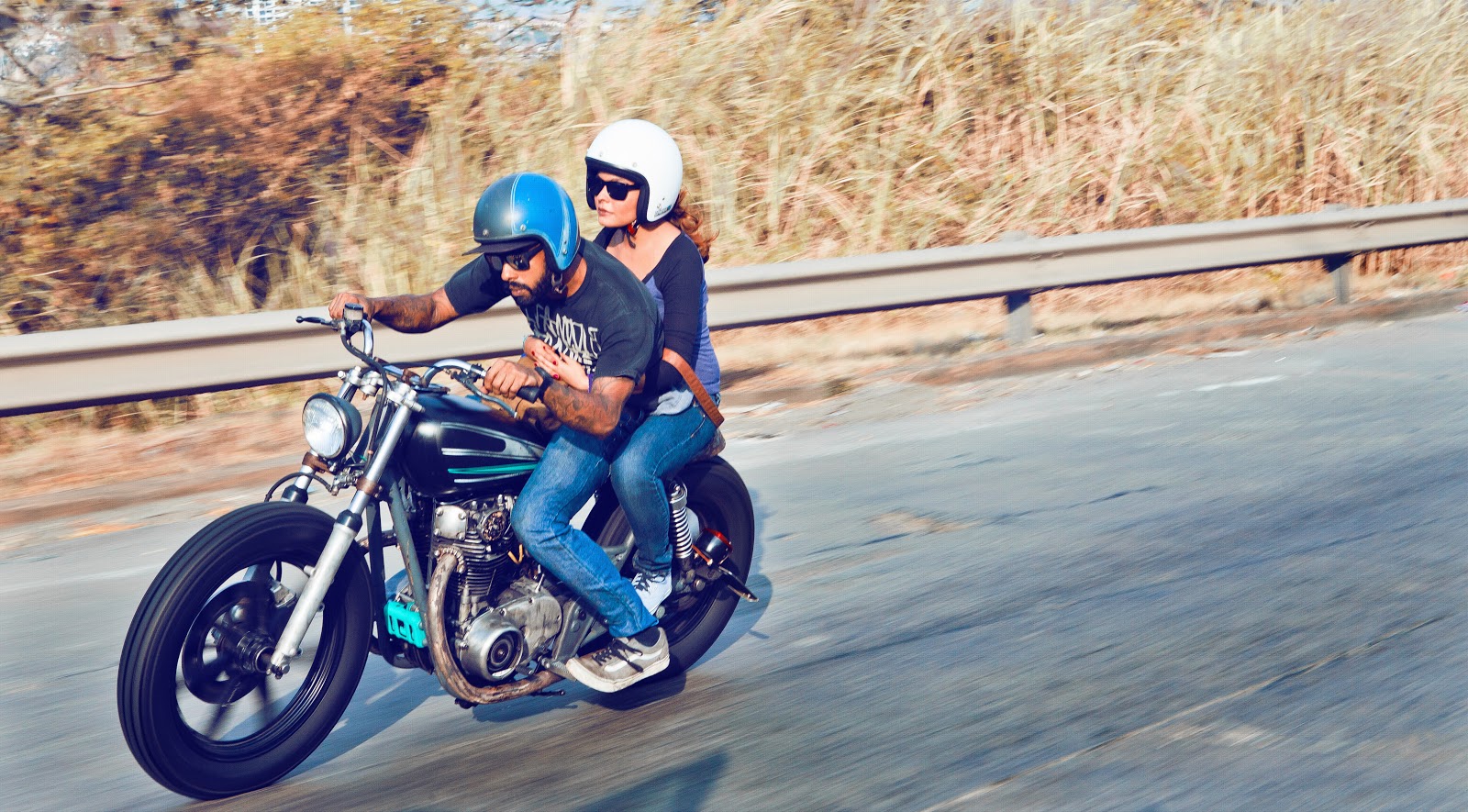 "This ride reaches the ton with a pillion and for me that is proof that vintage power can be as dependable and fun as any contemporary bike."
Performance improvements come from a pair of custom made pipes, hi-flowing air filters and performance coils to keep the spark constant and strong. To finish the look of the bike a monochromatic scheme of all matte black, white and grey with a few touches of emerald aqua green was applied. Amal style grips were slid on to the bars, custom fit superbike pegs replaced the clunky OEM rubber units, a bobber headlamp was mounted between the forks, fenders were removed and the brake disks drilled.
The bike now performs well beyond it's stock capability, has bulletproof reliability and gets plenty of attention thanks to the flurry of mechanical movement taking place on it's engine as it ticks over. It's a fresh approach to a tried and tested platform that I'm sure many of you will appreciate as much as I do.
Minimalism is a style or technique characterised by extreme sparseness and simplicity. In the world of custom motorcycle building this basically means removing everything you can without stopping it from working. To demonstrate this lets take look at Giancarlo's Yamaha XS650 built at his GARAGE46 workshop in Panama City, Central America.